SPOTLIGHTS
The 8-Ball 1.27.14: Top 8 Wrestlers Who Should Go To TNA
Posted by Mike Hammerlock on 01.27.2014

From Ryback, Johnny Gargano and Carlito to Kevin Steen, Jay Lethal and more, 411's Mike Hammerlock counts down the top 8 wrestlers who should jump to TNA!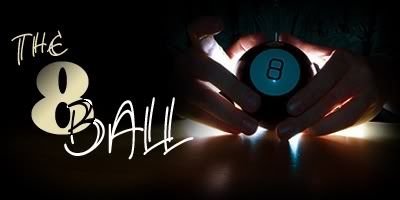 This week the Magic 8-Ball steps on the electrified third rail of professional wrestling: TNA. After a year of exodus TNA has started to bring in some new blood. It's desperately needed. Ethan Carter III (the artist formerly known as Derrick Batemen) has quickly climbed to the upper portions of the TNA ranks and the American Wolves (Davey Richards and Eddie Edwards) instantly will take over the TNA tag division. Supposedly there's a "new investor" coming. Personally, I hate business storylines. It leads to compelling moments like the phone call spot and the weekly team meeting. Can conference calls and powerpoint presentations be far behind? Yet the main hope here is the "new investor" angle doesn't go down the same road as Aces & Eights, which devolved quickly into a pack of retreads combined with some boring young guys. TNA needs to recruit a better class of performers and the 8-Ball is here to help.

Thanks to SpankyHamm for the suggestion for this column. See, I really do take requests. I modified it slightly to make it the eight best fits for TNA. So these are wrestlers who would help shake up TNA and who really could benefit from a run in TNA. First, a few words about TNA. It was awful in 2013 and has been an absolute catastrophe for the past month. It's almost like they're trying to book the worst possible shows. They rarely let an honest-to-goodness wrestling match break out. It's inane run-in after inane run-in. Magnus looks like the weakest champ in the history of the business. We had a bait-and-switch free pay-per-view with Genesis. The most prominent character is the wooden Dixie Carter. Every week is just a new unholy mess. It's like watching preschool on steroids. Ladies and gentlemen, this is TNA:





So, unless that changes, no one actually would benefit from a move TNA. No one looks good. Nobody's career is getting furthered. It's criminal that the talent on that roster is being so poorly utilized. In fact, next week's 8-Ball is going to be the top 8 ways TNA could restore some sanity to it product. Yet, let's pretend they listen to future me. TNA needs a bevy of new talents to come in and shake things up. Here's some guys who could do the trick. I've stayed away from suggesting new knockouts in this one, but Kaitlyn would do wonders for them.




8. Michael Bennett



Supposedly he popped out of the womb looking like a WWE wrestler. He's dating Maria Kanellis too. Seems like the entire world has spent the past two years assuming it's just a matter of time before Bennett signs with the WWE, but it hasn't happened and he's 28 years old. TNA ought to jump all over him. Given Dixie Carter's fetish for guys who look like underwear models, Bennett definitely would get a strong push. The cool thing about Bennett is he actually knows how to work. He sells badass just as well as he sells conceited jerk.





7. AR Fox



One of the challenges to taping multiple shows at once and repeatedly in the same location is your fans get a little complacent. They've seen these guys before and the fans sometimes know what the wrestlers are going to do before the wrestlers have figured it out. AR Fox is the antidote to that condition. He's got moves on top of moves. Wouldn't surprise me in the least if he busts out a top rope 360 ace crusher one of these days. He's an instant wake up alarm if the audience starts to get sleepy. TNA needs energy. Fox has it in abundance. TNA makes sense for him because he could keep it simple. He wouldn't need to worry overly much about creating a character. He could just come in and be a high flyer. Hype the crowd. After all, they showed up hoping to mark out.





6. Kevin Steen



Could have put Chris Hero on this list too. TNA might have an automatic feud of the year winner if it pitted Steen vs. Joe. Steen is what TNA desperately needs, a balls to the wall guy that fans love. And, much as I respect ROH, Steen needs to test himself in a bigger promotion. He can be more than ROH's grizzled veteran tough guy. If you go back to the 1960s, a huge percentage of pro wrestlers looked like Kevin Steen. They were big, burly men. In real life that's the kind of guy you don't want to piss off at your local bar. Where are you going to hit him? And once he's on top of you, you're toast. Bully Ray has done a brilliant job of being that sort of old school hard man and Steen would deepen the roster in all the right ways. Imagine the terror on a BroMan's face after realizing he just goofed his way into a fight against Steen? That would be fun.




5. Johnny Gargano and Adam Cole



As I've established previously, this is my column and I'm allowed to cheat. I mean, if I'm not cheating I'm not really trying , right? Plus, the case for Gargano and Cole is exactly the same. They're massively over in the indies and ideal to reinvigorate TNA's X Division. I don't know that the WWE is coming for either of them and it's high time they got themselves on national television. They both also have the ability to grow into TNA title contenders over time. In fact, this is such a good idea I'm going to cheat even more and add Trent Barreta on top of them. He even brings some WWE residue with him. Yep, three guys in one slot. But you say, "That makes this a top 10 list!" No, that's just the lies your math is telling you. Go ahead and look at the Michael Bennett entry. The number next to his name clearly is 8. Anyway, my one pick of Gargano, Cole and Barreta would nearly guarantee a hot show every week.




4. Tony Nelson



He's from the University of Minnesota and trying for his third straight NCAA Division I heavyweight freestyle wrestling title. The kid is a physical specimen, the new golden boy. Dana White and Vince McMahon are going to be knocking down his door. He also might have his sights set on a gold medal at the 2016 Olympics. If that's the case, then it will be two years before anyone gets their hooks into him. Yet TNA can offer him a few things others can't: guaranteed rapid advancement, flexibility and Kurt Angle. The WWE would send him to pro wrestling school, followed by a name change and a long spell in NXT. Then he'd have to claw his way up a loaded roster. MMA would take years of apprenticeship. At TNA, he'd quickly jump to the main roster and, unlike other suitors, it could lay out the basics of a three-year plan for him that includes a title run. The TNA work schedule also would allow him, if he so desires, to train for MMA at the same time he was establishing his wrestling career. More than that, working alongside Kurt Angle is as good as it gets for an accomplished amateur wrestling looking to turn pro. Nelson could be the Cena-esque superface TNA never has had. The wrestling business is always looking for the next big thing and Nelson could be it.




3. Carlito



I'm sure there's a young Latino wrestler out there that might be a better investment than Carlito, but I can't find that guy. Carlito can go in the ring, he's got an established name in the business and, unlike most of the TNA roster, he's good on the stick. He ticks off every box that TNA needs. He also shouldn't want to go back to the WWE, where his brother drifts in the enhancement talent ranks. Carlito should have something to prove in this business. King of Puerto Rico probably is a comfortable gig, but, like Steen, he can be more. TNA also wrestles predominantly in the American south, which has an exploding Latino population. Granted it's more Mexican than Puerto Rican, but Carlito still would give TNA a Latino working at or close to the top of the card. I thought the promotion seriously dropped the ball by never giving Super-Mex a big singles push. I mean, once upon a time Rhino and Abyss held the belt in that company. Somebody's got to be the first guy through this door for TNA. I'm picking Carly Colon.




2. Jay Lethal



Lethal should have been given a big push in 2010 after his Slammiversary win over AJ Styles. Instead he got shuffled back into the X Division mix. I'm not saying that's because of his race (Lethal has cruiserweight size working against him), but you'd expect a bigger push for a young, athletic, skilled, charismatic guy. It was an opportunity missed for whatever reason they missed it. Despite the fact that he's been around seeming forever, he's still only 28. His return would score big with TNA fans and it would be exciting to crack through his previous ceiling into the world title picture. And TNA does have a race issue. As of this moment Kenny King is the only black wrestler on the TNA roster and he's barely seen these days. I'm sure it's unplanned, but that's just weird. Fix that so that we don't even have to speculate about why, especially if you're running the promotion that (unfairly) gets labeled as the rasslin' company. The optics of TNA's current roster are terrible. It's the sort of thing that can lose you business and get you all the wrong kinds of attention. Plus, Lethal deserves to be there. He'd immediately up the quality of the roster. There's nothing but good reasons to bring back Jay Lethal.




1. Ryback



The fundamental problem Ryback has in the WWE is it's hard to be the freakishly strong guy on a roster full of freakishly strong guys. They've got the Big Show (who's just enormous), Mark Henry (strongest man in the world), John Cena (whose power comes from his superhuman heart - yes, that's sarcasm), Big E (former powerlifter), Brock Lesnar (who's like Ryback with a lot more talent), Batista (Hollywood strong), Antonio Cesaro (who sometimes treats the Great Khali like a rag doll), Sheamus (with his beer-fueled ginger strength) .. you get the point. It's hard to differentiate yourself as the so-much-stronger-than-everyone-else player with that kind of competition. No one gets to be the alpha strongman in the WWE. That is a constant battle. But in TNA that position is completely unfilled. Super-Mex is the only guy on the roster I'd even be inclined to classify as a power wrestler and when's the last time we saw him? TNA needs a brute. A physically dominant guy would go a long way in that company and I think Ryback's permanently consigned to the mid-card in the WWE. He'd be a very big fish in the TNA pond.

I take requests.. The purpose of this column is to look forward. What could be? What should be? What is and what should never be? What would make more sense? If there's someone or something you think should be given the 8-Ball treatment, mention it in the comments section. I might pick it up for future weeks.
comments powered by