SPOTLIGHTS
The Piledriver Report 01.31.14: Goodbye Punk
Posted by Ronny Sarnecky on 01.31.2014

CM Punk has walked away from WWE just as the Road to WrestleMania is heating up! 411's Ronny Sarnecky looks at Punk's departure, what it means for WWE and more!

CM Punk has quit the WWE! When I woke up this morning, and checked my cellphone, the last thing I expected to see was that CM Punk quit the WWE. Don't get me wrong, out of all of the people on the WWE roster, I always thought that CM Punk would one day walk away from the business, or at least the WWE within the next couple of years. When I heard that his contract was up in July, I feared that we may be seeing the last of CM Punk in a WWE ring. However, I never thought Punk would leave the WWE in the middle of WrestleMania season.

THE TIMELINE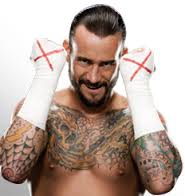 Last Thursday, CM Punk did an interview with MMA Ariel Helwani where he mentioned that his contract was up in July and said there's no point in saying anything about it. He said if he doesn't sign, he wouldn't say so now, and if he says he is looking at not signing, and then he does, people will think he was working an angle. He also made mention that he wouldn't watch today's product if he wasn't on the show.

On Friday, Punk appeared at the Comic Con event in Portland, OR. On Saturday, Punk requested the day off from their house show . Instead of working, he later went to the UFC show that was held in Chicago. Punk worked the Royal Rumble, where he lasted 50 minutes in the battle royal until Kane eliminated him from the match to advance the CM Punk/Authority storyline. On Monday, he showed up for RAW, but at 7:30pm, he saw Vince McMahon where he told the chairman that he was done and going home.

WHAT CAUSED PUNK TO QUIT


It seems like there are several reasons that slowly led to CM Punk's decision to leave the WWE. While CM Punk or the WWE has yet to go on record as to what really happened on Monday night, many assumptions are starting to circulate. CM Punk has beat suffering a lot of nagging injuries, and is tired of the grind of the road. Many feel that the wear and tear of the road has finally gotten to him. According to Dave Meltzer, "Another person close to the situation who was aware it was coming, just didn't know when, said it was a classic case of being burned out, and noted the dichotomy that he's never had a job where he's made anywhere close to the same amount of money, nor ever been as famous, and gotten more out of wrestling than this one. But, he has been miserable at the job for some time, and he was a guy who loved working in pro wrestling when he made nothing or very little."

Another popular theory has CM Punk fed up with the WWE and their creative team. At the Comic Con event, Punk mentioned that he used to argue with creative but now he just shows up and does what he's told. He pushed the idea that he felt this was Daniel Bryan's year and knocked the short-term booking and planning several times. He still seems bitter over The Rock's WWE part-time return. In the interview with Ariel, he was negative of The Rock coming back as a part-timer, and doesn't believe part-timers should come in just to take the WrestleMania spot that guys who wrestled all year have earned.

Last year, CM Punk mentioned that he has accomplished everything in a career except main event WrestleMania. According to the "Wrestling Observer Newsletter," "Within the company, the reason was that he came to the realization that he would never be positioned higher than he was. His goal was to main event WrestleMania, as in be in the real main event. He felt that because he didn't fit the mold of what they think the top star in the company should look like, he would never be the guy and the centerpiece." It's very understandable why CM Punk would come to this realization. The WWF/E title or World Heavyweight title was in the main event position in all but four WrestleManias. After years of clawing his way to the top of the WWE, Punk finally headed into a WrestleMania as the WWE champion. However, an anticlimactic match against Chris Jericho would not have been the proper match to main event WrestleMania XXVIII. That night belonged to The Rock and John Cena, and rightfully so. The big complaint that CM Punk should have in regards to being spurned from a WrestleMania main event would have been at last year's event. After holding the WWE title for over 400 straight days, CM Punk deserved to headline WrestleMania XXIX. Punk should have either been inserted into the John Cena/Rock contest as a three way match, or his battle with the Undertaker should have closed the show. These days, the Undertaker's match is looked at as being on par, if not greater than the WWE title match, at WrestleMania. Besides the slap in the face that Punk received by not being given a slot in a WrestleMania main event. What was worse is that during his time as champion, CM Punk main evented only five pay per views as the WWE champion. It's like the WWE gave him the belt, but refused to give him the spot. To me, it's a half-hearted way of getting behind Punk. No wonder why he has been frustrated.

THE TIMING


With his contract expiring in July, it comes as a shock the CM Punk decided to leave a few months before WrestleMania. Why would he leave now when a WrestleMania payday is only a couple of short months away? Maybe there wasn't a big WrestleMania pay day coming on the horizon. The WWE is pushing fans to their upcoming WWE Network. As part of the attraction, the WWE is offering WrestleMania XXX for free on the Network, as long as you pay a small $10 monthly membership fee. If as many people flock to the Network as the WWE thinks they will, then expect WrestleMania's buyrate to plummet. The WWE has yet to address how they will handle the lost pay per view buyrates in conjunction with the wrestlers' pay per view bonuses. Maybe Punk realizes that the big WrestleMania bonus will not be so big this year. Thus, staying isn't worth the unhappiness he is going through. He also realized that, even though he would be facing CM Punk at WrestleMania, he wasn't going to close the show, so he decide that the match isn't enough to make him want to stay.

WHAT NEXT?


The big question now is if/when CM Punk will return. I believe that CM Punk will eventually return. I think after a few weeks or months, after his injuries start to heel, and his body recuperates, I think he will get the itch to come back. Maybe it will be as soon as the Elimination Chamber pay per view, or maybe he will make a surprise return at WrestleMania XXX. This is me hoping for a quick return. I think the more likely scenario is that CM Punk stays out until next January, and makes his return with a Royal Rumble victory that allows him to finally headline WrestleMania.

If CM Punk is really serious about leaving the WWE, it would not be surprising to see Punk gone for good. According to the reports that you hear about Punk, he is one of the rare breed of wrestlers that saved his money, can retire young, and not worry about finances. The trick will be Vince McMahon. How does he feel about CM Punk leaving the company. Is he OK with one of his cash cows walking out the door, or will he try to get Punk back at all costs. If Vince wants Punk back, Punk may have even greater bargaining power than he did the last time that he went to the negotiating table. I think Punk will return with a WrestleMania main event, and a shorten road schedule to help try to get him back into the fold. Will it work? Probably not immediately, however, by this time next year, I believe CM Punk will be gearing up for a WWE World title match that will close out WrestleMania XXXI. As a fan, I hope he comes back sooner. After all, the more I can see the best in the world in the squared circle, the better.

comments powered by