SPOTLIGHTS
Smart Marks 2.01.14: Punked Out
Posted by Dino Zee on 02.01.2014

Is CM Punk on the wrong side of the latest drama that saw him walk away from WWE? 411's Dino Zucconi takes a look! Plus thoughts on Batista's Royal Rumble win and more!

Welcome back to another collection of Smart Marks! I'm Dino, and I'm your host. This is the place for all of us dorks to gather, discuss, and maybe even argue points every once in a while. I'm not here to troll, I'm just here to give you my take on things, and open the floor for other interpretations.

First things first, yes, I was wrong about the Rumble. Not horribly wrong, as I called CM Punk lasting a long time, Roman Reigns getting the Diesel Push, and even Sheamus' return. However, at the end of the day, I had my wagon hitched to Daniel Bryan winning the Royal Rumble, and he didn't. In fact, he wasn't even in the match.

I have no problem admitting when I was wrong. I also have no problem admitting that I was a bit of a crybaby bitch when Rey Misterio's music hit at number 30.





Royal Grumble



See, for me, there seemed to be this really nice story that had been built. Daniel Bryan proved he belonged by defeating John Cena at SummerSlam, clean, in the middle of the ring. Immediately after his victory, Randy Orton cashed in his Money in the Bank contract, and with some help from Triple H, stole the belt from Bryan's hands. The next month, Bryan regained the title, only to have Triple H talk him into giving it up due to shady officiating. One no contest later between the two, and they were set up for a final encounter at Hell in a Cell where, as we all know, Bryan lost after referee HBShizzle hit him with a superkick.

So, after being screwed out of his title on 4 separate occasions, Bryan was then attacked by the Wyatt Family. He couldn't focus on both, so he went after the Wyatts, even joining the family briefly before returning to the light. It seemed like the perfect opportunity- much like Bret Hart at WrestleMania 10- to have Bryan lose early in the Rumble to Wyatt (which I also called), and then emerge the conquering hero by winning the Rumble and heading to WrestleMania to settle everything with Randy Orton.

Silly me, though. I forgot about Batista!

And make no mistake, THIS is more where the anger comes from. Yes, I'm a tad butthurt over Bryan not winning, but I'm super duper butthurt over some guy that's been back for 6 whole days getting to come right in and win the whole thing. Especially when there is no real reason for us as fans to give a shit about it, unless you're a huge Batista fan, Orton hater, or a combination of both. If you're neither, however, I just don't see how you could be happy about the ending of the Rumble.

Also, I know that there's a new wave of I really don't get this whole love affair with Daniel Bryan going on, and really, that's great. However, you don't have to "get" it. All you need to get is that he's easily the most over guy on the roster, for whatever reason, that has women, children, AND the shithead older guys all cheering for him. Yet, he wasn't even in the Rumble. And our final four? CM Punk, Roman Reigns, Sheamus (just returned) and Batista (6 days back). It was like WWE was saying to us Oh, you like those smaller wrestlers, eh? Well, here's your hero, and THREE BIG HOSSES! And of course, CM Punk was eliminated almost as soon as there were four. Just so we don't forget who the REAL stars are supposed to be.

You don't have to love Daniel Bryan, but pretending to not see what's going on just for contrarian's sake? Poor form. And I'm saying this as a guy who booed Stone Cold Steve Austin for nearly the entirety of his run. Like I said, no need to like everyone, but don't play dumb. Just say you don't like the guy. You don't need to understand why he's hugely popular with the masses; he just is.

Now I know that since then, Raw has attempted to soothe the burn by having Bryan (along with Sheamus and John Cena) win spots in the upcoming Elimination Chamber. And that's all well and good. And maybe we still end WrestleMania with Bryan holding the WWE World Championship belt above his head. That doesn't mean that the ending of the Rumble was horribly booked, helping to serve only those that are buddies with Triple H.

What'd you guys think? Did anyone LIKE seeing Batista's triumphant return? I'm not arrogant enough to think that EVERYONE hated it. So let me know why it was the RIGHT thing? I think anyone but Batista would have been a better choice, personally. You know the drill - hit me up in the comments!





Punk'd



Coming out of the Rumble, we all watched Raw wanting to see what was going to happen. What would Bryan say or do? What about the Rhodes Brothers- would there be any beef between the two following the loss of their tag titles, along with Goldust eliminating Cody? What about CM Punk and Kane?

Hey, where's CM Punk?!

The next day, word broke that CM Punk had approached Vince McMahon at Raw, and told him he was going home. Various reasons were given as to why, basically breaking down to:

1- Anger over Batista's return and Rumble win
2- Anger over not being in the WM Main Event himself
3- Anger over Daniel Bryan not being in the WM Main Event himself

First things first- all three are totally, completely, 100% valid feelings to have. I was probably just as angry about #1, and almost nearly as angry about #3. #2? Meh, Punk had a pretty solid run as the WWE Champ, and while he's worked his ass off, there are plenty of others who have, too.

Second thing- I like CM Punk a lot. I don't consider him the absolute best, but rarely do I lose interest in a match/segment featuring the man.

Third thing- CM Punk is a huge crybaby, just like Steve Austin was nearly 12 years before him. Walking out on WWE proves nothing, and accomplishes nothing. This machine was able to survive losing Hulk Hogan, Randy Savage, Bret Hart, Shawn Michaels, the Rock, and Steve Austin. CM Punk walking out is supposedly the catalyst for change? Pardon me if I don't buy into the delusion.

By walking out, Punk only punishes those who actually give a shit about him- the fans. The fans don't get to see him wrestle. The fans don't get to cheer their favorite guy. And why? Because he's not getting the push he wants. No, I don't buy into the "he's mad that Bryan didn't get the title shot at Mania!" rumor, either. I feel that's damage control done either by Punk or his inner circle so that he doesn't come off as a totally selfish asshole. "He's sticking up for his friends!" I don't buy that for one second.

As it stands, support for Punk, I feel, is misplaced. He walked out. On the company. On the other wrestlers. On YOU, his fans. He just left, because he didn't like things. I know that in today's wrestling society, it's fun to hate everything WWE does, and cheer anyone who "stands up" to them or "sticks it" to them- he did neither. WWE will not feel this effect. It will continue on. If Punk cared, he'd continue to do his best to make his segments entertaining for his fans. Instead, he's revealed himself as a giant mark (which in itself isn't a crime- Bret Hart and Hulk Hogan are, too) who throws temper tantrums when he doesn't get what he wants, which is really disappointing.

Now, there's the usual faction of people screaming It's a work!, which I believe has become wrestling fan code for I don't know what the real deal is, so I'll just hedge my bets! If you believe this is a work, then the point of this work is... to make one of their most popular guys come off horribly as a crybaby? To get Batista more hated because he's the reason that Punk left? You'll excuse me if I'm not connecting the dots on this one. I don't buy that it's a work for one second. CM Punk quit. Just like Austin. And he'll eventually tuck his tail and return. Just like Austin. And that's because the machine, like I said, will always keep going. With or without him. And he likes the spotlight a tad too much to stay away, or even entertain showing up in TNA again.

I'm obviously a bit disappointed in the man, but what say you guys? Anyone who can defend the idea that it's all a giant work? Anyone who can defend the guy who quit on his fans? Hit the comments!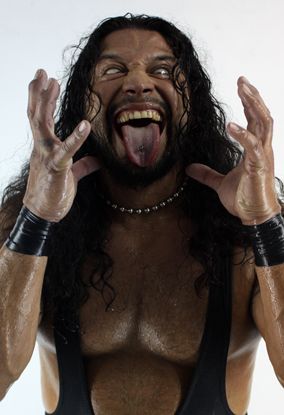 That man? That's El Terrible, the CMLL Campeón de Peso Completo (World Heavyweight Champion) of 2 years. Just in case you aren't clear on who he is.

As we know, I embarked on a Lucha Libre discovery mission a couple months back. Mainly done so that I had more to talk about besides WWE and TNA, it was also done in hopes of opening up my wrestling watching, and perhaps falling back into something I used to dig.

Today, I watch more Lucha than nearly anything else during the week. I also enjoy it, as there is nearly no sports entertainment to speak of. The show starts, and you get a match. The match ends, you go to commercial, return, and there's another match. Want to set up a match for next week? Have one of the guys call out another on the microphone after a match has ended. It's very stripped down, and reminds me of the old Crockett NWA shows.

This past week, on the two CMLL shows I record each week, El Terrible was involved in two separate trios matches, each with Shocker on the other team. And in each match, Shocker pinned El Terrible. In each fall (remember, two out of three falls are the norm in lucha), Shocker pinned Terrible. I watched the CMLL champion get pinned four separate times from Shocker.

Remember Shocker? He was in TNA briefly in like 2004, I believe. He was also in a McDonald's commercial that aired here in the states around that time, that showed him attempting to eat a burger, but couldn't, so he took off his mask to do so. I don't really know much about Shocker's lucha accomplishments in great detail, and I certainly wasn't going to go hit Wiki real quick and regurgitate it back to you as if I did. I know that he's a big star, and has been a big star for quite a bit.

However, he also looks a little old. Moves a little slower. And yet, here he is, pinning the friggin CHAMP four times!!! It all came to a head when, after the completion of the second trios match, Shocker finally called El Terrible out, one on one, for a title shot! And Terrible accepted! I'm excited because a) El Terrible is my favorite dude in CMLL and b) I have yet to see a CMLL World Title match in my few months of watching. My American brain expects a title match every other week. In CMLL, most of El Terrible's matches have been in tag or trios action. The change can be a bit startling at times.

Still, I enjoyed seeing a challenger actually built up organically, instead of just asking for a match, or attacking the champ, or winning a tournament, or climbing a cage, and then a ladder. He simply pinned the champ a bunch, called him out on it, and demanded a shot. Simple. Ah, lucha.

If you're not following lucha, I'd highly recommend it. If you do follow it, do you give Shocker any chance against El Terrible? I normally wouldn't, but the length of his reign leads me to believe it could be coming to an end. Either way, I sure hope I get to see the match aired, and ¡Viva Terrible!

That will do it for this week. I hope you all enjoy your weekend!

And as always, enjoy your WWE, your TNA, your Lucha, your Puro, and your Indies.







It's All Wrestling. It's All Stupid. We All Love It
comments powered by