SPOTLIGHTS
The 8-Ball 2.03.14: Top 8 Ways to Improve TNA
Posted by Mike Hammerlock on 02.03.2014

From booking their champions strong and keeping Dixie Carter away from the product to bringing back the six-sided ring, getting risque and more, 411's Mike Hammerlock looks at the top 8 ways to improve TNA as a wrestling company!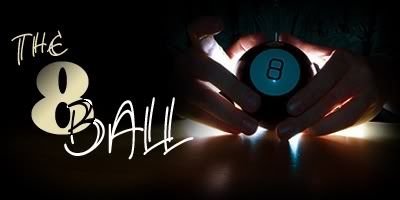 Last week I tried to repopulate the TNA roster with a pile of guys who can, you know, wrestle. As I noted at the time, talent is only part of the equation for TNA. Impact lately has turned into the Scooby-Doo Laff-A-Lympics. It's like they're trying to be terrible. And I'm not saying that to hate on TNA. At various points in its history, I've thought TNA was quite good. Unfortunately TNA just had a year that should live in infamy.

So the Magic 8-Ball is offering this up as a modest set of suggestions for what would put TNA on better footing. Normally this column would look to push the envelope a bit more, but TNA needs to crawl before it can run. The goal of this week's list is to figure out how watching TNA Impact each week can be something other than an adventure in facepalming.





8. Remove Dixie to an Undisclosed Location



I know Dixie Carter owns the company, but she's a comically bad actress. She makes John Laurinaitis look like the next Bryan Cranston. Worst of all, she's become the lead story on TNA broadcasts of late. I'm not rooting for some good guy to come along and beat her. That would just mean more focus on Dixie. I'm rooting for someone to chloroform her character. Her appearances should be brief and infrequent. She's bad television. Get her some lieutenants who have more personality than a mannequin. In fact, expand this to a general rule for TNA, stop asking people with no acting talent to act. The awkward backstage segments make it look like a rinky-dink outfit. Too many rambling promos are being cut by wrestlers who need to shut up and fight.





7. Stop the Car Crashes



Outside interference has its place, but like most things in wrestling, it plays better when you do it sparingly. TNA has flogged the million man run-in during the past two months. It's not special. It's not shocking. It's not memorable. It's just stupid. It's become so bad, it's actually a surprise when a well-worked wrestling match breaks out. Right now the audience is like Wile E. Coyote, constantly falling into a ravine or having stuff blow up in its face. Watching a wrestling show shouldn't be an endless exercise in frustration. The whole production stinks like Nitro at the moment. Clean it up, deodorize it and stop flinging feces around like you were in a monkey house.





6. Six-sided Ring



For me, this remains the most basic thing TNA needs to do. Switching to a four-sided ring completely undermined the company's claim to being the next generation alternative to the WWE. As long as they stay in a four-sided ring, they risk looking like WWE Lite. Unfortunately now there is a WWE Lite. It's called NXT. Go back to six sides. Yes, I know older wrestlers don't like it. That's exactly the point - this isn't your dad's wrestling. TNA needs to play a different game. Plus, six sides gave TNA some bragging rights. If the WWE continues down it's current road of putting its title around the waist of Dave Batista, then TNA fans rightly could make the case that the Animal couldn't hack it in a six-sided ring. That wouldn't mean TNA suddenly is better than the WWE or that the WWE would be in some kind of trouble because TNA was back to six sides. It would just mean that had some necessary differentiation and its fans would have something to brag about.




5. Be Naughty



The WWE finds itself firmly in the PG era. TNA should veer hard in the other direction. There's a place for rough-and-ready wrestling where not everyone curbs their language and where sex isn't a four-letter word. America likes throwing down, cursing a blue streak and watching scantily clad women. It's in our DNA. At some of these free pay-per-views - please start billing these as "Tonight, on very special episode of TNA Impact ..." - they could spill a little blood. Supposedly Abyss and Eric Young got a little hardcore this past week. Good. The WWE isn't going to do it. TNA should. And network standards and practices allow you to say all kinds of choice words after 9 p.m. Talk some shit … and if you're not down with that, they ain't got but two words for you - suck it.

As for sex, work it into storylines. If you're going to pre-tape Impact, then spend some budget on pixelation. Look at all the money it's made Jerry Springer. They don't have to turn every female in the company into a bimbo, but maybe hire a few women to enhance your jiggle factor. I remain surprised that more actresses looking to transition out of porn haven't followed in Jasmin St. Claire's footsteps and brought their talents to pro wrestling. I suppose they're a little too controversial for the WWE these days, but they come from a $14 billion industry. TNA wouldn't suffer from having some crossover performers who deliver a search engine pop. Prior nudity certainly didn't hurt the careers of Mickie James and Brooke Tessmacher. Plus, you're called TNA for crying out loud.





4. Three Hot Matches Per Show



TNA only holds four major pay-per-views each year (plus the mini PPVs that have been almost uniformly terrible). It's primary product is Impact and it needs to do all it can to make that must-watch television. The extracurriculars will only get you so far. What really sells a pro wrestling show is pro wrestling. With TNA's roster, fitting three hot matches into a two-hour show shouldn't be too hard. Consider the flip side of the "stop the car crashes" coin. First, stop doing stupid stuff. Then start showing people you're good at the thing they ostensibly tuned in to see. On top of everything else, good matches on Impact would help sell tickets to TNA live events. If what you're peddling is Dixie drama and Total Nonstop Clusterfucks, good luck selling tickets to that.





3. Rebuild the Tag Division



Well, duh. The American Wolves represent a good first step. In a perfect world Alex Shelley comes back to reform the Motor City Machineguns. Look, you're already marking out over the idea of Machineguns vs. Wolves. Ultimately TNA needs half a dozen viable tag teams in order to fill out the weekly card. This works even better if they go back to the six-sided ring because it opens the door to three-team matches. TNA can't compete with the WWE for top-end talents. The biggest names in the business will be working elsewhere, but it can compete (and win) for where the best tag teams ply their trade.





2. Book Six-Week Miniseries



One of the big problems with TNA is that it feels like bad improv, which is weird because they've got weeks in between tapings in order to plan out the next bank of shows. I understand if personnel and monetary concerns make long-term booking impossible, but if you're going to tape something like six weeks at a whack, then why not make that into a six-week miniseries? It would keep the live fans engaged and give them a payoff for slogging through all those tapings. Most of all, it would give the company some coherence even if it's managing chaos behind the scenes.





1. Book Your Champ Strong



Let me be direct about this, Magnus so far has been just about the biggest feeb ever to hold a "world title" belt. He's been booked to look pathetic. When it comes to TNA champions, he's bottom of the barrel. The man can't win a match unless half the roster gives him an assist. It's baffling. If you've got a weak company - and the massive number of roster cuts plus the failed Impact on the road experiment indicate TNA is reeling - then book a strong champion. I'm in favor of booking most every champ strong, just because it makes the rest of the roster look strong. Call it the Anti Honky Tonk Man Theory of titleholder booking. HTM was a comedy wrestler who looked worse than a lot of jobbers in the ring. S.D. Jones would have mauled that guy in a fair fight. Yet for 454 days we were supposed to believe no one could take the belt off that clown. Made the whole roster look weak for lacking a dude who could knock out HTM inside a minute.

Anyway, Magnus is heading down that same road when TNA really should be booking him as the baddest young wrestler on the planet. It doesn't have to be a full Goldberg push, but at least give him a Bobby Roode level of credibility where he can deliver the goods after his cheat-to-win antics fail. One of the quickest ways to start convincing people TNA is good is if it books its champ as being good.

I take requests.. The purpose of this column is to look forward. What could be? What should be? What is and what should never be? What would make more sense? If there's someone or something you think should be given the 8-Ball treatment, mention it in the comments section. I might pick it up for future weeks.
comments powered by