SPOTLIGHTS
The 411 Wrestling Top 5 2.12.14: Week 253 – Top 5 Favorite Feuds
Posted by Larry Csonka on 02.12.2014

From Steve Austin vs. Vince McMahon and The Freebirds vs. Von Erichs to Edge vs. John Cena, WCW vs. the nWo and more, the 411 staff counts down their top five favorite feuds of all-time!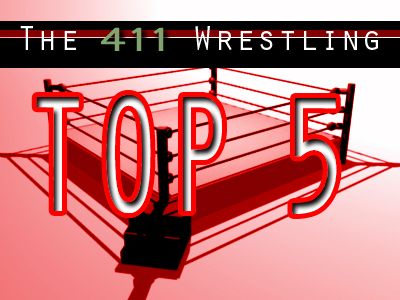 Hello everyone and welcome to 411 Wrestling's Top 5 List. We take a topic each week and all the writers here on 411 wrestling will have the ability to give us their Top 5 on said topic, plus up to three honorable mentions.

So, onto this week's topic…



THE TOP 5 FAVORITE FEUDS!





Make a list of your personal top five FAVORITE feuds…




MICHAEL WEYER
5. HHH vs. the Rock - Have any two men changed so dramatically from the start of their feud to the end? In early 1997, Hunter Hearst-Helmsley was the arrogant snob IC champion when smiling babyface Rocky Maivia upset him for the title. When they clashed again in 1998, HHH was leading DX while Rocky had changed to the arrogant heel the Rock, great moments like HHH impersonating Rock in a classic skit. Their ladder match at SummerSlam '98 elevated both men to true stardom, anyone who says HHH only has his spot due to Stephanie missing this guy was always going to make it. When they revived it in late 1999, HHH was now the hated heel and Rock the people's champion, going at it throughout 2000 with great battles at Backlash and more. It's amazing watching them both improve and blossom as their rivalry went on, each amping themselves from mid-carders to the main event stars we know today and giving some fantastic bouts, not to mention terrific dueling promos, the essence of a modern-day feud that captivates fans and gives some great fights.

4. Shawn Michaels vs. Bret Hart It dates back to their tag team days as the Rockers and the Hart Foundation clashed quite often, the Rockers even booked to win the belts but a bad match and backstage politics marred it. Then in 1992, newly single heel Shawn challenged Bret for the IC title in a feud that included WWF's first ladder match. When Shawn won the IC belt, he and WWF champion Bret fought at the Survivor Series and briefly the next year when Shawn was replacing Jerry Lawler in a feud match with the Harts. They'd go at it again at WrestleMania XII with Shawn winning the belt and he and Bret doing a brilliant job working the fans and locker room into thinking they had real heat. As Bret wonderfully put it, "we worked ourselves into a shoot" as in 1997, that heat erupted into a huge feud with both men taking personal shots at each other, Bret a hero in Canada but a heel in the U.S. while Shawn was remaking the industry with DX. Of course, it all led to Montreal and the match that changed the course of wrestling for so many years. All this drama wouldn't be enough if not for the fact both men were stellar athletes capable of carrying huge matches and used that heat to fuel their bouts. Not just a great conflict in the ring but of two proud personalities who wouldn't back down and that led to a feud that would reshape WWF as we know it and still resonates today.

3. Ricky Steamboat vs. Ric Flair: As one of the biggest Steamboat marks you'll ever find, I have to list this. Both graduates of the same training class of Verne Gagne, they began their clashes early on in Mid-Atlantic as Steamboat upset Flair for the TV title and Flair responded by grinding Steamboat's face into the cement. They would battle for the NWA World title in 1984 before Steamboat left for WWF but it's their 1989 program we all remember. Steamboat, a family man, down-to-earth and fantastic with quick moves against the flamboyant, arrogant Flair. They traded the title in what remains one of the greatest trilogies of matches in wrestling history, each more brilliant than the last. They would revive it briefly in 1994 as each man was fantastic to watch in the ring together, mixing bouts that had you on the edge of your seat and cheering for both equally. Sometimes, feuds don't need pure hate or vicious attacks, just great wrestling and that was what Steamboat and Flair gave you in spades.

2. Freebirds vs. Von Erichs On the WWE history of World Class, Jim Ross sums up that this feud was a promoter's dream come true. The Freebirds, the hated Georgia rule breakers against the Texas-born "clean-cut" Von Erichs. The Freebirds were the first cool heels, the first ones fans loved to see break the rules and such and that helped fuel them here as the arrogant Michael Hayes, brilliant worker Terry Gordy and skilled Buddy Roberts could pull off massive ambushes, great promos and slick battles while the Von Erichs had all of Texas on their side to clash with these Southern invaders. Six-man matches, tag team, street fights, whipping bouts, any combination was thrown for these and the fans ate it up in droves. The heat for this was insane, fans ready to literally rush the ring and riot if the Freebirds won. While the death of David Von Erich cast a shadow, it still went on in various ways, the cash cow WCCW milked as dry as they could but dammit if it wasn't a great output when it was in its prime.

1. Austin vs. McMahon The feud that turned the tide for WWF in the Monday Night Wars and birthed the Attitude era. It was perfect: Austin, the blue-collar guy who spoke for the masses against this evil, arrogant millionaire. Fans could not get enough of Austin coming in, talking trash, swilling beer and beating McMahon to a pulp as who wouldn't want to do that to their own idiot boss? What made it better was how it was so evenly fought; just as it looked like McMahon had the upper hand, Austin would turn the tables and make things even worse for him. McMahon has his guys assault Austin? Austin has the cops arrest McMahon. McMahon fires Austin? Austin stalks him around the building with a gun that ends up firing a "BANG 3:16" sign and make McMahon wet his pants. McMahon wins the Rumble? Austin uses a loophole to force a cage match where he beats McMahon within an inch of his life. Even the stupid "Higher Power" thing was redeemed as just as Vince reveals himself, Austin ends up becoming CEO just to drive Vince more insane. And in between we get the hospital attack, limo filled with cement, the beer bath in the ring and so much, much more. It was just glorious to watch, the fans going nuts every week for it and anyone who grew up with that era remembers it for the perfect dynamics of a feud that kept on giving.


---



JUSTIN WATRY
5. John Cena vs. The Rock - Yep. It is kind of hard NOT to rank this in the top five when you think about the money made between these two. WrestleMania 27, WrestleMania 28, and even WrestleMania 29 all rank as three of the most purchased WWE pay-per-views ever. I think only WM23 and maybe one other show tops them. The Miz was involved with the 2011 edition, but the focus was still on Rocky/Cena. Add in the live gate. Add in the record-breaking revenue. Add in the fact that their first match against each other was announced one year out (unthinkable risk). For out generation, Cena has had great feuds with Randy Orton, CM Punk, and many others. The Rock triumphs them all.

4. Undertaker vs. Shawn Michaels - Honestly, you can just forget about their work in the 1990's. Even without that stuff, this feud ranks very highly. The story with these legends from Royal Rumble 2007 and on teasing a showdown was done perfectly. Whether that was the long-term plan or not is irrelevant. Everything fell into place that brought us (in my opinion) my favorite match of all-time at WrestleMania 25. Then the journey to their rematch was just as entertaining. HBK knew he could win. He had to win. He WOULD win. All of it was so great.

3. Kane vs. Undertaker - What a huge mess...but what a beautiful mess. Tag partners. Hated rivals. Champions. Friends. Foes. Brothers. Buried alive. Set on fire. Only in the world of wrestling and these two characters can make that work. Any other two guys? It would seem ridiculous and fall flat. With their back story and so much history to bank off, I can see why WWE goes to this well so often. While I have moved on and no longer crave to see these two wrestle 'one more match' in WWE, it would not shock me if they locked up again. Never say never.

2. Stone Cold vs. The Rock - Everything I said about my number five choice relates here. Only a few select feuds can cross over to three different WM shows. There have been some, no doubt. However, was there anything better than the Mania trilogy between The Rock and Stone Cold? Like all classic story lines, it needs a fitting end. That fitting end was Rocky FINALLY being able to defeat his foe in his final match. Also, it may stir up some controversy, but I would also note that Triple H added a lot during the Attitude Era in between the Rocky/Steve Austin matches. If triple threat feuds were allowed, do not forget to give HHH an honorable mention in this mix.




1. Stone Cold vs. Vince McMahon - This goes beyond the obvious feud during the late 1990's. I am a fan of ALL feuds with the evil boss going after the top face wrestler in WWE. Now in 2013 and 2014? It is clear overkill and no longer fun. However, until it reached that point, we all loved watching The McMahons cause chaos with the roster. So fun. All the moments and memories of the boss being humiliated. All walks of life can relate to that story. Of course, we can just ignore the terrible WM17 ending and the rest of 2001. Yeah, we can ignore that...

---



DINO ZUCCONI
5. Sting vs. Vader - From the moment Vader arrived in WCW, it was pretty clear that he was going to be someone to pay attention to. After a few weeks of mauling hapless jobbers, Vader suddenly went on a tear, and found himself in a title match with Sting. Sting was then mauled and lost his title. These two, from that moment on until Vader left WCW, would always remain someone entangled in a feud, be it for belts, for King of Cable awards, or just because they didn't like each other. On top of that, you usually got an incredibly brutal match in the process. Sting vs. Vader is just music to my ears.

4. The Rock vs. Steve Austin - Another feud that, once started, never seemed to ever really end, but one that always gave you good moments and fun matches. They started feuding the second Steve Austin showed disgust at Rocky's winning of the 1996 Rookie of the Year award at the Slammy's, then continued over the Intercontinental Title, before going full bore into a WWF title feud when Rock joined the Corporation. It provided the main event to one of the most celebrated cards in WrestleMania 17, and I was able to attend the final chapter in Seattle when Rocky beat Austin at Mania 19. These two were the Attitude Era, and remain one of my favorite all time feuds.

3. Ricky Steamboat vs. Rick Rude - It wasn't the longest feud, nor was it the most important, but the feud these two had for Rude's US title was incredible. I still remember the episode where Rude and his Dangerous Alliance cronies attacked Steamboat, and Rude repeatedly slammed Steamboat's face into the concrete floor. The subsequent interview Steamboat gave, having to look his son in the face and tell him what had happened... chills, man. I truly believed that one wanted to kill the other, and they had the goods to back it up in the ring. Plus, this was one of the many reasons for the Dangerous Alliance/Sting's Squadron War Games match, which is one of my personal favorite matches, ever.

2. WCW vs. NWO - For all its faults, all its warts, all its bloated rosters and ridiculous twists, all its run-in endings and non finishes, the fact is, the feud between WCW and the nWo was fricking amazing. From the second Scott Hall jumped the barricade, wrestling fans knew something big was coming. Then Kevin Nash arrived. Then Bischoff got jackknifed. Then Hogan turned. Then Sting was questioned. Then Sting disappeared. Sure, pretty much every single one of us feels we could have booked several key moments much differently, but I'm happy to have been around for such an amazing run.

1. Bret Hart vs. Steve Austin - When Bret Hart announced that he'd be returning to the WWF after taking the spring/summer of 1996 off, I was happy. When he announced that he'd be taking on the best "wrestler" in the WWF, and named Steve Austin instead of Shawn Michaels, I geared up for a classic. On paper, it just made sense that these two would have an incredible match, and they did. At Survivor Series 1996, the two engaged in an unbelievable wrestling encounter. Hart emerged victorious, but these two were hardly done. Austin cost Hart the 1997 Royal Rumble. Then he cost Hart the WWF title the night after Fatal Four. Bret then beat him at WrestleMania 13 in the greatest match of all time. Austin continued the assaults, so Hart reformed the Hart Foundation. Then we got the Canadian Stampede pay per view. While the feud was then traded to be Owen vs. Austin, it all started with Bret and Steve wanting to show who the better wrestler was. And we got the craziest 8 months the WWF had seen to that point for all our troubles.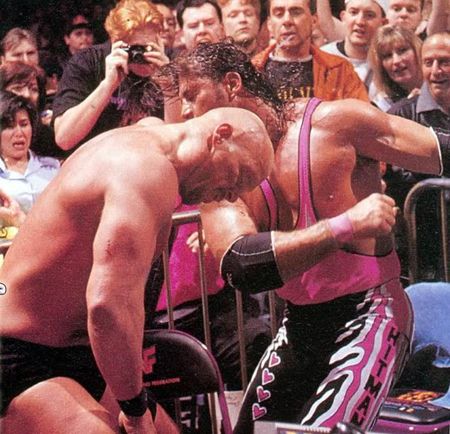 ---



MIKE HAMMERLOCK
5. Edge vs. John Cena - The sheer amount of mileage and spillover the WWE got out of this feud is staggering. First off, this is the feud that made John Cena. Yes, Cena had been building toward face of the company for almost three years before winning the WWE title off of JBL at WrestleMania 21 in 2005. He had cut a rap record that charted, he had a spinner belt and he was filming his first feature film. Yet something was wrong. Live crowds were booing him lustily. JBL, Chris Jericho and Kurt Angle weren't able to make him look like more than the corporately designated champ. Cena was being carried in his matches, visibly. Then Edge cashed in his Money in the Bank briefcase at New Year's Revolution and Cena got the red-hot feud he needed. Suddenly Cena was in matches where fans were marking out, not necessarily for him, but still marking out. He meshed with Edge in the ring and he came out of 2006 a far different performer than the guy he was at the start of the year.

Yet the real star of the feud was Edge. His cash-in blew people's minds. It shook up what had begun to feel like an exceptionally stale WWE product. Edge built on his reality-based bad boy turn in 2005 (after sleeping with Matt Hardy's real-life girlfriend Lita). He and Lita's live sex celebration the night after his cash-in was nothing short of epic, as was his ladder match defense against Ric Flair. The Cena feud then seamlessly turned into a beef with Mick Foley and we got a classic WrestleMania match out of it. That in turn led to Edge playing a central role in Rob Van Dam's victory over Cena at One Night Stand (which rebooted ECW). Edge eventually won the title back in a three-way match with Van Dam and Cena, beat Cena at SummerSlam thanks to a pair of brass knuckles, threw the spinner belt into Long Island Sound and generally became the finest heel of his generation. No one made being the bad guy look like more fun. When Cena eventually won the belt back, it led to the formation of Rated RKO with Randy Orton in order to combat the reformed D/X. In fact you could argue, and I will, that HHH's face turn was a direct result of Edge-Cena putting on such a hot feud earlier in the year. Crowds were thirsty for the next guy to beat Cena and they got behind HHH.

Edge and Cena would clash again, notably WrestleMania 25, but their 2006 run gave us the top face and top heel of this generation. When they do the Cena career retrospective someday, I expect he'll name Edge as the his top rival.

4. Hulk Hogan vs. Mr. Wonderful Paul Orndorff - People talk about how frustrating Daniel Bryan's booking is these days. I'd love to hear what Paul Orndorff has to say on the subject. The man did everything right. He got over as the toughest heel in a locker room full of guys hell-bent on beating Hulk Hogan. Then he got over as a superface on par with Hulk Hogan. Then he turned on Hogan, setting up a feud that was off the charts by today's standards in terms of television viewership and live draws. When they were putting together WrestleMania I and they needed someone legit to pair with Roddy Piper in order to make the odds seem impossibly stacked against Hogan and Mr. T, of course they went to Wonderful. Yet, at no point during that more than three-year run did Orndorff ever win a belt. I got to see these two live a few times and it was always the same, Orndorff would lay waste to Hogan only to get distracted by the crowd and then Hulk would rally for the win. Yet you always came away convinced Orndorff was the real deal despite getting very little help from Hogan. Tragically, Wonderful injured his arm during the Hogan feud in 1987 and it effectively ended his career.

3. Carlos Colon vs. Abdullah the Butcher - Never in the history of mankind have two men spilled more of each other's blood than Colon and Abdullah. For two decades they mauled each other. Near as I can tell, Abdullah would head down to Puerto Rico for some fun in the sun and a little of the ultra violence with Colon. They filled wrestling mags with gore shots from their matches. Man, did they love them some eye gouging, biting and the creative use of silverware. I remember picking up mags and thinking, "What the hell is wrong with these guys?" Now you can watch their matches on YouTube and you'll still ask the same question. The story of their feud is etched in their faces. Their legacy of brutality is unmatched.

2. Roddy Piper vs. Greg (the Hammer) Valentine - Everything you need to know about this feud is that Piper once gave Valentine a cake with a dog collar in it. Nobody does portentous baked goods anymore. That led to a series of dog collar matches between the two, which involved both wearing dog collars linked together by a chain. It set the wrestling world on fire back in 1983 and Vincent Kennedy McMahon thought to himself, "I've got to get these guys." Even the non-dog collar matches between the two were old school brilliant. Talk about storytelling, Piper and Valentine did it as well as any two guys ever.

1. CM Punk vs. Samoa Joe - In 2004 the WWE had conquered the wrestling universe and no other U.S.-based promotion was ever going to matter again. Wrong. ROH found itself with two of the hottest properties in the business with its champion Samoa Joe and the spectacularly brash CM Punk. When they finally clashed after what seemed like forever waiting for it to happen (in reality it was only about a year), what we got was a trilogy for the ages. No face. No heel. A crazy blend of old school and new school. Explosive spots and brilliant in-ring storytelling. It was the Velvet Underground & Nico of the wrestling world. It influenced everybody who saw it and set a new bar for the industry. Now if you want to be great, you have to be this good.


---
YOUR TURN KNOW IT ALLS

List your Top Five for this week's topic in the comment section using the following format:

5. CHOICE: Explanation
4. CHOICE: Explanation
3. CHOICE: Explanation
2. CHOICE: Explanation
1. CHOICE: Explanation
Your heart is free. Have the courage to follow it…TO CSONKA'S TWITTER!

http://www.twitter.com/411wrestling
http://www.twitter.com/411moviestv
http://www.twitter.com/411music
http://www.twitter.com/411games
http://www.twitter.com/411mma

Have you checked out the Csonka Podcasting Network? If you haven't, you should We run anywhere from 15-20 shows a month, discussing pro wrestling, the world of MMA, the NBA, general sports, popular TV series of the past, bad movies, battle rap, interviews, MMA & Wrestling conference calls and more! Around 10 different personalities take part in the various shows, which all have a different feel; so you'll likely find something you like. All of the broadcasts are free, so go ahead and give a show a try and share the link with your friends on the Twitter Machine and other social media outlets! Running since May of 2011, there are currently over 450 shows in the archive for you to listen to.



Larry Csonka is a Pisces and enjoys rolling at jiu jitsu class with Hotty McBrownbelt, cooking, long walks on the beach, Slingo and the occasional trip to Jack in the Box. He is married to a soulless ginger and has two beautiful daughters who are thankfully not soulless gingers; and is legally allowed to marry people in 35 states. He has been a wrestling fan since 1982 and has been writing for 411 since May 24th, 2004; contributing over 3,000 columns, TV reports and video reviews to the site.
comments powered by