SPOTLIGHTS
Thoughts from the Top Rope 2.08.14: Looking at WWE's Tag Team Division
Posted by Daniel Wilcox on 02.08.2014

In another edition of Thoughts from the Top Rope, Daniel Wilcox examines the current state of WWE's tag team division and counts down the top ten teams they need to build the division around in 2014!

Good morning ladies and gentlemen, (boys and girls, children of all ages) and welcome to another edition of Thoughts from the Top Rope. I am your regular host, Daniel Wilcox, bringing you another dose of wrestling-related discussion without any real rhyme or reason. For regular readers, you'll be aware that the last two weeks have been fantasy-booking heavy with play-by-play for the Royal Rumble match and WrestleMania XXX being heavily featured. As much as I enjoy this sort of creative writing, I'm definitely in need of a break from it and as such there'll be no such talk today. I'm also aware that certain people just don't go in for the fantasy booking stuff, so it's best to give it a break. I am, however, intrigued as to whether my readership would be interested in more or less of it due to the overwhelming positive response I've received in the last two weeks and as such, I've provided you with a poll to leave your thoughts and that will dictate where I go from here. As of right now, I do not intend to include any fantasy play-by-play until the week before WrestleMania XXX when I go to town on the real card.

But plans can change, and this is your chance to have your say. So have at it;



Do you support the inclusion of fantasy booking in Thoughts from the Top Rope?



And long-time readers of the website might remember a column called The Fink's Payload that was centred around the concept of fantasy booking. Uniquely, the column was only able to run based on reader participation and it made for an interesting read every single week. The column ceased to exist a couple of years back due to a lack of a writer. I had to give it up for reasons I can't remember, and nobody else was able to take on the Payload's payload at the time. I am, however, interested to see if there's any interest from the readers in bringing it back for another run so once again, it's time to have your say;



Would you be interested in the return of fantasy booking, reader-driven column The Fink's Payload?



We are, of course, on the Road to WrestleMania, which means there's plenty to talk about in the crazy of world of professional wrestling. I've also got some feedback from last week to get through, so let's not waste any more time and get right to it.




Last Week's Feedback


I usually try to reply to as many comment's as I possibly can, either at the time in the comments section or here in the column, however last week's WrestleMania play-by-play received a phenomenal amount of feedback. So allow me to start by saying a massive "thank you" to all those who took the time to read through that mammoth piece, and I'm glad so many of you enjoyed it and felt it worthy of praise. That piece took a long time to put together and reading all those comments definitely made it worth it. With the purpose of inflating my own considerable ego, and for the benefit of those who missed it last week, I'll just drop in some of the kind words that were left by the readers and then you can decide if you wish to go back and give it a read if you haven't done so already.



"Only Wilcox can be this good." - Blodger42
"Deserving of clicks." - Screening before clicking
"Awesome card/booking." - BD
"Great read!" - Csonkamania III
"Amazing booking." - Gingaman
"AWESOME. Please do more." - Iced Coffee
"Holy awesome Mania, dude!" - RipStamps
"Please tell me [Wilcox] is a part of WWE creative." - big ron
"Jesus Fucking Christ that was an amazing read. [Wilcox] deserves a standing ovation." - Robert
"'A' for effort." - CDN
"I honestly believed that Lesnar could get the job done!" - AXL CDC
"That is how it is done!" - 5050
"WWE, sign him up." - Maccydee
"Well played again, Wilcox" - luckystrutter
"[Wilcox] clearly "gets" how to make matches mean something and knows
how to book them in a manner that immediately has interesting follow-up." - Ice Dagger
"Didn't hate that WrestleMania XXX at all..." - Mark Satrang

And my favourite...

"Wilcox is a tool." - AllEnglishMenAreFat



All self-trumpet-blowing aside, genuinely my favourite comment was AXL CDC remarking that he believed Lesnar would be able to beat Taker whilst reading the play-by-play for that match. When I judge Taker's Mania matches, a big part of how I judge them is to what extent did I believe someone could pull off the upset and end the Streak, so that comment really resonated with me, so thank you. 411's readership can be a harsh and critical audience at times so it was fantastic to get generally positive feedback. Allow me to quickly address some of the issues that were raised, however;

Re: Match times: I looked at total in-ring time over the last three or four Mania events and my total match times were slightly over the norm, by about ten minutes, but generally in line with the times.

Re: Dolph Ziggler and Chris Jericho's absence: I don't think Jericho will be around on this Road to WrestleMania, and omitting Dolph Ziggler was a complete oversight, he should have been in the multi-man ladder match, without question.

Re: Ryback joining the Shield: I'm resigned to the fact that Roman Reigns is going to be doing his own thing in the near future, but there's no reason to split Ambrose and Rollins up. Ryback is treading water but is very much salvageable, and putting him with Ambrose and Rollins will allow him to become a better performer, just like it did with Reigns. Everybody wins in this scenario.

Re: Who main events: WrestleMania needs to close on a positive note, especially after all the recent negative responses to certain elements of the product. They seem intent on going with Orton/Batista, which obviously isn't a popular option, so Triple H/Bryan had to headline.

Regarding the Watry stuff, one or two people expressed a view that it should've been kept behind closed doors, while others were happy I "called him out." I didn't call him out, I merely responded to an open invitation to fellow writers to voice an opinion on his work. There is no "beef," I have no issue with Justin Watry the person, and the matter will not be discussed further in my own writing because there's nothing left to discuss.



Social Media Propaganda




411Mania is not just a website, it's a revolution. Join the revolution, and more importantly, follow it on TWITTER and like it FAECBOOK!

And what about me? I don't TWEET MUCH but I might if I had more followers. I am, however, all over that FACEBOOKIZZLE so be my friend on that and then like all my statuses so all my real life friends think I'm funny.



This Week's Feature


For years and years the Internet Wrestling Community has heard rumblings of an apparent shift in focus in WWE Creative to re-build a tag team division that has been in a poor state for a number of years. Not since the Attitude Era glory days of the Hardyz, Dudleyz, Edge and Christian and more did we really have a tag division that grabbed attention and captivated audiences in the way we all know tag team wrestling can. In 2013, we heard these same rumblings and to the surprise of just about everybody, what we saw on television backed up what we heard was going on behind the scenes. Triple H was supposedly the man behind the rebirth of tag team wrestling in WWE, so let's give the man a bit of credit. While the division hasn't reached the levels of the aforementioned Attitude Era, the improvements have been noticeable and appreciated. As we go into 2014 and hit the Road to WrestleMania however, with more eyes on the product than usual, it has never been more important to keep that momentum going.




WWE Tag Team Division:
2014 State of the Union Address


In 2012 WWE stumbled onto gold. Daniel Bryan was becoming more and more over off the back of the commencement of the "Yes" Movement at WrestleMania 28. They needed something for him to do to maintain that level of interest. So Bryan began teaming up with Kane, who never really has anything interesting to do himself, and thus Team Hell No was born. What made these two guys such a great team was their undeniable chemistry but more importantly was the fact that they got to showcase the chemistry not just inside the ring but out of it with their series of "Anger Management" vignettes. It's crazy to think but at the time it was rumoured these vignettes were meant to be a tie in to Charlie Sheen and his new show, who at the time they were trying to bring in to work a program with Bryan for Summerslam. Regardless, the people reacted to Team Hell No and the decision was made to put the titles on them and all of a sudden you had people interested in tag team wrestling again. WWE had a team they could build a division around, albeit a makeshift one. At Survivor Series 2012, the Shield debuted and they soon began a rivalry with Bryan and Kane that meant the tag titles were always positioned highly on the card, even if the belts were necessarily the main objective for the Shield. After defeating the team of Dolph Ziggler and Big E Langston at WrestleMania, Team Hell No would go on to drop the straps to the Shield's Roman Reigns and Seth Rollins.

The Shield would hold the straps for a number of months before dropping them to the much-beloved team of Cody Rhodes and Goldust in October. What was so important about this title switch was that you had a genuinely intriguing angle built around it. Rhodes had been fired weeks prior at the hand's of the Authority and he and brother Goldust had to fight the Shield in order to get their jobs back. That culminated at Battleground with a phenomenal match and an even better "moment" as the Rhodes brothers beat the Shield and got their jobs back. It was arguably the most high profile tag match in WWE in years, to come out of the tag division at least. Eight days later the Shield would have to put their titles on the line against Cody and Goldust and following a little help from the Big Show, the Rhodes brothers would win the straps in another incredible feel-good moment. Since then Cody and Goldust have defended the straps in a number of multi-team matches before dropping them to the reinvigorated New Age Outlaws at Royal Rumble a couple of weeks ago. In a rematch inside a steel cage this week on Raw, the Outlaws retained the titles and presumably sent the Rhodes brothers to the back of the queue.





WWE Tag Team Championship Steel Cage Match: New Age Outlaws vs. Cody Rhodes and Goldust


Since the Shield won the tag titles last May, we've seen an emergence of new tags teams as well as a shifted focus for others. This resulted in a tag division that consisted of more tag teams than we've seen in a long time. More important than the number of teams though, was the nature of these teams. They were all genuine teams, not super teams a la Team Hell No. they were tag teams who we had witnessed come together, and were seeing grow together. Some of them even had matching ring gear and everything. It was a joy to behold. Not all of the teams were potential contenders, but many of them were and others soon could be. Los Matadores debuted in the fall and even got a series of vignettes to hype their emergence – not bad for a comedy tag team. At one point, the division consisted of The Shield, the Rhodes brothers, the Usos, the Prime Time Players, the Wyatt Family, the Real Americans, Los Matadores, Tons of Funk, 3MB, Truth and Woods and Ryback and Curtis Axel. You also had Big Show and Rey Mysterio and Mark Henry and Big E Langston working together regularly, as well Santino Marella teaming with Great Khali on a regular basis before the former was back on the injured list. As 2013 turned to 2014, we lost Tons of Funk and gained the New Age Outlaws, so whichever way you look at it we pretty much had a dozen regular tag teams on the roster, and I would struggle to think of a time when we had that many any time since the Attitude Era.

Speaking of Tons of Funk, Brodus Clay and Sweet T split up in December. Clay completed his heel turn, leaving Sweet T high and dry, on December 16th during an episode of Raw. The two had their big blow off match on SmackDown the following week and we've yet to hear anything of either since, outside of a couple of losses on TV for Clay. Sweet T, I believe, has been doing some commentary down on NXT. For me, there are two issues here. Firstly, WWE had an intriguing little feud going on between Tons of Funk and Truth and Woods that they could have used to really get Woods' character across to the WWE Universe. Instead of drawing the angle out leading to a slow-burn turn, the angle was rushed and done with after a couple of weeks. There was no pay-per-view match between the two teams, and it was a very one-sided affair. The second issue is, why are we not doing anything with any of these people now? Sweet T nor Clay could even get a spot in the Royal Rumble match. I understand WWE often uses tag teams to create singles stars, that's fine, but why break up a perfectly serviceable tag team in favour of two singles guys who barely make TV? In Tons of Funk you had a decent, lower-tier comedy duo who were over with the crowd. They could've kept them as they were until after WrestleMania season when there would be time to get both guys on TV, or they could've used the Woods angle to turn both guys heel, make them a serious team and all of a sudden you have another viable threat to the tag titles. It almost feels as though we had to get rid of Tons of Funk so Naomi could have a run at the Divas Champion, that's how well thought out this was.

This brings us to the Prime Time Players, Darren Young and Titus O'Neill. Last week on SmackDown, Titus beat down Darren Young following a loss in which Young never managed to even tag out of the match. This was totally out of the blue. These guys had barely been on television in the weeks leading up to this. There was no losing streak gimmick, there was no tension teased between the two prior to this. OK, I can buy one guy just snapping and turning on his partner after a loss, but in order for me to go along with that, I need an explanation. Titus O'Neill needs promo time if that's the story you want to tell. The follow up on Raw this week was Titus defeating Zack Ryder. Fine, re-establish him with a series of squash matches, but tell the audience what his motivation is. And by the way, will Darren Young be seeking revenge on his former partner? In theory I have no qualms on breaking up the Prime Time Players because I think Titus has a lot of potential as a singles guy, but I do question the timing. Apart from the fact that there was no build, this angle has been dropped in right in the middle of WrestleMania season and you have to question what role Titus or Young will be playing in the coming months. While it's early days to judge their angle, I guarantee neither will make the WrestleMania card. If they even get a blow-off match, the most they can expect is the pre-show of Elimination Chamber and even that seems unlikely at this point. Months ago the team was popular enough to get a title shot two-on-two against the Shield on pay-per-view, now both will be scrapping and clawing for TV time.





Titus O'Neill turns on Darren Young


And what about our recently-dethroned former champions, Cody Rhodes and Goldust. The rumours for months have put these two in a rivalry against one another leading to WrestleMania. Having dropped the straps and failed to recapture the gold in the subsequent rematches, these guys will be left floundering so it's safe to assume they'll likely have a program with one another. How do they play this? Does Goldust turn heel because he's jealous of his brother who still has a whole career ahead of him? That makes sense, but does anyone really want to boo Goldust in 2014, especially after his phenomenal comeback? You can turn Cody because he believes his older brother is holding him back, but then after the feud you're left with another mid-card heel treading water. But then even on the face side of the fence, Cody would have Cena, Sheamus and Bryan all ahead of him, and that's post-Mania, never mind all the big names coming in between now and then. Personally I would run it as a "friendly rivalry" type deal with both as a face. That way you can gouge the public response to both men and always run a heel turn somewhere down the line if needs be. A good writer would easily be able to make it work, and if the fans aren't particularly buying it, you have the option of putting them back into the tag division. No need to take unnecessary risks.

As for our newly-crowned six-time Tag Team Champions of the World, one has to assume the New Age Outlaws are transitional champions. While it's great to have them back on TV doing their shtick, you have to believe the plan is to switch the belts pretty quickly. They do obviously bring a wealth of experience to the division, and their perpetually over so as champions go, there are worse choices out there. The obvious choice for next champs is obviously the Usos. The Usos have been having great matches for months on end and more importantly, they have managed to get themselves over with the fans. Their unique entrance, offence and attire means they stand out and they look like a genuine tag team, which is always nice. Such was the dominance of the Shield that they were never able to get near the belts, and when Rhodes and Goldust came on the scene, the Usos more or less got shunted back down the line. But now is surely there time, and it's only a matter of time before they're challenging Gunn and Road Dogg for their first tag title reign, which is obviously overdue at this stage. WWE needs to strike while the iron's hot when it comes to the Usos, because interest in the tag division will wane as quickly as it materialised. The Usos are over, get the straps on them and give them challengers.

The main issue we have in our tag division currently is teams falling by the wayside. We've already discussed Tons of Funk and the Prime Time Players, as well as Rhodes and Goldust seemingly on a collision course. That's three tag teams on the face side of the spectrum out of the picture. Then you have the Shield, who no longer seem to be operating in the tag ranks and may also be on the verge of combustion themselves. Jack Swagger and Antonio Cesaro have shown tension in recent weeks, with Zeb Colter seemingly getting on Swagger's back about frequent defeats. And with Cesaro in the Elimination Chamber match and challenging for the WWE World Heavyweight Championship, one has to assume that there are plans for a Cesaro solo run at some point in the very near future. All of a sudden your division has been cut in half and the most credible title threats have gone. Quite quickly the division is back to no longer being a priority and audiences lose interest. An intriguing tag team division is only sustainable if you have enough genuine teams to keep fans interested. With WrestleMania XXX fast-approaching, you have to wonder how much time is being put into tag team wrestling at the present and the answer is probably not too much.

Thankfully, I have the answers! Keep reading to find out what tag teams WWE needs to be focusing on to keep the division going strong in 2014!



This Week's List




Top 8 Tag Teams WWE Needs to Build the
Division Around in 2014




X. Los Matadores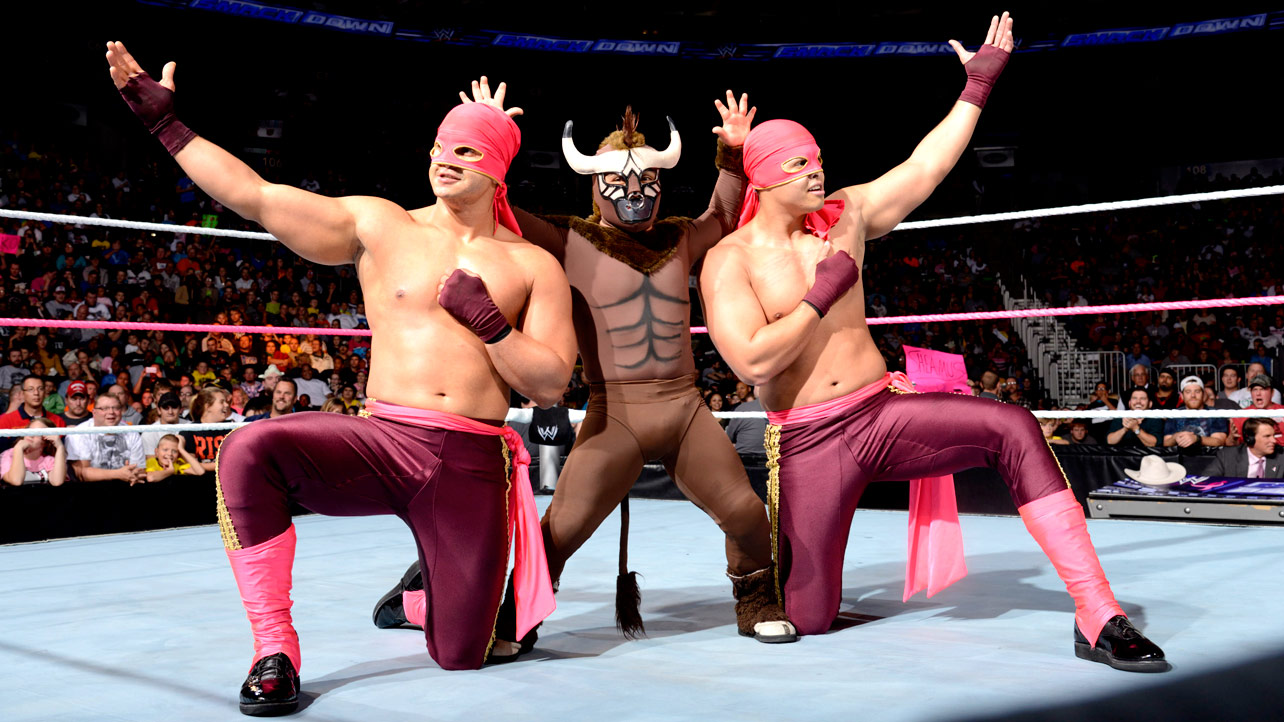 Young WWE audiences love silly gimmicks, so Los Matadores will always be a decent second-tier tag team. They have an in-ring style that connects easily with any audience, so that will also always go in their favour. I feel they could lose El Torito if it was necessary to make the team come across as more serious contenders. At the very least they could just trot him out every now and then (pun fully intended).



IX. The New Age Outlaws



Billy Gunn and Road Dogg are both veterans of the squared circle and as such they will always be a threat. I say keep them around. They're heat-magnets, they're matches are always over because people love them, or love to hate them, whichever. Young teams can benefit from working with them and they will always lend the division some credibility. They don't constantly need to be battling for the belts though.



VIII. Rey Mysterio and Sin Cara



Neither guy is going to be able to maintain a singles run in WWE at this stage so they should keep pairing these two up. They have a history, and neither should be working long, singles matches considering their tendency to get hurt. But Mysterio is another who can lend the division instant credibility, he's a three-time world champion. The kids love both these guys and they need to be kept on TV if for no other reason than the amount of merchandise they could shift.



VII. Kane/Big Show/Mark Henry



I'm a sucker for big man tag teams. Once Kane is done with this Authority role, here will be three big men doing nothing. You can have them work interchangeably as a tag team, not necessarily using the Freebird rule, but they just regularly work together. They can switch between heels and faces on any given night depending on the opponent, and they'll always going to be credible because of their size and experience. A win over any two out of these three will be meaningful, and the third man can always be used if you need an experienced hand to feud with an up-and-coming mid card act.



VI. Dolph Ziggler and the Miz



When this rumour started floating around the Internet, I wasn't too keen, but thinking about it, two guys disgruntled with the amount of TV time they get teaming up to take over the tag ranks appeals to me. Between the two of them, they definitely have the chops to pull it off and rile up crowds with their arrogance. With both as former world champions, they should also be seen as a threat to anyone in the division and could actually make a pretty good foil for the high-flying duos that are rife in the division.



V. The Shield



Obviously Roman Reigns looks like he is about to break out from the Shield but that doesn't mean to say the whole faction has disband. Rollins and Ambrose would be a great tag team on their own and would, again, lend credibility to the division. You always have the option of bringing in other members to the Shield if they want Ambrose to be the next break out guy, but The Shield is the best thing WWE has done in years and it would be a shame and a mistake to do away with the gimmick when it still has legs.



IV. AirBoom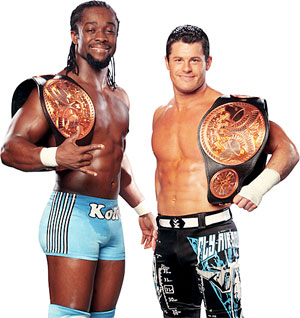 I don't think anyone quite knows why Evan Bourne has been kept off of TV this long, even the man himself. Kofi Kingston continues to tread water whether you give him pin fall victories over the current champion or not. These guys made a fun little tag team a couple of years ago and can be again. Both guys are beloved by the audience, young and old alike, and similar to Los Matadores, their high-flying style is one that WWE audiences tend to get on board with. The tag division would be a better place with these guys back in the fold.



III. The Ascension



Up to this point everyone mentioned is either already on TV, or someone who the audience will be familiar with. The Ascension are the reigning, defending NXT Tag Team Champions and from what I've seen they're doing a good job. I think they are more or less ready to be brought up to the main roster, even if not straight into the title picture, but I have no doubt with a few tweaks to the gimmick and to their characters, this is a team that can work as heels or faces and is something the WWE Universe hasn't really seen in a while. I like these guys, and I think they have a bright future.



II. The Wyatt Family



Despite being almost unstoppable in tag team action, Harper and Rowan haven't really gone after the tag team titles all too much, as they're usually helping Bray. Well these guys are already credible and thus it's an easy story to tell to thrust them into the title picture. They're big dudes, and that style will mesh well with many of the faces teams in the division who just be able to bounce off the Wyatts. There's no rebuilding or repackaging to do here, these guys are ready to be one of the cornerstones of the division and it's such an obvious choice that I don't know if WWE will actually bother to do it.



I. The Usos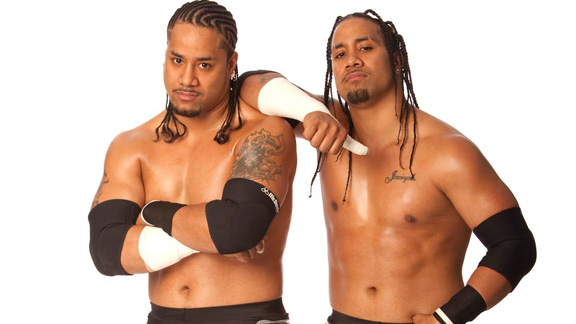 I've praised Jimmy and Jey Uso plenty, both in today's column and in past ones. I can't state enough how important it is to have genuine tag teams. These guys look, act and wrestle like a proper tag team. Obviously it helps that they're twins. More importantly than anything else, they already have a connection with the audiences who are now primed to see these guys take the straps and run with it. Make them the plucky fighting champions that London and Kendrick were around 2006/2007. The only difference is the Usos have a much bigger pool of talent to work with and help make the tag division an important part of the weekly WWE product once again.



This Week's Farewell


And so ends another edition of Thoughts from the Top Rope. I hope you all enjoyed it as much as I did. As always, I want your feedback, and there's a whole comments section that allows you to do it. Who should WWE be building the tag division around? Was it wise breaking up Tons of Funk and the Prime Time Players? Will they even be able to sustain a half decent division going through WrestleMania season?

And don't forget to vote on the polls in the intro. It's your chance to have your say.

Enjoy your weekend, thanks for reading as always and see you next time.
comments powered by