SPOTLIGHTS
The 8-Ball 2.10.14: Top 8 Opponents CM Punk Must Still Face
Posted by Mike Hammerlock on 02.10.2014

From Triple H and AJ Styles to Hiroshi Tanahashi, Bray Wyatt and more, 411's Mike Hammerlock counts down the top 8 guys that CM Punk needs to face before he retires!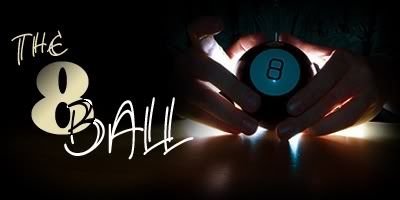 Is he really gone? That's the primary question wrestling fans are asking at the moment. Forget about the road to Wrestlemania. Forget about whether Daniel Bryan gets the justice he deserves. Forget about whether Hulk Hogan or Sting are coming to the WWE. Is CM Punk really gone? I don't know. You don't know. We don't even know if Punk and the WWE know. This could be a work. It could be real. It could be a real thing that turns into a work. We've likely got a serious Rashomon effect on our hands here.

For the purposes of this column I'm going to assume Punk's departure is at least partially real and that it's entirely possible he'll be leaving the WWE in the near future. Some have speculated he might retire to quiet life out of the spotlight. The Magic 8-Ball doesn't believe that for a second. Has he gone everywhere he thinks he wants to go? Has he done everything he was sent here for? Not by a longshot. Punk still has a to-do list in the wrestling business. I suspect no one knows it better than Punk. The real question is who are the folks on that to-do list. Well, that's what the 8-Ball is for.




8. Evolution



I'm making a field pick here. Intentional or not, Punk's disappearance has created some feuds. HHH plays a character in the Authority in front of the camera, but he's also an actual WWE authority figure behind it. All indications are that he and Punk have real beef to squash. When/if Punk returns to the WWE, he almost has to fight the power (p.s. Punk needs to win that match with a Pepsi Plunge, it's what's best for business). Also, regardless of whether Punk actually was unhappy about Batista getting hot-shotted straight into the main event at Wrestlemania, a large chunk of people now believe that's the case, necessitating a violent resolution to their perceived conflict. Finally, there's Punk's big, unfinished feud with Randy Orton. Yes, they've fought plenty of times in the past, but we've never gotten face Punk vs. heel Orton with all the marbles on the line (the marbles in this case being the WWE title). It needs to be done. Orton is Punk's greatest storyline nemesis.




7. Bray Wyatt



One of the major missed opportunities during the Punk-Heyman feud last year was not having Curtis Axel step up with his own separate reason to be fighting Punk. Axel/McGillicutty's membership in the New Nexus would have been a perfect way to do that. A big unexamined part of Wyatt's character is his transformation from Husky Harris into Bray Wyatt. I can only assume some day he'll proclaim Husky Harris died due to a punt to the head from Randy Orton and Bray Wyatt was reborn, but he can spin that as the consequence of having followed a false prophet in CM Punk. "Husky Harris believed in you and all it got him was dead." In the twisted mind of Bray Wyatt, Punk has got to be one of his primary targets. Punk needs to take on this fight because Wyatt is the valedictorian of his former factions. Has the student become the master? We don't know ... so, get'cher fight on.




6. Hiroshi Tanahashi and Kazuchika Okada



A lot of people who are very smart about wrestling believe these two guys to be the actual best in the world at this moment. They might be. Phillip Jack Brooks ought to head across the Pacific to find out. CM Punk live at Budokan? Man, would that be awesome. And he'd have to come out to Cheap Trick's "Hello There", right? No way he'd miss that opportunity. It's entirely possible a world tour would fit into Punk's eventual WWE plan. Go out, conquer the world, return with an enormous bang. I always thought it would have been dumb to do that with a WWE title in tow, but now he can work as a one-man, touring WWE. Punk and other promotions can pretend he'd surely be WWE champ had he stayed. Anyway, if Punk has some free time on his hands, he's too much of a fan of this business not to get himself over to Japan and test himself against Tanahashi and Okada.




5. Sami Zayn



Let's face it, this match would be too much fun not to happen. The entire reason to follow wrestling is to see the best performers in the ring against each other. Zayn and Punk would light it up. Zayn also might provide Punk a way back into WWE if he takes some time away from the company. I think it's safe to assume we'll be hearing "CM Punk" chants for the forseeable future. HHH can insist, "If he dared to show his face here, security would toss him. And if he slipped past security, I'd drag him out of here myself." It's the perfect opportunity to dust off the old Machines gimmick. Like Andre the Giant not being particularly well-hidden under a mask during his stint as the Giant Machine, Punk's tattoos make it obvious if he's under a mask (which we saw during his brief Straight Edge Savior run). Punk could come back obvious incognito with a mask and it could drive HHH crazy that he's getting away with it. But who's going to be Bill Eadie? You need a Super Machine.

That's where Mr. Zayn comes in. El Generico was a fabulous gimmick and the WWE supposedly wants a few masked guys for marketing purposes. Zayn got signed on the strength of his El Generico work. Have Zayn and Punk team up as masked avengers and cause a ton chaos. After their initial run, maybe Zayn can turn on Punk where we get a mask vs. mask match in which Punk finally gets unmasked. Main thing is Punk could give Zayn the rub he needs to crack the WWE roster and eventually we'd get to see some great matches between the two. Again, CM Punk is too much of a wrestling fan not to want to put on a few epics against Zayn.




4. Seth Rollins



I know they fought just recently. It was a surprisingly sloppy match from these two. They tried some different moves and some innovative counters, but the execution was lacking in a few spots. They didn't have that instant chemistry Rollins seems to share with Daniel Bryan. Yet even in a sloppy match you could see where the two just might capable of tearing the roof off the building. Rollins has been travelling the CM Punk career path. He insisted recently that he's not CM Punk Lite, but maybe he's CM Punk 2.0. The kid is kind of spectacular in the ring. Punk needs to face Rollins again, preferably with something on the line at a big event, and to give the people the match these two are capable of delivering. History demands these two get it on and get it right.




3. AJ Styles



Maybe it's just me, but 2004 feels like it was a decade ago. That's when AJ won the initial ROH Pure Championship, defeating Punk in the tournament finals. Two months later AJ left ROH and vacated the title after a championship fight with Punk. AJ would go on to become Mr. TNA. Punk would go on to set the modern record for longest WWE title reign. It's long past time where they got reacquainted with one another. AJ is wrestling ROH shows at the moment. You'd have to assume that if Punk's WWE contract ends or gets terminated by mutual agreement, then he'll turn up in ROH. If so, the very first order of business has to be putting him against AJ. Do not let those two ships pass each in the night and then head off to other destinations. Make sure they collide and we all get to watch the carnage.




2. Chris Hero



Gold Bond Mafia assemble! If Punk goes back to ROH, he needs to mix it up with AJ immediately due to the very real possibility that they won't be together long. Yet the ROH feud that would trump it would be Punk-Hero, which never happened back in the day. Get Colt Cabana involved and you've got wrestling gold. Everyone who likes to watch good wrestling matches was champing at the bit for Hero to get a WWE callup back when he was Kassius Ohno, partially with eye toward seeing him finally go up against Punk. Got to believe these two guys share a wavelength and that they'd put together something guaranteed to blow our minds. It's the match of the year that never happened.




1. Samoa Joe



If you saw these two back in 2004, it left you wanting more. If you never saw it, then Punk-Joe is the greatest thing in wrestling your eyes have yet to feast on. Best feud of the century so far? Punk-Joe. Best match of the century so far? Punk-Joe II. I understand reasonable minds can differ on these sorts of things, but if you do you're wrong (insert smiley emoticon here). It ended with two one-hour, time limit draws and a victory for Joe. Maybe Punk never gets that big win over Joe, but he's got to take a shot at it. I don't care if it happens in a stadium, an arena, a ballroom, a rec center or in someone's backyard. I don't care if they're old men and the match has the potential dire consequences of Randy the Ram vs. the Ayatollah, the universe requires Punk-Joe IV.

I take requests.. The purpose of this column is to look forward. What could be? What should be? What is and what should never be? What would make more sense? If there's someone or something you think should be given the 8-Ball treatment, mention it in the comments section. I might pick it up for future weeks.
comments powered by