SPOTLIGHTS
Wrestling's 4Rs 2.21.14: WWE Monday Night Raw Reviewed
Posted by Jack Stevenson on 02.21.2014

Randy Orton battled Sheamus in the main event, Cesaro challenged John Cena, Daniel Bryan had matches with both Kane and Christian and more! Wrestling's 4Rs breaks down the Right, the wRong and the Ridiculous of WWE Raw!


How the 4Rs of wRestling Work!
Here is a quick explanation of the 4R's. The column will run TWO times a week. We will group our feelings on the shows in various categories: The Right, the wRong and the Ridiculous. The Right is stuff that worked very well: a great promo, a great match and so on. PuRgatoRy is a section between the right and wrong. It shows equal traits from both sides that cannot be ignored and need discussed. It is not a bad place per say, as things can get remedied or go the wrong way the very next week. The wRong is what it sounds like: bad matches, bad or boring promos and so on. The Ridiculous is stuff that had no right on TV: Stupid angles and so on. And there is always a possibility of a 5th R, which is as bad as they come. This column is supposed to be analytical, and at the right time very critical of the shows, it was the whole reason it was created. This is not a "mark" column, nor a "smark" column, our goal is to analyze the show from many different fronts, reward the good and call out the bad. We will not apologize for our opinions, they are as they are, whether positive or negative.
---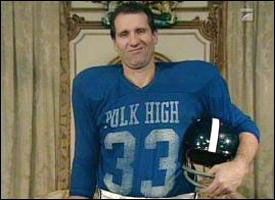 Let's rock…
By: Jack Stevenson
Raw 2.17.14:
QUICK MATCH RESULTS:
Daniel Bryan d. Christian

Daniel Bryan d. Kane

Fandango d. Santino Marella

Roman Reigns d. Mark Henry

Jack Swagger d. Kofi Kingston

Big E d. 3MB

John Cena d. Cesaro

The Wyatt Family d. Sin Cara & Los Matadores

Jey Uso d. Billy Gunn

Sheamus d. Randy Orton



THE RIGHT:
Daniel Bryan vs. Christian: This was a very solid opening match for Raw. I liked Christian getting a new aggressive edge, that could be very opening for him as he flounders for relevance in 2014. It wasn't thrilling but it was a decent little match that did more for Bryan than the following segment, and the finishing sequence was pretty slick.

I've Got That Joy Joy Joy Down in My Heart: If I have a criticism of Bray Wyatt, it's that because all of his promos are groaning with cryptic ramblings and nonsense, it means that none of them really stand out; they're all gripping viewing at the time, but you don't really remember them a few days one. But his appropriation of one of the most saccharine, childish Christian songs around was inspired. It was a great basis for another entry in the best feud in the world right now, culminating in another tense stare down in which the Shield looked somehow even cooler than they usually do, and the Wyatts like absolute bastards, bastards who you strongly suspect are just cowards but you fear them like anything anyway. This is superb pro wrestling, the best WWE have treated us to in years, and we should all be hurling money at them for Elimination Chamber on Sunday on the basis of this match.

John Cena vs. Cesaro: Where to begin? John Cena is amazing and we are reaching the stage where you have to question whether the people that still try and deny that he's an excellent wrestler are either deluded, willfully blind, or place an inordinate amount of value in perfect applications of STF submission holds. Cesaro is of course amazing. His move set is remarkable, his uppercuts are vicious, and he belongs in the main event. This was a breathtaking match, paced wonderfully and bursting with brilliant moments, from that early moment where Cesaro caught Cena in mid air and muscled him into a tilt-a-whirl backbreaker, to Cena's insane counter of the Giant Swing with a DDT. This was terrific.


puRgatoRy:
EVERYONE LOOK AT THE ELIMINATION CHAMBER: The opening and closing segments were both fairly traditional ways of building the Chamber match; one featured all the participants coming out and saying "yo I'm totally winning in the Elimination Chamber", the other featured all the participants fighting, and all the while JBL remarks "I've heard rumors the Elimination Chamber is an unpleasant experience!" There's nothing wrong with building a match this way, it's solid and dependable, but also so clichéd it's hard to get excited about it in it's own right.

Big E vs. Jack Swagger (indirectly): Jack Swagger beat Kofi Kingston and it was fine, Big. E beat 3MB while Zeb Colter bellowed insults, and that was fine as well. They will have a match on Sunday and form would suggest it will be fine. I like that 3MB are now considered so incompetent that there has to be two of them in the ring in the same time for it to be considered a fair fight. Drew McIntyre has REALLY suffered from the quality of the WWE roster dramatically improving in the last few years. Anyway, this happened.



THE WRONG:
Daniel Bryan vs. Kane: What was the point of this? Kane came out and beat up Daniel Bryan in just the most tedious way possible. I can understand trying to make Bryan look helpless and sympathetic but Kane's been a corporate suit hanging out with Brad Maddox for nearly half a year and as such has lost a lot of his menace. Plus the beatdown was just so dull. It's impossible to look at Bryan as truly credible when he can't find a counter to a lumbering lackey who isn't really doing all that much. Bad bad bad.

Santino Marella vs. Fandango: A Santino-Emma romance could have been incredibly sweet had it not came out of nowhere. Emma is dying a death, it seems like we're all meant to care deeply about her because she pulls Summer Rae's hair and does a silly dance. Everyone involved can do better than this but with WrestleMania season approaching I doubt they will.

Jey Uso vs. Billy Gunn: The New Age Outlaws need to go away. They have nothing to offer in their current capacity and the tag renaissance is withering away with them at the helm. I hope the belts get on the Usos at the weekend because they deserve a run with the championships and they're the only active tag team that might be able to stop the division from getting totally derailed. Match was fine but heartless.


THE RIDICULOUS:
NOTHING


THE RAW MATCH OF THE YEAR LIST:
Unsurprisingly, a new number one! The top four matches are all superb and we're only into February. Not a bad start to the year.



2.17.14- John Cena vs. Cesaro


2.03.14- Daniel Bryan vs. Randy Orton


2.10.14- Sheamus & Christian vs. The Real Americans


1.27.14- John Cena, Sheamus & Daniel Bryan vs. The Shield


1.13.14- CM Punk & The New Age Outlaws vs. The Shield


1.20.14- Rey Mysterio vs. Alberto Del Rio


2.03.14- The Shield vs. Kofi Kingston, Rey Mysterio & Big E. Langston


2.10.14- Rey Mysterio & The Brotherhood vs. The Wyatt Family


1.06.14- The Usos & Rey Mysterio vs. The Wyatt Family


1.06.14- The Rhodes Brothers vs. The Real Americans


The 411:


The Shield-Wyatts feud continues to be flawless pro wrestling, and John Cena-Antonio Cesaro was pretty darn close as well. Everything else you could take or leave but nothing actively dreadful clogged up the show, so this is a pretty decent watch.

Show Rating: 6.5

As a reminder, I will be going by the 411 scale…

0 - 0.9: Torture
1 - 1.9: Extremely Horrendous
2 - 2.9: Very Bad
3 - 3.9: Bad
4 - 4.9: Poor
5 - 5.9: Not So Good
6 - 6.9: Average
7 - 7.9: Good
8 - 8.9:Very Good
9 - 9.9: Amazing
10: Virtually Perfect

The 863rd edition is over…


Classic…

Have you checked out the Csonka Podcasting Network? If you haven't, you should We run anywhere from 15-20 shows a month, discussing pro wrestling, the world of MMA, the NBA, general sports, popular TV series of the past, bad movies, battle rap, interviews, MMA & Wrestling conference calls and more! Around 10 different personalities take part in the various shows, which all have a different feel; so you'll likely find something you like. All of the broadcasts are free, so go ahead and give a show a try and share the link with your friends on the Twitter Machine and other social media outlets! Running since May of 2011, there are currently over 450 shows in the archive for you to listen to.



Your heart is free. Have the courage to follow it…TO CSONKA'S TWITTER!

http://www.twitter.com/411wrestling
http://www.twitter.com/411moviestv
http://www.twitter.com/411music
http://www.twitter.com/411games
http://www.twitter.com/411mma
comments powered by