SPOTLIGHTS
411's Top 30 WrestleMania Matches of All Time: #30 - Brock Lesnar vs. Kurt Angle (WM 19)
Posted by Larry Csonka on 03.07.2014

411 kicks off the road to WrestleMania 30 by beginning to count down the top 30 matches in the history of the event with Brock Lesnar vs. Kurt Angle from WrestleMania 19!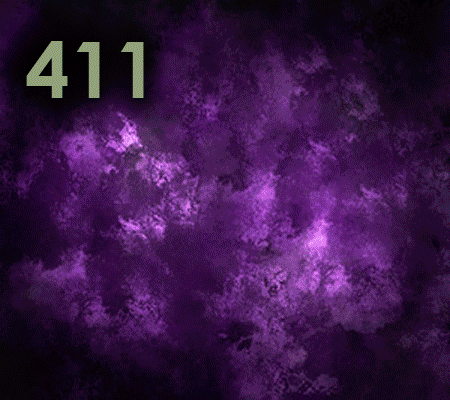 INTRODUCTION


Welcome back to 411Mania, and welcome to 411's official countdown to WrestleMania 30! Every year, the 411 staff comes together in some way to bring you, the fine readers of our site, a special countdown to WrestleMania. In past years we have done special countdown columns, ranking the shows, rating them overall, discussing special aspects of the big event, and even columns that have served as odes to the matches and moments that are etched into our minds.

To some fans, WrestleMania is the biggest show of the year, and the way that WWE has transformed the event into a near weeklong party, it may as well be a holiday to the fans that love our special brand of entertainment. Call it sport or call it a specially designed male soap opera, we love it and we love to talk about what makes things special. WrestleMania is an institution, and this year, as the WWE gets prepared to put on their 30th WrestleMania event, we decided to go big. Starting on March 7th, and running all the way to April 5th, 411 will present the top 30 matches in WrestleMania history.

Each writer on the 411 staff was given the opportunity to nominate 30 matches of their choosing. #1 on their list received 30 points, #2 received 29 points, and so on and so forth. Writers were asked to base their lists on both match quality and historical significance to create their nominations. The final list was created, and there was a ton of competition for the top spot. In fact, the voting was so tight that the top FOUR matches were separated by a mere 16-points.

Each day we will present a match from the list, which will include a full recap of the match from the 411 archives (from Scott Slimmer, JD Dunn, and Robert Leighty Jr.) as well as thoughts from the writers. Thank you for reading, and we hope that you enjoy our presentation…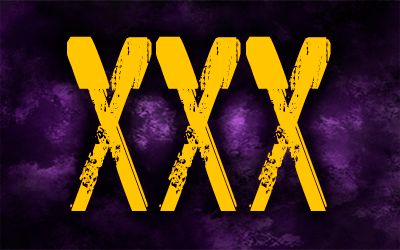 #30. From WrestleMania 19 - WWE Heavyweight Title, DQ waived: Kurt Angle vs. Brock Lesnar
Cole has lost his voice, making him sound like Brian Doyle Murray. They work around on the mat to start. Unlike Jericho-Michaels earlier in the night, they actually make it seem meaningful. Angel charges into an arm drag. Angle reverses a whip but runs into a powerslam for two. Brock misses a swing and takes a German Suplex. Brock no-sells. Brock press slams Angle but charges into a kick. Angle German Suplexes him into the turnbuckle! Back in, Angle delivers a backdrop suplex for two. A vertical suplex gets two. Angle with the bow-and-arrow chinlock. That segues to a sort of Crippler Crossface. Brock powers out and rams Angle to the corner to get him to break. Angle with a belly-to-belly. Brock gets a desperation spinebuster. Angle goes to the eyes. Brock comes back with a flying forearm and shoulder blocks him in the corner. Lesnar with a belly-to-belly now. Another. ONE, TWO, THR-NO! Angle pops up with the Rolling Germans. Angle sets up for the Angle slam, but Lesnar counters to the F5. Angle then counters THAT to the ankle lock. That segues to a single leg crab. Brock makes the ropes and backdrops Angle to the floor. Brock shoulder blocks him in the corner again. Angle ducks a swing and catches him with an All Japan-ish German suplex. HOLY SHIT! Angle with the ANGLESLAM! ONE, TWO, THR-NO! Cole says that's the first time anyone's ever kicked out of the Angle slam. Benoit did it at Mania X-7 and again at the Royal Rumble in '03 just a few months before this…in a match Cole was calling. Brock cradles him for two and hits the F5. ONE, TWO, THR-NO! Angle scoops him into an ankle lock. Lesnar crawls to the ropes and kicks him away. Angle snaps him over into a cradle for two. Brock slips out of another Angle slam and delivers an F5. Lesnar decides to go up for the Shooting Star Press. How can that not be a good idea! Lesnar buckles and nearly breaks his own neck on a botched SSP. HOLY SHIT! He would be okay, though. He's a wrestler. Angle covers nicely by rolling out of the way. Brock has the wherewithal to and hit the F5 for the pin and his second world title at 21:07.

-By JD Dunn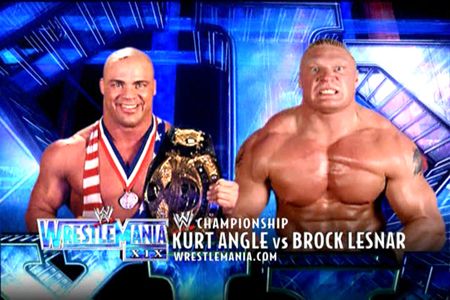 Mike Chin: Back in 2003, this was supposed to be Brock Lesnar's crowning moment. Yes, he'd already won a world title, becoming the youngest WWE champion ever when he pinned The Rock at SummerSlam. But this was WrestleMania, when he was entrenched in a comeback story, now a young face, squaring off with Kurt Angle.

So begins one of the least likely stories in WrestleMania history.

Leading up to WrestleMania 19, speculation ran rampant among the IWC that Angle was working severely injured and would either need to drop the title before 'Mania or put forth a lip-service match, out of which Lesnar would take the strap with as little ring time and impact as possible.

This was not that match.

On the contrary, channeling WrestleMania 14 Shawn Michaels, Angle manned up and delivered one of the gutsiest performances in the history of 'Mania, attacking Lesnar full bore and taking all of the heavy duty offense The Next Big Thing could offer. The match ranges from highly technical, to a bruising brawl, to a power match, to an aerial display, underscoring the fact that these men were two of the most incredible athletes of their time—not to mention legit bad asses who transitioned into excellent workers in the WWE style.

Of course, you can't recount this match without addressing the finish. Lesnar lays out Angle and climbs to the top rope. Whether he underestimated how far away Angle was (well over half a ring away) or his own fatigue; whether Angle should have scooted closer, or the ref should have helped direct traffic—whatever the case may be, Lesnar went for a long-range shooting star press. The visual of a monster Lesnar's side nailing a full backward rotation in the air is a pretty remarkable spectacle. And it's a spectacle ruined a moment later in the crash landing when he falls just short of his target.

At first, Angle seems to try to sell the incidental contact, and Michael Cole tries to cover for Lesnar by claiming that Angle rolled out of the way. There's no avoiding the reality, though, that the new face of the company took an ill-advised chance and fell on his face at the climax of the biggest match of the year.

It's easy to write off this match based on that snafu, but I feel it's wiser to celebrate the aftermath. Angle is a wise enough ring general to get control of the situation quickly, going for a kayfabe logical pin attempt, then directing Lesnar to F5 him to get the pin and get the hell out of the ring. And Lesnar is enough of a beast that he not only kicks out, but wills himself to his feet, gets Angle onto his shoulders, and scores the pin with his finishing move, redeeming what would have otherwise been a painfully awkward, if not tragic moment, delivering a satisfactory conclusion to a solid main event.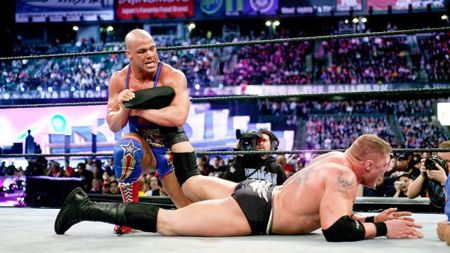 Dino Zucconi: This match was basically considered good to go months in advance, as they were the two most celebrated "real" wrestlers on the WWE roster at the time. Angle vs. Lesnar just seemed like a perfect match. Brock had won his first WWF World Title at SummerSlam 2002, defeating the Rock in a spirited contest. He would drop the belt at Survivor Series that year to the Big Show in one of the more enjoyable matches (just for how Brock manhandles Show) of the recent era. The next month at Armageddon, Show would drop the belt to Kurt Angle thanks to some interference from Brock. At the 2003 Rumble, Brock would defeat Big Show in a match to earn a spot in the Rumble, which he would then go on to win. Angle would defend his title in a classic encounter against Chris Benoit. The stage was now set for Angle vs. Lesnar.

The buildup itself was somewhat odd, as Kurt Angle nonsensically joined the camp of Paul Heyman (well, the sense being that Heyman knew how to stop Brock, but the rush in turning Angle seemed weird at the time) and the two engaged in your usual "bad guy antagonizes, good guy charges" feud instead of simply building a feud about being the best wrestler. Even Eric Angle, Kurt's brother, was brought back in for the whole "they look so alike!" switcheroo that was first used against Undertaker at Survivor Series 2000!

The match itself, when it finally went down, is memorable for so many reasons. I was there in Seattle that night, and am pretty easy to spot (I'm the guy with the bright green DINO sign, hint hint). It was my first WrestleMania, and I was stoked for the card. When I realized that Angle and Lesnar were closing the show, I was oddly proud of them and the vote of confidence, as I was all but certain that either Triple H vs. Booker T (since Raw is important!) or Hogan vs. McMahon (because, duh) would close the show. Seeing these two (and really, Smackdown) get to close out Mania was nice. Word had come out shortly before the card that Kurt Angle had injured his neck again and would need surgery. Many of us in attendance (and I'd assume watching at home) thought this could very well be the last Kurt Angle match we'd ever see. The ending was a foregone conclusion; it was just a matter of how we'd get there.

And boy, did we get there. A great match highlighted by a very amateur based style was given to us. We had mat wrestling, counters, reversals, along with our more modern flying spots as well. Ah yes, the flying spots. With Angle down on the mat, Brock Lesnar went to put his mark on WrestleMania by climbing to the top, and going for his Shooting Star Press which hadn't been seen on main WWE TV at that point. And then, well… then he dove onto his head. Angle covered, Brock kicked out, and a quick F5 took us to our conclusion. I stayed in attendance a good 25 minutes after the match ended, watching as Brock laid stunned in the corner while EMTs worked on him. I went in thinking that I would see Kurt Angle's last match. I left thinking I had seen the last of both. Mere weeks later, both were back- Brock only suffered a mild concussion, while Kurt took a new surgery option and returned faster than ever expected. Still, this match is one of my favorite pure matches, and was such a nice departure from the slick and stylish other "main events" that WrestleMania 19 provided.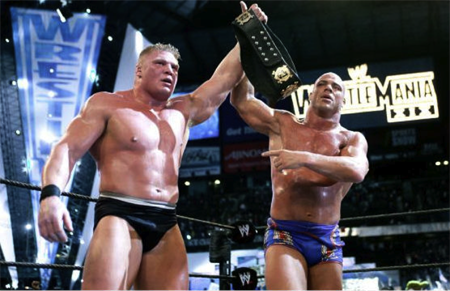 Come back tomorrow as the countdown continues…
comments powered by