SPOTLIGHTS
411's Top 30 WrestleMania Matches of All Time: #20 – Hulk Hogan vs. Andre the Giant (WM 3)
Posted by Larry Csonka on 03.17.2014

411 continues its look at the top 30 matches in the history of WrestleMania with the epic confrontation between Hulk Hogan and Andre the Giant at WrestleMania 3!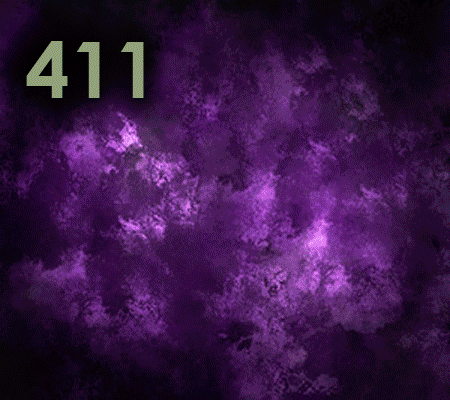 INTRODUCTION


Welcome back to 411Mania, and welcome to 411's official countdown to WrestleMania 30! Every year, the 411 staff comes together in some way to bring you, the fine readers of our site, a special countdown to WrestleMania. In past years we have done special countdown columns, ranking the shows, rating them overall, discussing special aspects of the big event, and even columns that have served as odes to the matches and moments that are etched into our minds.

To some fans, WrestleMania is the biggest show of the year, and the way that WWE has transformed the event into a near weeklong party, it may as well be a holiday to the fans that love our special brand of entertainment. Call it sport or call it a specially designed male soap opera, we love it and we love to talk about what makes things special. WrestleMania is an institution, and this year, as the WWE gets prepared to put on their 30th WrestleMania event, we decided to go big. Starting on March 7th, and running all the way to April 5th, 411 will present the top 30 matches in WrestleMania history.

Each writer on the 411 staff was given the opportunity to nominate 30 matches of their choosing. #1 on their list received 30 points, #2 received 29 points, and so on and so forth. Writers were asked to base their lists on both match quality and historical significance to create their nominations. The final list was created, and there was a ton of competition for the top spot. In fact, the voting was so tight that the top FOUR matches were separated by a mere 16-points.

Each day we will present a match from the list, which will include a full recap of the match from the 411 archives (from Scott Slimmer, JD Dunn, and Robert Leighty Jr.) as well as thoughts from the writers. Thank you for reading, and we hope that you enjoy our presentation…



#20. From WrestleMania 3 - WWF Title Match: Hulk Hogan © vs. Andre the Giant
Bob Uecker is the special ring announcer and Mary Hart is the special timekeeper. Both of them looked stunned that a crowd this massive came to see a wrestling match. Andre comes down first and waves to the crowd as they absolutely pelt him with garbage and boo him out of the building. We are talking crazy levels of heat here. Hogan (like Piper) says to hell with the cart and walks to the ring to a MONSTER reaction. I wonder if Hogan was pissed that Piper also walked to the ring, instead of taking the cart (though, as I said, Piper claims his cart was broken)? I've always wondered what it would have been like to be there live for this match, as I can only imagine how deafening it was. The Most Famous Stare Down in wrestling history starts us off as Hogan starts to Hulk-Up. He gets so geared up that after a few punches he goes for a slam, and Andre falls back on him for a controversial 2 count (more on that later). Hogan already has a bad back (the crowd seems like they are on the verge of tears) and Andre (barely able to move as this point) methodically destroys Hogan. Andre gets 2 body slams and then walks across the back of Hogan in a painful looking spot. Hogan is thrown from one corner to another to continue the damage on the back. Andre squashes Hogan in the corner and hits a head butt at the urging of Heenan. Another head butt misses and Hogan fires away with some punches. He mounts Andre in the corner and hits the 10 count punches as seemingly all 93,173 count along. Hogan gets too cute and tries to speed things up, but runs flush into a boot from Andre. This leads to a bear hug, and the crowd goes insane trying to keep Hogan alive. His arm drops twice, but on the third time he gets a rush of adrenaline as the crowd has totally lost it and punches his way out of the hold. Hogan hits 2 shoulder blocks that barely move Andre, and he goes for a 3rd, but again runs into an offensive move from Andre: a chop this time. Hogan gets booted to the floor and Andre makes the mistake of trying a head butt while Hogan is against the steel post. Naturally, that turns out bad for the cranium of the Giant. Jesse is irate as Hogan pulls back the mats to expose the concrete. In a stupid move, Hogan tries to piledrive a 550 lb (or 700 lbs if you believe Hogan) man on the concrete. That goes about as well as expected and Hogan takes an ugly backdrop to the concrete. Back in the ring Hogan ducks a chop and fires off the ropes with a clothesline that drops Andre. Hulk-Up time and then we get the most famous moment in Pro-Wrestling history: Hulk Hogan body slams Andre The Giant. The crowd is on the verge of heart failure as Hogan hits the leg drop and pins Andre. Hogan ends the show with his posing as Jesse makes his yearly threat to take Hogan out. God, how I wish we could have seen a feud between those two.

By Robert Leighty Jr.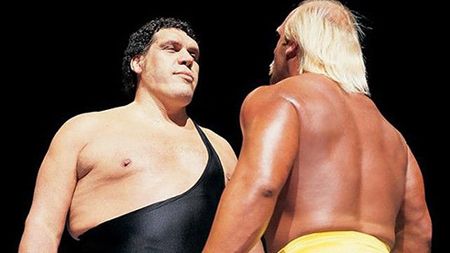 Jack Stevenson: There are thousands of matches that claim to be the biggest of all time, but only one genuinely is, and it's Hulk Hogan vs. Andre the Giant in the main event of WrestleMania III. I'm almost certain I've stolen that sentence from somewhere, but that doesn't make me a plagiarist (shut up it doesn't) as much as it reflects that there is nothing new that can be said about this match; every aspect has been discussed in forensic detail. I have a 500-600 word count though, so I'm going to keep talking.

I like all the wonderful lies surrounding the match, that can't seem to be conclusively disproven even 27 years after the final bell was rung. The idea that 93,000 people were in attendance or that Andre the Giant was 10ft tall and weighed in at 900,000 pounds or whatever Hogan is claiming today is blatantly untrue, but it's great that people still try to perpetuate the myth. It reminds you that people are in love with it. If your beloved romantic partner were today, apropos of nothing, to walk up to a tiny baby and steal some kind of sweet treat from it, you'd probably try and rationalize why the baby had it coming. It was being greedy, and anyway it's better for its health if it went without. Similarly, when basic facts, like the WrestleMania 3 attendance being 78,000 people instead of 93,000, come to light, people cheerily pull the wool over their eyes and decide that their romanticized version of events is correct, and in the context of wrestling, that's a beautiful, commendable thing.

One myth that should be dispelled is that this is a bad wrestling match in any way. It inexplicably won the Wrestling Observer Worst Match of the Year Award in 1987, and even a lot of its proponents feel like they have go through some bizarre self-flagellation ritual, clarifying that they love it because of the spectacle and the grandeur and the body slam, but realizing that it's a completely horrific display of wrestling and they hate themselves for enjoying it. But you know what? It's pretty good. It doesn't provide a thrill a second in terms of moves or anything, but my memories of it are always distorted by incessant internet propaganda and I convince myself that the match basically sees Hogan hit the ring, run into a bear hug, stay there for half an hour, then Hulk up, body-slam, leg-drop and go home, and so it's always a pleasant surprise when I watch it back and realize that hey, stuff happens. Andre finds impressive variation among his basic arsenal of moves, it's beautifully paced as all great Hogan matches are, there's a little brawl on the floor, and it's wrapped up quite briskly before the two can run out of ideas. It's a solid eighties wrestling match.

Yet to analyze it in those terms does it a massive disservice. Wrestling quality doesn't particularly matter here, it's all about the roar of the crowd when Hogan does absolutely anything, the thrill of 78,000 at one human picking another up and then dropping him gingerly, the knowledge that as you watch you're sharing in the hazy, childhood memories of hundreds of thousands around the world, that by enjoying it after all this time you're contributing to the mystique of WrestleMania. Objectively, there have been better WrestleMania matches since, but they'd all lose a little something without having this as an ancestor.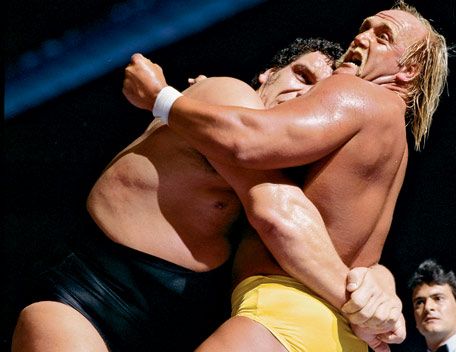 Dino Zucconi: As a lifelong Hulkamaniac, there is no bigger moment. As a WWF fan, there is no bigger match. As time goes on, this match gets slightly more disrespected by fans who can't really appreciate the whole thing. And that's fair. The match is slow. It's sluggish. There's a lot of standing around and staring, or holding bear hugs. But this match was never supposed to be about who the best athlete was- this was about whether someone could actually defeat Andre the Giant.

The Piper's Pit where Andre snatched the chain off of Hogan has been burned into my memory since it first happened. Andre turning on Hogan, and joining with Bobby Heenan of all people was incredibly disappointing. I remember as a 5 year old just hoping that Hogan would make Andre pay for all of the bad his jealousy had caused.

WrestleMania 3 was the first pay per view event I ever saw. We ordered the show at our house, and my parents had people over. It was just sort of played in the background, and anyone who wanted to sit and watch the wrestling could do so. Well, I never moved. I've seen Mania 3 many times since and of course remember the card, but I don't remember watching any other match live, except for Hogan/Andre. I remember feeling like this was the biggest moment in LIFE, not just wrestling.

Andre entered first, showered by garbage. It was quite the scene. Just the boo of the fans, Andre, and lots of garbage. Then Hogan came down. Jesse Ventura began rattling off the stats of each guy before the bell rang. And we were off. There was a quick two count early on following a failed body slam attempt, and Andre and his fans felt he had actually pinned Hogan, which was clearly a huge mistake. They fought to the ring, where Hogan stupidly tried a piledriver, only to end up backdropped onto the floor. Andre continued to lean on Hogan, to squeeze Hogan. Eventually, Hogan found his opening, and after a series of clotheslines, Hogan set in motion the sequence that would bring the match to an end.

I hear Jesse Ventura screaming "HE SLAMMED HIM!" crystal clear. It's one of those calls that I will never forget. Hogan dropping the leg, and getting that three count, and listening to the sold out Pontiac Dome Crowd (if you quibble over whether it was 78,000 or 93,000, please leave) explode remains one of my most favorite moments in wrestling. It's okay if you're a bit younger and think the match sucks. I don't mean that in a "when you get older, you'll understand" thing, either. You might never love this match. But trust that when it was made in 1987, there was no bigger match to be made, and the entire moment lived up to the hype. This is the greatest horrible match in history, and it's still the BIGGEST match in American Wrestling history, too.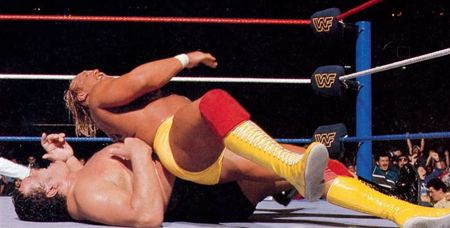 THE LIST AS IT STANDS


30. From WrestleMania 19 - Brock Lesnar vs. Kurt Angle
29. From WrestleMania 24 - Edge vs. Undertaker
28. From WrestleMania 23 - Money in the Bank
27. From WrestleMania 15 - Steve Austin vs. The Rock
26. From WrestleMania 20 - Eddie Guerrero vs. Kurt Angle
25. From WrestleMania 29 - The Undertaker vs. CM Punk
24. From WrestleMania 8 - Rowdy Roddy Piper vs. Bret Hart
23. From WrestleMania 18 - The Rock vs. Hulk Hogan
22. From WrestleMania 28 - The Undertaker vs. Triple H
21. From WrestleMania 8 - Ric Flair vs. Randy Savage

comments powered by