SPOTLIGHTS
411's Top 30 WrestleMania Matches of All Time: #5 – Shawn Michaels vs. Kurt Angle (WM 21)
Posted by Larry Csonka on 04.01.2014

411 continues its Countdown to WrestleMania 30 by looking at the night Mr. WrestleMania made the dreams of fans come true. Shawn Michaels vs. Kurt Angle is match #5 on our countdown…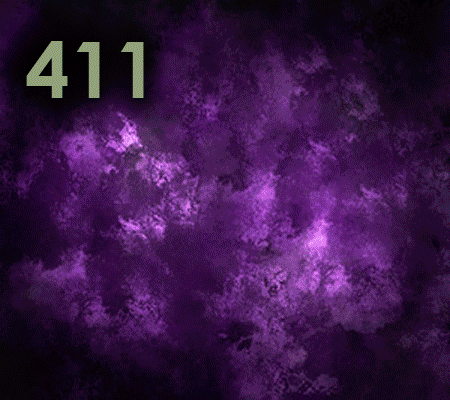 INTRODUCTION


Welcome back to 411Mania, and welcome to 411's official countdown to WrestleMania 30! Every year, the 411 staff comes together in some way to bring you, the fine readers of our site, a special countdown to WrestleMania. In past years we have done special countdown columns, ranking the shows, rating them overall, discussing special aspects of the big event, and even columns that have served as odes to the matches and moments that are etched into our minds.

To some fans, WrestleMania is the biggest show of the year, and the way that WWE has transformed the event into a near weeklong party, it may as well be a holiday to the fans that love our special brand of entertainment. Call it sport or call it a specially designed male soap opera, we love it and we love to talk about what makes things special. WrestleMania is an institution, and this year, as the WWE gets prepared to put on their 30th WrestleMania event, we decided to go big. Starting on March 7th, and running all the way to April 5th, 411 will present the top 30 matches in WrestleMania history.

Each writer on the 411 staff was given the opportunity to nominate 30 matches of their choosing. #1 on their list received 30 points, #2 received 29 points, and so on and so forth. Writers were asked to base their lists on both match quality and historical significance to create their nominations. The final list was created, and there was a ton of competition for the top spot. In fact, the voting was so tight that the top FOUR matches were separated by a mere 16-points.

Each day we will present a match from the list, which will include a full recap of the match from the 411 archives (from Scott Slimmer, JD Dunn, and Robert Leighty Jr.) as well as thoughts from the writers. Thank you for reading, and we hope that you enjoy our presentation…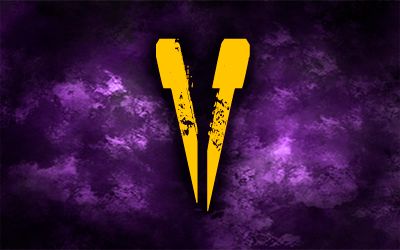 #5. From WrestleMania 21 - Shawn Michaels vs. Kurt Angle
This match had so much hype that it would be a ***** classic that most had visions of Michaels/Perfect from SummerSlam and were afraid it would not live up to the lofty expectations. Thankfully these two proved everyone wrong. This is our second RAW vs. SmackDown match of the evening with Shawn representing Team Red and Angle representing the Blue Brand. Shawn starts things off proper by slipping the taste out of Angle's mouth. Sweet! Pissed off Angle is always a plus, and he immediately goes to the mat game. Shawn gets to the ropes to break as a "You screwed Bret" chant starts. Shawn is able to get a headlock, and Angle tries to break with a suplex, but Shawn maintains the hold. Angle is finally able to break, but he immediately gets taken down again with the hold. A dueling chant starts as Angle continues to struggle with the headlock. He finally gets a break as he backs Michaels into the corner. They start over again, and once again, Angle gets dropped with a side headlock. Now Angle escapes with ease and he runs over Shawn with a shoulder block. Shawn gets a hip toss and keeps Angle grounded with a short arm scissors. Angle is able to roll Shawn over into a pin, but Shawn rolls back to break the count. Angle then does the Bob Backlund spot as he lifts Shawn off the mat. Shawn has seen that before in his series of matches with the Bulldog, and counters into a victory roll for two. Shawn goes back to the headlock, but Angle has seen that move one too many times and breaks easily in the corner. Now things start to get more aggressive as they start trading blows in the corner. Kurt gets the best of that and rabbit punches Shawn to drop him and then locks in the ankle lock. Shawn kicks off and sends Angle to the floor. Shawn is now good and pissed and he clears the announce table. He heads back in the ring to break the count, but that gives Kurt a chance to regroup. Kurt tries a suplex onto the table, but Shawn lands on his feet and starts chopping. Kurt ducks a third chop and gives Shawn an Angle Slam into the ring post. Sick! Back inside the ring Angle fires off some suplexes for a few near falls and goes to a body scissor to continue the work on the back. Shawn is able to fight to his feet and pushes Kurt into the corner where he eats some chops. Kurt regains the advantage and whips Shawn into the corner where he takes his patented bump. As Shawn bounces back, Kurt tosses him around the ring with an overhead belly-to-belly suplex. We get a replay off the Angle Slam into the post and it shows that Shawn took most of the blow to his legs and not his back. They start trading blows and Shawn gets cocky once again as he slaps Kurt in the face. Again, that just serves to piss off Angle and he takes off Shawn's head with a clothesline. Damn! They fight up top and Kurt looks for a superplex, but Shawn is able to push off. He looks for the flying elbow, but Kurt moves. A backdrop sends Kurt over the top and to the floor. Shawn comes flying off the top rope with a cross body to the floor to leave both men out. They fight to the apron and Kurt tries to kill Shawn with a German Suplex from there through the announce table. Shawn is able to elbow out and a timely low blow sends Angle back to the floor. That actually drew a noticeable boo from the crowd. Angle ends up on the announce table and Shawn hits a springboard splash onto Kurt which doesn't break the table. JR and Lawler note that the tables were reinforced. Both men crawl back into the ring and Kurt is legit bleeding from the mouth. I believe it happened when Shawn's knee caught him with the cross body from the top rope. Shawn starts firing off chops and hits the flying forearm. Shawn gets to his feet and slams Kurt to set up the flying elbow. This time is does hit and the band starts tuning, but Kurt says hell with that and calmly catches the foot to hook in the ankle lock. Now the crowd is losing their collective minds as Shawn starts flopping around like a fish. Shawn tries to break, but Kurt maintains the hold. He is finally able to get to the ropes and Kurt has no choice but to release the hold. Kurt looks for the Angle Slam, but Shawn reverses to a roll-up. However, Kurt rolls through that to get the ankle lock. Shawn counters that with another roll-up, and looks for Sweet Chin Music. Again Kurt catches the boot and hits the Angle Slam for two. The strap comes down and Kurt heads up for the moonsault. The move misses as usual, and Shawn decides he wants to head up top. He takes way too long though and Angle pops up to give Shawn a Super Angle Slam for a hot near fall. Damn! The crowd was ready to buy that as the finish. Kurt is super pissed now and picks up a lifeless Shawn to talk some shit to him. Big mistake there as Shawn calmly pushes him away and delivers Sweet Chin Music. That was so damn awesome! Shawn crawls and gets an arm draped over Kurt, but it only gets two. The dueling chant starts again as Shawn staggers to his feet. Angle rises from the dead and grabs the ankle. Shawn keeps trying to roll through, but Angle won't release the hold. Shawn makes one last desperate dive for the ropes, but Kurt drops into the hook. Shawn is royally screwed and the fans know it. Shawn teases tapping and holds out for as long as he can before he finally taps at 27:26. The crowd gives Shawn a standing ovation as he leaves the ring.

- By Robert Leighty Jr


Greg DeMarco: Texas native (despite being born in Arizona) WWE Hall of Famer Shawn Michaels is "The Showstopper" and "Mr. WrestleMania." He's main evented five WrestleManias—with Bret Hart, Steve Austin, Triple H, Chris Benoit, John Cena and The Undertaker. And he and Diesel should have main evented another. He lost all but one of those matches.

Pittsburgh native TNA Hall of Famer (and likely future WWE Hall of Famer) Kurt Angle main evented one WrestleMania—WrestleMania 19—in a loss against Brock Lesnar.

But the best WrestleMania performance for either man came in the middle of the card...at WrestleMania 21.

The story for this one went back to the 2005 Royal Rumble match (won by Batista—which people were happy about that time around!). Shawn Michaels eliminated Kurt Angle from the Rumble match thirty-seven seconds after the Olympic Gold Medalist's entrance, and Angle retaliated by attacking Michaels—eliminating him as well. Michaels challenged Angle to a WrestleMania match, but Angle was in a tournament to crown a #1 contender to the WWE Championship. Once he lost to John Cena in the finals, he was free and clear to accept Michaels' challenge—and did so by attacking The Heartbreak Kid.

The build saw involvement from Michaels' past, including Marty Jannetty and Sherri Martel (both of whom ended up in the Ankle Lock). Angle was great in full-obsession-mode, even interfering in Michaels' matches as we approached WrestleMania 21.

The match itself is a pure classic. It's the longest match on the card (going over 27 minutes—6 minutes longer than the Batista-HHH main event) and it was easily the best. That's saying a lot, as this card was opened by a 15-minute Eddie Guerrero-Rey Mysterio match, featured The Undertaker vs. Randy Orton and the first ever Money In The Bank Ladder match.

During the match, each competitor held the advantage and each showed great frustration. A key moment sees Angle openly yelling at Michaels for not going down—and eating some Sweet Chin Music for his time. The end—as you likely know—saw Michaels finally tapping to the Ankle Lock.

Between the two of them you'll find sixteen world title reigns. You'll find several "five-star" matches. Each is a legendary Hall of Famer and each has cemented a place in professional wrestling history that will never be forgotten. But neither man ever wrestled a match better than their WrestleMania 21 encounter.

In my opinion, no one ever has.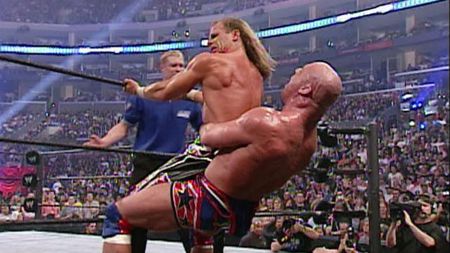 Dino Zucconi: This match, for the record, is the one I consider to be the greatest match I've ever seen live. I haven't been to thousands of shows, but I have definitely been in attendance for some amazing matches. Nothing touches this, for a personal experience, for me. Nothing inspires the crazy memories the way this match does for me. It's not my all time favorite match. It's not the best match. But it's easily the best one I was there for, and as we can see here, it's at least considered the fifth best WrestleMania match ever by us jerks.

Seemingly just a long shot of a dream match as 2004 came to a close, this match was kicked off in amazing fashion at the 2005 Royal Rumble when Michaels eliminated Angle from the match. Seething, Angle returned, attacked and eliminated Michaels, applying an ankle lock before finally leaving the scene. Michaels would go on to lay the WrestleMania challenge, and it was on. The build up was amazing, with Kurt trying to show how he was better than Shawn in every way. He sang his own version of Michaels' theme song "Sexy Boy", even getting Sensational Sherri to appear for it! He wrestled Marty Jannetty in an unheralded TV classic. The build was phenomenal.

Being there, however? Being there made it even better. I was a longtime Shawn Michaels hater. A Bret Hart fan who never got to see any sort of worthy retribution for Montreal. Michaels had returned in 2002, and continued delivering great matches with everyone. I had hoped to see him lose to Chris Jericho at Mania 19 and was denied. On this night, however, the Wrestling Gods had a plan for me. With every fiber of my being converting to 100% pure childlike mark, I booed Michaels loudly throughout the contest, engaging the people around me (who all loved Michaels) in some fun trash talk. With every Superkick, they'd get louder and more in my face. With every ankle lock, I returned the favor. It was a fever pitch. Meanwhile, Angle and Michaels were having a classic in the ring. Each proving to be the kryptonite for the other in varying moments, the momentum constantly shifted. There were numerous desperation comebacks, and numerous attempts thwarted. Finally, Angle locked in the ankle lock, dropped to the mat, and scissored Michaels' leg. At this point, I rose from my seat and screamed- literally, screamed- for Michaels to tap. Over and over, "TAAAAAAAAAAAP!" I never in my life thought I'd get to see him tap out in person, but in an instant, he did. Shawn Michaels tapped out. As Angle's music hit, I popped as hard as I've ever popped for someone not named Hogan, Hart, or Edge. Kurt Angle, on that night, was my hero. He, the superior technical wrestler, got Michaels to tap out. For a bitter Bret Hart mark, this was the sweetest victory. Honestly, if you've never seen this match, please find it. Watch it. Over and over. Sure, it's got the usual Kurt goofiness of fifty seven finishers being applied, and Michaels has some of his pick-and-choose selling issues, but this match was basically guaranteed to be sensational the second it was announced. It was hyped as if it was going to be. And then, in the greatest miracle of all, it completely delivered.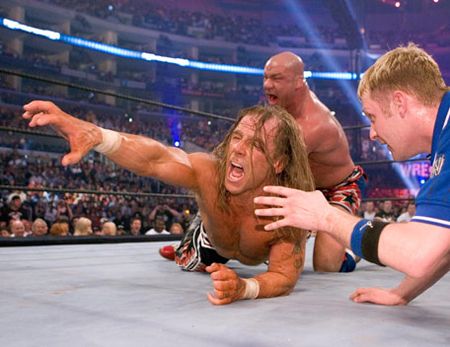 THE LIST AS IT STANDS


30. From WrestleMania 19 - Brock Lesnar vs. Kurt Angle
29. From WrestleMania 24 - Edge vs. Undertaker
28. From WrestleMania 23 - Money in the Bank
27. From WrestleMania 15 - Steve Austin vs. The Rock
26. From WrestleMania 20 - Eddie Guerrero vs. Kurt Angle
25. From WrestleMania 29 - The Undertaker vs. CM Punk
24. From WrestleMania 8 - Rowdy Roddy Piper vs. Bret Hart
23. From WrestleMania 18 - The Rock vs. Hulk Hogan
22. From WrestleMania 28 - The Undertaker vs. Triple H
21. From WrestleMania 8 - Ric Flair vs. Randy Savage

20. From WrestleMania 3 - Hulk Hogan vs. Andre the Giant
19. From WrestleMania 19 - Shawn Michaels vs. Chris Jericho
18. From WrestleMania 22 - Mick Foley vs. Edge
17. From WrestleMania 6 - Hulk Hogan vs. Ultimate Warrior
16. From WrestleMania 5 - Hulk Hogan vs. Randy Savage
15. From WrestleMania 7 - Randy Savage vs. Ultimate Warrior
14. From WrestleMania 2000 - Edge & Christian vs. The Dudley Boyz vs. The Hardy Boyz
13. From WrestleMania 24 - Ric Flair vs. Shawn Michaels
12. From WrestleMania 21 - Money in the Bank
11. From WrestleMania 17 - Edge & Christian vs. The Dudley Boyz vs. The Hardy Boyz

10. From WrestleMania 12 - Bret Hart vs. Shawn Michaels
9. From WrestleMania 20 - Triple H vs. Shawn Michaels vs. Chris Benoit
8. From WrestleMania 17 - Steve Austin vs. The Rock
7. From WrestleMania 10 - Bret Hart vs. Owen Hart
6. From WrestleMania 10 - Shawn Michaels vs. Razor Ramon

comments powered by