SPOTLIGHTS
411's Top 30 WrestleMania Matches of All Time: #23 – The Rock vs. Hulk Hogan (WM 18)
Posted by Larry Csonka on 03.14.2014

411 continues its look at the top 30 matches in the history of WrestleMania with the Icon vs. Icon match between The Rock and Hulk Hogan at WrestleMania 18!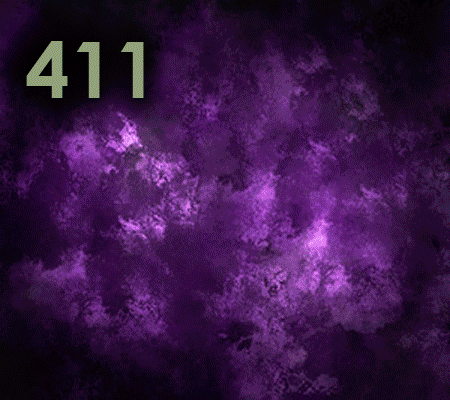 INTRODUCTION


Welcome back to 411Mania, and welcome to 411's official countdown to WrestleMania 30! Every year, the 411 staff comes together in some way to bring you, the fine readers of our site, a special countdown to WrestleMania. In past years we have done special countdown columns, ranking the shows, rating them overall, discussing special aspects of the big event, and even columns that have served as odes to the matches and moments that are etched into our minds.

To some fans, WrestleMania is the biggest show of the year, and the way that WWE has transformed the event into a near weeklong party, it may as well be a holiday to the fans that love our special brand of entertainment. Call it sport or call it a specially designed male soap opera, we love it and we love to talk about what makes things special. WrestleMania is an institution, and this year, as the WWE gets prepared to put on their 30th WrestleMania event, we decided to go big. Starting on March 7th, and running all the way to April 5th, 411 will present the top 30 matches in WrestleMania history.

Each writer on the 411 staff was given the opportunity to nominate 30 matches of their choosing. #1 on their list received 30 points, #2 received 29 points, and so on and so forth. Writers were asked to base their lists on both match quality and historical significance to create their nominations. The final list was created, and there was a ton of competition for the top spot. In fact, the voting was so tight that the top FOUR matches were separated by a mere 16-points.

Each day we will present a match from the list, which will include a full recap of the match from the 411 archives (from Scott Slimmer, JD Dunn, and Robert Leighty Jr.) as well as thoughts from the writers. Thank you for reading, and we hope that you enjoy our presentation…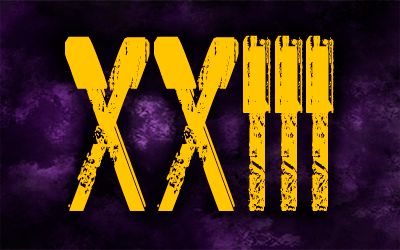 #23. From WrestleMania 18 – ICON vs. ICON: The Rock vs. Hulk Hogan
Hogan comes out first and gets a huge reaction from the crowd and JR immediately does all he can to down play the fact that Hogan is the face in that match. He attributes everything to nostalgia (which is possible) and calls it a mixed reaction. This really should have closed the show because nothing was going to follow it without dying the death of a 1000 deaths. I still think Austin vs. Hogan should have been done here, but this is still pretty fucking awesome. The opening moments with both men staring at each other and then at the crowd is one of the coolest things I've seen in wrestling. The bell sounds and the crowd erupts. Seriously, how often do you see that happen? Hogan powers Rock down and poses to a MONSTER reaction. Hogan seems to be having the time of his life, though he said he was scared to death by the crowd's reaction in his book. Hogan grabs a headlock as the Rocky Sucks chants begin. The Rock gets steamrolled and Hogan poses some more to a huge reaction. Hogan hits a knee and starts pounding away as he talks some trash. A nice running clothesline sends the Rock flying as he sells everything to the highest degree. The Rock finally gets some offense and the crowd is pissed. He tells Hogan to bring it, and he responds with a shove. Rock answers with some fists and sends Hogan to the floor. They head back inside, and the Rock drops Hogan with a hard clothesline. He prepares for the Rock Bottom, but Hogan elbows out and delivers a right hand. The axe-bomber sends the Rock to the mat, and Hogan follows with several elbows. Rock gets tossed into the corner, and Hogan follows with the running clothesline. JR notes Hogan lost his lone WrestleMania match in the SkyDome. Rock gets some offense to some boos, but Hogan gets a suplex to a huge pop. Lawler is all but gushing over Hogan, while JR struggles to give any praise. Hogan rakes the back, and Rock's oversell is truly amazing. Rock fires back and the crowd is irate with that. This is almost like HHH vs. Cena with the fans booing and cheering depending on who is on the offensive. Hogan uses his wrist tape to choke Rock, and somewhere Jesse Ventura is probably crying. Rock tries to lay the smack down, but gets tossed to the floor. Hogan rams him into the steps and drops him throat first on the security rail. He preps the announce table, but nothing comes from that. Rock says hell with the table and grabs a chair, but the ref stops him. That gives Hogan the chance to hit another clothesline. The ref gets creamed when Hogan tosses the Rock across the ring. Rock gets a spinebuster to leave both men down. He applies his crappy version of the sharpshooter, which doesn't go over very well for the Rock with the Canadian crowd. Hogan makes the ropes, but there is no ref, so the Rock drags him back to the middle of the ring. Hogan taps, but the ref is nowhere to be found. Loud Rocky sucks chant as he starts to go heel mid-match. Hogan gets a ball shot and hits his version of the ROCK BOTTOM to a ridiculous reaction from the crowd. That gets a hot near fall. The fans were buying that one. The weight belt gets used by Hogan, but a timely DDT gives the Rock a chance to use the belt. Some fans start to cheer the Rock now that he is heel. Crazy! A Rock Bottom gets a 2 count, and we get the Hulk-up to one of the loudest reactions you will ever hear. Any true wrestling fan has to see the reaction Hogan gets as everything from here on out is just insanely over with the crowd. The leg drop gets a 2 count, and the crowd is ready to riot. This is just a fantastically fun match to watch. I'm even marking out at this point some 7 years later. A second leg drop misses, and Hogan eats a second Rock Bottom. He doesn't cover and opts to give Hogan a 3rd Rock Bottom. The People's Elbow follows and that is enough to get the pin @ 16:24. They shake hands after the match and that pisses off Hall and Nash. They beat on Hogan, and the Rock makes the save. This should have lead to a huge money tag match at the next PPV, but for some reason it wasn't to be. Hogan poses while the Rock watches with a huge smile on his face. A favorite moment for me is when they walk up the ramp, and Hogan raises the arm of the Rock. You can see the look in the Rock's eyes as he shakes his head in disbelief. It was a small moment where it looked like he was Duane Johnson and was overwhelmed with the moment.

- By Robert Leighty Jr.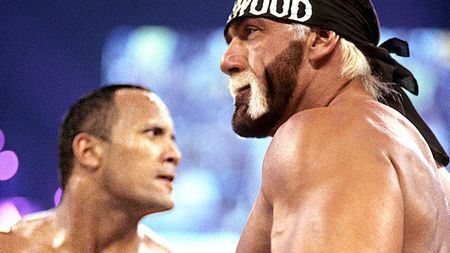 Dino Zucconi: Depending on just how big you consider the first John Cena/Rock match to be, this is the last true "Dream Match" wrestling has seen. There have been some big matches since then, and some may even consider the HBK/Undertaker matches as Dream Matches, but this one, a match that never looked like it would come together, only to suddenly become THE big match for WrestleMania, strikes me as occurring on a whole separate level.

Hogan was a few months into his stint as Hollywood when Rocky Maivia debuted at Survivor Series 1996. While Hogan was headlining Starrcade 97 with Sting, Maivia was finding his way as The Rock and feuding with Steve Austin for the Intercontinental Title. Throughout the Attitude Era, the match most fans talked about that they figured they would not get was Austin vs. Hogan. The two biggest names, coupled with some of the beef that Austin felt regarding his treatment and subsequent firing from WCW, just made it seem like that would be an instant match if either man headed over.

Well, when Vince McMahon bought WCW, it was only a matter of time before Hogan came back. At No Way Out 2002, the nWo of Hall, Nash, and Hogan were brought in. A backstage skit where the Rock completely clowned all three later, and we were headed towards Monday Night Raw, where the challenge was laid out. Forget Hogan and Austin- we were getting Hogan and Rock.

At first, it felt like a really weird conciliatory prize, giving us a match between two "big names" even if those names had never really been put together as far as "what would be a cool match?" conversations went. However, as they shared the same ring and talked trash, it became clear (to me, at least) that this pairing made way more sense. Sure, Austin was THE guy and the moneymaker and all that, but he was basically always still a wrestler. The Rock, though? The Rock transcended wrestling. He was basically everything Hogan had tried to become earlier in his career, and only saw minor to middling success. The Rock was welcomed to Hollywood, and he returned to wrestling a conquering hero. Hogan could never do that.

Ignoring the silly skits that led to the match, we were finally at Toronto for Mania 18, the same city that hosted Hogan's robbing at the hands of the Ultimate Warrior only 12 years prior. The crowd, of course, makes this match. But this match falls in the same vein as Hogan/Andre. It's not just about the moonsaults and springboard ranas that (don't) take place- it's the atmosphere. It's having two of wrestling's largest personalities colliding in the ring. It's seeing Hulk Hogan welcomed back by HIS fans after hearing jeers for much of his WCW run. It's seeing Hogan show he still somewhat had it after a disappointing end to his WCW run and an odd stint in XWF. It's about crowning the new era with one simple handshake. Workrate wise, no , this isn't the greatest match. But that day, as we screamed at our TV for Hogan to pull out one more win (he didn't), that match was the most important thing in our wrestling world. Everything else was put on hold that day, even the title match. Nothing else mattered. Hogan vs. Rock was all about the spectacle, and in that sense, this is a five-asterisk bonanza.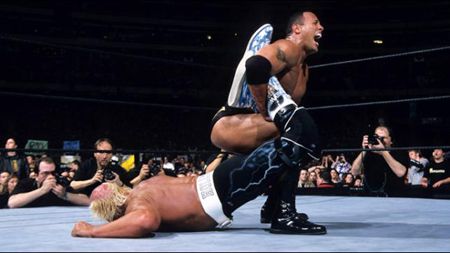 Jack Stevenson: Hulk Hogan has had many matches at WrestleMania that, if you strip away the glitz, glamour and spectacle and put them on a house show in Badonkadonk, Ohio, would still be darn good matches. His bout with Andre the Giant was simple, compelling storytelling at its finest. His clashes with Randy Savage and the Ultimate Warrior were surprisingly superb mat classics. His Street Fight with Vince McMahon at WrestleMania 19 was a delightfully bizarre display of violence. All of these matches are undoubtedly aided by taking place on the grandest stage of them all, but without that they'd still have a lot of value in their own right. You can't say the same for Hulk Hogan vs. The Rock at WrestleMania X-8. It's barely above passable, and not at all worthy of such a titanic collision. It's an awkward hybrid of a Eighties style Hulk Hogan match except with Hogan playing the bad guy, and a 2002 WWE main event where finishers are hit and kicked out of, hit and kicked out of, forever, endlessly, till time implodes. In terms of pure match quality, it's one of the weaker matches on an under whelming show. Yet, when it came to compiling our lists for this feature, I voted for it as the 8thgreatest match in WrestleMania history, and I think I'm entirely justified in doing so. This is the most glorious triumph of style over substance in pro wrestling history. Sure, all Hogan and the Rock could offer was time-filling brawling, back rakes and finishers, but when it's WrestleMania, and it's Hulk Hogan and the Rock, and 68,000 people in the crowd are losing their minds, who fucking cares?

I still remember losing my mind when I first saw this match. It was before the time of post Raw WrestleManias where everyone chants "JBL!" for three hours. Obviously there had been WWF crowds that did not take to matches or angles, or even engaged in brief acts of protest, but never had any of them gone so spectacularly against the grain as the Toronto fans did here, giving Hollywood Hogan a massive ovation while gleefully booing the Rock out the building, ignoring the fact that Hogan had recently attempted to crush his foe by crashing a truck into an ambulance in which he lay helpless. It was the most surreal, intoxicating atmosphere, and even now it sucks you in. Listen to the roar when Hogan Hulks up! Tell me that isn't everything perfect about professional wrestling! A shake of the head, a flick of the finger from a balding, middle aged has-been, and in the crowd there are grown men furiously flexing and cupping their hands to their ears and positively revelling in the fact that after 12 years their childhood hero has returned to them. It's spine tingling. This is the kind of match to which small children will fall in love with wrestling and grown adults will rekindle theirs.

Hulk Hogan would rather outstay his welcome, thanks to an ill-advised reign with the WWE Championship and a laughably bad feud with the Undertaker. The most useful thing he did post WrestleMania was get pulped by Brock Lesnar. In a way though, that helps the match even more. It's a once in a lifetime occurrence, something that couldn't be replicated as hard as they tried. Yep, Hulk Hogan and the Rock had a disappointing outing at WrestleMania X-8, and it was so magical and magnificent it couldn't be surpassed. That's WrestleMania.









THE LIST AS IT STANDS


30. From WrestleMania 19 - Brock Lesnar vs. Kurt Angle
29. From WrestleMania 24 - Edge vs. Undertaker
28. From WrestleMania 23 - Money in the Bank
27. From WrestleMania 15 - Steve Austin vs. The Rock
26. From WrestleMania 20 - Eddie Guerrero vs. Kurt Angle
25. From WrestleMania 29 - The Undertaker vs. CM Punk
24. From WrestleMania 8 - Rowdy Roddy Piper vs. Bret Hart

comments powered by