SPOTLIGHTS
411's Top 30 WrestleMania Matches of All Time: #12 – Money in the Bank (WM 21)
Posted by Larry Csonka on 03.25.2014

411 continues its Countdown to WrestleMania 30 by looking at six men battling in a WrestleMania first; we head to WrestleMania 21 and the debut of the Money in the Bank ladder match…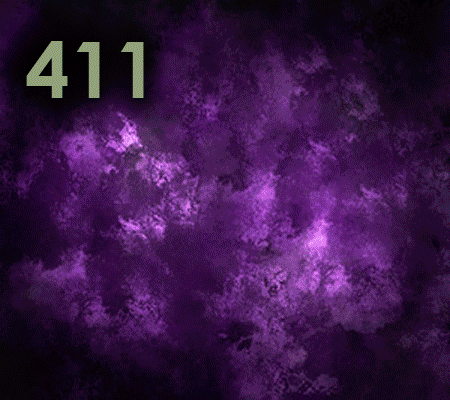 INTRODUCTION


Welcome back to 411Mania, and welcome to 411's official countdown to WrestleMania 30! Every year, the 411 staff comes together in some way to bring you, the fine readers of our site, a special countdown to WrestleMania. In past years we have done special countdown columns, ranking the shows, rating them overall, discussing special aspects of the big event, and even columns that have served as odes to the matches and moments that are etched into our minds.

To some fans, WrestleMania is the biggest show of the year, and the way that WWE has transformed the event into a near weeklong party, it may as well be a holiday to the fans that long our special brand of entertainment. Call it sport or call it a specially designed male soap opera, we love it and we love to talk about what makes things special. WrestleMania is an institution, and this year, as the WWE gets prepared to put on their 30th WrestleMania event, we decided to go big. Starting on March 7th, and running all the way to April 5th, 411 will present the top 30 matches in WrestleMania history.

Each writer on the 411 staff was given the opportunity to nominate 30 matches of their choosing. #1 on their list received 30 points, #2 received 29 points, and so on and so forth. Writers were asked to base their lists on both match quality and historical significance to create their nominations. The final list was created, and there was a ton of competition for the top spot. In fact, the voting was so tight that the top FOUR matches were separated by a mere 16-points.

Each day we will present a match from the list, which will include a full recap of the match from the 411 archives (from Scott Slimmer, JD Dunn, and Robert Leighty Jr.) as well as thoughts from the writers. Thank you for reading, and we hope that you enjoy our presentation…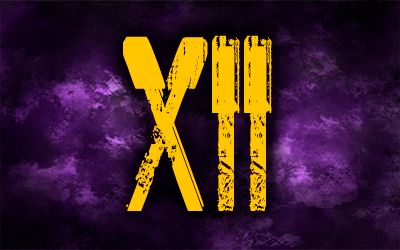 #12. From WrestleMania 21 - Money in the Bank Ladder Match: Chris Jericho vs. Edge vs. Chris Benoit vs. Christian (w/ Tomko) vs. Shelton Benjamin vs. Kane
This was set-up as Jericho's idea for a match and what's crazy is that this only features RAW wrestlers. That's one hell of a midcard for RAW at the time actually. Of course this is the first ever Money in the Bank Ladder Match and it has become a staple of WrestleMania ever since. Everyone involved in this match has had some experience in a Ladder Match with all those hailing from Canada having the most. The wildcards seemed to be Benjamin and Kane: Benjamin for his freakish athleticism and Kane for being the only big man in the match. A great visual as the ladders on the stage catch fire when Kane makes his entrance. Nice! Everyone in the match immediately gang up on Kane. Benoit and Shelton take care of him with a double suplex on the floor. Christian immediately goes for the ladder, but Jericho catapults it into his face. Benjamin and Jericho have a go in the ring. Jericho gets a bulldog on Benjamin and then slingshots over the top onto Edge. Christian follows with his springboard cross body off the middle ropes. Benjamin clears the top rope with ease with a hilo. Holy Hell! Not to be outdone Kane comes off the top onto every other participant. Kane is the first to get a ladder in the ring and he destroys anyone that comes near him. Jericho comes off the top with a dropkick to stop Kane's momentum. Now Jericho is wielding the ladder and both Edge and Benjamin eat a shot. Benoit sneaks up from behind and destroys Jericho with a German suplex and that sends the ladder flying as well. Nice spot! Benoit climbs, but Kane stops and tries for a chokeslam, but Benoit counters to the crossface to a huge pop. Edge gets involved and he gets a crossface for his trouble. Kane takes the ladder and casually hits Benoit in the head in a nasty spot. Benoit gets his arm trapped between the ladder and Kane abuses that with a chair. Edge and Christian sandwich Kane between two ladders, but Benjamin takes both of them out with a springboard clothesline. This is just non-stop mayhem, and it's great. Benjamin gets whipped into a ladder that was propped in the corner, and Edge looks for the spear. Instead he gets flap jacked into the ladder by Benjamin. A "Shelton" chant erupts and he pleases the crowd by hitting Edge with a Stinger Splash against the ladder. Now Shelton begins to climb and touches the case, but Jericho returns to fight with him on top. Christian sets up his own ladder and he starts to climb. Edge and Benoit get on another ladder and now we have 5 men battling on top for the briefcase. Benoit and Christian are the first ones to come crashing down (and it hurts inside) and Jericho soon follows. Benjamin brings Edge down with a T-Bone suplex from the ladder. Insane! The crowd loved that one. Jericho is the best of the bunch and he starts to climb, but Christian stops him and in the chaos a ladder gets wedged between the standing ladder. Jericho starts to climb, but Benjamin runs up the slanted ladder and knocks Chris off with a clothesline. That's fucking crazy right there. Benjamin starts to climb as he is becoming the star of this match, but Kane returns and tries to chokeslam him to the floor, but Benjamin gets caught in the ropes. Tomko cuts off Kane and tries to give Christian an assist up the ladder, but Kane returns in time, and he knocks him off the ladder. That sends Christian flying out of the ring onto Tomko. Jericho and Kane do battle on the ladder, and it falls over sending Kane onto the top rope and sending Jericho to the floor. Benoit, selling the hell out of the arm injury, sets up the ladder in the corner and the crowd is one step ahead. He comes flying off the ladder with the head butt to Kane and that opens the sutures in Benoit's head. That's a cool visual actually and puts over how much these men want this match. Benoit starts to climb, but Kane does the zombie sit up and he meets Benoit on top of the ladder. Benoit fires off machinegun head butts to send Kane flying off the ladder, and it seems Benoit is ready to win this thing. Edge comes out of nowhere and blasts Benoit's arm with a chair. That leaves Edge all alone and he climbs the ladder to claim the briefcase at 15:17

- By Robert Leighty Jr.


Michael Weyer: It's funny to look back at how the first MITB battle was just a way to get more guys on the card, not expected to be really that special. But Edge, Christian, Chris Benoit, Shelton Benjamin, Chris Jericho and Kane managed to work together to provide not just a spotfest but a truly well worked match. It got going with the awesome visual of Kane's entrance setting the ladders on stage on fire and everyone attacking him first but he fought them off. Then, we got the fun bit of guys splashing onto the rest of their opponents one-by-one with Benjamin and Kane taking flight well. Benoit hitting Jericho with a German suplex while Jericho was holding the ladder would have been the spot of any match but here, just the start of the wildness. It was fun seeing Edge and Christian briefly reunite with a Ladder Concerto before the battle got going with Shelton making his mark as a show-stealer with high splashes on guys in the ladders and taking a chokeslam off the ladder from Kane. What made it truly great was how fluid it all was, each brawl sliding easily into another with good pair-offs and fights. This included the genius bit of how, even as he's smashed into a ladder, Christian was able to set up another ladder so it didn't look contrived, setting up Shelton's now famous ladder-run/clothesline on Jericho that had the crowd on their feet. More awesomeness included Kane tossing out the ladder with Christian on top and Benoit making a flying head butt while still selling an injured arm. In the end, Edge used a chair to knock down Benoit and grab the briefcase and end one of the most pioneering bouts WWE has ever seen. There have been lots of MITB bouts since but while they have bigger spots, they can't really match the wonderful way this gelled as all six men worked together to put on a show for the ages and succeeded. More than just a wild battle but a smartly laid-out one as well that made MITB mean something and gave us what would be a good Mania tradition that's led to big stuff for WWE down the line.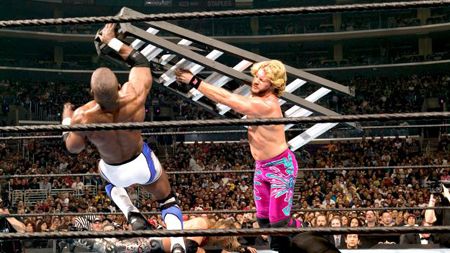 Jack Stevenson: Between 1999 and 2001, various combinations of Edge, Christian, Jeff and Matt Hardy, and Bubba Ray and D-Von Dudley put on a series of Ladder matches so spectacular and beloved that WWE would spend the next time ramming ladders down our throat (a spot, incidentally, that I'm surprised hasn't been used yet in such a match). It seemed like the solution to every below-par show was "NINE LADDER MATCHES" and as such the genre became tired and formulaic, and seemed to be going the way of the Steel Cage, an art form beaten into a coma.

Against this gloomy backdrop, the Money in the Bank ladder match, filled with talented but directionless Raw midcarders, lumbered onto the WrestleMania 21 undercard, and hey, guess what, it only went and became one of the few matches that can genuinely be said to have changed the wrestling industry. With a 15 minute explosion of danger and carnage, they created a match so popular it spawned its own pay-per-view, revolutionized the way stars were created and champions crowned (prolonged title chases are no longer mandatory; now, any WWE midcarder is two matches away from becoming WWE champion) and gave cheap independent promotions easy main events for the rest of the millennium. And it holds up brilliantly.

OK, it's a total spotfest; there's an attempt at a story as Chris Benoit tries to overcome an arm injury, but there's too much going on with too many people for it to have time to develop. It follows the repetitive multi man ladder match formula almost religiously of two people doing a thing while the other four lie on the floor nursing their injuries. A couple of the stunts are a bit contrived, and none of them are even especially remarkable apart from Shelton Benjamin charging up a leaning ladder, which is still genuinely astonishing and totally worthy of the awed roar it receives. But, for all its flaws, this match remains fucking thrilling. There's so much going on, so much potential for carnage, such a frenetic, terrified energy to it. There's moments where everyone looks like they might grab the briefcase- at one point I was convinced Christian was going to somehow do it despite the fact I was fully aware he lost- and when Edge does win it's in the most deliciously horrible way, a suitable conclusion to a glorious car crash of a match.

It's not hard to see how this revolutionized the WWE, it's an injection of pure chaos into an all too placid environment. But it couldn't have succeeded without the totally wild first outing, a wonderful modern WrestleMania moment if there ever was one.









THE LIST AS IT STANDS


30. From WrestleMania 19 - Brock Lesnar vs. Kurt Angle
29. From WrestleMania 24 - Edge vs. Undertaker
28. From WrestleMania 23 - Money in the Bank
27. From WrestleMania 15 - Steve Austin vs. The Rock
26. From WrestleMania 20 - Eddie Guerrero vs. Kurt Angle
25. From WrestleMania 29 - The Undertaker vs. CM Punk
24. From WrestleMania 8 - Rowdy Roddy Piper vs. Bret Hart
23. From WrestleMania 18 - The Rock vs. Hulk Hogan
22. From WrestleMania 28 - The Undertaker vs. Triple H
21. From WrestleMania 8 - Ric Flair vs. Randy Savage
20. From WrestleMania 3 - Hulk Hogan vs. Andre the Giant
19. From WrestleMania 19 - Shawn Michaels vs. Chris Jericho
18. From WrestleMania 22 - Mick Foley vs. Edge
17. From WrestleMania 6 - Hulk Hogan vs. Ultimate Warrior
16. From WrestleMania 5 - Hulk Hogan vs. Randy Savage
15. From WrestleMania 7 - Randy Savage vs. Ultimate Warrior
14. From WrestleMania 2000 - Edge & Christian vs. The Dudley Boyz vs. The Hardy Boyz
13. From WrestleMania 24 - Ric Flair vs. Shawn Michaels

comments powered by