SPOTLIGHTS
411's Top 30 WrestleMania Matches of All Time: #7 - Bret Hart vs. Owen Hart (WM 10)
Posted by Larry Csonka on 03.30.2014

411 continues its Countdown to WrestleMania 30 by looking at the match many refer to as the greatest opening match in the history of the big show! We head to WrestleMania 10 and look at the battle between Bret and Owen Hart…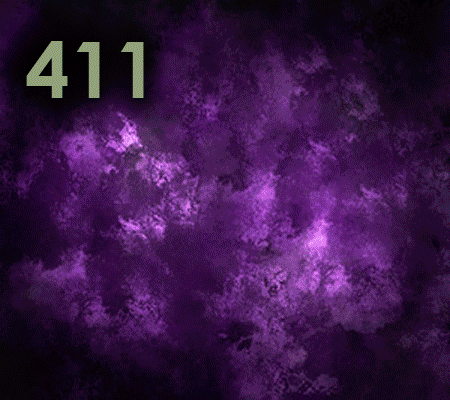 INTRODUCTION


Welcome back to 411Mania, and welcome to 411's official countdown to WrestleMania 30! Every year, the 411 staff comes together in some way to bring you, the fine readers of our site, a special countdown to WrestleMania. In past years we have done special countdown columns, ranking the shows, rating them overall, discussing special aspects of the big event, and even columns that have served as odes to the matches and moments that are etched into our minds.

To some fans, WrestleMania is the biggest show of the year, and the way that WWE has transformed the event into a near weeklong party, it may as well be a holiday to the fans that love our special brand of entertainment. Call it sport or call it a specially designed male soap opera, we love it and we love to talk about what makes things special. WrestleMania is an institution, and this year, as the WWE gets prepared to put on their 30th WrestleMania event, we decided to go big. Starting on March 7th, and running all the way to April 5th, 411 will present the top 30 matches in WrestleMania history.

Each writer on the 411 staff was given the opportunity to nominate 30 matches of their choosing. #1 on their list received 30 points, #2 received 29 points, and so on and so forth. Writers were asked to base their lists on both match quality and historical significance to create their nominations. The final list was created, and there was a ton of competition for the top spot. In fact, the voting was so tight that the top FOUR matches were separated by a mere 16-points.

Each day we will present a match from the list, which will include a full recap of the match from the 411 archives (from Scott Slimmer, JD Dunn, and Robert Leighty Jr.) as well as thoughts from the writers. Thank you for reading, and we hope that you enjoy our presentation…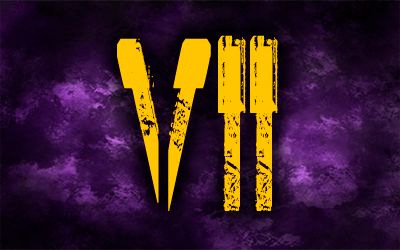 #7. From WrestleMania 10 - Bret Hart vs. Owen Hart
Stiff tie up to start. It goes nowhere, so Owen proclaims victory. Nice head scissor counter of a fireman's carry. Owen kips up and taunts his brother. Bret drops down, sending Owen to the outside. Owen comes back in and slaps Bret in the face. Bret takes him down and works the arm. Nice reversal by Owen using a handful of hair. Bret gets two off a reverse rollup and arm drags his brother down again. Owen elbows him in the face and shoulder blocks him to the mat. Bret gets a reverse monkey flip on another attempt and clotheslines Owen to the floor. Owen gets in Bret's face again, but this time Bret slaps him across the grill and gets two on a schoolboy rollup. Bret gets two off a crucifix. Owen comes back with a beautiful spinning leg lariat as Vince wonders if Bret has enough killer instinct to beat his brother. See, Vince may be horrible at calling a match, but he knows what story he wants to tell. To the outside, Owen rams Bret's back into the ring post. Back in, Owen delivers a backbreaker and locks in a camel clutch. Bret elbows out but runs right into a nice belly-to-belly. ONE, TWO, THRE-NO! Owen springboards into a cross body block, but Bret rolls through for two. Owen collapses and Bret gets two more. Owen kicks out, sending Bret to the outside. Bret tries to get in, but Owen catches him on the apron and tries to suplex him in. Bret slips over his shoulder, but Owen then reverses THAT to a bridging German Suplex. ONE, TWO, THRE-NO! Great sequence there. Bret reverses a suplex to a small package out of nowhere for two. Owen stays on top, though, with a Tombstone Piledriver. He goes up and comes off for a diving head butt, but Bret rolls out of the way! Bret delivers an atomic drop and a clothesline for two. The diving elbow gets two more, and Bret argues with the referee. Owen begs off and then hits an enzuigiri. Bret blocks a Sharpshooter and goes for one of his own, but Owen rolls him away. Owen with a flying leg rollup for two. They tumble to the outside, and Bret injures his knee. Back in, Owen sees him favoring the leg and stomps away on it. He wraps Bret's leg around the ring post to further damage the leg. Back in, he mocks Bret's limp and delivers a Dragon Screw Leg whip. A side Indian Deathlock follows, but Bret won't submit. Owen drops a knee on Bret's leg and delivers another Dragon Screw. FIGURE-FOUR! Bret…just…rolls…over…to the…ropes. Owen hangs Bret's leg on the ropes and kicks at it. He goes for yet another Dragon Screw, but this time Bret gives him a little payback with an enzuigiri. Owen takes a Bret bump off a whip to the corner. Bret drops his injured leg on Owen's face but can't cover in time. A bulldog gets two for Bret. He delivers a piledriver. ONE, TWO, THRE-NO! Bret puts him on the top rope. SUPERPLEX! Both men are groggy. Bret rolls into a cover for two. Bret delivers a pair of forearm uppercuts, prompting Owen to miss a wild swing. Bret ducks and locks in a sleeper, but Owen makes the ropes and delivers a low blow behind the ref's back. Bret's helpless, so Owen locks in the Sharpshooter. Bret powers up and reverses to one of his own! Owen makes the ropes. He whips Bret to the opposite corner and charges. Bret gets a boot up to block and goes for a Victory Roll. Owen stops short, putting Bret's shoulder to the mat for the three count at 20:19. Great pacing and storytelling. There were some cool mirror images here such as Bret moving in on a helpless Owen being repeated later with the rolls reversed. Flawless execution here. One of the greatest matches in Mania history that turned Owen into a main-event challenger for the next few months.

- By JD Dunn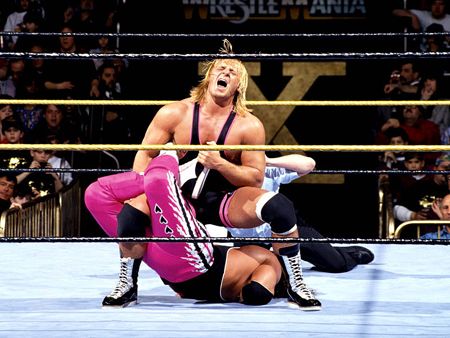 Dustin James: Owen Hart vs. Bret Hart is easily one of my favorite feuds in WWE history. The entire angle was done so well, that I can pretty much remember how everything played out in my head, even though it happened almost 20 years ago. That's the testament of a great wrestling storyline. The great ones are the ones that you will always remember because they are the epitome of what makes professional wrestling one of the most entertaining spectacles on Earth. It all started at the 1993 Survivor Series when Bret was "responsible" for Owen Hart's elimination from their team comprised of all Hart family members. After the match, Owen came down and ruined the celebration and let Bret know that he was tired of living in his shadow (Bret was one of the top guys in the WWE at the time while Owen was a mid-carder/jobber) and he wasn't going to take it anymore. Owen demanded a match with Bret, but Bret kept refusing because he wasn't going to fight his little brother. The two eventually reunited at the 1994 Royal Rumble to compete in a tag team match together, but that was the beginning of the end.

Bret ended up getting "injured" during the match and the ref stopped the match. Needless to say, Owen was upset with Bret not being able to finish the match and he attacked his older brother, kicking off one of the greatest feuds and one of the greatest heel runs in WWE history (Owen Hart as a heel is still one of my favorite wrestlers of all-time). Even though Bret kept refusing to fight his little brother, he eventually gave in and the two ended up having the best opening match to any WrestleMania ever. I was literally on the edge of my seat watching the two brothers face-off at WrestleMania 10. Not only was the match itself incredible, but the fans in attendance were hot as hell and they were obviously on Bret's side as they erupted at anything the "Excellence of Execution" did. The wrestling itself was just incredible. These two had amazing chemistry (I know it's strange that brothers would have chemistry) and the back-and-forth action was truly amazing to watch and this was only the OPENER!

To me though, the best part of the match was the end. There wasn't a soul in the building who thought that Owen Hart would be able to pull off the victory against his big brother. After all, Bret was slated to wrestle for the WWE title later that night, so there was just no way a mid-carder was defeating a guy who would go on to win the WWE title later on in the night, right? Wrong! The ending of this match was truly spectacular. Owen got Bret locked in the Sharpshooter, but everyone knew there was no way Owen was beating Bret with his own move. We were all proved right once Bret reversed the hold and locked on a Sharpshooter of his own. Owen shockingly got to the ropes though to keep the match going. That set up the finish which saw Bret go for a victory roll that was then reversed by Owen to give him the win in one of the most shocking WrestleMania results of all-time. Not only was this one of the greatest storylines in wrestling history, but it's one of the greatest matches in wrestling history as well. And as far as WrestleMania openers go? This one is easily the best there is, the best there was, and the best there ever will be. Long live the King of Harts!





Jack Stevenson: There are no perfect wrestling matches, but Bret vs. Owen, Hart vs. Hart, brother vs. brother in the opening match of WrestleMania 10 comes very, very close. I've watched this match many times, and I have spotted a flaw with it; there's a spot about five minutes in where Bret charges at Owen, who is slumped against the ropes, and clotheslines him out to the floor. Owen kind of just waits to be hit with the blow and it looks a bit fake. But if Owen had look sufficiently dazed that he could conceivably have not processed what was happening till the last minute, or had even looked panicked as Bret drew closer… maybe. Maybe this would be the perfect match. Because really, what else is wrong with this? (p.s there is something else wrong with this, I'll get to it later.)

Technically, it's immaculate. The match is brimming with gorgeous holds, suplexes, throws, dodges, dives, counters and counter counters. It's always fluid, totally pristine. The story is told with incredible precision; Owen Hart's hatred of his brother was born out of jealousy of his remarkable wrestling skill, and so the fact that this is very much a technical master class rather than an all-out brawl makes total sense; however, there are enough moments of simmering loathing, from the stinging slaps to the face to Owen gleefully targeting his brother's injured knee, to remind you that these brothers aren't really very fond of each other anymore. The atmosphere's great. It's not as electric as some of the other bouts on this list have enjoyed, but the crowd are into it from the get go and you can feel the shock as Owen counters the Victory Roll and upsets his brother. Even the potentially unbearable commentary duo of Vince McMahon and Jerry Lawler are in good form. In all these respects, it essentially is the perfect match.

It lacks that something, though, doesn't it? I mean, I love this match. I put it 3rd on my personal list. I've watched it more times than I care to count. But it's something you enjoy from a distance. You appreciate it for its beauty and its art, for the knowledge that you're watching two masters at work, but unless you really, really hate your big brother it lacks that tipping point where your admiration becomes full blown adoration. There's very few matches I admire more than this one, but that's not quite the right emotion for a wrestling match.

Still, I do really admire this. Despite my criticism, I think it blitzes the pioneering but ageing Ladder Match between Michaels and Ramon, it's a confident, marvelous match that will continue to be marveled at for generations, and is the dizzying high point of Owen Hart's career. Not bad for an opening match.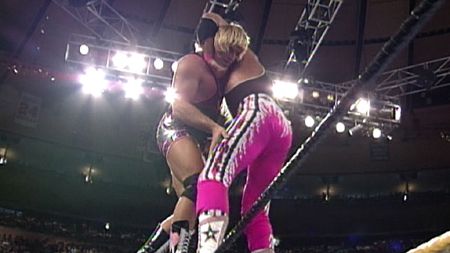 THE LIST AS IT STANDS


30. From WrestleMania 19 - Brock Lesnar vs. Kurt Angle
29. From WrestleMania 24 - Edge vs. Undertaker
28. From WrestleMania 23 - Money in the Bank
27. From WrestleMania 15 - Steve Austin vs. The Rock
26. From WrestleMania 20 - Eddie Guerrero vs. Kurt Angle
25. From WrestleMania 29 - The Undertaker vs. CM Punk
24. From WrestleMania 8 - Rowdy Roddy Piper vs. Bret Hart
23. From WrestleMania 18 - The Rock vs. Hulk Hogan
22. From WrestleMania 28 - The Undertaker vs. Triple H
21. From WrestleMania 8 - Ric Flair vs. Randy Savage

20. From WrestleMania 3 - Hulk Hogan vs. Andre the Giant
19. From WrestleMania 19 - Shawn Michaels vs. Chris Jericho
18. From WrestleMania 22 - Mick Foley vs. Edge
17. From WrestleMania 6 - Hulk Hogan vs. Ultimate Warrior
16. From WrestleMania 5 - Hulk Hogan vs. Randy Savage
15. From WrestleMania 7 - Randy Savage vs. Ultimate Warrior
14. From WrestleMania 2000 - Edge & Christian vs. The Dudley Boyz vs. The Hardy Boyz
13. From WrestleMania 24 - Ric Flair vs. Shawn Michaels
12. From WrestleMania 21 - Money in the Bank
11. From WrestleMania 17 - Edge & Christian vs. The Dudley Boyz vs. The Hardy Boyz

10. From WrestleMania 12 - Bret Hart vs. Shawn Michaels
9. From WrestleMania 20 - Triple H vs. Shawn Michaels vs. Chris Benoit
8. From WrestleMania 17 - Steve Austin vs. The Rock

comments powered by