SPOTLIGHTS
The 411 Wrestling Top 4 3.05.14: Week 256 – The Mount Rushmore of Wrestling
Posted by Larry Csonka on 03.05.2014

From Hulk Hogan, Vince McMahon and El Santo to Andre the Giant, Rikidozan, Steve Austin and more, the 411 staff shares their personal Mount Rushmore of Wrestling!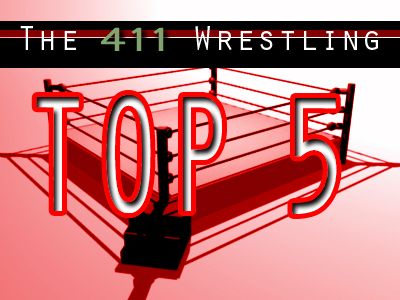 Hello everyone and welcome to 411 Wrestling's Top 5 List. We take a topic each week and all the writers here on 411 wrestling will have the ability to give us their Top 5 on said topic, plus up to three honorable mentions.

So, onto this week's topic…



The Mount Rushmore of Wrestling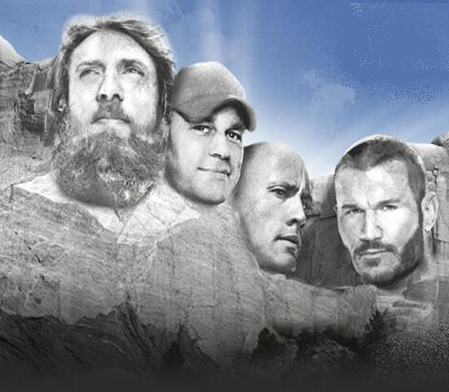 To play off of pro sports recent obsession with the topic, lets do your PERSONAL Mount Rushmore of Wrestling… GO!




Dino Zucconi
Note: There is no order to my list. It's Mount Rushmore. Entry 4 is equal to Entry 1, just for the record.

4. El Santo - ¡Lucharán!I normally try to stay away from listing people that I personally didn't watch, but I'm going to break that rule this time, because I really feel that a Mount Rushmore without El Santo is incomplete. The man died in February of 1984, and his likeness is still used to sell merchandise to this day. Hell, I own a Santo shirt and a few of his movies! Santo popularized lucha in Mexico. He starred in many motion pictures, sometimes with Blue Demon as well. He had a five-decade career, got one of the largest funerals in Mexico's history... El Santo needs to be here.

3. Vince K. McMahon - Vince is the single most important promoter of the last 35 years, and it's not even close. Is he the most popular? Is he the best? Neither matters in this, as he is the man that brought us WrestleMania, who took wrestling to a national platform, who helped Hulk Hogan, Steve Austin, Mick Foley, and many others realize their full potential. A wrestling world without Vince may make many people happy, but I truly appreciate everything he's done for this industry, and everything everyone else has done to try and topple him.

2. Hulk Hogan - It may not feel right. You may hate the man. You may hate how he wrestled. You may think any old Superfly or Junkyard Dog could have done what he did. You may hate his politics. You may think Steve Austin should have this spot instead. However, Hulk Hogan deserves this spot. For sure, Hulk needed Vince, but Vince needed Hulk just as badly. There is no WWF without Hulk Hogan. There is no sequel to WrestleMania without Hulk Hogan. If mine was a Rushmore devoted to the greatest workers, Hogan would be nowhere near this. But this, to me, is about the most important figures wrestling has had. Hulk Hogan is the most recognized American wrestler in history, and while historical buffs may want to talk about Gotch, Thesz, Gorgeous George, or maybe even Buddy Rogers, I'd argue that Hogan is also the most important American based wrestler in history, too.

1. André the Giant - Movie star. World-renowned. Beloved. Quite possibly the most well known wrestler of all time, André's spot as a legend should not be disputed. While us Hulkamaniacs all love watching the body slam at WrestleMania 3, it has to be pointed out that without André, WrestleMania 3 has a main event as big as WrestleMania 2 did. André is the reason that match meant (and means) so much. It's not just about Hulk winning, it's about André losing. Yeah, the "15 year undefeated" line is garbage, but it's not as if André routinely counted the lights, and certainly not too often in straight one on one competitions. André, much like Santo, is still used for merchandising purposes to this day, as he remains one of the most popular wrestlers in the world, 21 years after his passing.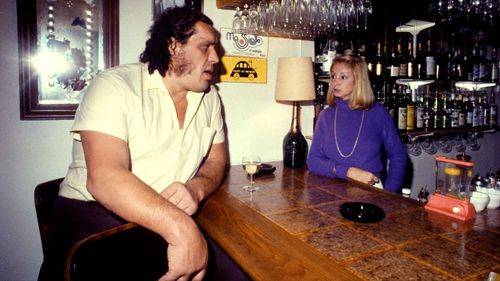 ---



Ryan Byers
4. Rikidozan - Almost every developed country on the face of the earth has had its own form of pro wrestling at some point in time, but there are essentially a "big three" when it comes to nations associated with pro graps: The United States, Mexico, and Japan. Thus, in order to do a Mount Rushmore of Wrestling, I feel that I need to include a representative of each of those countries. There are many names that could have taken up the Japanese slot, but, at the end of the day, I felt that Rikidozan was the best choice. Why? Because more than anybody associated with Mexican wrestling or American wrestling, Rikidozan can actually be identified as the FOUNDER of pro wrestling in his country. In addition to being the pseudo-sport's first mainstream star in the Land of the Rising Sun, he was also integral in establishing and promoting the business of wrestling in his homeland. Simply put, without Rikidozan, pro wrestling may not have even come to exist in Japan, where it spent several decades as one of the most popular television shows in the country and developed a style that in many ways has set the pace for wrestlers in the Western Hemisphere and been a hotbed of innovation.

3. El Santo - And who better to represent Mexico than the single largest professional wrestling star that it has ever seen? As Dino alluded to in his entry, the impact of El Santo on lucha libre and greater popular culture not just in Mexico but also in Latin American communities in the United States, is almost immeasurable. Though, unlike Rikidozan, he was not a founder of pro wrestling in his country, he still established many conventions for what a luchador could and should be, to the point that you can actually trace the convention of Mexican wrestlers wearing masks back to Santo himself. The man's grave is a monument greater than that of many U.S. presidents, and the anniversary of his death is essentially treated as a minor holiday in some circles. No other professional wrestler in history has gotten that kind of treatment from his fan base, and, given the nature of the business this days, it seems unlikely that any wrestler in the future ever will.

2. Hulk Hogan - When selecting a representative from the United States, I had more difficulty than I did when it came to either Japan or Mexico. In the U.S., there isn't one man who stands head and shoulders above the rest as THE face of professional wrestlers. Instead, there's a closely-tied group of at least a half dozen guys, any one of whom could lay claim to being wrestling's biggest star: The Rock, Steve Austin, Ric Flair, Lou Thesz, and, if you really want to reach back into history, even Frank Gotch. Ultimately, though, I settled on the good old Hulkster. There are two things that separated him from the pack. The first is longevity. Though it isn't always for the most positive reasons (Hogan Knows Best, anybody?) the Hulk has managed to remain part of the nation's popular consciousness for thirty years now, constantly finding ways to reinvent himself and keep his name on people's lips. The second is that, when it comes down to it, I think that Hogan is probably the most recognizable wrestler ever when it comes to pop culture outside of wrestling. If you asked 100 non-fans to name a wrestler, I'd be wiling to be that at least 80 of them would give Hogan's name, and, if you asked 100 other non-fans to draw a picture of a pro wrestler, chances are very good that the vast majority of their doodles would include aspects of the standardized "look" that Hogan made stereotypical among wrestlers.

1. Vincent Kennedy McMahon - At the start of the list, I mentioned representing three countries, but obviously there are four slots in this particular countdown. Given that professional wrestling is first and foremost a business and only secondarily a "sport," I felt that, when it came time to fill that fourth and final slot, somebody from the business end of professional wrestling had to be included. If you're set on including a representative of pro wrestling's business aspect, I don't see how you could selected anybody other than Vincent K. McMahon. Yes, he has had missteps as a promoter. Yes, he has definitively rubbed some people the wrong way. However, the fact of the matter is that he took the regional territory promoted by his father and turned it into the first national wrestling promotion the country had seen in decades and then turned it into a publicly traded multimedia conglomerate that is global in its scope. Love him or hate him, no promoter has EVER done anything near the scale of what Vince McMahon has done. Simply put, he is the man.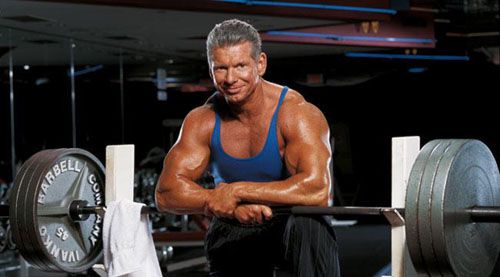 ---



JUSTIN WATRY
4. Hulk Hogan - As usual, I am way ahead of the curve on wrestling topics. As usual. Long before Lebron James discussed the Mount Rushmore of basketball, I was writing about the Mount Rushmore of wrestling. Long before this became the "hot topic" of sports, I was writing about the Mouth Rushmore of wrestling. Believe it or not, this entire subject was already discussed last October in one of my columns. Yes, go Google it. Since there is no real order with listing four names, I will just start off with the easiest choice: Hulk Hogan. No long winded answer needed. He is a must have.

3. Stone Cold - Another fairly simple choice. In terms of drawing money and sitting on top of the mountain (pun?), Stone Cold Steve Austin is another guy who HAS to be chosen. Then you move to in ring skills, classic matches, well done promos, helping out the business, WrestleMania moments, and all that other fun stuff, his name comes up instantly. Pretty difficult to discuss an entire era of wrestling (Attitude Era) without Stone Cold. Since those two names are fairly obvious, the next two are very hard. There are SO MANY close calls: Ric Flair, Undertaker, Mick Foley, Macho Man, Triple H, The Rock, Andre The Giant, Bruno Sammartino, John Cena, etc. Just so many to only go with four guys. Nearly impossible...

2. Shawn Michaels - Okay, this is for myself. In my opinion, he is the greatest. Thus, feel free to just ignore this pick. Because of personal bias, I included him.




1. Vince McMahon - Originally, I did not want to have Vince McMahon on this list. Clearly, he deserves it...but I thought of him like the sculptor or architect of Mouth Rushmore - not actually on Mount Rushmore. Does that make sense? In the end, I decided to choose him over guys like Cena, Bruno, Flair, Rocky, and others. If you asked me tomorrow, Vince would be off in place of an actual wrestler. If you asked me a week later, he would be back on. That is why it is nearly impossible to select just four. Regardless, everybody I listed could make a great case for being on Mouth Rushmore. It is why I openly admit to not enjoy writing lists. Outside of Hogan and Stone Cold (must haves), there is no real 'wrong' answer.

---



Derrick Cannon
4. Andre the Giant - Andre is the atypical big man and is one of the biggest factors that made the early WrestleMania events a huge success. Andre was never known for his in ring ability, his technical skill, or even his surprising agility for a man his size. Andre paved the road for every monster heel or giant to follow. Andre also possessed and undying charisma and his passion for the fans truly had no limit. Even as a heel he was an inspiration and played a similar role that would later be held by men such as the Undertaker as a leader and confidant of the roster during his generation. Even though one of his most famous matches involved the world title Andre was never about championship gold. He was a fan favorite until the latter stages of his career and truly Andre's passion was performing for the audience during the short time on this earth that he had. Andre truly made the most of every opportunity that he was given.

3. Frank Gotch - I'm going to stretch myself here and really go far back yet to make a Mount Rushmore of professional wrestling it would be foolish to not credit one of the first true megastars that the wrestling world has ever had. Frank Gotch was one of the first wrestlers to truly lend credibility to the ideal of a world champion. His reign would last several years spanning from 1908 to 1913. Frank Gotch would only suffer six losses throughout the duration of his career.

2. Hulk Hogan - Hulk Hogan is one of the first wrestlers I thought of when this subject was brought up. Similar to Andre, Hulk Hogan has a great deal to do with the success of the early WrestleMania events and even more so to do with the biggest money making events in wrestling history. Hulk Hogan is a product of his time in a sense but he has been able to redefine his character on various occasions. Bash at the Beach withstanding who can truly forget the week after WrestleMania when Hulk Hogan officially brought back his classic Red and Yellow color scheme. It is a move that is symbolic of his career he is willing to become the bad guy, but there is always a great deal of anticipation towards every moment that he accepts the adoration of his passionate fan base.




1. Vincent Kennedy McMahon - Without Vince there is no Rock N Wrestling era, Attitude era, New Generation, or even the current PG age. Vince has constantly broke the mold of the current wrestling landscape and has shifted the ideals of pop culture itself. This is shown through his failures as well as his successes. For every World Body Building Federation and XFL there is a WrestleMania and Summerslam. Vince has broken the mold and rebuilt what it means to be both a powerful business owner and someone who strives to give fans what he thinks that they desire. There has been an occasion where he has been far off but there have also been occasions where he was absolutely correct. In taking calculated risks he has built a powerhouse that to this day dominates the wrestling landscape.

---



MICHAEL WEYER
4. Antonio Inoki There are a lot of Japanese workers who deserve a spot here but I'm going for one of the all-time greatest. He didn't invent wrestling in Japan but he sure helped raise it to a huge level, a brilliant worker and star who had sellout crowds following his every move. He got international fame (and infamy) with his bout against Muhammad Ali and founded New Japan, the organization that would blossom into a huge part of the wrestling landscape. Inoki also helped embrace the MMA scene when it came to be, recognizing how wrestling could be helped by emulating it. A true icon not only in his land but all of wrestling which should earn him a face on such a mountain.

3. Lou Thesz You have to have one old-timer on that and Thesz is definitely the best one of the lot. He helped forge the NWA championship into the most respected title around, a fantastic worker who could work 60-90 minute bouts constantly while traveling across the country, facing every major star of his day. He influenced countless technical workers and was the model of many a champion to follow. He created such moves as the German suplex, the powerbomb and the Thesz Press. That alone deserves a place in any standing of icons as he set a standard for excellence as a champion so many go for but few truly manage to attain.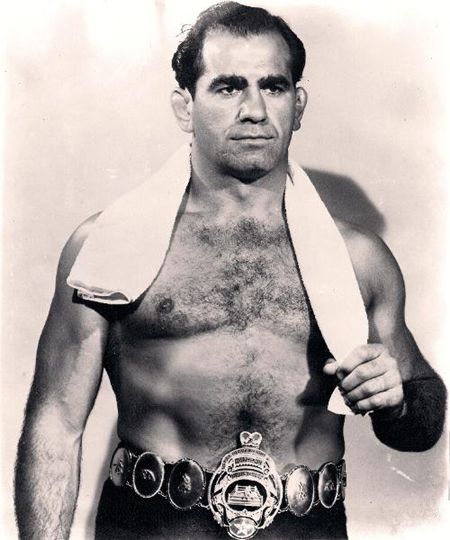 2. Hulk Hogan Yes, Flair may be the better face as a great worker. But Flair himself has said "this may hurt but you ask people about me, maybe not everyone knows who I am. But they always know who Hulk Hogan is." For a decade, Hogan was the face of wrestling, his fame massive in the mainstream as well as for fans. That's carried him over, the man is truly an icon whose success spreads far and wide. Just look how fans are already getting excited for him at Mania this year, the guy is capable of rocking crowds like few before or since. He's the Hulkster, he's the one who elevated wrestling heroes for a generation and that alone deserves a spot on this list.

1. Vince McMahon Of course, Vince would insist on just him alone on the mountain. And some might feel it should be more for athletes and such. But let's face it, no one can deny the massive impact Vince has had on the entire business. Hell, the business as we know it wouldn't even exist without him. He saw that the territory system was going to fall eventually and made his moves to stop it. He elevated the business to a level of mainstream fame that no one could have anticipated. Wrestling was always "sports entertainment," Vince just embraced that and built WWE into a multi-billion dollar business. We may not like him but dammit, we talk about him and it's because of that he deserves a place in such a monument, to remember the man who, better or worse, made the business what it is today and changed so much for us all.

---



Francisco Ramirez
4. Lou Thesz - First off, I want to let it be known that although my choices would normally include people like Salvador Lutteroth, the father of lucha libre, and Rikidozan, I feel that when you talk Mount Rushmore, we are strictly talking Americana, so I chose to omit international wrestlers. With that said my first choice is the first ever NWA World Heavyweight Champion. I could have gone with Frank Gotch, and George Hackenschmidt, but I felt as Thesz became of more importance and contributed more to professional wrestling, my opinion of course. An argument could be made for both. Thesz was legit, he was a shooter, and he had to be to protect the NWA World Heavyweight Championship during its infancy. He went on to hold that title on three different occasions, technically he won it four times but one loss is not recognized. He was also the first to defend it in Japan against Rikidozan. He was a TV icon at the time, his televised workouts and match drew incredible ratings. Easily a shoe in for the Mount Rushmore of wrestling.

3. Gorgeous George - Influence, that alone is enough reason to have Gorgeous George on Mount Rushmore. Credited with being the first cowardly villain, or chicken-shit heel if you ask Jim Cornette, Gorgeous George was more than just that. With T.V. at its inception, stars were few and far between. Enter Gorgeous George, with an extravagant entrance, stunning attire and robes, his valet, who would hold a mirror for him and sprinkle rose petals as he walked. Gorgeous George would insist that the referee's hands be sprayed with disinfectant before he was checked for any foreign objects. Failure to do so resulted in "Get your filthy hands off me!" This doesn't sound like much now, but back in the 40's, groundbreaking. World titles were few and far between, but his legacy and influence is what's important. He was the first to tap into the entertainment aspect of pro wrestling. He influenced anyone and everyone, without Gorgeous George there is no Ric Flair, or Macho Man Randy Savage. Wrestling as entertainment might have just been a suggestion instead of a full-blown reality without this man.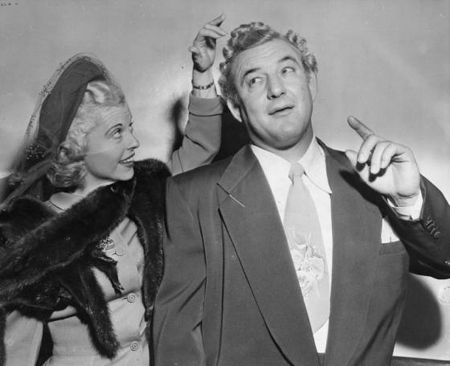 2. Hulk Hogan - A no brainer, following somewhat in the footsteps of Gorgeous George, Hulk Hogan became the icon and a household name in the 80's. His in ring work might be frowned upon, but that's not what made Hogan special. The man brought out a positive message, and was a hero to children, reminding them to "train, say your prayers, and eat your vitamins.". The leader in the Rock n Wrestling movement and era, he headlined the gamble that was the first WrestleMania alongside Mr. T, Piper and Orndorff. The success of that show resulted in the success of the WWF, which according to many, failure at WrestleMania would result in the death of the WWF. He successfully reinvented himself in the 90's. Then as a heel and leader of the NWO, he led the unthinkable, the ratings defeat of the WWF. After the death of WCW, he made a successful return to the WWF, headlining WrestleMania XVIII. His later years are best left unmentioned, but what Hulk Hogan contributed in the 80's and 90's and his contribution to wrestling as entertainment and not a sport is what earns him his spot.

1. Vincent Kennedy McMahon - The mind that completely revolutionized pro wrestling, made it a successful entertainment juggernaut, and completely did away with any and all unwritten traditions. To many he might be the antichrist of pro wrestling, to others a visionary. Regardless of what many may think or what conclusion they come to, pro wrestling is what it currently is because of this man. Many have come and gone who have influenced wrestling, this man came and completely reshaped it.

---
YOUR TURN KNOW IT ALLS

List your Top Five for this week's topic in the comment section using the following format:

5. CHOICE: Explanation
4. CHOICE: Explanation
3. CHOICE: Explanation
2. CHOICE: Explanation
1. CHOICE: Explanation
Your heart is free. Have the courage to follow it…TO CSONKA'S TWITTER!

http://www.twitter.com/411wrestling
http://www.twitter.com/411moviestv
http://www.twitter.com/411music
http://www.twitter.com/411games
http://www.twitter.com/411mma

Have you checked out the Csonka Podcasting Network? If you haven't, you should We run anywhere from 15-20 shows a month, discussing pro wrestling, the world of MMA, the NBA, general sports, popular TV series of the past, bad movies, battle rap, interviews, MMA & Wrestling conference calls and more! Around 10 different personalities take part in the various shows, which all have a different feel; so you'll likely find something you like. All of the broadcasts are free, so go ahead and give a show a try and share the link with your friends on the Twitter Machine and other social media outlets! Running since May of 2011, there are currently over 500 shows in the archive for you to listen to.



Larry Csonka is a Pisces and enjoys rolling at jiu jitsu class with Hotty McBrownbelt, cooking, long walks on the beach, Slingo and the occasional trip to Jack in the Box. He is married to a soulless ginger and has two beautiful daughters who are thankfully not soulless gingers; and is legally allowed to marry people in 35 states. He has been a wrestling fan since 1982 and has been writing for 411 since May 24th, 2004; contributing over 3,000 columns, TV reports and video reviews to the site.
STARTING ON FRIDAY…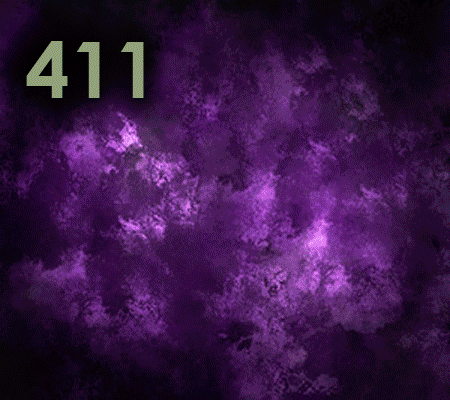 comments powered by