SPOTLIGHTS
411's Top 30 WrestleMania Matches of All Time: #3 – The Undertaker vs. Shawn Michaels (WM 25)
Posted by Larry Csonka on 04.03.2014

411 continues its look at the top 30 matches in the history of WrestleMania with The Undertaker vs. Shawn Michaels from WrestleMania 25!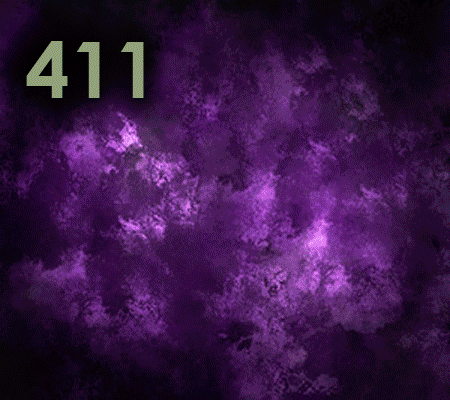 INTRODUCTION


Welcome back to 411Mania, and welcome to 411's official countdown to WrestleMania 30! Every year, the 411 staff comes together in some way to bring you, the fine readers of our site, a special countdown to WrestleMania. In past years we have done special countdown columns, ranking the shows, rating them overall, discussing special aspects of the big event, and even columns that have served as odes to the matches and moments that are etched into our minds.

To some fans, WrestleMania is the biggest show of the year, and the way that WWE has transformed the event into a near weeklong party, it may as well be a holiday to the fans that love our special brand of entertainment. Call it sport or call it a specially designed male soap opera, we love it and we love to talk about what makes things special. WrestleMania is an institution, and this year, as the WWE gets prepared to put on their 30th WrestleMania event, we decided to go big. Starting on March 7th, and running all the way to April 5th, 411 will present the top 30 matches in WrestleMania history.

Each writer on the 411 staff was given the opportunity to nominate 30 matches of their choosing. #1 on their list received 30 points, #2 received 29 points, and so on and so forth. Writers were asked to base their lists on both match quality and historical significance to create their nominations. The final list was created, and there was a ton of competition for the top spot. In fact, the voting was so tight that the top FOUR matches were separated by a mere 16-points.

Each day we will present a match from the list, which will include a full recap of the match from the 411 archives (from Scott Slimmer, JD Dunn, and Robert Leighty Jr.) as well as thoughts from the writers. Thank you for reading, and we hope that you enjoy our presentation…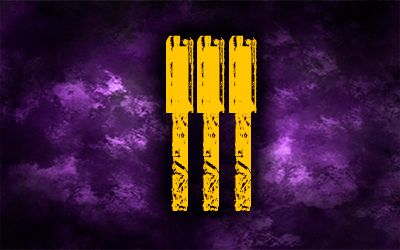 #3. From WrestleMania 25 - Undertaker vs. Shawn Michaels
Shawn descends from the heavens decked out in all white to angelic music, and Taker rises from Hell in his normal all black attire. Cool! Sadly, no druids with torches though. That kind of pissed me off being there live. We were seated on risers near the stage and were surrounded by a passionate group of women that we pro Shawn, and my ears took a beating during this match. Overall though, Taker had the edge as far as crowd support. This really showed have closed the show as this was the match the crowd was waiting to see. Dueling chants start early as Shawn fires off some chops. Michaels tries to stick and move, but get caught and powered back into the corner. He ends up on the middle rope and gives Taker a crotch chop before leaping over him. Shawn tries to fake a leg injury on the landing, but Taker's not buying it. He tosses Shawn all over the ring and sends him bouncing into the corner. He lifts Shawn with a military press slam and sends him crashing to the mat. That gets a two count as Shawn gets out before Taker can get a leg hooked. Taker heads up for Old School and it connects to a loud pop. He charges at Shawn in the corner, but Michaels moves. Taker got caught up in the ropes and appears to have injured a leg. Shawn smells blood and attacks the knee. It appears he wants a sharpshooter, but instead he opts for a figure four. JR and Lawler mention that Taker has lost every previous match with Shawn. Taker breaks the hold, so Shawn dropkicks the knee. Sweet! Taker starts punching his knee to get some feeling, and steamrolls Shawn in the corner. Snake eyes and a big boot follow as Taker starts signaling for the end. He looks for the chokeslam, but Shawn turns that into a crossface. He can't break the hold, but is able to roll Shawn into a pin attempt a few times. Taker battles to his feet and breaks the hold with a sidewalk slam that gets a two count. Taker no sells a boot to the chest, but misses a clothesline and Shawn hits the flying forearm. He kips up and drops Taker with an inverted atomic drop. He follows that with some chops and then another inverted atomic drop. Shawn heads up top and looks for the elbow, but Taker sits up and pulls Shawn down with a goozle. Shawn escapes and looks for Sweet Chin Music, but Taker drops to the mat. Shawn stays a step ahead and looks for the figure four again, but Taker counters to Hell's Gate. A desperate Shawn gets to the ropes before the hold can be applied. Nice sequence there. The action heads to the floor and Taker stalks Michaels around the ring. He preps Shawn on the apron and goes for the leg drop, but nobody's home. A baseball slide sends Taker away from the ringside and Shawn heads up top. He attempts a moonsault to the floor, but Taker just casually walks away as Shawn hits with a sickening thud. Damn! The ref checks on Shawn and Taker sets up in the ring. He tries for the Flying Dead Man, but Shawn pulls the cameraman in the way and Taker ends up landing head first on the floor. Damn, that shit was nasty. I like the call back to the 1st Hell in a Cell Match with the cameraman getting abused. The replays only confirm that Taker is lucky he didn't break his neck. Shawn pulls himself back into the ring and realizes the ref is down on the floor. He drags the ref back into the ring and pleads with him to start the ten count. Such a simple little spot, but the crowd loved every second of it and Shawn sold it perfectly. The anguish on his face was awesome as Taker made it back into the ring at 9. Shawn regroups and preps for Sweet Chin Music. Taker swats the foot away and hits a massive chokeslam for a hot near fall. Taker looks for the Tombstone, but Shawn slides off and tries for Sweet Chin Music again. This time Taker catches the foot and looks for another chokeslam. Shawn pushes off and finally hits Sweet Chin Music. He crawls for the pin, but Taker is out at two. Both men are down, but Shawn gets to his feet first and looks for the kill. Taker catches him with another goozle, and looks for the Last Ride. Shawn counters to a sunset flip, but Taker counters that and ends up getting quite possibly the greatest Last Ride I've ever seen from him. Somehow Shawn is out at two and the crowd is getting rabid at this point. Taker seems desperate now as he heads up top and tries to hit Shawn's flying elbow. That doesn't work out well though as Shawn rolls out of the way. Shawn charges and gets sent over the top rope, but he skins the cat. Sadly for him, Taker turns that into a Tombstone, and that looks to be all, but Shawn kicks out at two. Holy Hell! Everyone had that pegged as the finish and when Shawn kicked out I saw some poor guy spill a tray of beers because he couldn't believe what he saw. Good times! Taker goes right back to the Tombstone, but Shawn floats around and hits an ugly looking DDT. Shawn crawls to the corner and pulls himself to the top rope. He looks unbalance and basically falls off with the flying elbow. He crawls to the ropes again and uses them to pull himself to his feet. He tunes up the band again, and a sick looking Sweet Chin Music follows. Now Taker kicks out and Shawn's world is just crushed. The crowd starts and this is awesome chant, and I'm proud to say I took part in that chant. Both men start exchanging blows in the center of the ring, and the crowd cheers and Woos depending on who is landing the blow. Taker's tired of this shit and just casually boots Shawn in the head. Bad ass! Shawn gets whipped into the corner, but a charge misses. Shawn heads back up top and tries a moonsault, but Taker catches him in perfect position for the Tombstone and we have 17-0 at 30:41.

- By Robert Leighty Jr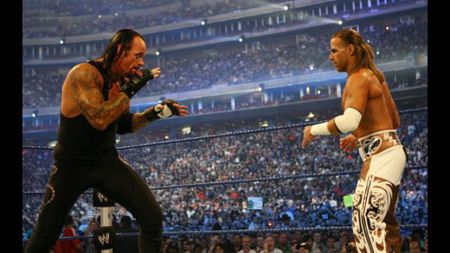 Nick Marsico: On what they want us to believe wasn't only the 24th Anniversary of the biggest show of the year, Shawn Michaels and The Undertaker renewed their rivalry. This time, though, while 'Taker was still the devil, Shawn had returned earlier in the decade from a 4-year sabbatical proclaiming to be a newly adorned child of god. This contrast played a role in the weeks leading up to their clash at the 25th Annual event, including spectacular entrances from both men, one dressed all in white and descending from the sky and the other ascending from the depths of hell dressed completely in black. The match featured back-and-forth action with a ton of insane near falls that even people who believed the Streak would never be broken were on the edge of their seats for. The only thing this match was missing was Undertaker nailing Shawn with some Sweet Chin Music. Both WrestleMania legends left it all in the ring (though some of Undertaker's vertebrae may still be on the arena floor in Houston) and produced an instant classic that some people believe to be the best match in WrestleMania history. There's a reason we have it listed here as number three. Oh, then they did it again the next year. No big deal.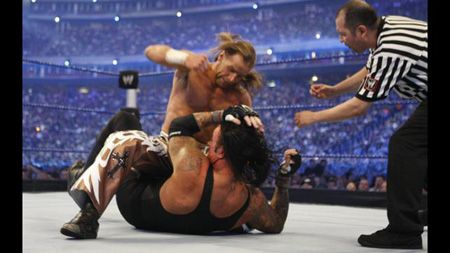 Samer Kadi: Of all the things WWE managed to screw up in the past decade or so, booking The Undertaker at WrestleMania is not one of them. In fact, "The Streak" remains one of their finest – and least tarnished – creations since the turn of the millennium. Every year, the question of who will The Undertaker face at WrestleMania is put forth as one of the major taking points leading up to the biggest event in pro wrestling, with the eventual match often considered "the real main event." In kayfabe land, the challenge of ending The Streak has been quite effectively sold as a near impossible task – one that many aspired to accomplish, but all had failed.

As Mr. WrestleMania, Shawn Michaels wanted to prove that he can in fact achieve the impossible and beat "The Deadman" in his own backyard, setting the stage for a potentially mouthwatering match at WrestleMania XXV. And thus it came down to the greatest performer in the history of WrestleMania against most successful wrestler in WrestleMania history – arguably the greatest wrestler to ever live versus the greatest big man in wrestling history.

The pair had a storied history with one another, having engaged in a memorable feud in the second half of the 90's, highlighted by the first ever Hell in a Cell match, which to this day, remains one of the greatest ever North American wrestling matches. With both men removed from their respective physical primes, topping that epic match was going to be a tough ask. And yet, many (myself included) would argue that they very much did.

The story was that unlike The Undertaker's previous opponents, Shawn Michaels was not afraid of him. For weeks, HBK played mind-games with The Phenom, and surprisingly enough, managed to best him. The beauty of the match is that they played off of that right away, with Shawn outwitting his opponent early on, sticking and moving, dodging The Undertaker's haymakers, frustrating his foe, and getting the better of him (even playing possum at one point after faking a knee injury). The level of character psychology witnessed throughout the match is what sets it apart from many other classics, and only two men of that caliber could have pulled it off.

The match structure was brilliant, as was the pacing. After Shawn's early advantage, The Undertaker took over, before Michaels found an opening to go after Taker's leg. Some nice back-and-forth action later unfolded before the match kicked into higher gears, and reached unbelievable levels of awesomeness. Two huge (and flat out scary) bumps outside – the highlight of which being The Undertaker's iconic dive – set the stage for a thrilling finale of amazing near falls, and the crowd was hugely buying into everything.

The spot in which The Undertaker caught Shawn after he attempted to skin the cat and turned it into a tombstone was absolutely incredible in the sense that everyone bought into that being the actual finish. The kickout by Michaels, Undertaker's reaction, the crowd going nuts, and Jim Ross' phenomenal commentary managing to capture the moment perfectly all have to be seen to be believed. The actual finish was no less thrilling, as The Undertaker caught Shawn as he went for a top rope moonsault, and buried him with the tombstone.

It is hard to believe that Shawn Michaels' career looked to be over in 1998. His 2002 comeback may have been one of the best things to happen to us as wrestling fans, as the amount of classics he's had since then is nothing short of mind-boggling. Sure, his execution was not as crisp as it was in his 90's heyday (and this was evident in this match with a few sloppy looking moments – the crippler crossface and the tornado DDT), but as a storyteller inside the ring, you could argue that Michaels was actually a better version of himself following his comeback. The Undertaker deserves major props himself, as he too, had many of his memorable matches in the second half of his career, and turned into a better all around worker.

The following year, they would follow this up with another breathtaking epic which resulted in Shawn's retirement from pro wrestling -- A fitting end to one of the most spectacular careers we've had the pleasure of witnessing.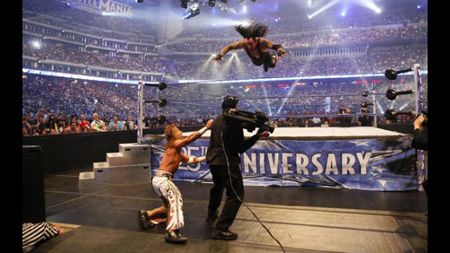 Daniel Wilcox: I re-watched all of the matches for which I had volunteered to write about for this feature, prior to writing up my stuff. Whereas watching the match live nearly five years as I fan, when watching Shawn Michaels vs. The Undertaker in the present day I'm watching it as a critic. On Shawn Michaels' My Journey home video release, Michael Cole calls it a "perfect match." If I hadn't re-watch it, I may agree, but it's not flawless. There are one or two mis-steps early on where the execution of moves is a little off. Michaels under-rotates on a tornado DDT later and lands on top of Taker. Both men were nearly very seriously injured when mis-timing breath-taking dives out to the floor, and the down time following Taker's dive was a bit too much. However, to understand how good a match this was, all you had to do was take a look at the crowd reactions to big moves, counters, and the false finishes. It takes a unique match to evoke such a response from a crowd, and I don't think I have ever seen a crowd bite on a series of false finishes as they did here. We all remember Undertaker's iconic reaction when Michaels kicked out of a Tombstone, but that shocked facial expression was actually etched on the faces of the thousands in attendance as well and that's what makes this match so good. You could argue that these two men are two of the most impressive performers in wrestling history, for different reasons, and you would be hard-pressed to find anyone who would disagree with you. This match only cements there status. Pulling off a match like this for two young guys in their prime would be impressive, but for two guys to do it in the twilights of their respective careers proves first and foremost just how good at their craft they are, but also how effortlessly they are able to make an audience of thousands suspend their belief and buy into every single thing they do inside that ring. In that essence, it is indeed fair to say this is a "perfect match," or as close as you can possibly get.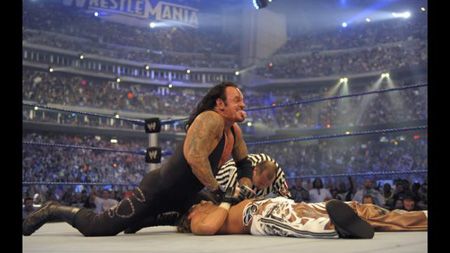 THE LIST AS IT STANDS


30. From WrestleMania 19 - Brock Lesnar vs. Kurt Angle
29. From WrestleMania 24 - Edge vs. Undertaker
28. From WrestleMania 23 - Money in the Bank
27. From WrestleMania 15 - Steve Austin vs. The Rock
26. From WrestleMania 20 - Eddie Guerrero vs. Kurt Angle
25. From WrestleMania 29 - The Undertaker vs. CM Punk
24. From WrestleMania 8 - Rowdy Roddy Piper vs. Bret Hart
23. From WrestleMania 18 - The Rock vs. Hulk Hogan
22. From WrestleMania 28 - The Undertaker vs. Triple H
21. From WrestleMania 8 - Ric Flair vs. Randy Savage

20. From WrestleMania 3 - Hulk Hogan vs. Andre the Giant
19. From WrestleMania 19 - Shawn Michaels vs. Chris Jericho
18. From WrestleMania 22 - Mick Foley vs. Edge
17. From WrestleMania 6 - Hulk Hogan vs. Ultimate Warrior
16. From WrestleMania 5 - Hulk Hogan vs. Randy Savage
15. From WrestleMania 7 - Randy Savage vs. Ultimate Warrior
14. From WrestleMania 2000 - Edge & Christian vs. The Dudley Boyz vs. The Hardy Boyz
13. From WrestleMania 24 - Ric Flair vs. Shawn Michaels
12. From WrestleMania 21 - Money in the Bank
11. From WrestleMania 17 - Edge & Christian vs. The Dudley Boyz vs. The Hardy Boyz

10. From WrestleMania 12 - Bret Hart vs. Shawn Michaels
9. From WrestleMania 20 - Triple H vs. Shawn Michaels vs. Chris Benoit
8. From WrestleMania 17 - Steve Austin vs. The Rock
7. From WrestleMania 10 - Bret Hart vs. Owen Hart
6. From WrestleMania 10 - Shawn Michaels vs. Razor Ramon
5. From WrestleMania 21 - Shawn Michaels vs. Kurt Angle
4. From WrestleMania 26 - Shawn Michaels vs. The Undertaker

comments powered by