SPOTLIGHTS
411's Top 30 WrestleMania Matches of All Time: #19 - Shawn Michaels vs. Chris Jericho (WM 19)
Posted by Larry Csonka on 03.18.2014

411 continues its Countdown to WrestleMania 30 by looking at what many considered a dream match; we look at WrestleMania 19 and the match between Shawn Michaels and Chris Jericho...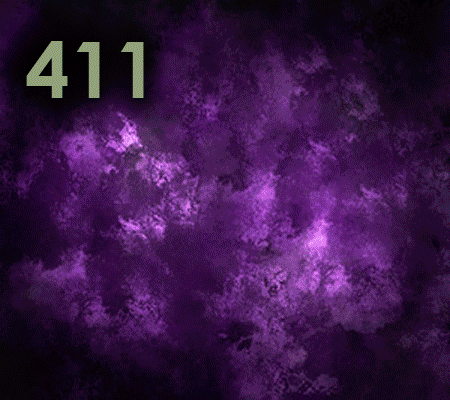 INTRODUCTION


Welcome back to 411Mania, and welcome to 411's official countdown to WrestleMania 30! Every year, the 411 staff comes together in some way to bring you, the fine readers of our site, a special countdown to WrestleMania. In past years we have done special countdown columns, ranking the shows, rating them overall, discussing special aspects of the big event, and even columns that have served as odes to the matches and moments that are etched into our minds.

To some fans, WrestleMania is the biggest show of the year, and the way that WWE has transformed the event into a near weeklong party, it may as well be a holiday to the fans that love our special brand of entertainment. Call it sport or call it a specially designed male soap opera, we love it and we love to talk about what makes things special. WrestleMania is an institution, and this year, as the WWE gets prepared to put on their 30th WrestleMania event, we decided to go big. Starting on March 7th, and running all the way to April 5th, 411 will present the top 30 matches in WrestleMania history.

Each writer on the 411 staff was given the opportunity to nominate 30 matches of their choosing. #1 on their list received 30 points, #2 received 29 points, and so on and so forth. Writers were asked to base their lists on both match quality and historical significance to create their nominations. The final list was created, and there was a ton of competition for the top spot. In fact, the voting was so tight that the top FOUR matches were separated by a mere 16-points.

Each day we will present a match from the list, which will include a full recap of the match from the 411 archives (from Scott Slimmer, JD Dunn, and Robert Leighty Jr.) as well as thoughts from the writers. Thank you for reading, and we hope that you enjoy our presentation…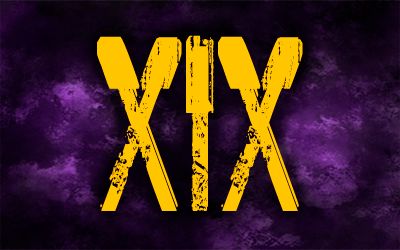 #19. From WrestleMania 19 Shawn Michaels vs. Chris Jericho
Michaels returned at SummerSlam and then got a month long title run with the World Title. The thought was that he would wrestle from time to time, and then this match happened. Remember when I said this card was stacked? Well, this match, featuring 2 of the greatest ever, is 5th from the top. Think about that for a second. The crowd is actually pretty split as we get Y2J and HBK chants. A wrestling sequence to start and that shocks Lawler. Well, this is WrestleMania, Jerry. Ross is even getting on Lawler's case as he asks him why you wouldn't start a wresting match with wrestling holds. Shawn controls with a side headlock and Jericho starts elbowing out. He runs Shawn over, and after a criss cross sequence slaps the spit out of his mouth. Awesome! That only serves to piss Shawn off though, and Jericho gets sent to the floor. Shawn feigns coming over the top, but fakes and then drops Jericho with a baseball slide. They head back in the ring, and a crossbody from the top from Shawn gets rolled through and Jericho gets a two count. Jericho fires off some chops, and sends Shawn back first into the opposite corner. He tries a running bulldog, but Shawn shoves off and Jericho goes groin first into the middle turnbuckle. Shawn doesn't follow up on the balls though and instead goes to the leg with a figure four. Jericho is able to turn it over to break, so Shawn tries again. This time he gets kicked off and goes shoulder first into the post. Jericho sends Shawn over the top, but he skins the cat. Jericho wanders over and gets flipped to the floor. Shawn follows with a slingshot plancha. He tries a dropkick, but Jericho casually catches him and locks in the Walls of Jericho in the aisle. Jericho has to break though so he can sprint back to the ring to break the count. He heads back to the floor and continues to work over the back by sending him into the post twice. Jericho celebrates in the ring to a chorus of boos. Shawn gets to the apron, but gets killed with the springboard dropkick. Once back in the ring Jericho continues the assault on the back with a belly to back suplex. Jericho lets Shawn know he is better than him, and then delivers a nice delayed vertical suplex. A nasty backbreaker follows, and the arrogant cover only gets two. Some in the crowd sure loved it though. Jericho locks in a chinlock, but redeems it by burying a knee in the back as an added touch. Cool! The crowd urges on Shawn and hits fight back, but an eye rake stops that. Jericho sets to early for a backdrop, and ends up taking a DDT. Both men get to their feet, and Jericho hits the Michaels flying forearm before kipping up to mock Michaels. Sweet! Shawn kips up behind him though and starts taking control of the match. Jericho goes flying off a backdrop, and hits a moonsault press for a two count. We get an awesome Flair/Steamboat pinning sequence that ends with Jericho looking for the Walls. Shawn kicks off, but Jericho ends up getting a northern lights suplex. They fight over a backslide, so Jericho says to hell with that and drops Shawn. A modified bulldog sets up the lionsault, but Shawn is out at two. Jericho starts throwing a tantrum as he doesn't know what else to do. Again, he sets too early and eats a boot from Shawn. He gets too cute and goes for a rana, but Jericho counters to the Walls of Jericho dead center in the middle of the ring. Shawn crawls to the ropes, but Jericho makes sure to hold until the ref counts to four before breaking. Jericho breaks out a double underhook backbreaker in a nasty spot, and heads up top. A beautiful reverse elbow and Jericho starts tuning up the band. Jericho delivers Sweet Chin Music, and it was pretty damn impressive. Sadly, it only gets a two count. Shawn gets sent to the corner, but comes off the middle rope with a crossbody. Now Shawn tries to get fancy and goes for the Walls, but opts to slingshot Jericho into the corner. He falls back into a pin attempt, but it only gets two. Jericho throws a shot to Michael's back, and that quickly turns the tide. They head up top and Jericho goes for a belly to back, but Shawn turns it into a crossbody for a two count. Now Shawn heads up top, and looks for the elbow, but Jericho simply kicks the ref into the ropes to throw Shawn off balance. Nice! Jericho looks for the superplex, but Shawn sends him down, and finally gets the flying elbow. The band gets tuned, but Jericho ducks and is able to lock in the Walls of Jericho. He crawls for the ropes again, but Jericho pulls him back to the center of the ring to a massive pop. A second attempt finally gets Shawn to the bottom ropes. Jericho pleads with the ref and he ends up walking right into Sweet Chin Music. Shawn crawls for the cover, but Jericho is able to kick-out at two. Jericho fires Michaels into the corner where he takes the Shawn bump. He staggers back into Jericho who looks for a belly to back suplex again, but Shawn flips out and gets a roll-up for the pin at 22:28. Shawn offers a hand, and a tearful Jericho opts to embrace him with a hug instead. Then the awesomeness happens as Jericho kicks Michaels squarely in the balls…

- By Robert Leighty Jr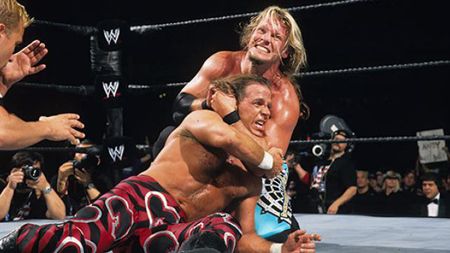 Dustin James: Back in 2003, Chris Jericho and Shawn Michaels were known as two of the best workers in the wrestling business (shocking, I know). In many ways, Chris Jericho was a younger version of Shawn Michaels. Jericho was an egomaniac with long hair, who thought he was the best wrestler alive. During most of the 1990's, Shawn Michaels was an egomaniac with long hair, who thought he was the best wrestler alive. Not only that, but in many ways, HBK helped pave the way for guys like Jericho to be successful in the WWE. Guys like Jericho and HBK were successful in the WWE thanks to their characters, promo work, and in-ring skills and weren't successful just based on appearance alone. With all these similarities, it was only natural that Jericho and HBK would meet in the ring at WrestleMania at some point and that's exactly what happened at WrestleMania 19 in Seattle. Luckily for me, I had the privilege of attending WrestleMania 19 live (it's the only WrestleMania I've ever attended) and I got to experience one of the best matches I've ever seen, live in person. I knew the Jericho/HBK match would probably be the best wrestling match on the WrestleMania 19 card, so when it came time for the action to start, I was a little more than giddy.

The crowd was exceptionally hot for this match, especially for Michaels. I remember everything HBK did elicited a giant roar of approval from the crowd at SafeCo Field. One of the best spots in the match was when Jericho pulled out the "Sweet Chin Music" and used it on Michaels. I jumped out of my seat, and pretty much ran to the other side of the arena to make sure my other friends who were in attendance were enjoying this match as much as I was. From that point, the match got even more exciting. I remember Jericho getting distracted and hit with some "Sweet Chin Music" of his own. I thought the match was over for sure, but no....Jericho managed to kick out and fight on. However, that didn't last long as Michaels was able to surprise Jericho with a roll-up pin for the victory as the retractable roof at SafeCo Field almost came crashing down due to the crowd noise. Perhaps the best part of the match was at the end when Jericho went to congratulate Michaels and instead ended up kicking him in the fun bags and spitting on him. To me, that was a perfect ending to this match and helped set the foundation for when Jericho and Michaels feuded again later in their WWE careers. Like I said earlier though, this match is easily one of my favorite WrestleMania matches of all-time and being there live only helped make it that much better. If you've never attended a WrestleMania in person, do it. It's some of the most fun you will ever have.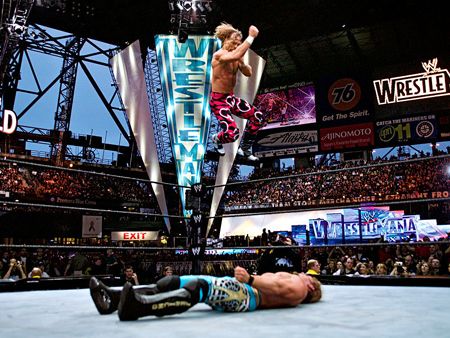 Daniel Wiilcox: Shawn Michaels and Chris Jericho are two of my all-time favourite performers. The Heartbreak Kid is my all-time favourite by a distance, and Jericho usually ranks second or third, depending on my mood. So I feel blessed to have witnessed the two have not one, but two phenomenal rivalries in the years they worked together in WWE. The first of these rivalries came shortly after Michaels returned to the WWE in 2002, and the story they went with was a not-completely-fabricated tale of how Jericho had looked up to Shawn as an aspiring professional wrestler. But Jericho grew out of wanting to be the next Shawn Michaels, instead wanting to be the first Chris Jericho. The build to this match was phenomenal, and it certainly meant that there were a lot of high expectations for this match going into a stacked WrestleMania XIX event. The event itself was an absolutely stacked card, possibly the best in history but this was the match the stole the show that night, with or without Brock Lesnar and Kurt Angle's show-closing epic. See, Michaels and Jericho were able to tell such a perfect story with their match – the story of hero and admirer, student and teacher. But they put their own spin on it and wrestled a multi-dimensional match that was well-thought out and evocative in its execution. The desperation on the part of Chris Jericho, not just to get the win but to out-perform Michaels, really brought the match to a fantastic conclusion as he pulled out every trick in the book to get the win – even hitting Michaels with his own Sweet Chin Music. Michaels would ultimately pull out the win with a roll up, and just when you thought the moment couldn't get any sweeter, Jericho cuts short the post-match embrace by kicking his former idol straight in the dick. Perfect heel move, and a near-perfect match.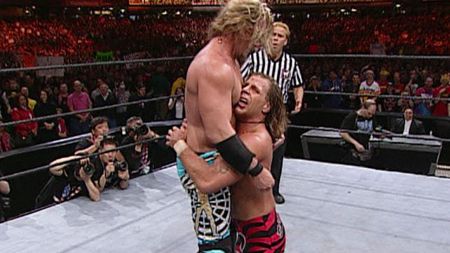 THE LIST AS IT STANDS


30. From WrestleMania 19 - Brock Lesnar vs. Kurt Angle
29. From WrestleMania 24 - Edge vs. Undertaker
28. From WrestleMania 23 - Money in the Bank
27. From WrestleMania 15 - Steve Austin vs. The Rock
26. From WrestleMania 20 - Eddie Guerrero vs. Kurt Angle
25. From WrestleMania 29 - The Undertaker vs. CM Punk
24. From WrestleMania 8 - Rowdy Roddy Piper vs. Bret Hart
23. From WrestleMania 18 - The Rock vs. Hulk Hogan
22. From WrestleMania 28 - The Undertaker vs. Triple H
21. From WrestleMania 8 - Ric Flair vs. Randy Savage
20. From WrestleMania 3 - Hulk Hogan vs. Andre the Giant

comments powered by