SPOTLIGHTS
Wrestling's 4Rs 3.01.14: WWE Monday Night Raw & DGUSA on iPPV Reviewed
Posted by Larry Csonka on 03.01.2014

The Undertaker returned and accepted Brock Lesnar's challenge for WrestleMania, Hulk Hogan made his long-awaited return to WWE and more! Wrestling's 4Rs breaks down the Right, the wRong and the Ridiculous of WWE Raw & DGUSA on iPPV!


How the 4Rs of wRestling Work!
Here is a quick explanation of the 4R's. The column will run TWO times a week. We will group our feelings on the shows in various categories: The Right, the wRong and the Ridiculous. The Right is stuff that worked very well: a great promo, a great match and so on. PuRgatoRy is a section between the right and wrong. It shows equal traits from both sides that cannot be ignored and need discussed. It is not a bad place per say, as things can get remedied or go the wrong way the very next week. The wRong is what it sounds like: bad matches, bad or boring promos and so on. The Ridiculous is stuff that had no right on TV: Stupid angles and so on. And there is always a possibility of a 5th R, which is as bad as they come. This column is supposed to be analytical, and at the right time very critical of the shows, it was the whole reason it was created. This is not a "mark" column, nor a "smark" column, our goal is to analyze the show from many different fronts, reward the good and call out the bad. We will not apologize for our opinions, they are as they are, whether positive or negative.
---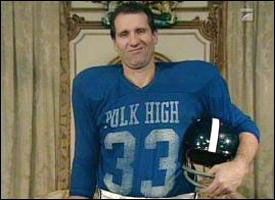 Let's rock…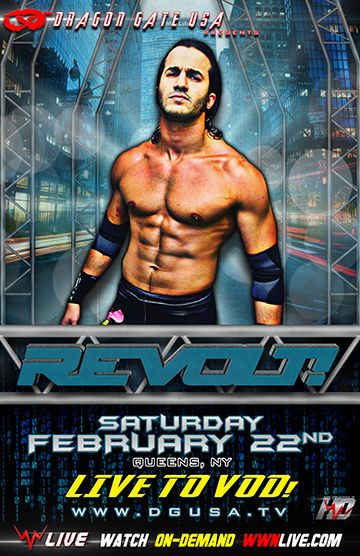 Dragon Gate USA Revolt! (2.22.14)
by Larry Csonka
Tim Donst defeated Chris Dickinson via pin [**½]

Ivelisse defeated Su Yung via pin [**½]

Caleb Konely defeated Yosuke Santa Maria via pin [**¾]

Open the United Gate Titles: Chuck Taylor and Orange Cassidy defeated champions Harlem and Lance Bravado via DQ [**]

Rich Swann defeated Anthony Nese via pin [***¾]

Mr. A defeated Fire Ant and Shane Strickland via pin [**]

EVOLVE Title Match: Champion AR Fox defeated Drew Gulak via pin [***]

Open the Freedom Gate Title Match: Champion Johnny Gargano defeated Trent Baretta via pin [***½]


The Tirade



Following a strong start to the year for the WWNLive family (with EVOLVE 25, 26 and 27) Dragon Gate USA made their iPPV debut on February 22nd with a solid, but unspectacular show. While booking issues are one issue I have at times with the promotion, the one thing I usually get is a strong in ring product. This show was solid, but outside of the one match, there is nothing you'll remember at the end of the year.


I felt that the undercard was a solid effort, with Tim Donst getting a shot, which was nice to see. Ivelisse vs. Su Yung was your typical "SHINE Showcase," but I felt it went a few minutes too long. I loved that the ladies got the time (about 16-minutes) and in a way they needed it because they had a rough start, but the end just felt as if they were just stretching to make it long. I appreciated the idea behind it, but longer doesn't always mean better.


I am a huge fan of the Bravado Brothers, but am not sure about their current direction. On one hand I love the Midnight Express vibe I am getting. The grandmother as the benefactor, getting the Bucks "suspended" and the fact that they will not perform under "DGUSA Rules," and instead go more old school with the tag ropes and traditional rules. But I also feel that the gimmick is overshadowing them. It is early, and I am more than willing to see where it goes.


Rich Swann defeated Anthony Nese was the best match on the show. Nese is a tremendous athlete, and tends to deliver when given the chance. I have raved about Swann for a long time. He is another great athlete, big time charisma and continues to grow as an in ring performer. They got 20-minutes and did well with it, and the final stretch really brought the match to another level.


Overall I have enjoyed the EVOLVE Title run of AR Fox. I always like a fighting champion, and the gimmick of his constantly making non-title matches into title matches only adds to that. The match with Gulak was good, but I didn't think that their styles meshed that well, and why both are very talented, I never felt like it had a great flow. It seemed like they just a lot of stuff, most of it didn't matter, and Fox retained. Also I need to point out that putting he title on the line with the hero title match advertised for the next night made the result academic. Both are capable of much better in my opinion, but it was fun.


Open the Freedom Gate Champion Johnny Gargano defeated Trent Baretta in the main event, which was the second best match in the show. They worked really well together, Gargano continues to deliver as the champion and Baretta also keeps having good to great matches. The finish seemed to come out of nowhere, there is a chance Baretta may have hurt his knee at one point, which may have been the reason. I liked the match, but it didn't have a great crowd reaction and while it had good action, I didn't feel like I had a reason to care about the match other than it was a title match.


I will say that the show felt easy to watch, and the wrestlers got time to work and do their thing, but some matches (like the co-main and main event) didn't quite live up to expectations. To me, this was the definition of a "thumbs in the middle show", not bad, but nothing you need to go out of your way to see outside of Swann vs. Nese.

Final Score: 6.75

As a reminder, I will be going by the 411 scale…

0 - 0.9: Torture
1 - 1.9: Extremely Horrendous
2 - 2.9: Very Bad
3 - 3.9: Bad
4 - 4.9: Poor
5 - 5.9: Not So Good
6 - 6.9: Average
7 - 7.9: Good
8 - 8.9:Very Good
9 - 9.9: Amazing
10: Virtually Perfect

As a reminder, this is not a basic "how good was the show" number like a TV show, as I have always felt that a PPV is very different from a regular show. I have always judged PPV on how they built to a match, the match quality, crowd reactions to matches and angles, the overall booking, how the PPV leads into the future, PPV price and so on and so forth. I have added this in here for an explanation since so many have asked, and I have previously discussed it on podcasts. I understand that this may seem different, but that is how I grade. Obviously your criteria may be different.

By: Jack Stevenson
Raw 2.24.14:
QUICK MATCH RESULTS:
Alberto Del Rio d. Batista

Big E. d. Cesaro

Sheamus d. Christian

Daniel Bryan d. Kane

Emma d. Summer Rae

The Usos d. The New Age Outlaws

Bray Wyatt d. Roman Reigns


THE RIGHT:
What are you going to do when Hulk Hogan hosts Wrestlemania on you: I still have a lot of time for Hulk Hogan, especially around Wrestlemania season when we're all feeling a bit nostalgic and don't feel Batista is going to slam all of the giants in our life. The Wrestlemania host role is a good one for him, he can come out, say "BROTHA" and "WHATCHA GONNA DO" a lot, flex for the crowd, and leave without taking the spotlight with him. As long as he doesn't start to become overbearing, he's a good presence to have on the roster.

The Wyatts Target John Cena: After costing him the WWE Championship for the second PPV running, The Wyatt Family finally got the undivided attention of John Cena; he called them out this week and earned a 3 on 1 beating and a leg injury for his trouble. This is probably the most sensible and exciting match on the Wrestlemania card, it makes total sense that Wyatt would target Cena, it's a fresh match, and one that could well turn out to be rather excellent. I'm looking forward to seeing this play out.

Daniel Bryan vs. Kane: This was a solid match that made Bryan look strong and eased fears that we might genuinely get D-Bry vs. Co-Kane at Wres-Main. It wasn't anything huge or vital, but it was a fun TV match. It seems like Bryan-HHH for Mania, which to be honest is far from the worst way this storyline could have ended, it's not the neatest of conclusions but at least Bryan (presumably) gets a big win and then surely will get a WWE Championship run of some length and quality.

The Deadman Lives and Will Crush Your Hands in His Hands: Right, so, it's definitely Taker-Lesnar at Wrestlemania. On the one hand, boooooooo. I'm not certain Brock is the right man to get a great match out of Undertaker at Wrestlemania considering the poor Deadman is currently held together by bits of string and tape. But on the other hand, both guys have enough talent for the gods to smile on them on the night, and on Monday night, it seemed like we could have a classic on our hands. Paul Heyman cut a terrific promo as usual, Taker's arrival got a predictably booming ovation, Lesnar deciding instantaneously he wanted a fight at Mania was bad-ass, as was Taker choke-slamming him through a table. The fact that last year Heyman also lead a superstar to war with the Phenom could be an interesting subtext, and it makes me hope that we could turn it into a tradition (as long as Undertaker can still participate, Heyman finding a new monster every year until and hurling him at Taker u as he becomes increasingly obsessed with ending the streak. I'm significantly more optimistic about this match now than I was before Raw, so they've done something right.


puRgatoRy:
Big E vs. Cesaro: I don't know whether it's because Cesaro's been nothing but marvelous since the beginning of 2014 and thus I'm setting unreasonably high standards for him, but I was kind of disappointed by this. You expect these two will just throw bombs at each other but the first part of the match was pretty subdued, and while the finishing stretch was much more on track, it didn't quite raise this up to the level you'd hope. Still, it was still a decent match and Cesaro continues to look like a star, so I'm happy enough.

Sheamus vs. Christian): I don't really remember anything about this. I'm gonna assume Sheamus won with the Brogue Kick, that seems logical. Neither man looks like they're going to do anything much at Wrestlemania which is a shame because they're both solid, and Sheamus and Cesaro beating each other into a pulp would be fun. There's still time for that I guess though.

Roman Reigns vs. Bray Wyatt: So how about that Shield-Wyatts match at the Chamber huh? I don't remember the last time a match gripped me like that one, I was on the edge of my seat and going crazy for pretty much everything. There was hatred and violence and Seth Rollins flying all over the ring and Luke Harper murdering Dean Ambrose with a boot to the face and Roman Reigns showing why he's going to be the biggest, coolest star in the world, and a poetic last stand for the Shield as their divide and conquer tactics backfired on them and the Wyatts asserted themselves as the dominant faction in WWE. It was a brilliant blend of story, style, substance and spectacle, a perfect end to a perfect feud. Except it might not be over, and that's not a good thing. The Elimination Chamber match was such a faultless, furious war of a fight that the Reigns-Wyatt match and post match brawl tonight felt like an anti-climactic, unnecessary add-on. It gets into purgatory because it could still lead somewhere worthwhile, and hey, maybe we just saw a preview of the Wrestlemania 32 main event, but I'm not convinced.


THE WRONG:
Batista vs. Alberto Del Rio: There is nothing I like about this feud. Batista vs. Randy Orton might genuinely be the most boring title match WWE could have chosen for Wrestlemania, it'll be bland and forgettable, the crowd will either react negatively or not at all, I really don't know why they're doing it. If this segment is anything to go by we shouldn't 'expect a rich and rewarding build up either. This was the rematch the world hadn't really cared either way about receiving, and it finished with Batista getting so enraptured by a Randy Orton promo that he both forgot there was a match on and how to kick out of schoolboy pins. Hey, it happens to the best of us. It doesn't exactly make for great viewing though. Oh also Batista apparently doesn't care whether we like him or not, which is good for him because we don't like him.

Emma vs. Summer Rae: America! Is 'spastic' an acceptable term over there? I heard JBL use it describe Emma and it really shocked me, here in England it's an pretty politically incorrect term for a disabled person. Anyway, while it's a good sign that people in the crowd seem to be picking up Emma's dance, and the match was OK, this feud has been far too hurried for me, we've got no reason to care about Emma apart from "she's a little bit silly." It's a bathroom break angle.

The Usos vs. The New Age Outlaws: I wish the New Age Outlaws would just go. Road Dogg seems to have no entire he's meant to be a bad guy, he still cheerfully does his ring announcing schtick and gets the crowd on his side. It makes the Usos, easily the best team WWE has left and the most deserving tag champions on the roster, look so so bad when they get booed by the crowd for interrupting Roadie's catchphrases, and then win in a few seconds because the Outlaws weren't ready. That said, it doesn't make the Outlaws look great for not being ready in the first place. Nobody gets over.


THE RIDICULOUS:
NOTHING


THE RAW MATCH OF THE YEAR LIST:
Nothing new this week.



2.17.14- John Cena vs. Cesaro


2.03.14- Daniel Bryan vs. Randy Orton


2.10.14- Sheamus & Christian vs. The Real Americans


1.27.14- John Cena, Sheamus & Daniel Bryan vs. The Shield


1.13.14- CM Punk & The New Age Outlaws vs. The Shield


1.20.14- Rey Mysterio vs. Alberto Del Rio


2.03.14- The Shield vs. Kofi Kingston, Rey Mysterio & Big E. Langston


2.10.14- Rey Mysterio & The Brotherhood vs. The Wyatt Family


1.06.14- The Usos & Rey Mysterio vs. The Wyatt Family


1.06.14- The Rhodes Brothers vs. The Real Americans


The 411:


Hmmmmmm. We're close to Wrestlemania so by default this was a better Raw than one held in October or something, there's just more energy and purpose and unpredictability. However, there wasn't much great wrestling tonight, and the Wrestlemania card is looking bereft of ambition, bravery, or to be honest even a guaranteed great match. Batista-Orton, Cena-Wyatt. Taker-Lesnar and Bryan-HHH could all easily fail to deliver, and that could mean we've got a serious contender for worst Wrestlemania of all time on our hands. The show was enjoyable, but only the closing segment made me particularly excited for the show.

Show Rating: 6.5

As a reminder, I will be going by the 411 scale…

0 - 0.9: Torture
1 - 1.9: Extremely Horrendous
2 - 2.9: Very Bad
3 - 3.9: Bad
4 - 4.9: Poor
5 - 5.9: Not So Good
6 - 6.9: Average
7 - 7.9: Good
8 - 8.9:Very Good
9 - 9.9: Amazing
10: Virtually Perfect

The 865th edition is over…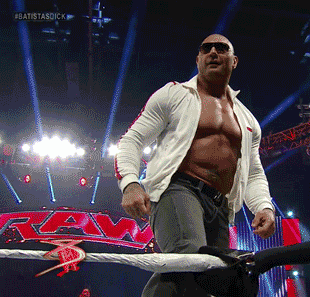 Classic Big Dave…

Have you checked out the Csonka Podcasting Network? If you haven't, you should We run anywhere from 15-20 shows a month, discussing pro wrestling, the world of MMA, the NBA, general sports, popular TV series of the past, bad movies, battle rap, interviews, MMA & Wrestling conference calls and more! Around 10 different personalities take part in the various shows, which all have a different feel; so you'll likely find something you like. All of the broadcasts are free, so go ahead and give a show a try and share the link with your friends on the Twitter Machine and other social media outlets! Running since May of 2011, there are currently over 500 shows in the archive for you to listen to.



Your heart is free. Have the courage to follow it…TO CSONKA'S TWITTER!

http://www.twitter.com/411wrestling
http://www.twitter.com/411moviestv
http://www.twitter.com/411music
http://www.twitter.com/411games
http://www.twitter.com/411mma
comments powered by