SPOTLIGHTS
411's Top 30 WrestleMania Matches of All Time: #29 - Edge vs. Undertaker (WM 24)
Posted by Larry Csonka on 03.08.2014

411 continues its look at the top 30 matches in the history of WrestleMania with Edge vs. Undertaker at WrestleMania 24!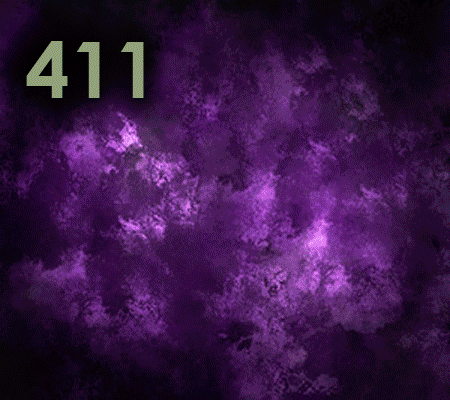 INTRODUCTION


Welcome back to 411Mania, and welcome to 411's official countdown to WrestleMania 30! Every year, the 411 staff comes together in some way to bring you, the fine readers of our site, a special countdown to WrestleMania. In past years we have done special countdown columns, ranking the shows, rating them overall, discussing special aspects of the big event, and even columns that have served as odes to the matches and moments that are etched into our minds.

To some fans, WrestleMania is the biggest show of the year, and the way that WWE has transformed the event into a near weeklong party, it may as well be a holiday to the fans that love our special brand of entertainment. Call it sport or call it a specially designed male soap opera, we love it and we love to talk about what makes things special. WrestleMania is an institution, and this year, as the WWE gets prepared to put on their 30th WrestleMania event, we decided to go big. Starting on March 7th, and running all the way to April 5th, 411 will present the top 30 matches in WrestleMania history.

Each writer on the 411 staff was given the opportunity to nominate 30 matches of their choosing. #1 on their list received 30 points, #2 received 29 points, and so on and so forth. Writers were asked to base their lists on both match quality and historical significance to create their nominations. The final list was created, and there was a ton of competition for the top spot. In fact, the voting was so tight that the top FOUR matches were separated by a mere 16-points.

Each day we will present a match from the list, which will include a full recap of the match from the 411 archives (from Scott Slimmer, JD Dunn, and Robert Leighty Jr.) as well as thoughts from the writers. Thank you for reading, and we hope that you enjoy our presentation…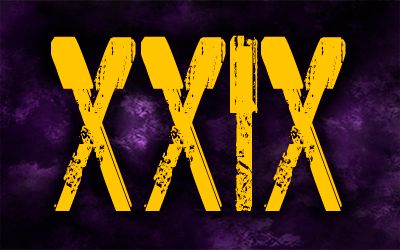 #29. From WrestleMania 24 - World Heavyweight Title: Edge © vs. The Undertaker
Interesting-but-not-really stat. The Undertaker has defeated all four members of Evolution at WrestleMania. Taker clotheslines Edge over the top early on. Back in, he hits a flying clothesline (VINTAGE UNDERTAKER!). Taker hits a weird sort of knee and tumbles over the top. I guess Edge was supposed to move out of the way. Edge knocks him off the apron (MASTER MANIPULATOR!) and hits a neck breaker on him against the ropes. Back in, Edge spears Taker into the corner. Taker tries to slam him but collapses. He catches Edge going up and simply shoves him to the floor. He follows that up with his once-a-year over-the-top suicide dive. Taker hits the guillotine leg drop (VINTAGE UNDERTAKER!) for two. He can't lift Edge for the Last Ride, so Edge boots him for two (ULTIMATE OPPORTUNIST!). Edge knocks Taker to the floor (MACHIAVELLIAN-LIKE!). Wow, two Coleisms in less that :20. He really brought his A-game. Back in, Edge grabs a half-crab, but Taker reverses to a small package for two. Edge stays on top with a double ankle lock (ULTIMATE OPPORTUNIST!). Edge and Taker slug it out (BEST PURE STRIKER IN SPORTS ENTERTAINMENT!). Taker hits a Snake Eyes, but Edge cuts off the big boot with a dropkick (ULTIMATE OPPORTUNIST!). Edge blocks a chokeslam and turns a second try into the Edgecution! ONE, TWO, THR-NO! Edge goes for the Spear, but Taker blocks and CHOKESLAMS HIM! ONE, TWO, THRE-NO! Taker goes for the Old School Ropewalk Forearm, but Edge crotches him and delivers the SUPERPLEX! ONE, TWO, THRE-NO! Edge mounts Taker for the corner pummel, but Taker counters to the Last Ride. Edge slips over him and hits a neck breaker. Taker catches him with the Last Ride on a second try. ONE, TWO, THRE-NO! Taker goes for the Tombstone, but Edge slips over his shoulder and hits the Edge-o-Matic (ULTIMATE OPPORTUNIST!) for two. Taker finally hits the Old School Ropewalk Forearm, but he tries to add a boot and bumps the ref. Edge hits the Inverted DDT (MASTER MANIPULATOR & ULTIMATE OPPORTUNIST!!!). No ref, though. Edge stops to talk trash and has to kick Undertaker in the crotch to counter a chokeslam. Edge grabs a camera from ringside and smashes it into Taker's head. No ref. Edge goes for the Tombstone, but Taker reverses and hits his own. Charles Robinson sprints in all the way from Tallahassee, but by the time he gets there, Edge is able to kick out. Hawkins & Ryder run down, but Taker quickly dispatches them. Taker turns around into the SPEAR! ONE, TWO, THRE-NO! A second weaker spear puts the Undertaker down, but he scissors Edge's head and applies the Gogoplata for the tapout at 23:51. The match told a great story with Edge (THE ULTIMATE OPPORTUNIST!) wrestling a smart match, always one step ahead of the Undertaker's usual moves, but of course, the Undertaker is superhuman, so even Edge's best game wasn't good enough.

- JD Dunn


Justin Watry: When the list of 30 WrestleMania matches was first presented to all of us, my attention immediately went to The Undertaker. I admit it. Each and every year, watching him defend his undefeated streak at WrestleMania is great. I fully admit bias. Even when he was working a full schedule, all roads led to March/April with all the marbles on the line. If there is one name that is synonymous with the grand stage, it is him. Thus, I find it only fitting that Taker going for the World Title at WM24 is on my plate of matches to write about. An honor really.

However, something extremely funny happened when I began my stroll down memory lane. In fact, if you must know, a few sentences were just deleted because of it. In my opinion, this entire main event match and feud was not about The Undertaker. It was about his opponent that night and reigning World Champion - Edge. A man who had never, ever been in the main event of WrestleMania. A man who won title after title from 2006 and on but was never truly 'the man' up to that point. A personality who was doubted from day one as to ever making it as a top solo star. A man who climbed the ladder of success and earned every bit of success. As much as the final image of the show was focused on Taker winning the belt by submission in Orlando, that night belonged to Edge. Both professionally and personally.

Big Show vs. Floyd Mayweather was not given the main event slot, even though it received a ton of mainstream media attention. John Cena vs. Randy Orton vs. Triple H for the WWE Championship was not given the main event slot, despite the names involved and being featured on Raw. Not even the classic Ric Flair vs. Shawn Michaels match in an emotional, heartfelt showdown could surpass Taker/Edge on the card. Fans wanted to cheer for The Dead Man to win the World Title and see him successfully keep The Streak going, and it was Edge that got them there. Winning? Losing? That was not the ultimate end game here for Edge. It was about much more.

Against all odds, he was able to *finally* close WrestleMania in an entertaining main event, versus the much hyped undefeated Streak, take on a living legend in Undertaker, and do it all with the World Title on the line. It does not get any better than that.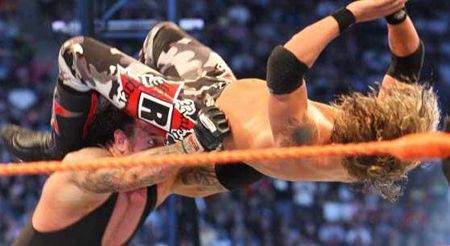 Chad Nevett: While there are other Undertaker WrestleMania matches that are better than his WrestleMania XXIV World Heavyweight Championship match with Edge, it remains my favorite. Part of that is my getting back into wrestling in the fall of 2007 after a half-decade away and WrestleMania XXIV being my first one since watching again. Part of that is my fondness for Edge, one of my favorite wrestlers of all time. But, the biggest part is just how well constructed the match was, both in its build and in its execution. Call me naive, but there was a feeling watching it that, perhaps the Undertaker had finally met the one man who could beat him on the biggest stage of them all, finally. Heading into their match, Edge had continually gotten the best of the Undertaker, both inside and outside of the ring. Less than a year previously, he had taken the World Heavyweight Championship from the Dead Man; in November, Edge cost 'Taker the title in a Hell in a Cell match with Batista; in December, Edge took the title for himself with the help of the Edge Heads and, along with the rest of La Familia, he continually stayed one step ahead of the Undertaker. While it seemed like the only way that Edge was beating the Undertaker was with the help of La Familia, there was that frustrating undercurrent that, maybe, Edge didn't need them. Maybe he just somehow knew how to end the Streak.

The match played into that idea with the word that Michael Cole kept coming back to again and again was 'counter.' Edge countered everything the Undertaker tried. All of the signature moves were turned against the Phenom with his incredible resilience being the only thing fending off defeat. It wasn't a one-sided match, but there was a definite sense that the Undertaker could not get any momentum going without Edge somehow disrupting things. Old School failed twice, while the Chokeslam, Last Ride, and Tombstone all took multiple attempts to succeed and, then, there was still no victory. Even Snake-Eyes and the big boot follow-up were countered and used against 'Taker. However, Edge wasn't getting the job done either, unable to capitalize on any of his counters or his own signature moves. Even a ref bump, a run-in by the Edge Heads, and nailing the Undertaker with a camera didn't end the Streak.

It looked like, finally, Edge had victory in his grasp when he hit a Spear, 'Taker kicked out of the pin, and he hit a second one. Alas, for the Rated R Superstar, that was his moment of defeat, not triumph. The Undertaker delivered the final counter of the match by locking in the Hell's Gate submission hold, one of the newer weapons his arsenal, and one that Edge had no counter readily at hand. All he could do was tap out and become number 16 in a long list of names. He and Undertaker, though, left behind one hell of a match that showed Edge as one of the most serious threats to the Streak in years and showed just how far the Undertaker could push himself to win.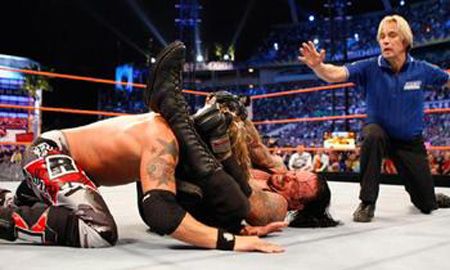 THE LIST AS IT STANDS


30. From WrestleMania 19 - Brock Lesnar vs. Kurt Angle
comments powered by