SPOTLIGHTS
Smart Marks 3.01.14: No Longer Traditional
Posted by Dino Zee on 03.01.2014

Breaking down Brock vs. Taker, EC3's rise to Angle's challenge, and more! Come on in, there's plenty of Cran-brrr-ita to go around!

It's the end of the week, which means it's the start of our time together here! Welcome back to Smart Marks, I'm Dino, and this is the place where we can all have a voice, even the ones that ignore what the writing of their particular program lays out for them!

This week saw the LAUNCH OF THE NETWORK!!!, Hulk Hogan returned to WWE, WrestleMania matches come together, Teams for Lockdown getting formed, the turn of Austin Aries, the second half of the first round of El Torneo de la Gran Alternativa, and much more! Haven't got the Network yet due to geographical problems, but I'm sure that soon enough, I'll be devouring hours of World Class, AWA, and Crockett programming with the rest of you. Outside of the Network, though, I don't really think this was much of a newsworthy week. I still managed to find a couple items that caused me to form an opinion, though. So, let's get to it!





Brock Off



I'm about to hate on WWE for a minute, so I just wanted to warn the WWE Defenders... oh right, those don't exist.

This Monday night, the Undertaker returned, and assaulted Brock Lesnar, giving us our Streak Match for this year's WrestleMania. Immediately, I was not a happy camper, and for admittedly selfish reasons.

Is this a big match? Undeniably so. In fact, it's probably, outside of John Cena, the biggest match you can give Undertaker at Mania at this point in time. Is Brock someone that passes the eye test with Taker? Yes, absolutely. One will not have to suspend quite as much disbelief when Brock is controlling the match as, say, last year when Punk was wrestling Taker.

Hell, I don't even hate this match. It reminds me somewhat of when Undertaker and Batista was set for WrestleMania 23, and all the experts (myself included) just knew that the match was going to be horrible. And then, of course, they went out and basically shut everyone up by delivering a hell of a contest. That potential absolutely exists here. Taker and Brock may go out there and absolutely tear the house down.

The problem is, I don't see that happening. I don't see Taker being able to physically match the feats that he pulled out 7 years ago against Batista. I also see Brock having to loosen up the way he works to compensate for the fact that he's wrestling against an old man, but an old man that is highly valued by his company. I think the physical limitations of Taker are going to be a real problem here, as neither are really known for their ability to have sterling technical classics.

What really irks me about this match, however, is just what a waste it is. A waste of both guys, really. I'm still baffled by the decision to have Brock Lesnar return, and have him lose to John Cena, Triple H, and the Undertaker (apparently). We can't use him against a new guy? CM Punk is the closest thing to Brock working with the new crew, and even that's all for naught with Punk currently sitting at home. Sure, the question of WHO I'd put Brock with will come up, and then I'll answer, and then you'll all tell me that's dumb. Instead, I'll keep it generic- Brock could have worked with anyone not named the Undertaker at WrestleMania. Hell, even the rumor that Taker wanted Daniel Bryan would give us a more meaningful match, even if the result remains unchanged. Brock has already feuded with- and destroyed- the Undertaker. This match is being put together simply because of the names involved, without thinking about anyone else that could have benefitted. Two wrestlers lower on the chain could have benefitted huge by getting to wrestle Brock OR Taker at Mania. Instead, these two will engage in a match that may be decent, probably won't matter, and has an ending you can see coming a mile away.

And, let's not get things confused here: I LIKE the Streak. I don't think Undertaker should ever lose at Mania. That's why I feel like his opponents need to be carefully selected. A veteran with a set status can be fun, but really adds nothing. Giving a younger guy a stage like that (even if he's losing) is always the better call, in my opinion. Brock/Ryback could have been fun. Taker could have called out Roman Reigns. Instead, we just get a WWE Veteran Circle Jerk.

What do you guys think? Hate the Streak? Like this match? Tell me why down in the comments!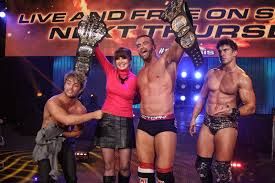 Pulling the Trigger



Meanwhile, in TNA...

A great move was made. Ethan Carter III (EC3 to his friends) decided it was time to really step up, as he came out at the conclusion of Kurt Angle's Hall of Fame induction ceremony, and trashed the Olympian. After a bit of back and forth with the words, Angle jumped Carter, and announced that they'd be opponents at the upcoming Impact: Lockdown event.

So, that's one good thing, now where's the three bad things I need to say? Oh, right... there is none!

I like this move a lot. I've been a fan of EC3 since shortly after his arrival, but his lack of really doing anything was starting to impede any chance at progress. However, he has at the very least been kept on TV, allowing his profile to continue to grow. In the ring, though, we haven't seen what he can really do yet. Sure, he got the win over Sting, but many will ignore that victory since Sting was out the door. And while that could possibly be true about Kurt as well, at least Carter will have an opponent who can actually go.

A constant problem nearly every wrestling company has is the unwillingness to let the young talent shine. Some guys will be kept in low card feuds until they show a little extra something worth pushing, others may get a feud with someone high on the card where they are set up to fail and not keep any heat, and once in a while, someone gets a rocket push that may or may not work. However, it's a rare thing nowadays to see a company stay completely devoted to the young talent, and make sure not to put them in any stupid positions along the way. Hell, the Brock-Lashley Protocol in WWE states that a young talent MUST have the rug pulled out from under them 1-5 times in order to have said talent "prove" that they want to be where they're at. Even TNA has, at times, shown an unwillingness to move new talent higher than jobber status, as we saw with Jay Bradley. I'm not saying they were right or wrong, just pointing out that this is something EVERY promotion deals with at one time or another.

In TNA, EC3 has been a big deal from the start. Even when he was simply wrestling Barnes and Fernum, he was able to showcase his mic skills, his facial expressions, and even his moveset against guys there solely to make him look good. He was given some key interactions with Sting, got the win, and continues to hang out with the NOT a Stable of Dixieland (as written by the writers of the show), which sees him sharing screen time with the champ from time to time.

You may not like the man himself, but you cannot deny that TNA has really gone all in with EC3, and selected what may very well have been the perfect pace to bring him along. And now, all that work will pay off in what could very well be the best match of the night come Lockdown. Good work, guys.

What do you see happening with EC3 and Angle? Interested in this feud? Tell me what you think down in the comments!





The Tragedy of the Usos



They just cannot get a break. The second they debuted, it appeared we had our next tag team champions on our hands. First as somewhat intimidating heels, and then as happy-go-lucky warrior faces, the Usos have been in the higher end of the tag division for nearly 2 years. Yet, they've never been given the chance to show what they can do as champs. They, instead, have been built up quickly only to lose to the champs. We saw a great example of this last year as they started donning face paint to show they were ready for the Shield. They won a few matches to get their shot. And then, they lost to the Shield, and made way for the next team.

They stayed popular with the fans, however, and thus couldn't be completely buried. Then, when the New Age Outlaws won the belts from Cody Rhodes and Goldust, the Usos got the first shot at the champs at the Elimination Chamber. And again, they lost to the champs.

I can't remember a face act being treated like also rans so often, and yet remain as popular with the fans as they have. That they continually get passed up for super teams and retro acts is hardly a surprising development, but it is still aggravating to see them follow all of the usual rules for a superstar getting a chance, and yet nothing comes of it. They add paint. They add a haka type dance before their matches. They have an interactive chant with the fans. Hell, they even stole my "U-so crazy!" routine! And yet, they are continually held in the same place, so that the next time they get a shot, the fans will care and get behind them, only to watch them fall again.

Now, it appears that they'll be getting a rematch at WrestleMania. And what better place to finally climb to the top of that mountain than at the biggest show of them all? Sure, that would be great, if WWE were still writing classic wrestling tales. It's quite clear that they enjoy the Swerve, and even the Double Swerve, all for the goal of tricking the audience. Because it's better to trick the audience than it is to satisfy them. No, maybe the world isn't united in wanting the Usos to be the champs, but there are certainly quite a number of fans who haven't given up on them. Perhaps rewarding the wrestlers for their hard work, and treating their fans for sticking with it, wouldn't be the worst idea?

Job the Outlaws at Mania. Let's give rise to the Usos!

You know the deal- agree, disagree, hit me up in the comments!

And I think that should just about do it for the week. Things are going to pick up as we hit the highway portion of the Road to WrestleMania, along with the continuing build to Lockdown! It's a good time to be a fan, let's just hope we're not too let down when our fantasy booking and the actual results don't mesh so well.

Until next time, enjoy your WWE, your TNA, your Lucha, your Puro, and your Indies.






It's All Wrestling. It's All Stupid. We All Love It.
comments powered by