SPOTLIGHTS
411's Top 30 WrestleMania Matches of All Time: #18 - Mick Foley vs. Edge (WM 22)
Posted by Larry Csonka on 03.19.2014

411 continues its look at the top 30 matches in the history of WrestleMania with Mick Foley vs. Edge from WrestleMania 22!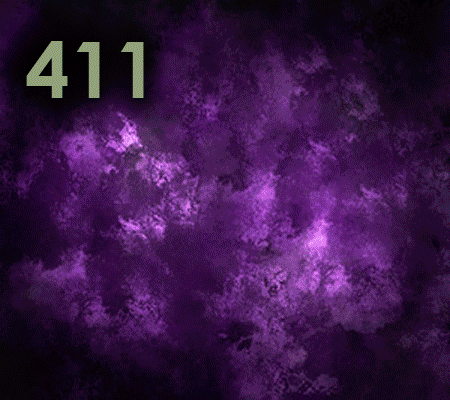 INTRODUCTION


Welcome back to 411Mania, and welcome to 411's official countdown to WrestleMania 30! Every year, the 411 staff comes together in some way to bring you, the fine readers of our site, a special countdown to WrestleMania. In past years we have done special countdown columns, ranking the shows, rating them overall, discussing special aspects of the big event, and even columns that have served as odes to the matches and moments that are etched into our minds.

To some fans, WrestleMania is the biggest show of the year, and the way that WWE has transformed the event into a near weeklong party, it may as well be a holiday to the fans that love our special brand of entertainment. Call it sport or call it a specially designed male soap opera, we love it and we love to talk about what makes things special. WrestleMania is an institution, and this year, as the WWE gets prepared to put on their 30th WrestleMania event, we decided to go big. Starting on March 7th, and running all the way to April 5th, 411 will present the top 30 matches in WrestleMania history.

Each writer on the 411 staff was given the opportunity to nominate 30 matches of their choosing. #1 on their list received 30 points, #2 received 29 points, and so on and so forth. Writers were asked to base their lists on both match quality and historical significance to create their nominations. The final list was created, and there was a ton of competition for the top spot. In fact, the voting was so tight that the top FOUR matches were separated by a mere 16-points.

Each day we will present a match from the list, which will include a full recap of the match from the 411 archives (from Scott Slimmer, JD Dunn, and Robert Leighty Jr.) as well as thoughts from the writers. Thank you for reading, and we hope that you enjoy our presentation…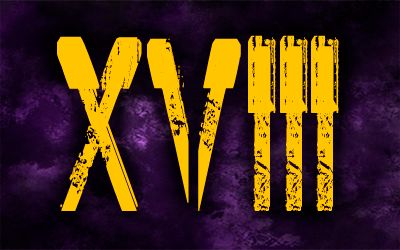 #18. From WrestleMania 22 - Hardcore Match: Mick Foley vs. Edge w/Lita
Edge cashed in his Money in the Bank shot at New Year's Revolution in January and defeated Cena for the WWE Title. The reign only lasted a few weeks as Cena regained the title at the Rumble. Edge exercised his rematch clause and when he lost he blamed the special ref for the match: Mick Foley. Thus a feud was born and Edge was determined to steal the show because he wasn't in the title picture any longer. Foley was more than happy to oblige. Joey Styles joins Lawler on commentary for this match in a nice gesture. See Styles replaced Ross in October, but apparently he wasn't enough like JR, so he got bumped from Mania. Seeing how that was kind of a scummy thing to do to Styles (as this was his first Mania) he was thrown a bone with this match. Edge comes to the ring in his street gear with a ball bat as he is ready for war. Foley comes down sporting some black flannel as he looks pretty pissed. That usually makes for the best Mick. I'll also mention that Lita looks pretty damn fine here. The sleazier she got with Edge the better she looked. Let that be a lesson to any woman reading this review (yeah, right). Edge misses with the bat and Foley unloads in the corner with some right hands. Edge gets hung in the tree of woe and the Cactus elbow follows. He celebrates with the crowd and that gives Edge his chance. Lita tosses him a cookie sheet and Foley loses some brain cells rather early in this one. A caution sign gets used next and Edge goes Tommy Dreamer as he hits a basement dropkick onto the sign and Foley. Edge sets for the spear and when he hits it, he sells the damage more than Foley does. We see why as Foley shows the barbed wire wrapped around his midsection. Nice touch, but doesn't have anything on Bret Hart's defense of Goldberg's spear. Foley breaks out some wire cutters and uses the strands of wire to rip Edge apart. Sweet! Edge gets tied in the ropes and Foley grabs the barbed wire baseball bat from under the steps. Lita jumps on his back, so Foley delivers the Cactus clothesline to the floor on Edge with Lita on his back. That was a nasty bump by Lita actually. Foley looks for the running knee, but Edge counters with a hip toss that sends Foley into the steps. Damn! That's not enough though as Foley gets fired into the steps in his always impressive manner. I always appreciated the way Foley took that bump. He just runs through the steps and crashes over them instead of falling into them gingerly with his shoulder. Edge places Foley on a table and looks for splash from the top rope, but Mick just rolls off the table. Edge follows and slams the back of Foley's head off the steel ramp. Nasty! Things get creative now as Edge doses Foley with lighter fluid. That only serves to piss Foley off and he hits a sweet piledriver. He looks to destroy Edge with the conchairto, but again, Lita proves her worth by distracting Foley. Edge regains the advantage and uses Barbie on Mick. A nice shot to the face draws some blood from Foley and things open up more as he rubs the wire across his forehead. That only musters a 2 count though. Edge is clearly frustrated and he heads out to the floor to grab a bag of tacks. It comes back to bite him in the ass though as Foley sends Edge into the tacks with a belly to back suplex. Awesome! Nice shot shows the tacks in Edge's bare back with blood trickling. Foley breaks out Socko and to make things hardcore he wraps him with barbed wire. Both Edge and Lita get a taste of Socko and it draws blood from Lita's mouth. Nice, though I'm sure she's had worse things in her mouth. Speaking of Edge, he gets abused with the barbed wire ball bat and starts bleeding from the head. Foley remembers there is a table on the floor and grabs the bottle of lighter fluid. He soaks the table as the crowd starts to come alive. Lita returns and destroys Foley's balls with the barbed wire bat. She saturates the table more and sets the table on fire. Edge charges and hits a spear that sends both men flying off the apron and through the flaming table on the floor. Holy Fuck! Naturally that's enough for the pin at 14:37. The look on Edge's face after the match is tremendous.

- By Robert Leighty Jr.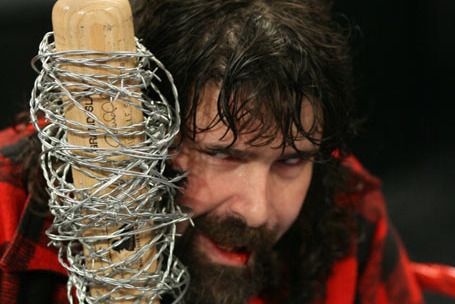 Jarrod Atkinson: This match is Mick Foley in his post "retirement" prime. Edge was fresh off his first Money In The Bank cash in against John Cena, and after losing the title back to Cena at the Royal Rumble, Edge lost the rematch against Cena that featured Foley as the special guest referee. Edge placed the blame of his loss on Foley, and decided to challenge him to a match at WrestleMania. This was a great spot for Edge because while he wasn't quite ready for the main event, this match was a high profile one that gave him a chance to shine and gave Foley the chance to have his defining WrestleMania moment. What followed in the weeks to come was some of the best promo videos to ever come out of the WWE that mocked Foley as a walking, talking muppet. When Edge took things too far with his actions, the dark side of Foley was awakened and we were reminded of how hardcore Mick can be with some great videos featuring the violence of Mrs. Foley's baby boy.

The match itself was a thing of beauty. With Joey Styles on play by play, the falls count anywhere hardcore match was underway. Foley comes out in black flannel to begin the match. Edge lit Foley up with some shots to the head with a cookie sheet that will make any concussion specialist cringe these days. The story of the match was that Edge was in control of Foley until he made the fatal mistake of attempting a spear, which Mick countered by opening his shirt to expose the barbed wire wrapped around his body. Edge started bleeding, and we were off to the races. In this match Edge was whipped with barb wire, took a Mr. Socko mandible claw wrapped with barbed wire, was hit with a Cactus clothesline over the top with Lita involved too, met the business end of Foley's bat Barbie, and foolishly decided to involve thumbtacks in the match. Oh, Adam. You done screwed up. One reversal of fortune later, Edge was on the wrong end of a back suplex into the tacks. Any other pay per view that would have been the climax of the match and we would be looking for a finisher and a pin. But no, this is WrestleMania, and there was a table set up outside the ring just waiting for some action. Earlier in the match Foley had been doused in lighter fluid and he decided to add some to the table outside, standing outside the ring on apron. Lita hit him in the crotch with Barbie and then lit the table on fire. As the crowd began to put two and two together, Edge hit a spear on Foley through the ropes onto the lit table. Joey Styles got in his trademark "OH MY GOD!" the crowd began the "holy shit" chant, and Edge crawled over to Foley to get the pin. Mick Foley had his WrestleMania moment, Edge proved he belonged in the main event, and just like that, one of the best matches in WrestleMania history was violently in the books.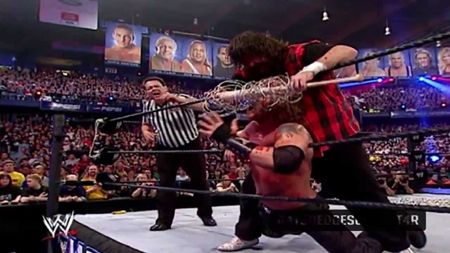 Jack Bramma: There was a time when fans didn't like Edge.

You Think You Know Me?, the WWE Edge documentary and identically-titled DVD/Blu-ray release, chronicles how in 2003-2004, after years of TLC matches and street fights, Edge's rough, spot-heavy, hardcore style had caught up with him after a particularly nasty No-DQ match with Eddie Guerrero. He was dejected, having worked so hard to finally earn a spot in the main event and just when he was gaining traction as a main event-level face, he was cut down by a spinal injury.

Having the same fusion surgery as Benoit and the same vignette build up, Edge was expecting the same hero's welcome that greeted Benoit for his similar year-in-the-making return. Unfortunately, the fans didn't see it that way. Returning to his hometown Toronto in 2004 as the IC champ, Edge was booed out of the building as the crowd was solidly behind Chris Jericho instead and even a still-midcard heel, enforcer Batista to a lesser extent.

Edge just lacked a certain… edge as a face and needed to find his mean streak and use his aggression and frustration to create a new character. An offshoot of Jericho's Conspiracy Victim WCW character but with less comedy and a maniacal bent, Edge was more violent, more angry, more desperate, and more pissed off. Though he flirted with the main event and title programs, it wasn't until the spring of 2005 that Edge won MITB and gained a heat magnet in Lita that really sent him rocketing up the card and gaining heat and overness with the crowd.

Edge would finally get his crowning achievement at New Year's Revolution 2006 cashing in on John Cena to win the WWE Championship. He had made it and the fans responded tuning in numbers that popped the highest rating in years for the Live Sex Celebration.

Unfortunately, some of those in power (coughHHHcough) didn't see it that way and had Edge drop the belt back to Cena three weeks later at the Royal Rumble.

It was perhaps the lowest moment of his career – getting the ball only to have it taken away before he could run with it; being robbed of his WrestleMania moment as WWE champion. Edge had a massive chip on his shoulder, but rather than pout, Edge used the negativity to fuel his fire and gain yet another dimension to his new character – the show stealer.

He turned to another guy that had similarly been dispatched and disposed of by the H's, Mick Foley. Just like he did at WM XXI in MITB, Edge set out to steal the show. All of this was old hat for Foley, having done the same with Triple H in 1997 and 2000, Randy Orton in 2005, and later that in 2006 would again with Ric Flair. But for Edge, this was yet another opportunity. Just like the No Mercy ladder match with the Hardyz, the Triple Ladder Match, the TLC, the singles feud with Kurt Angle, the matches with Eddie Guerrero, the return, the heel turn, MITB, Lita as his second, being the first to successfully cash in MITB, Edge would try and throw it all out there to gain everyone's respect, the fans and the talent.

15 minutes and a Spear through a flaming table with thumbtacks later, Edge and Foley had done it. They had stolen not just a show; they had stolen a WrestleMania. Later that year, Edge would go on to regain the WWE Championship and have a stellar run including a TLC match in the main event against John Cena in his hometown of Toronto where he was greeted as a conquering hero this time around.

Thereafter, Edge was a made man winning several world championships with several surprise returns, helping anchor Smackdown for years, retiring as a world champ, one of the only since Verne Gagne, and getting immediately inducted into the WWE HOF. But a small part of all of that was set in motion when Edge and Mick Foley tore down the house and several parts of the arena at WrestleMania 22.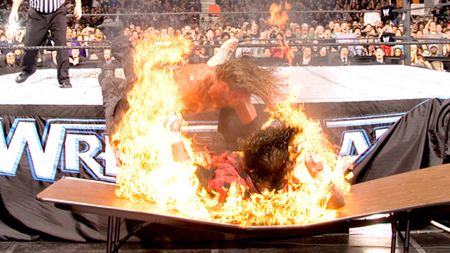 THE LIST AS IT STANDS


30. From WrestleMania 19 - Brock Lesnar vs. Kurt Angle
29. From WrestleMania 24 - Edge vs. Undertaker
28. From WrestleMania 23 - Money in the Bank
27. From WrestleMania 15 - Steve Austin vs. The Rock
26. From WrestleMania 20 - Eddie Guerrero vs. Kurt Angle
25. From WrestleMania 29 - The Undertaker vs. CM Punk
24. From WrestleMania 8 - Rowdy Roddy Piper vs. Bret Hart
23. From WrestleMania 18 - The Rock vs. Hulk Hogan
22. From WrestleMania 28 - The Undertaker vs. Triple H
21. From WrestleMania 8 - Ric Flair vs. Randy Savage
20. From WrestleMania 3 - Hulk Hogan vs. Andre the Giant
19. From WrestleMania 19 - Shawn Michaels vs. Chris Jericho

comments powered by