SPOTLIGHTS
411's Top 30 WrestleMania Matches of All Time: #4. The Undertaker vs. Shawn Michaels (WM 26)
Posted by Larry Csonka on 04.02.2014

411 continues its look at the top 30 matches in the history of WrestleMania with The Undertaker vs. Shawn Michaels from WrestleMania 26!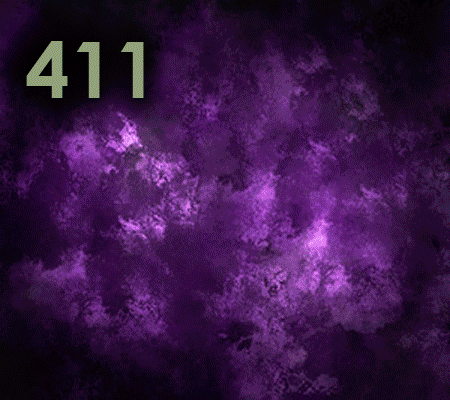 INTRODUCTION


Welcome back to 411Mania, and welcome to 411's official countdown to WrestleMania 30! Every year, the 411 staff comes together in some way to bring you, the fine readers of our site, a special countdown to WrestleMania. In past years we have done special countdown columns, ranking the shows, rating them overall, discussing special aspects of the big event, and even columns that have served as odes to the matches and moments that are etched into our minds.

To some fans, WrestleMania is the biggest show of the year, and the way that WWE has transformed the event into a near weeklong party; it may as well be a holiday to the fans that love our special brand of entertainment. Call it sport or call it a specially designed male soap opera, we love it and we love to talk about what makes things special. WrestleMania is an institution, and this year, as the WWE gets prepared to put on their 30th WrestleMania event, we decided to go big. Starting on March 7th, and running all the way to April 5th, 411 will present the top 30 matches in WrestleMania history.

Each writer on the 411 staff was given the opportunity to nominate 30 matches of their choosing. #1 on their list received 30 points, #2 received 29 points, and so on and so forth. Writers were asked to base their lists on both match quality and historical significance to create their nominations. The final list was created, and there was a ton of competition for the top spot. In fact, the voting was so tight that the top FOUR matches were separated by a mere 16-points.

Each day we will present a match from the list, which will include a full recap of the match from the 411 archives (from Scott Slimmer, JD Dunn, and Robert Leighty Jr.) as well as thoughts from the writers. Thank you for reading, and we hope that you enjoy our presentation…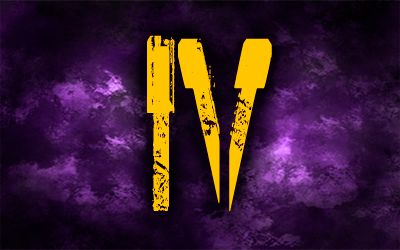 #4. From WrestleMania 26 - Career vs. Streak: The Undertaker vs. Shawn Michaels
For all his obsession, Shawn gets off to a horrible start, getting whipped into the buckle and Snake Eyesed. That sets up a big boot that sends Shawn spinning. Taker's knee buckles awkwardly, giving Shawn an opening to defend himself. He tries a Crippler Crossface, but Taker is too powerful and counters to a chokeslam. Shawn goes to the knee to counter. Repeat that idea a lot. Taker hits his guillotine legdrop on the outside, but Shawn recovers first and locks in the figure-four leglock. Taker reverses, though. They slug it out, which goes better for Shawn than you might think. Shawn hits the flying forearm and kips up… right into the chokeslam! ONE, TWO, THR-NO! It's funny to see Undertaker getting progressively more pissed off the more Shawn has success. Taker hauls him up for the Tombstone, but Shawn grabs his leg and reverses to the Ankle lock! He even goes all Angle with it and does the scissors. Taker kicks him straight in the face to counter. Yep. That'll work. To the floor, Shawn tries his Asai Moonsault, but Taker catches him… and TOMBSTONES HIM ON THE FLOOR! SNAKEKILLER PILEDRIVER! Taker convalesces as an EMT runs down to check on Shawn. Taker tosses the EMT aside and rolls Shawn back in. ONE, TWO, THR-NO! Taker picks Shawn up for the Last Ride, but his knee buckles and Shawn is able to counter to the facebuster for two. Shawn goes up for the flying elbow drop, but Taker gets his knees up. That hurts both guys. Taker drags him down into Hell's Gate. Shawn flips over into a jackknife roll, forcing Taker to relinquish the hold or be pinned. Shawn hits Sweet Chin Music out of nowhere! ONE, TWO, THRE-NO! Shawn tunes up the band for another, but Taker cuts him off and DESTROYS HIM with the Last Ride. ONE, TWO, THRE-NO! Sick landing on that one. Taker is *really* pissed now and tosses Shawn to the floor. He sets up for a Last Ride through the table, but Shawn slips out and superkicks him onto the table. That sets up Shawn's signature moonsault that puts Taker through the table (and hits his injured knee in the process). Back in, SWEET CHIN MUSIC! ONE, TWO, THRE-NO! Both men struggle to their feet. SWEET CHIN –NO! CHOKESLAM! Taker hauls him up and hits the Tombstone. ONE, TWO, THRE-NO! No one can believe it, especially the Undertaker. Taker pulls him to his knees and tells him to stay down in an uncharacteristically merciful moment for the Undertaker. Shawn gives him the throat-slash gesture and slaps him in the face, in effect committing career suicide and demanding Taker kill him (metaphorically speaking, of course). Taker yanks him up and delivers the jumping Tombstone for the win at 23:58. Rising to, and even exceeding the quality of last year's match. This had the added emotion of the stipulations and, as far as I could see, no significant botches or down stretches. This reminded me so much of those classic Mitsuharu Misawa vs. Toshiaki Kawada classics from the 1990s. The psychology, build and pacing were very All Japan while the characterizations were straight WWE. The best of both worlds, the perfect blend, and the results are nearly a perfect match.

- JD Dunn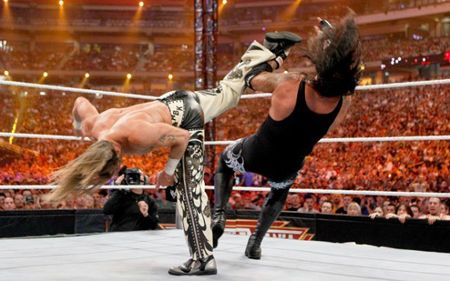 Jeremy Lambert: The last match of Shawn Michaels' historical career was definitely one of the most memorable. Michaels thrives at WrestleMania and at WrestleMania 26 against The Undertaker, he proved once again why he's the best in the business when the largest spotlight is on him. Playing off their epic first encounter at WrestleMania 25, Michaels and Undertaker took it up another level at WrestleMania 26. While some may say that it's not quite as good as their first match, I found it much better thanks in large part to the stipulations involved. Undertaker's streak appeared to be untouchable, but few believed that Michaels would actually end his career when it was clear that he still had a few good years left. The two went back and forth for 25 minutes, kicking out of near fall after near fall. Undertaker hit Michaels with everything he had including a Tombstone on the floor and a brutal looking Last Ride. After a chokeslam and another Tombstone, Michaels made his own grave with a throat slash and slap in the face and Taker put him down with one more Tombstone.

Everything about this match was perfect. The story, the psychology, and the work. Michaels and Undertaker have had dozens of matches together and it finally culminated with the perfect storm. Even though they were older, they knew how to work around their limitations and still suck the crowd in with their every move. And when the time came, they could still bust out a big move to add to the drama.

Perhaps the most amazing thing about this match though is the aftermath as Michaels as actually held to the stipulations and remained inactive in the ring. I think that says about Shawn's person perspective on the match, because if he felt it sucked, you can bet he would've wrestled another match.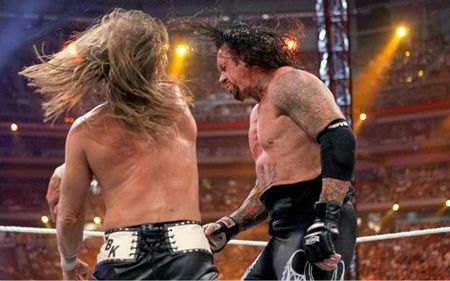 Greg DeMarco: This match is near and dear to my heart for two big reasons: it was the last match wrestled by arguably the greatest WrestleMania performer of all time—Shawn Michaels—against arguably the second greatest WrestleMania performer of all time—The Undertaker—and I was there live. For those reasons, I prefer this match out of their two 'Mania encounters. I can't be anything but biased here. But my write-up for this one will differ from any other writer's.

First, you have to understand some backstory to the weekend of WrestleMania 26...

The story begins in October 2009. Ring of Honor hit Phoenix for WrestleMania weekend, and I served as the local promoter. I coordinated the building, chairs, ring, guardrails, lighting, local advertising, local ticket sales—basically everything but talent and booking. Ring of Honor, specifically then Executive Vice President Syd Eick, was an amazing promotion to work with. Jerry Lynn shook hands with everyone as if he were a rookie. Tyler Black (now WWE' Shield member Seth Rollins) was the World Champion—yet he was treated like a rookie by the veteran talent! It was a great group of people.

But from Thursday to Saturday, we were working non-stop. Setting up the venue, running the shows (I was the one doing a crappy job with the spotlight!), and attending other events. I went to Dragon Gate USA's Saturday night show, plus 'Mania itself. By time Patrick O'Dowd and I took our seats for the "Granddaddy of Them All," we had put in a full week's worth of work.

WrestleMania 26, to me, will always be the show where 'Mania became something very different. It finally jumped the shark to being about the grandeur and spectacle. It was truly the "Showcase of the Immortals," and the company hasn't turned back since. The Money In The Bank Ladder Match was lackluster, Chris Jericho vs. Edge didn't deliver the expected classic, Rey Mysterio vs. then Straight Edge Society cult leader CM Punk was limited to 6-minutes, and John Cena vs. Batista wasn't appreciated by the crowd. There's a reason why only one match from this show made this list.

But when it came time for Shawn Michaels to put his career on the line against The Undertaker's Streak, we were all ready. Both men laid it all on the line for this match as if it were their last. And in reality, it was going to be someone's. Even though The Undertaker didn't put The Streak on the line, ending The Streak basically means ending The Undertaker. And ol' HBK couldn't do it.

When the last Tombstone Piledriver connected and the referee's hand slapped the mat three times, the inevitable had been confirmed as true. "The Heartbreak Kid" Shawn Michaels' saw his career come to a close. After a legendary career, "Mr. WrestleMania" was done. Even though we figured it would happen, we didn't believe it until it actually did. I got to attend RAW the following night and heard Shawn Michaels' retirement speech. It was the culmination of an amazing weekend. One I'll never forget for so many reasons—including the retirement of Shawn Michaels.

Shawn Michaels appears in 8 matches on this list, including six of the top ten. He truly defines what it means to be a WrestleMania performer, and the next man to top what Michaels did will be the first.

If it ever happens, that is...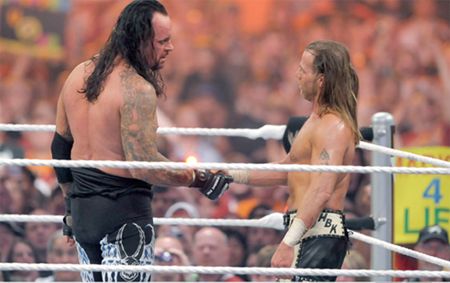 THE LIST AS IT STANDS


30. From WrestleMania 19 - Brock Lesnar vs. Kurt Angle
29. From WrestleMania 24 - Edge vs. Undertaker
28. From WrestleMania 23 - Money in the Bank
27. From WrestleMania 15 - Steve Austin vs. The Rock
26. From WrestleMania 20 - Eddie Guerrero vs. Kurt Angle
25. From WrestleMania 29 - The Undertaker vs. CM Punk
24. From WrestleMania 8 - Rowdy Roddy Piper vs. Bret Hart
23. From WrestleMania 18 - The Rock vs. Hulk Hogan
22. From WrestleMania 28 - The Undertaker vs. Triple H
21. From WrestleMania 8 - Ric Flair vs. Randy Savage

20. From WrestleMania 3 - Hulk Hogan vs. Andre the Giant
19. From WrestleMania 19 - Shawn Michaels vs. Chris Jericho
18. From WrestleMania 22 - Mick Foley vs. Edge
17. From WrestleMania 6 - Hulk Hogan vs. Ultimate Warrior
16. From WrestleMania 5 - Hulk Hogan vs. Randy Savage
15. From WrestleMania 7 - Randy Savage vs. Ultimate Warrior
14. From WrestleMania 2000 - Edge & Christian vs. The Dudley Boyz vs. The Hardy Boyz
13. From WrestleMania 24 - Ric Flair vs. Shawn Michaels
12. From WrestleMania 21 - Money in the Bank
11. From WrestleMania 17 - Edge & Christian vs. The Dudley Boyz vs. The Hardy Boyz

10. From WrestleMania 12 - Bret Hart vs. Shawn Michaels
9. From WrestleMania 20 - Triple H vs. Shawn Michaels vs. Chris Benoit
8. From WrestleMania 17 - Steve Austin vs. The Rock
7. From WrestleMania 10 - Bret Hart vs. Owen Hart
6. From WrestleMania 10 - Shawn Michaels vs. Razor Ramon
5. From WrestleMania 21 - Shawn Michaels vs. Kurt Angle

comments powered by