SPOTLIGHTS
411's Top 30 WrestleMania Matches of All Time: #9 - Triple H vs. Shawn Michaels vs. Chris Benoit (WM 20)
Posted by Larry Csonka on 03.28.2014

411 continues its look at the top 30 matches in the history of WrestleMania with Triple H vs. Shawn Michaels vs. Chris Benoit from WrestleMania 20!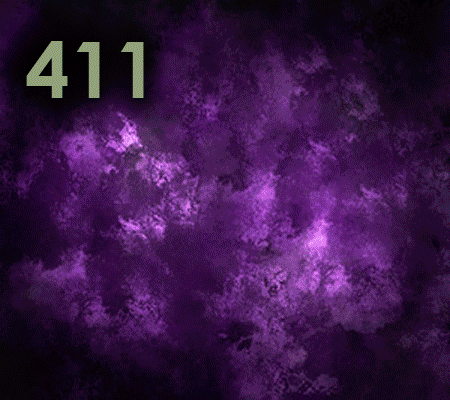 INTRODUCTION


Welcome back to 411Mania, and welcome to 411's official countdown to WrestleMania 30! Every year, the 411 staff comes together in some way to bring you, the fine readers of our site, a special countdown to WrestleMania. In past years we have done special countdown columns, ranking the shows, rating them overall, discussing special aspects of the big event, and even columns that have served as odes to the matches and moments that are etched into our minds.

To some fans, WrestleMania is the biggest show of the year, and the way that WWE has transformed the event into a near weeklong party, it may as well be a holiday to the fans that love our special brand of entertainment. Call it sport or call it a specially designed male soap opera, we love it and we love to talk about what makes things special. WrestleMania is an institution, and this year, as the WWE gets prepared to put on their 30th WrestleMania event, we decided to go big. Starting on March 7th, and running all the way to April 5th, 411 will present the top 30 matches in WrestleMania history.

Each writer on the 411 staff was given the opportunity to nominate 30 matches of their choosing. #1 on their list received 30 points, #2 received 29 points, and so on and so forth. Writers were asked to base their lists on both match quality and historical significance to create their nominations. The final list was created, and there was a ton of competition for the top spot. In fact, the voting was so tight that the top FOUR matches were separated by a mere 16-points.

Each day we will present a match from the list, which will include a full recap of the match from the 411 archives (from Scott Slimmer, JD Dunn, and Robert Leighty Jr.) as well as thoughts from the writers. Thank you for reading, and we hope that you enjoy our presentation…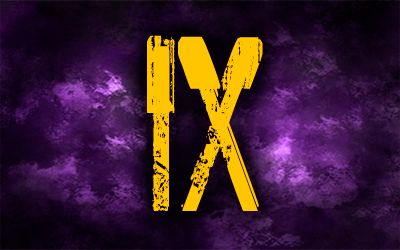 #9. From WrestleMania 20 - World Heavyweight Title, Triple Threat: Triple H vs. Shawn Michaels vs. Chris Benoit
Like all great Triple Threat matches it boils down to three singles matches (Benoit vs. Triple H, Triple H vs. HBK, HBK vs. Benoit). The New York crowd is firmly behind Benoit. He and HBK get into a fight over who gets the first crack at Triple H. Michaels rolls through the Crossface and tosses Benoit into Triple H, knocking Hunter to the outside. Benoit goes for the Crossface, but Michaels counters to a cradle for two. Benoit gets two off a Northern Lights, but HBK clotheslines him. Triple H returns and takes Michaels down with a knee. Michaels tosses Benoit and takes a high knee from Triple H. Triple H heads outside and slams Benoit's back into the apron. To make matters worse for Benoit, HBK delivers a sliding dropkick to his back. The HBK of old emerges as Shawn goes up and does a beautiful moonsault onto both guys. Shawn gets two once they get back in the ring. Triple H turns things around with a facebuster and goes for the Pedigree, but Benoit makes the save. Benoit takes Michaels temporarily out of the match by tossing him into the ringpost. Triple H throws Benoit into the turnbuckle and ties him in the tree-of-woe. Then, he wisely whips Michaels into a helpless Benoit and gets a two count on Michaels. He tries it again, but this time Michaels reverses the whip and Triple H runs into Benoit's boot. Michaels schoolboys him for two. Michaels hits his flying forearm and a kip up, but Benoit knocks him out of the ring with a clothesline. Benoit fires off a trio of Rolling Germans. Michaels crotches Benoit but misses Sweet Chin Music on Triple H. Hunter tosses him and superplexes Benoit for two. Crowd chants "LET'S GO BENOIT!" Benoit reverses the Pedigree to the Crippler Crossface, but Michaels makes the save. HBK delivers a German suplex. Benoit counters with THREE just to show him how it's done. The Diving Headbutt gets a series of two counts for Benoit. Michaels knocks Benoit to the outside and delivers an elbow drop to Triple H. SWEET CHIN MUSIC! ONE, TWO, THR--Benoit pulls Triple H out of the ring. Benoit whips Michaels into the corner, but can't get him in the Sharpshooter. He staggers HBK with a slingshot. CROSSFACE! Triple H prevents Michaels from tapping. Benoit goes for a German Suplex on the Spanish Announce Table, but Michaels and Helmsley suplex him through the Smackdown table instead. HO…LY…SHIT! Michaels, already bloodied from his battle with Benoit, calls Helmsley into the ring. They slug it out and Triple gets tossed over the top rope. He sends Triple H into the ringpost, and now Triple H is bleeding. Helmsley hits the Pedigree out of nowhere, but Benoit makes the save (also out of nowhere). All three men lie hapless in the ring. Triple H recovers first and goes for the Pedigree. BENOIT REVERSES TO THE SHARPSHOOTER! "Tap!" "Tap!" "Tap!" Michaels makes the huge save with an absolutely depraved superkick on Benoit! Michaels covers. ONE, TWO, THRE--NOOO!!! Crowd chants for Benoit again. Michaels tunes up the band, but Benoit backdrops him over the top. Triple H recovers behind Benoit's back. Helmsley goes for the Pedigree, but Benoit COUNTERS TO THE CROSSFACE! Crowd is rabid! Triple H makes one last desperate attempt to roll through it, but they just wind up in the middle of the ring. Triple H has no choice but to TAP at 24:46.

- By JD Dunn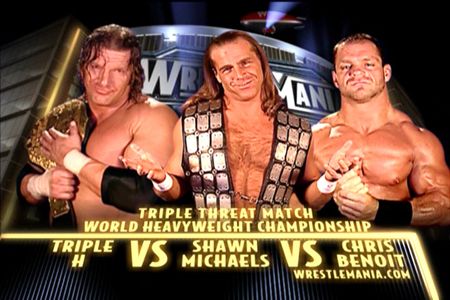 Scott Rutherford: The debate has been done. Sides have been chosen. You either will watch a Benoit match or you refuse to even mention his name.

There is no in between.

For those of us that can see past the inherent contradiction of not watching entertainment that involves a murderer and our head exploding in a fit of rage at those that do, we can still enjoy the legacy of Chris Benoit and this, his crown jewel moment in the wrestling ring.

Benoit had already walked away from a World Title once before and even after years of toil in the WWE it seemed unlikely he would wear top tier gold again. Out of nowhere Benoit was taped to go into the main event of WrestleMania 20 with HHH and Shawn Michaels…in New York….after perhaps one of the greatest Royal Rumble appearances…Benoit fans dared to dream.

While there is pall over this main event now (even the most staunch of us have to admit there is a taint to his matches) it shouldn't take away from the hard work that all three men put in and creating a superb match full of drama and violence. The crowd was at the end of a LONG night of nearly 5 hours of wrestling, but these three workers had them at a rabid fever. Being a bunch of smarky smarks, the New York crowd was ahead of the curve but even so, when Benoit made HHH tap and become champion…let's just say the pop was massive.

Even today I still have the image of Shawn Michaels, covered in blood, defiantly standing up and calling HHH out burned in my mind. I can still feel the butterflies of Benoit clinching in the Crippler Crossface and HHH and expecting Trips to power out at some stage only to tap out. Do I need to mention Eddie Guerrero?

It was a true emotional moment. It showed that title belts do mean something and wrestlers do covet the recognition it brings and the reward it gives to those that wear it.

While many will refuse to watch this match ever again, all I will say is that we all enjoy entertainment based on the real life murders and murders in this world. It will not harm anyone to go back and watch this match and enjoy three talented wrestling going out there and letting it all hang out.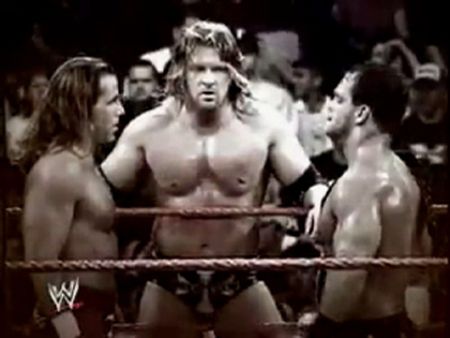 Mike Chin: As hard as it is to canonize Chris Benoit's work, it's difficult not to celebrate this match, the crowning moment of his career. Yes, this was long-time friends turned long-time rivals Triple H and Shawn Michaels squaring off in the main event of the biggest show of the year. All the more so, though, this was the story of Benoit--a small, unlikely wrestler who, in real-life had learned his trade through apprenticeships in Canada, Mexico, and Japan, survived the political chaos of WCW, and made his way to WWE--finally getting his shot at the most significant wrestling title in the world, at the biggest event of the year. In doing so, he would challenge the establishment—a pair of guys who, between the two of them, had dominated the WWF/E main event scene for nearly a decade.

The resulting match was epic. There were moments of Benoit and Michaels, as faces, working together to punish dastardly Triple H. More telling were the moments when Michaels and Triple H formed an unholy and uneasy alliance to take out the young upstart so they could settle their own issues uninterrupted.

In the most dramatic moment of the match, Michaels and Triple H collaboratively slam Benoit through a table outside the ring, seemingly incapacitating him for good. A bloodied Michaels rolls into the ring, stands at center stage, and points at Triple H to make one last challenge, one-on-one, with the title and the legacy of their rivalry on the line in the middle of Madison Square Garden.

Michaels and Helmesley got their brawl, but in the end, Benoit proved too tenacious to keep down, not only returning to action, but ultimately locking Triple H in his signature Crippler Crossface. Triple H—arguably the most established star of the day and the guy with the most political clout, tapped out clean, in that single motion making Benoit the new supreme player in WWE.

The aftermath of the match featured one of the greatest celebrations in wrestling history—a WrestleMania moment in and of itself. Confetti rained from the rafters. Eddie Guerrero, who won the WWF title one month earlier and retained it earlier that night snuck into the ring and embraced his long-time real-life and storyline best friend, Benoit. Finally, two of wrestling's last great traditionalists, and two most accomplished in-ring performers also held the two most important wrestling titles in the US. And WWE had, uncharacteristically, elected to venerate a pair of undersized, underdog workhorses, rather than a couple of muscle heads, in the finale to their twentieth annual big show.

Tragically, both Benoit and Guerrero would be dead inside four years, and thus this match has been largely erased the annals of WWE history. But those who lived the moment can't forget what it meant at the time, and that this match itself stands out as truly exceptional.









THE LIST AS IT STANDS


30. From WrestleMania 19 - Brock Lesnar vs. Kurt Angle
29. From WrestleMania 24 - Edge vs. Undertaker
28. From WrestleMania 23 - Money in the Bank
27. From WrestleMania 15 - Steve Austin vs. The Rock
26. From WrestleMania 20 - Eddie Guerrero vs. Kurt Angle
25. From WrestleMania 29 - The Undertaker vs. CM Punk
24. From WrestleMania 8 - Rowdy Roddy Piper vs. Bret Hart
23. From WrestleMania 18 - The Rock vs. Hulk Hogan
22. From WrestleMania 28 - The Undertaker vs. Triple H
21. From WrestleMania 8 - Ric Flair vs. Randy Savage
20. From WrestleMania 3 - Hulk Hogan vs. Andre the Giant
19. From WrestleMania 19 - Shawn Michaels vs. Chris Jericho
18. From WrestleMania 22 - Mick Foley vs. Edge
17. From WrestleMania 6 - Hulk Hogan vs. Ultimate Warrior
16. From WrestleMania 5 - Hulk Hogan vs. Randy Savage
15. From WrestleMania 7 - Randy Savage vs. Ultimate Warrior
14. From WrestleMania 2000 - Edge & Christian vs. The Dudley Boyz vs. The Hardy Boyz
13. From WrestleMania 24 - Ric Flair vs. Shawn Michaels
12. From WrestleMania 21 - Money in the Bank
11. From WrestleMania 17 - Edge & Christian vs. The Dudley Boyz vs. The Hardy Boyz
10. From WrestleMania 12 - Bret Hart vs. Shawn Michaels
comments powered by