SPOTLIGHTS
411 Wrestling Interview: Diamond Dallas Page
Posted by Terry Lewis on 03.06.2014

411's Terry Lewis sits down with wrestling legend Diamond Dallas Page for an exclusive interview! See what he has to say about his career, Jake Roberts and Scott Hall, CM Punk's WWE walkout, Daniel Bryan, DDP Yoga and more!

On the second night of his question and answer tour in the United Kingdom and Ireland, I was lucky to have the honor of sitting down with former WCW World Heavyweight Champion, WWE European Champion and yoga exercise guru Diamond Dallas Page for an hour. The man certainly has a lot to say about himself, the work he's done with Jake Roberts and Scott Hall, his yoga and aspects of wrestling today. I appreciate this is a long interview to read but this is Dallas at his most entertaining and poignant at times, so I didn't want to edit anything out. If anything, I asked him questions that I feel everyone wants to know the answers to about him and his current status. Please enjoy it for what it is, as I certainly had a kick-ass time interviewing him!

Please Note, as I wanted to keep Dallas' words as true as possible - AUTHOR NOTES PROFANITY

Before we start, thanks to Diamond Dallas Page for taking the time to speak to me. You can find out more about DDPYoga HERE.

If you're in the UK and Ireland, DDP is touring all over the countries until 10th February. All tour dates are HERE and some ticket info is HERE.

Also, you can follow me on Twitter @LewisOnLife.

Now it's time to feel the BANG!





First of all, I want to congratulate you on the honor of inducting Jake The Snake Roberts into this year's WWF Hall of Fame, but how is Jake doing currently with the recent news of his cancer?

It's a skin cancer, but he still doesn't know what kind it is. They took it out 4 or 5 days ago and it was a 5 hour operation. The doctors had to take layers off and they're waiting to see if they got all of it out. I spoke to Jake today and he said "I feel hungover." He will stir himself up so I want make sure it's not the wrong way. He's doing really good considering.

How did Jake break it to you that he wanted you to induct him into the Hall Of Fame?

We've been making a movie called The Resurrection Of Jake The Snake for 16 months and we don't want to give that away because the way it went down, it was awesome!

How is Resurrection coming along?

Really well. When we started it, it was about building Jake so he could retire or leave the wrestling business on his own terms. Obviously, that's not the way it went down with Beyond The Mat. Whatever negative things were happening in his life were times 10 and Barry Blaustein, the director, I don't think really thought about that when he put that all on film forever. The positive side is that it's all on film and do you know what makes a really, really great after-picture? A really shitty before. So Jake has been in a hole for many, many years and when I brought him to Wrestlemania 29, I wanted to take him to the Hall Of Fame ceremony and sit out in the crowd. He wasn't ready for that because Jake didn't burn bridges, he blew them the fuck up and for him to come back, he needed to be clean a year...

Sorry he's been clean a whole year?

No he's fallen a couple of times but clean from drugs. I was amazed he didn't take pills. Scott Hall was going to be given pills by the doctor after an operation and that's how you get pulled back in. You feel like it's part of you, you need it and then you're fucked. For Jake, the journey he's been on, you'll see in the movie. We're not going to put everything in but the editors working on it are like "Holy Shit!"

So, is the Hall Of Fame Ceremony now going to be the final part of the movie?

How do you top that? You can't. It's like a match - when you get that spot and you hit that big finish, you get the fuck out. Alot of guys keep going and then they can't follow that - Save it for the end. People are asking me "oh so when do you think it'll be finished?" and I'm like "it's done when Jake gets in the HOF." That was so pivotal to him and to me. That's as big or bigger than being world champion. When you're given that honor by Vince McMahon, who controls it all... Triple H helped too... but he had to see it was real. Vince is very good at that. He likes to say "let's give that person another chance." All that being said with the journey Jake's been on, I can see that being the ending and there's some stuff Jake is working on now that will be part of the polish.

I know the ceremony is a month away but have you thought about the speech yet? Do you feel under more pressure in writing for this compared to say a friend's best man speech?

I've written a bunch of stuff down - Umm, I'll probably write, study and work but I'll probably just go out there and make it up and speak from the heart! That's where I'm at my best. When Bam Bam Bigelow died, who I'd known since he was 17, me and my brother went to the funeral. All these big biker guys are crying their eyes out in Asbury Park. I wasn't expected to talk as I'm there with Bam's buddies and want to let those cats do the talking, but his brother Toddy goes "D! D! Come help us please, we're dying!" I look at my brother and go "what the fuck am I going to say?"

He said "just do what you do dude, shoot from the heart. That's where you're at your best." I went up there and I don't know what I said but however I said it, it broke the ice and everyone started laughing their ass off. You lose someone like Bam Bam and he's THE GUY in Asbury Park. He was worshipped. It felt good to get everyone to laugh and loosen up because noone wants to - I'd want noone crying (at my funeral). I want everyone to go party, eat some good food and drink their ass off and have a good time. It's all about the good shit, not the bad. I've had a good run - hell I've led three people's lives. Good lives!

Speaking of Bam Bam, the Jersey Triad days...

Oh God! If they ever went with that... if they given that ANY kind of push, we would have taken over segments of TV. Booking... they control it y'know, it's a work. We could all work, we looked good together, we could have been the next Freebirds. Noone was better than Buddy, Michael and Terry. It would have been awesome. I knew Bam Bam since he was a kid and I saw him one night flicking the channels and holy shit he made it! Next thing you know he's in WWF and another babyface to Hulk Hogan in they heyday of the 80's man... then he went to Japan and became a huge star and he knew how much I wanted to do this but it didn't work out for me at 22...

This was the knee injury which stopped you getting into wrestling early on sorry?

Yeah. Well, I got hit by a car when I was a kid. I was 12 and went flying 40-odd feet. I was told no more sports for you! Later on, I was enhancement talent in Canada in a tag match and I was being beat on, then I was let go. This was the 70's; it was still scripted but not really scripted. They said, let's see what you got and I got thrown over the top rope...

So how did you get back into wrestling?

The next thing I know, I was running nightclubs. It was the booze, the broads and the partying - that was my other dream. One of the reasons I wanted to become a wrestler was to make a shitload of money so I could own my own bar. Then I was 22 and I was running my own place. 24, running a hugemongus place! I was living my dream there but watching wrestling in the 80's blow up... I was pissed off because I didn't pay my dues. I'm looking at Piper, at Hogan, and said I should have been there. I noticed Jesse The Body Ventura one day and thought he was so cool. A badass who could cut a promo but he was just a colour commentator. Then I saw Jake, and I was like "that's a real motherfucker!" He pulled me back in.

Okay but how did you break into wrestling again?

Jake came to my club at Fort Myers. It's halfway between Miami and Tampa. He kept coming back with guys like The Bushwhackers and Ted Dibiasie. At that point, I thought I'm too old to be a wrestler, but I'm not too old to be a manager. That's where the whole Diamond Dallas Page thing came from. I made up a video tape, sent it to the AWA (American Wrestling Association) and in 2 weeks they called me. It was like a fairytale. They said they wanted me and my wrestlers to come in, but they were gimmick wrestlers! They weren't real!

How did you get into WCW?

Me and Jake bonded everytime he came to my club from then. I finally left AWA and went to WCW as a manager for Scott Hall where he was a character I came up with called The Diamond Studd. A few months later they said you're getting over Scott with the Diamond Dolls and being on the outside and we need to see if he can get over on his own. I had 7 months left on my contract, 35 and I said: "I'm going to become a wrestler." And they laughed.

I imagine since you got into the business so late, did you feel you were in a weird position where you are respected by your peers to a point because you'd been around awhile and you're being eyed up by some of the younger talent training at same time as you?

Well it was everybody. Noone believed in me. I was the first one to ice my body and look after it to hold back the hands of time. (points to self) That's where all this comes from. Necessity. Healing my own body. That's why I did it and also to stay in the ring. I was the first one to do muscle therapy, chiropractory, whatever it took.

When did you next hook back up with Jake? He did some training with you didn't he?

When Jake came into WCW, I went from knowing him from my club to being in the ring with him! Me, him and Kevin Nash started riding together but Jake didn't get on with Bill Watts and I tore my rotator cuff on my shoulder and we were both let go. Jake started calling to check in on me and we started building the next stage of our relationship. He eventually moved in after he split with his wife and he starts mentoring me. My shoulder gets better and Jake helps me get independent dates. Jake was a wild man and I was not his equal. He was THE MAN and I was the jabroni, way too old guy coming up the ladder but he saw something in me when noone else did. Dusty Rhodes saw it. One of the Assassins, Jodi Hamilton, he run the Power Plant, he saw it. Hulk Hogan saw it, later on. That's what did it.

I don't think I can leave Jake without giving thanks to you on behalf of all the wrestling fans from 411mania and across the world for getting him and Scott Hall back on the right track after all these years. But I'm curious, what's a usual day like at your 'Accountability Crib'?

There's good days and there's bad days. Most of them are good though. Considering the egos of the three of us, not that I have an ego!... There's no one habit that goes off. In the beginning, it was trying to get these guys - not trying they didn't have a choice - they had to eat real food. I showed them videos of Arthur Boorman (a disabled army veteran who managed to recover his ability to walk and run again, thanks to DDP Yoga) and they're not as fucked up as he is. When they see that, then it gives a different level of "okay, what did he do?" After two weeks of eating real food, not processed shit, your weight starts dropping. Your brain gets semi-defogged. You start feeling better. You don't wanna work out and do a thing until you mentally feel better as what you put in your body effects you mentally, not just physically.

Once I got them off of that, Jake dropped about 40-50 pounds by the time Scott came in. It wasn't even the weight, it was the life in his eyes. Scott came in a wheelchair... haha, he sent me a text recently saying "You changed my life. Love ya bro. My after pictures are coming brother!" Scott's going on this journey. I never pushed him for anything, except for the first pictures - I want them. I say when they see you next to you, before and after, and they'll go "What the Fuck?!" Jake did the same stuff too.

Awesome, what do you contribute it all to?

The attitude at the Accountability Crib when they were living there was filled with positive energy. Everyone who works there has really good energy and that was very helpful to those cats. We got all their DDP Yoga workouts filmed. Scott's were all private until like 3 weeks ago but the thing is with Scott he's got two heart fibulators so he couldn't just drop a tonne of weight. So he'd watch guys come in and out and pick up from there. So overall, there's not one thing that pops in my brain, it's a million different things that happened.

Where do you see the future for those two heading?

For Jake, him going into the Hall Of Fame, personally, I know he's getting a custom-made snakeskin vest tuxedo with lapels. It's like a $3000 outfit but it's the one he's going into the Hall Of Fame in. He's never really thought like that though. He's all about the now, instant. What I helped him do is I got him thinking about...the future. Where are you going to this week? This month? This year? 5 years from now? Where are you going to be 10 years from now? Jake and I have talked serious about when he gets more control and more time in and goes and gets all the classes he needs, Jake is thinking about starting his own rehab centre.

Really? Jake The Snake starting his own rehab centre?

Really. It starts as a thought. Then it becomes a dream. Then you make it a goal which you write down and then it starts to become real. When Jake first started wrestling, he sucked for the first couple of years the way he tells stories because he was so tight and he wouldn't let himself go. When he got to that third or fourth year, you started to see the man that became Jake "The Snake" Roberts. It's like me going out to talk on my current tour, I don't know what I'm gunna say. I know I've got some stories that will fit into whatever people talk about. I have no idea where I'm gunna start off. It's like Jake, when he's gunna have a match or cut a promo, he may have a couple ideas rolling through his head but then he just let it be.

Let's talk about DDP Yoga. It's something I always hear whenever you're mentioned nowdays. But what is it exactly? Is there a philosophy behind it?

Well for me, I'm a guy who wouldn't be caught dead doing yoga the first 42 years of my life. But my career didn't take off until I was 40. So 41, 42 I was rated #4 in the world according to Pro Wrestling Illustrated. Then I blow my back out and all of a sudden - POOF! - that injury takes everything away. What would you do to get it back? So DDP Yoga, it wasn't like "hmmm, I might wrestle less then I'll do a yoga program. I'm not going to do it for yogies. I'm going to do it for people who wouldn't be caught doing yoga." That wasn't gunna happen.

What happened was, it took awhile for Kimberley (DDP's ex-wife) to talk me into doing trying yoga. Cause I can imagine guys going "Yoga?!" and I go "I get that dude... that was me." So I developed a yoga for you. I made it for originally the guy and for the woman later who wouldn't be caught dead doing yoga. Now think about that. I could have sold out and do the whole "I'm a state" thing but I put my whole energy and attitude into yoga and it fucking killed. I wanted to be true to myself like I'm true to myself in every character I ever played. Even the Stalker angle with the Undertaker, I decided I'm going to go all the way out. It's not a good character for me and it wasn't a good role choice for me, just like certain actors. If I could go back in time I would change it. Positive side is, I learnt alot from making that mistake and it's helped me in my whole DDP Yoga. It's doing business like I can't even explain to you, like I've made millions of dollars more with DDP Yoga that I ever did in wrestling. This isn't about the money to me. This is about changing lives. After the news about my back, I got depressed just like everybody else. I can stay depressed but I thought "Fuck that! I'm gunna figure this out." I start doing that yoga and I was like "Man this shit fucking works!"

I wasn't into the whole spiritual mumbo jumbo. Not that there's anything wrong with that, it just wasn't for me. So I got rid of it and I got rid of reaching your arms to the heavens so the universe smiles back at you and I replaced it with dynamic resistance. Here, try this...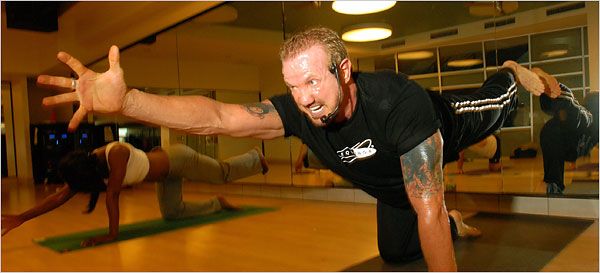 Dallas and I go through a small exercise, whilst both sitting down. After outstretching and pushing out my arms in god knows how long, we make the Diamond Cutter hand gesture. I could feel my muscles down my arm working hard for the first time in awhile. After stretching out the fingers on my hands wide open, DDP tells me how my traps and deltas are engaged. I'm told to raise my arms up not breaking the hold, then down to a T-sign, before clentching my fists together before rolling my arms into a Hulk Hogan-esque pose. Then we go "Shouldersback!Chestoutmuthafucker!" I start to feel a sweat going on!

It's about isokinetics. You're pushing at something that's not there but you're standing still and not moving anything. You're pushing a car uphill but it's not moving but you don't wanna stop pushing because you don't wanna go back down! So all muscles are engaged. Everytime you flex or engage a muscle, your heart has to beat faster to get the blood to the muscle. So what happens with DDP Yoga, it becomes a kick-ass, cardiovascular work out that will dramatically increase your flexibility and strengthen your core like never before with minimal joint impact. So that's what makes it different from ANYTHING.

Once I started to do that, and it took time, I figured all this out. But in less than 3 months in what would become DDP Yoga, I was back in the ring. At 42, they said my career was over. At 43, I was the freaking world champion! So I'm gunna keep doing that, if anything for me cause why would I stop? Arthur Boorman I feature alot because I want to show people where he is. This is really for everybody. I got DDP Yoga for kids. I got a 79 year old guy that could kick anyone's ass out there tonight when it comes to working out.

Of course, you're here on your question and answer tour in the UK & Ireland. What makes your show unique?

I think it's up to the fans. To me, I'm not up there just telling wrestling stories. I'm telling stories about life. If you're really listening to what I'm saying, you'll know that life is just 10% of what happens to you and the other 90 is reacting to it. It's also not about who you know or who knows you. Life's about whose willing to say they know you. Whose about to put their fucking name on the line for you. Every story I have has some sort of instant of my career. But then, I've got so many different, amazing stories I could talk for 48 hours and I'll have everyone on the edge of their seats. I'm just gunna let the people dictate which way it goes on my show.

What are your thoughts on the Daniel Bryan situation right now in WWE?

Going through '93, '94, '95, I just wanted to take off so bad. I was ready... hmmm, not really. '96, I watch back and I was on fire too... But '97... I was ready. When wrestling blew up, I was right in the middle of it and I worked so hard to get there.

It's like Bryan now. We start talking about that moment with him on top of the cage, and the hero shot of him doing the "Yes!" and how amazing it was. Everyone seems to think that he needs it now, now, now! Hmmm, maybe it's better when it really does happen and you can't hold them down anymore. Y'know the greatest thing about the WWE is, if they see you really want something, and they're not ready to give it to you, they're gunna hold it back. And hold them back. And hold them back. And it keeps coming until they give it to you on a whole different level. Everybody wants what they can't have so Daniel is in a helluva spot. He couldn't be in a better spot. So I'm really happy for him. I was with Steven Regal 5 or 6 years ago and he told me "D, I want you to meet Daniel Bryan. Gunna be a big star in the business" and he called it before anybody. You go back and look at him & C.M. Punk's matches in the indys. Fucking awesome, you knew right then they were gunna be stars.

Do you think WWE is putting Punk in a position which fans don't really want to see?

I think Punk needs a bit of a rest right now - a well deserved rest. Kid works his ass off out there. Everytime I go backstage, he's got his body iced up. I think if he's supposed to come back, he will and make an impact. If he doesn't, he'll still make an impact when he comes back. He ain't done.

You think it's inevitable then - C.M. Punk coming back?

I hope so, for the wrestling fans. He is one of those guys that have saved his money. There's another lesson. John Laurinaitis has been one of my friends since 1988. He said "it's not about how much money you make; it's about how much money you save." You take these three things we've been talking about. I'm not just here to make you laugh. I can make you laugh, I might make you cry, but if those moments are there, I'm gunna tell them.

You'll forgive me for asking one personal question. I've always wanted to know, back in Mick Foley's first autobiography Have A Nice Day, he recalls the road story of you, him and Stone Cold Steve Austin sharing a room and he puts the cookie crumbs in your bed. Did you ever get your own back on him?

Did I ever get him back? Haha! Y'know... it's not over yet! There's something me and Foley might be doing this summer, which will be really interesting. It will be life changing, especially for him. And if he puts in all the work I know he has the ability to do, then it will not only change his life, but so many others.

Can you imagine all those who were inspired by Arthur Boorman's story? Millions who have no hope. They see their life as a dead end job, they hate what they do and they just pull themselves down with emotional gravity, when life is all about not doing that. You want to live the dream and you do what you can do to live the dream. The dream is to find something that you love to do and figure out how to make money from it.


Thanks again to Diamond Dallas Page for taking the time to speak to me. You can find out more about DDPYoga HERE.

If you're in the UK and Ireland, DDP is touring all over the countries until 10th February. All tour dates are HERE and some ticket info is HERE.

Special thanks goes to Chris Brooker for helping out with organising the interview.

Also, you can follow me on Twitter @LewisOnLife.
comments powered by