SPOTLIGHTS
Wrestling's 4Rs 3.07.14: WWE Monday Night Raw & NXT Arrival Reviewed
Posted by Larry Csonka on 03.07.2014

Daniel Bryan battled Batista in the main event, The Usos challenged for the tag team titles and more! Wrestling's 4Rs breaks down the Right, the wRong & the Ridiculous of WWE Raw & NXT Arrival!


How the 4Rs of wRestling Work!
Here is a quick explanation of the 4R's. The column will run TWO times a week. We will group our feelings on the shows in various categories: The Right, the wRong and the Ridiculous. The Right is stuff that worked very well: a great promo, a great match and so on. PuRgatoRy is a section between the right and wrong. It shows equal traits from both sides that cannot be ignored and need discussed. It is not a bad place per say, as things can get remedied or go the wrong way the very next week. The wRong is what it sounds like: bad matches, bad or boring promos and so on. The Ridiculous is stuff that had no right on TV: Stupid angles and so on. And there is always a possibility of a 5th R, which is as bad as they come. This column is supposed to be analytical, and at the right time very critical of the shows, it was the whole reason it was created. This is not a "mark" column, nor a "smark" column, our goal is to analyze the show from many different fronts, reward the good and call out the bad. We will not apologize for our opinions, they are as they are, whether positive or negative.
---
Yes please.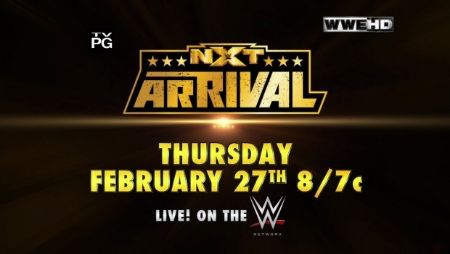 WWE NXT Arrival 2.27.14
Cesaro defeated Sami Zayn @ 23:00 via pin [****½]

Mojo Rawley defeated CJ Parker @ 3:00 via pin[*]

NXT Tag Team Title Open Challenge Match: The Ascension © defeated Too Cool @ 7:00 via pin [*½]

NXT Women's Title Match: Paige © defeated Emma @ 13:00 via submission [***]

Xavier Woods vs. Tyler Breeze went to a no contest

NXT Title Madder Match: Adrian Neville defeated Champion Bo Dallas @ 16:00 [***½]



The Tirade



The NXT Look & Feel: One of the stars of this show was the NXT environment. WWE has done a very good job of making the NXT Arena look like a big time venue, while keeping the intimate feeling of an independent event. The building looks great, and the production values were very good, making it easy on the eyes and adding to the event and not taking away from it. They have also done a great job of making their fan base feel like they are important and part of the event. The crowd came across as engaged and into the product at a die-hard level, which added to the show.


Commentary: William Regal, Byron Saxton and Tom Phillips did a tremendous job on the call for the Arrival show. They were not concerned with "buzzwords" or fake arguing and laughing, they were focused on the product that they were assigned to call. And here is the best part; they called these matches like a WRESTLING MATCH. They called wrestling moves, the discussed the past of the competitors, and still managed to tell a story while doing so. Yes, that is possible, even if Vince McMahon and his creative team stooges disagree. As far as WWE commentary goes, they were a breath of fresh air and just did an absolutely tremendous job. All too often WWE commentary takes away and o hurts the WWE product. This was only here to add to the in ring product, which is what it was supposed to do. My only minor complaint is that Byron Saxton and Tom Phillips sound way too much alike. It's similar to the UFC team of Florian and Anik; they blend together way too much in sound and it sounds like a guy talking without taking a breath at times, or simply a guy having a conversation with himself.


Neville vs. Dallas: Adrian Neville defeated Champion Bo Dallas to win the NXT Title in the show's main event ladder match. It's still odd to see PAC in the WWE environment. He is obviously talented, but I never thought he would get the chance o to his size. He has a great look and great in ring skills, but is really short. But he's gotten the chance, and is doing well. Bo Dallas, well, I am not really a fan. His character work has gotten way better as they lucked into this whole Bo-Liever gimmick, but as far as in the ring, he does nothing for me. They had a quality main event, nothing spectacular, and worked a fun, but safe ladder match. Neville got the win and got to celebrate to close the show like his win mattered. I always hated when that gets cut short. They made this feel like it meant something to him, the fans and the company. It was going to be damn near impossible to live up too or surpass the opener, but they did a fine job to close the show.


Emma vs. Paige: Emma vs. Paige can be easily summed up like this, everything that they did here was everything they SHOULD be doing with the main WWE product and the women's division. They had the video packages, which if you had never watched a minute of NXT, explained who both women are and whey they are fighting. Paige is the anti-diva, proving that she can make it as that while carrying on her family's legacy. Emma is looked at as the stereotypical diva and a bit silly, but wanting to prove that she is a serious competitor. They got time, they told a story, they worked hard, and the crowd cared about them because they have been treated as serious wrestlers and not silly women. The match was good, better than 99% of the stuff that the main roster ladies are doing. Stephanie McMahon is right, the future of the diva's division looks good, if they are booked like this and allowed the chance to succeed.






Zayn vs. Cesaro: The best part of the NXT Arrival show was the opening match, which is a legit MOTY candidate at this time in the year. On the Independents I was huge fans of these guys, and still am. Cesaro is in the ZONE right now; great matches with Orton and Cena on WWE TV and a tremendous performance in the Elimination Chamber match. And now we can add this match to that. The work was always going to be good, the crowd was hot, they kept a very good pace and it was just a match that pulled you in and made you enjoy it. The story was that Zayn was obsessed with winning to earn Cesaro's respect. Cesaro kept punishing the resilient Zayn, who kept coming back time and time again; making the people believe that he could win. He lost a hard fought, emotional and just great match. In the end, Zayn got what he wanted when Cesaro picked him up and hugged him. NXT fans treat Zayn like a star, and if you were new to NXT and this man, you saw a star making performance. Why? Because this was the perfect example of it not mattering IF you lost the match, but instead it was all about HOW you lost the match. Cesaro is the big dog and remained so, but was taken to the limit by a man that the people got behind believed in, and want to see succeed.






Other Stuff: Mojo Rawley vs. CJ Parker was a fine cool down match. Too Cool appearing is also fine with me. Having veteran workers (especially Scotty) working with your developmental tag teams will always be a good thing and was a fine surprise for the show. Xavier Woods vs. Tyler Breeze with the Rusev run in was what it was, another way to keep Rusev in the minds of people until he finally debuts on the main roster. This stuff while nothing special, was generally fine and didn't really hurt or help the show, it was there.


Overall: While I may not be as in love with this show as other, (I got a lot of BEST SHOW IN YEARS emails) outside of a few stream issues, WWE couldn't have asked for more from the show. You had a slickly produced show with a legit MOTC candidate, a solid title change a reason to believe in women's wrestling within the WWE Universe and a very good crowd. There was a lot to love. It's not in the league of say, Canadian Stampede, but it was a very good show, and the best WWE major show of the year so far.

Final Score: 8.0

As a reminder, I will be going by the 411 scale…

0 - 0.9: Torture
1 - 1.9: Extremely Horrendous
2 - 2.9: Very Bad
3 - 3.9: Bad
4 - 4.9: Poor
5 - 5.9: Not So Good
6 - 6.9: Average
7 - 7.9: Good
8 - 8.9:Very Good
9 - 9.9: Amazing
10: Virtually Perfect

As a reminder, this is not a basic "how good was the show" number like a TV show, as I have always felt that a PPV is very different from a regular show. I have always judged PPV on how they built to a match, the match quality, crowd reactions to matches and angles, the overall booking, how the PPV leads into the future, PPV price and so on and so forth. I have added this in here for an explanation since so many have asked, and I have previously discussed it on podcasts. I understand that this may seem different, but that is how I grade. Obviously your criteria may be different.

By: Jack Stevenson
Raw 3.03.14:
QUICK MATCH RESULTS:
The Usos d. The New Age Outlaws to become the new WWE Tag Team Champions
Big E. d. Cesaro

The Wyatt Family d. The Shield

Santino Marella & Emma d. Fandango & Summer Rae

Sheamus d. Christian

The Bella Twins d. Aksana & Alicia Fox

Dolph Ziggler d. Alberto Del Rio

Big E d. Jack Swagger

Daniel Bryan and Batista I think went to a no contest



THE RIGHT:
Paul Heyman drops a pipe bomb: Paul Heyman had a very delicate job to do in opening Raw, needing to deliver a compelling promo that acknowledged the crowd's CM Punk fetish, while not letting it derail his attempts to further the Brock Lesnar-Undertaker story. He managed it sublimely of course because he's Paul fucking Heyman and he's fucking fucking ace. He addressed Punk, weaved his saga neatly into Lesnar's, and distracted the crowd from masturbating long enough for them to get fairly into the Beast's demolition of Mark Henry. It was a strong and self-assured open to the show, and my only gripe with it is that there's still mileage in Henry spouting gibberish and splitting wigs. Turning him into Brock's personal punching, kicking, F5-ing, arm snapping bag is a waste of potential momentum.

The Shield vs. The Wyatt Family: I'll need to rewatch this again because I was so against the match at the start, I thought it was a totally unnecessary rematch that could only tarnish the magic of their Elimination Chamber war, a desperate, self-defeating bid for acceptance from Chicago. Slowly the raw talent of all six got me into it a little, and then when Seth Rollins walked out, I simultaneously fell in love and lost my mind. That's the best plot twist I think WWE have come up with in fucking years. I think nearly everyone expected either Reigns and Ambrose to splinter first, especially with Ambrose teasing it last week with his late safe of his stable, but Rollins being the first guy to quit was both completely unexpected and yet makes total sense. He's sick of trying to keep two huge egos on the same page, he's done a good job of hiding his frustration, but he couldn't any longer. So Rollins left, and then the match went berserk and so did I. Seriously, it had been an impressive but fairly standard tag match up to this point and then suddenly Reigns and Ambrose were fighting for their lives. Ambrose in particular was just hurling himself at everyone and firing off punches like he'd taken industrial amounts of some sinister South American powder. God he's good. So is Reigns. Bray Wyatt as well. His taunting of Seth Rollins after the victory was a perfect character moment. Both these stables are perfect. The Shield are one of the best stables in wrestling history. It looks like the Wyatts can join them. Pro wrestling is the best.

Sheamus vs. Christian: OK, I will always prefer a rowdy and dumb crowd to a silent and smart one, but make no mistake, this was a rowdy but dumb one, and this was maybe the strongest proof of it on the show. Sheamus and Christian are having a decent feud. It's a feud that started in the ring, is continuing in the ring, and will finish in the ring. It is based on mutual dislike created by events that happened in the ring, featuring good wrestlers with sensible characters. It continued in fine fashion on Raw with a match that was lengthy and entertaining. This is everything that the sort of people that still think Ring of Honor is a relevant promotion profess to want from WWE, and I guess they had representatives in great numbers among the most vocal members of the Chicago crowd. They turned on this for the sake of it, because they think they're more worthy of attention than the wrestlers, and they're wrong and they're silly. I feel bad for Sheamus and Christian, because this was pretty good, and not worthy of "THIS IS AWFUL!" and "END THIS MATCH!" chants. But hey, I've mostly ignored their efforts in favor of talking about the crowd for a whole paragraph, so I guess we know who the real winners are!

B+ vs. H++: OK, I love Daniel Bryan, I think he's the best North American pro wrestler since Bret Hart and he's the WWE superstar I'd most like to be my friend, unless we're talking friend with benefits, in which case Cody Rhodes all the way. The elephant in the room with him, though, is that every week he confronts Triple H and Stephanie McMahon on the microphone, and every week they outclass him with their promos. Stephanie's tirade about how everything in WWE belongs to the McMahons was superb, and HHH is the perfect combination of patronizing, smug, and intimidating. The storylines involving them haven't been great since September and how much blame they deserve for that is up for debate, but at the very least their promos have been consistently good, while Bryan's have been a little uncertain. That aside, I thought this was the best way the Bryan-HHH match could have progressed in a CM Punk free world. Their in ring confrontation midway through the show was nice and heated, and the main event angle made Bryan look as credible as he has done in a while as he took out everyone, kicked Triple H in the face (which Hunter sold brilliantly) and eventually fell valiantly and in a manner that makes the Bryan-Hunter match seem more vital than it has done previously. They also deserve credit (though perhaps not as much as Paul Heyman does) for genuinely convincing me and I'd imagine many others that Punk was coming back, I was convinced he was going to make the save as the Authority swarmed Bryan, and it was the only way they could possibly have kept the "CM Punk!" chants at a tolerable level for the majority of the show. This was effective and entertaining. Oh, and Bryan-Batista was fine but insubstantial.


puRgatoRy:
NNNNNEEEEEEEEEWWWWW WWE TAG TEAM CHAMPIONSHIP: HAHAHA, FUCK OFF NEW AGE OUTLAWS! To their credit this week Road Dogg figured out that bad guys shouldn't let the crowd join in their catchphrases pre match, but the match was still bad, and that's certainly not the fault of one of WWE's most exciting and bold teams. That's the reason this is in Purgatory, because otherwise this was a hugely progressive segment. The Usos are deserving new champions and hopefully can help get the tag division back on track. Usos vs. Brotherhood at WrestleMania would be a nice opener. Cause for optimism!

Big E vs. Cesaro/Big E vs. Swagger: Not much of a match in the first instance, not much of anything in the second, but the Cesaro-Swagger split trundles on and has occurred fairly neatly and organically. Still crossing my fingers for Sheamus vs. Cesaro at WrestleMania though.

Dolph Ziggler vs. Alberto Del Rio: Aaron Paul is a bit annoying really but he's got about nine trillion years of goodwill for Jesse Pinkman and all. Dolph Ziggler is a bit annoying really but he's got about nine months of goodwill for his spectacular bumps and all. They're a good fit for one another. If not for Paul this was nothing, but his appearance was unique enough to make it at least OK. I wish they could find something serious for Del Rio to do though.

Cena Brays at Wyatt: This feud is OK but it has kind of come out of nowhere and isn't really reaching its potential. I was reasonably entertained by this exchange but I don't remember much about it which kind of sums up this whole feud. Their match at WrestleMania could be seriously good though. Like, maybe best match on the show good.


THE WRONG:
Santino Maremma vs. Summer Raedango: The premise for this feud is "Hey! Both these couples sure are dumb! But which are better at wrestling in a slightly silly way? Let's not find out conclusively over several weeks!" Rich and compelling.

The Bella Teins vs. Aksana & Alicia Fox: All these wrestlers are of no value.


THE RIDICULOUS:
The Need for Speed Discussion Group: This wasn't in the version of Raw I saw for some reason, and I've not seen a clip online, so can someone in the comments section confirm that this exchange, or something like it, genuinely happened:

ONE OF THE BELLAS: "Wow, Need for Speed looks like the bees knees!"

NATALYA (Laughing): "Hey, one of the Bellas, I know you've got a Need for Speed!"

(Everyone dissolves into hysterics)

ONE OF THE BELLAS: "Oh, shut up Natalya!"

Because if so I think that's probably the greatest exchange in the history of television. Who wrote that? Who penned the line "I know you've got a Need for Speed!" and thought "yes, this is the sort of things humans say in conversation." Wow.


THE RAW MATCH OF THE YEAR LIST:
We've got a new entry at number 2! Also it's the first week of March and already that list is strong as fuck. I called Ring of Honor irrelevant earlier and that's because with less than a quarter of a year gone there have already been about five matches on Raw alone that will be better than anything they put on this year.



2.17.14- John Cena vs. Cesaro


3.03.14- The Shield vs. The Wyatt Family

2.03.14- Daniel Bryan vs. Randy Orton


2.10.14- Sheamus & Christian vs. The Real Americans


1.27.14- John Cena, Sheamus & Daniel Bryan vs. The Shield


1.13.14- CM Punk & The New Age Outlaws vs. The Shield


1.20.14- Rey Mysterio vs. Alberto Del Rio


2.03.14- The Shield vs. Kofi Kingston, Rey Mysterio & Big E. Langston


2.10.14- Rey Mysterio & The Brotherhood vs. The Wyatt Family


1.06.14- The Usos & Rey Mysterio vs. The Wyatt Family


The 411:


This was a strange old show, and a hard to rate one too. There was a lot of good, little bad, but you're never going to have the most satisfying show in the world when you are forced to build it around someone who isn't there and probably won't be for the foreseeable future at least. Still, the Shield-Wyatts was superb, as was Heyman's promo, so there is plenty to enjoy.

Show Rating: 7.0

As a reminder, I will be going by the 411 scale…

0 - 0.9: Torture
1 - 1.9: Extremely Horrendous
2 - 2.9: Very Bad
3 - 3.9: Bad
4 - 4.9: Poor
5 - 5.9: Not So Good
6 - 6.9: Average
7 - 7.9: Good
8 - 8.9:Very Good
9 - 9.9: Amazing
10: Virtually Perfect

The 867th edition is over…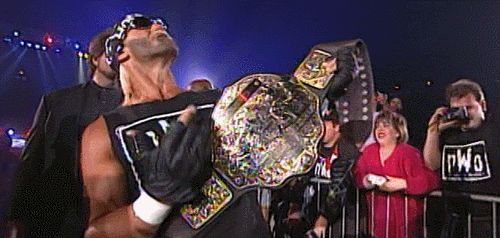 Air guitar brother!

Have you checked out the Csonka Podcasting Network? If you haven't, you should We run anywhere from 15-20 shows a month, discussing pro wrestling, the world of MMA, the NBA, general sports, popular TV series of the past, bad movies, battle rap, interviews, MMA & Wrestling conference calls and more! Around 10 different personalities take part in the various shows, which all have a different feel; so you'll likely find something you like. All of the broadcasts are free, so go ahead and give a show a try and share the link with your friends on the Twitter Machine and other social media outlets! Running since May of 2011, there are currently over 500 shows in the archive for you to listen to.



Your heart is free. Have the courage to follow it…TO CSONKA'S TWITTER!

http://www.twitter.com/411wrestling
http://www.twitter.com/411moviestv
http://www.twitter.com/411music
http://www.twitter.com/411games
http://www.twitter.com/411mma
comments powered by