SPOTLIGHTS
The 411 Wrestling Top 5 4.09.14: Week 259 – The Top 5 Short-Lived Tag Teams
Posted by Larry Csonka on 04.09.2014

From the Two Man Power Trip, The Can-Am Connection and Power and Glory to the Hollywood Blondes, the Heavenly Bodies and more, the 411 staff breaks down the top 5 short-lived tag teams!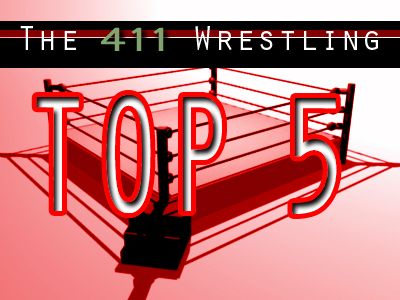 Hello everyone and welcome to 411 Wrestling's Top 5 List. We take a topic each week and all the writers here on 411 wrestling will have the ability to give us their Top 5 on said topic, plus up to three honorable mentions.

So, onto this week's topic…



The Top 5 Short Lived Tag Teams




Today we look at the tag teams that we felt should have had a longer run, like the Ding Dongs…




Dino Zucconi
5. Edge and Chris Jericho - They were put together on a whim at The Bash 2009, and immediately won the straps from The Colons (in a triple threat that also had the Legacy in there). However, before things could ever get truly underway, Edge got injured. I know, all you hilarious Edge haters must have been shocked by that. So yeah, he got hurt. I still think this team would have been amazing with a proper run, and the success of JeriShow (a weaker team in my opinion) only proves it.

4. The Masters of the Powerbomb - It's Sid and Vader. And they were only formed to take on Sting and Davey Boy Smith, with no other goals. No chasing the tag titles, no feuding with other face teams; just one big match, hampered by ridiculous WCW skits. This team should have dominated WCW until it went out of business.

3. 2 Man Power Trip - Steve Austin and Triple H formed such a fun team. They started off assaulting the Rock, and even attacking Lita and the Hardyz. Maybe their first real feud wasn't so hot (Kane and Undertaker), but man, once they got through that and feuded with Benoit and Jericho, things were great! The Great Quad Injury of 2001 brought this team to an end after only a few months, but what a crazy time it was to have the two baddest dudes beating the crap out of everyone else.

2. Big Show and Undertaker - Another team I thought should dominate the WWF landscape for years to come, this team was instead used as transitional champions to get the belts from Kane and XPac over to the Rock and Sock Connection. Sure, injuries to Undertaker derailed this team (weird how injuries do that), but the idea of Taker and Show forming a team was something that seemed like a really good idea before Show was even in the WWF. To have it happen, and then have it disappear in a matter of weeks... devastating.

1. Hulk Hogan and Edge - It was a short-lived team, but boy did they ever make it count. Combining Hogan's greatness with Edge's future legendariousness, this team put their powers together and toppled the unstoppable train of Billy and Chuck on the July 4 episode of Smackdown. Though their reign would only last a few weeks (as they were defeated by the UnAmericans at Vengeance), this is a team of unbelievable superstars, with the added bonus of Edge being a gigantic Hulkamaniac. We all lived vicariously through Edge that night. We being Hulkamaniacs, of course.





---



Michael Weyer
5. The Masters of the Powerbomb I'm with Dino on this one. Vader and Sid, two of the biggest monsters of the time, two guys who look like they could kick your ass without even trying, paired together? Hell, they even had the perfect name, could have been put over as a powerhouse pair to run mayhem across WCW. Instead, they get wasted in one tag match with one of the most infamously horrible vignettes ever created and the plans for them to go at it with each other were ruined by Sid's off-screen antics. Way to blow a perfect pairing there.

4. Ricky Steamboat and Dustin Rhodes Still one of the greatest moments in WCW was at Clash of the Champions XVII when the Enforcers were to defend the tag titles against Dustin Rhodes and Barry Windham but Windham was injured and needed a replacement. Out came a guy in a goofy lizard costume, who revealed himself to be Ricky Steamboat. He and Dustin would win the belts in a great match, holding them for a couple of months. I think it would have been good to have them continue teaming after that, the veteran Steamboat giving Dustin the rub and helping him out (much as Steamboat would later do with Shane Douglas) as they were a good match in the ring together and provided WCW with some much-needed spark for the tag rankings.

3. The Phenomonangels As a massive mark for both AJ Styles and Christopher Daniels, seeing them team together in 2006 was a great thing. After so long feuding, the two knew how to work together and used that well with their feud with AMW, finally winning the tag titles to a massive pop. They then elevated LAX in their wild feud, trading the belts back and forth before splitting up before the year ended. There'd be a few reunions now and then and I know both were more interested in their singles careers but still would have been great to see them continue as two of TNA's top stars who would have guided the tag division to new heights of glory (still sorry we never got to see them really battling it out with Beer Money).

2. Chris Jericho and Chris Benoit Yeah, that's right, I'm putting Benoit on a list. They were the classic case of two guys going "why fight when we can team?" The two Canadian stars were well matched together, both technical experts with hard-hitting, high-flying styles and used them well in their reign as tag champs, including a fantastic four-way TLC match against the Hardyz, Dudleyz and Edge & Christian. Benoit's injury in 2001 did cut it short and would have been nice to see that reteaming when he returned as together, these two were a great pair that always elevated the game of whoever they faced.

1. The Hollywood Blondes I did an entire spotlight on how WCW dropped the ball so massively with these two. Put together with no real plans, Steve Austin and Brian Pillman gelled wonderfully as a brilliant heel team, getting fantastic matches against Ricky Steamboat and Shane Douglas and over huge with crowds with their heel mannerisms and such. They were fantastic as tag team champions but it was cut short thanks to the idiocy of 1993 WCW as they were really hitting their stride when the stupid decision to break them up was made. They were great but could have been so much more had they been given far more of a chance and ruled for longer as tag team champs fans loved to hate.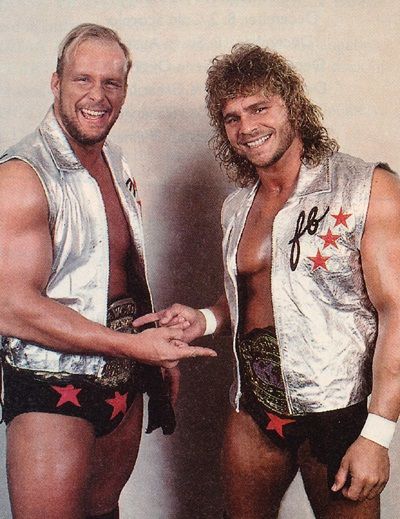 ---



Obi Justice
5. MNM - These guys were one of my highlight teams in the mid-2000s, a period when I wasn't watching overmuch. Even to this day I think this was the best act that all three were ever involved in, and making them a long-standing, dominant tag team in WWE wouldn't have gone amiss.

4. Hart Dynasty - More than any other team, these guys should have been together for a long, long time. I'm not even sure what the logic behind breaking them up was. Neither Harry nor Tyson got used too much after, which is a shame seeing as Harry got some great notoriety in Japan and Tyson's stock only rose among those who were following him on NXT. The Hart name got their foot in the door but I think they excited the crowd in the ring, and they would have only gotten better as time went on.

3. C&C Wrestle Factory - This is more a missed opportunity than anything else. C&C were not my favorite team and I think that was probably the reason they never got the belts: everybody liked them, but they were always people's second- or third-favorite team. A lot of that has to do with them never being booked into angles properly and never seeming likely to win the big one. Still, they were definitely good enough to carry it and Caprice is one of my favorite talkers, so I'm disappointed we never got to see a title reign from them.

2. Dark City Fight Club - If I had to guess, I'd say DCFC left ROH because Adam Pearce left ROH. Both coming from the NWA remnant, it seems likely that it was Pearce who brought them in. Even so, I think they got over with the crowd and should have hung around after he left. They had some great matches against the Wolves and the Briscoes, and that power-bruiser style of team is one ROH has missed for a long while.

1. Motor City Machine Guns - On the surface, this may sound weird. After all, MCMGs were together even before their TNA debut in 2007 and lasted until 2012. Beer Money and the Guns were the two most popular tag acts in TNA for a huge part of their career. But in comparison to Beer Money's four reigns, the MCMGs had a whopping one. While Beer Money were seen as dominant, MCMGs were always plucky underdogs. So yeah, in time they might not be short-lived, but their potential, ability, and popularity were far and away more than the things they were able to accomplish. Maybe if they'd stuck it out a bit more, they'd have got their due. Probably not, though.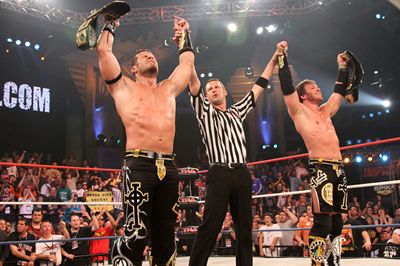 ---



MIKE HAMMERLOCK
5. Brian Kendrick (Spanky) & James Gibson (Jamie Noble) - They only fought together four times , which is a crying shame. They never won a single match, but Spanky's highflying style should have been a perfect complement to Gibson's ground game. Gibson never won a tag title of any kind. He only wrestled in three tag title matches his entire career: an ROH title match with Spanky, a Russofied tag title battle royale match in WCW and a title match in New Japan with some guy called the American Dragon. He just never settled in with the right partner. Spanky won tag titles everywhere, most notably with Paul London in WWE. Given some time and a push Spanky and Gibson could have gelled into a contender.

4. Stevie Richards and Val Venis - During the Right to Censor run these two only teamed up as a duo a handful times, twice to face a tag team featuring Chyna. For the most part, RTC served its purpose. It was a heel faction that fans really liked to boo and it could work in seemingly endless combinations of multi-human matches. Bull Buchanan and the Goodfather actually won the tag belts while in RTC, but Val and Stevie had more talent. However, RTC got lost in the shuffle when the Invasion angle hit. In fact, you could argue the Invasion angle hit RTC harder than any other group of wrestlers on the previous WWF roster.

Stevie, because of his ECW heritage, joined with Heyman. Val disappeared for seven months. It's too bad because the simplest and best use for them would have been as a tag team. It wouldn't have mattered what gimmick you picked. Between the two of them, they've worked roughly 2,371 gimmicks. They are two of the most prolific gimmick hoppers in the business. They could have sided with anyone during the Invasion (Heyman's side really needed a good tag team) or no one or played double agents. These two would have been great as opportunists taking advantage of the chaos. They could have been outrageous, envelope-pushing faces or the most ruthless heels. If there's two guys whom the E could have milked a lot more out of as the Attitude era shifted over to Ruthless Aggression, it's Val and Stevie.

3. Power and Glory - It probably feels like Paul Roma and Hercules were together for a long time, but the reality is their partnership lasted just about one year. They had a spectacular finisher, the Powerplex, which is probably why they're remembered as well as they are. Their career highlight reel consisted of a win over the Rockers, a decent performance at Survivor Series (where they hit the Powerplex on Shawn Michaels) and getting squashed by L.O.D. at WrestleMania VII. Everything else was them tearing through jobber teams. They never fought for a title and they barely faced any contenders. The team split when Roma left the WWF to try his hand at boxing, then he went to WCW. Too bad, because the Powerplex was a true mark out move. They should have ridden that thing through years of pay-per-views and multiple WWF tag titles.

2. Stars 'n' Stripes - Back when the Global Wrestling Federation was kicking around, the Patriot and the Handsome Stranger were two of their hot talents. The Patriot had a seemingly foolproof gimmick, basically he was Captain America. Didn't hurt that the guy was chiseled out of granite too. The Handsome Stranger was another masked wrestler, but when he went to WCW he took off the mask and used his real name, Marcus Alexander Bagwell. When the Patriot showed up in WCW, he and Bagwell formed a team, which instantly became the top contenders for the tag title. They feuded with Pretty Wonderful (Paul Orndorff and Paul Roma), twice winning the belts in late 1994 and holding them for 50 days total. Granted, it was a little hokey to be the All-American team in the mid-90s, but they had it nailed. Then ... fizzle.

As he did everywhere else he went, the Patriot (Del Wilkes) either wore out his welcome or blew it. How he wasn't at least an Ultimate Warrior/Lex Luger-level star remains one of the great mysteries of the era. Bagwell kicked around the WCW mid-card for the rest of its existence and then washed out with the WWF. Now he's fodder for endless Fred Garvin, male prostitute jokes. You've got to figure Wilkes and Bagwell would have achieved bigger and better things had Stars 'n' Stripes stuck together.

1. The Can-Am Connection - Rick Martel and Tom Zenk came into the WWF in late 1986 as the new "it" boys in the tag division. They had the right look and they were pretty good at wrestling too. Martel previously had been a two-time WWF tag champ with Tony Garea and AWA World Heavyweight champ, so he was a fairly big deal. Zenk had the muscles and mullet to match him. A rocket ride to the top seemed assured. They plowed through Orton & Muraco (notably at WrestleMania III), the Dream Team, Demolition, the Killer Bees, Mr. Wonderful & King Kong Bundy, and Sheik & Volkoff. They were damn near undefeated, with their only losses coming to the Hart Foundation in the finals of a tag tournament and the Islanders.

Basically, they were right on the cusp of taking over the WWF tag division when they split, supposedly over a contract issue where Martel was making gobs more than Zenk (which, by all rights, he probably should have been). Martel has insisted Zenk flaked out. Either way, Zenk walked, Tito Santana got called in as his mullet substitute, the team changed its name to Strike Force and two months later it beat the Hart Foundation for the WWF tag title. Strike Force had a decent little run, but Can-Am was poised to be something bigger. Martel and Zenk could have become the WWE's signature team for that era.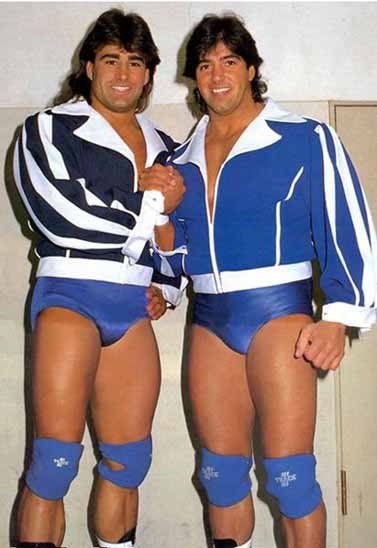 ---



JUSTIN WATRY
5. Cody Rhodes and Drew McIntyre - Forget your dashing tips. Throw away being a part of any kind of band. WWE has two great young guys on the roster in Cody and Drew. IC Titles? Nah. No thanks. In the ever so amazing stacked tag team division, put them there! Sure. Makes sense to me. Clearly, fans were going to gush all over that idea. Hey, make them champs too...only for a short time though. We do not want them gaining momentum. It is not like they are the future of the business or anything! They should have been together for years and years. Hey, have a 2014 reunion in a few months!

4. The Spirit Squad - Feud with Ric Flair and Roddy Piper. Lose to DX in multiple 5 on 2 handicap matches. Get embarrassed week in and week out. Normally, this works as a comedy duo. WWE fans love to laugh, at least I do. Everything does not have to be serious 100 percent of the time. Only problem? Spirit Squad were carrying around those pesky little title belts. Remember those? Since they had television time and spats with big name players, why were they shipped off to OVW so soon? Keep them on Raw for another couple months. They would have made a great addition to the record breaking WrestleMania 23 card. It is not like the tag champs did anything at Mania in 2007 anyways...

3. ShowGunn - Definitely could have been a legendary tag team. Legendary. Pulled the plug too soon on this gem.

2. Jesse and Festus - Biscuits and gravy...biscuits and graaaaavy! I never understood why WWE did not keep these two together. The gimmick was logical, thought provoking, and had tons of cross over appeal. With two solid workers in the ring and a great theme music on top of that, Smackdown had a quality FRESH (new) tag team to build around. John Morrison and The Miz? Meh. MVP and Matt Hardy entertaining every week? Yawn! The Colons? Come on! WWE had some biscuits and gravy ready to be served up to their audience and did nothing. Luke Gallows and Slam Master J need to get back together ASAP! So much potential there.

1. CM Punk and Mason Ryan - If only CM Punk and Mason Ryan has stuck it out another few months. No CM Punk WWE Title match at Money in the Bank 2011. No disappearance of the NEW Nexus. No pipe bomb promo. No worked shoots every week. No main event run for Punk. No huge championship reign lasting well over a year. All could have been different if he just stayed with Mason Ryan. It had the perfect ingredients of a legitimate pair. One man was technically gifted, had a long history of great matches all over the world, could deliver a wonderful promo night in and night, had a great WWE future ahead and was well respected by fans. The other man was CM Punk.


---



Ryan Byers
5. The Re-Enforcers - I'm going realllly obscure on this one, but this was a tag team act that I never thought got the break that they deserved. Mike Sanders and "Angry" Allen Funk were a couple of young wrestlers fresh out of the Power Plant, and they got periodic matches on WCW Saturday Night and Worldwide in 1999 and 2000, during the period where those two shows were almost in a separate continuity from what was happening on Nitro and Thunder. In a handful of those matches, they teamed up and actually got some mic time, a rarity for the WCW c-shows. Those promos were great, as Mike dubbed himself "Above Average" for the first time and the duo delusionally referred to themselves as being better than the Four Horsemen and dubbed themselves the Re-Enforcers, a reference to Arn Anderson's old tag team with Larry Zbyszko. Their matches were decent for their level of experience, but the gimmick and the promos were damn fun and could've gotten over if they weren't confined to inconsequential shows and then split up after less than a year.

4. Bradshaw & TAKA Michinoku - This was another "blink and you miss it" tag team, but Bradshaw and TAKA Michinoku were paired up ever so briefly in 1998 as part of TAKA's rivalry against his former Kaientai partners Dick Togo, MEN's Teioh and Sho Funaki. The two put on a pretty fun undercard match with Kaientai at the original, non-lethal Over the Edge pay per view and also worked together on some television leading into and coming out of that event. They even got a borderline racist vignette or two of Bradshaw teaching Michinoku about "American culture," which I recall involved a lot of him wearing cowboy hats and smoking cigars as though he was a twelve year old boy. There were probably also some jokes about him not driving well. I'm not listing this pair because of the vignettes, though. I'm listing them because of the matches. I've always been a sucker for tag teams that consist of one large powerhouse and one small high flyer and, even though they came from completely different backgrounds, these two had that dynamic DOWN. Unfortunately, they didn't stick around beyond that relatively brief feud with Kaientai.

3. Los Fabulosos - Yes, believe it or not, we're going back to 2000 WCW for another entry. The year overall sucked for the company, but there were a couple of entertaining things going on in the midcard, and one of those things was Los Fabulosos. El Dandy and Silver King were supremely talented Mexican wrestlers who were essentially turned in to jobbers for WCW, a role they held for years. Yet, for some reason, in 2000 somebody in WCW decided that they needed to give Dandy and King matching Power Ranger-esque body suits, a team name, and, in a really off-the-wall move, MISS HANCOCK (now known as Stacy Keibler) as their valet. The two were always great in the ring and were finally starting to get a push to go along with their talent, in addition to the odd gimmick of essentially being the Mexican version of Stan Lane & Steve Keirn's Fabulous Ones. Unfortunately, they were broken up and fired before they could even really get their first legitimate feud with another team, let alone a title run.

2. Cactus Jack & Maxx Payne - In the early 1990s, there was a change in style in mainstream professional wrestling. Hardcore wrestling, originally popular in the Southern territories and eventually exported to Japan, was starting to bubble up and surface in the national promotions of the United States. One of the earliest examples of this came in the feud between the Nasty Boys and Cactus Jack & Maxx Payne in WCW. These two teams had some AWESOME brawls, and, even though the Nasties held up their end of the bargain, it was apparent that Payne and Cactus were the more innovative and athletic of the two teams. Unfortunately, as entertaining as the matches may have been, there was some underlying real-life tension in them, as Payne did not get along particularly well with the Nasty Boys, and miscommunication with them lead to some real life injuries and ultimately to Payne leaving the company to become Man Mountain Rock in the WWF. Foley and Payne were thereby separated, and they would unfortunately never reunite, as Payne/Rock was gone from the Fed due to some "personal demons" before Cactus would arrive there.

1. The Heavenly Bodies - If you count the entirety of their time together, technically the Heavenly Bodies weren't all that short-lived. However, in this particular instance, I'm referring to the short-lived nature of their run in mainstream promotions. Though Stan Lane was originally a member, the most well-remembered Bodies combination was Dr. Tom Prichard and "Gigolo" Jimmy Del Ray, who were the top heel act in Smoky Mountain Wrestling for some time and therefore popped up in the World Wrestling Federation during the early and mid 1990s WWF/SMW talent exchange. They had some AWESOME matches with the Steiner brothers and some surprisingly good matches with the Smoking Gunns and an aging Rock n' Roll Express. Even though the WWF tag team division at the time was fairly weak, they still weren't made the focus of the weak division. Had they come along in a different era or had a promoter with a different mentality about tag team wrestling been in charge of the big leagues during their peak, they could've done something really special in their primes.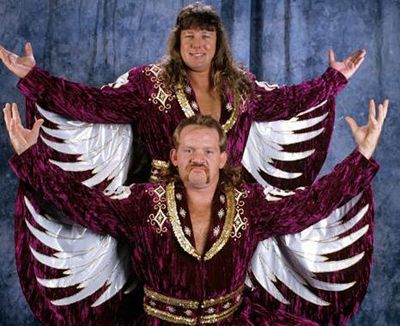 ---
YOUR TURN KNOW IT ALLS

List your Top Five for this week's topic in the comment section using the following format:

5. CHOICE: Explanation
4. CHOICE: Explanation
3. CHOICE: Explanation
2. CHOICE: Explanation
1. CHOICE: Explanation
Your heart is free. Have the courage to follow it…TO CSONKA'S TWITTER!

http://www.twitter.com/411wrestling
http://www.twitter.com/411moviestv
http://www.twitter.com/411music
http://www.twitter.com/411games
http://www.twitter.com/411mma

Have you checked out the Csonka Podcasting Network? If you haven't, you should We run anywhere from 15-20 shows a month, discussing pro wrestling, the world of MMA, the NBA, general sports, popular TV series of the past, bad movies, battle rap, interviews, MMA & Wrestling conference calls and more! Around 10 different personalities take part in the various shows, which all have a different feel; so you'll likely find something you like. All of the broadcasts are free, so go ahead and give a show a try and share the link with your friends on the Twitter Machine and other social media outlets! Running since May of 2011, there are currently over 500 shows in the archive for you to listen to.



Larry Csonka is a Pisces and enjoys rolling at jiu jitsu class with Hotty McBrownbelt, cooking, long walks on the beach, Slingo and the occasional trip to Jack in the Box. He is married to a soulless ginger and has two beautiful daughters who are thankfully not soulless gingers; and is legally allowed to marry people in 35 states. He has been a wrestling fan since 1982 and has been writing for 411 since May 24th, 2004; contributing over 3,000 columns, TV reports and video reviews to the site.
comments powered by