SPOTLIGHTS
The Wrestling News Experience: 03.10.14
Posted by Stephen Randle on 03.10.2014

In this Experience, we've got Lockdown results, a preview for tonight's Raw, how the Internet bothers Triple H, and where you may see WWE on TV in the near future!

Monday March 10th, 2014

From 411Mania's Canadian offices in Waterloo, Ontario, Canada, this is The Wrestling News Experience, with Stephen Randle!



Sounds Like Something a 3 Would Write

Good morning, everyone, and welcome to the Experience. I am Stephen Randle, and in the last week, I've been decribed as "useless" and "consistency making up for lack of talent", which, you know, seems a little harsh. And not even true, because I missed a week last month, and sometimes I just don't do 4PC and claim that "there's no news". Anyway, also in the last week, somebody used the words "I love this column", so overall, I'm calling it a win.

And the Blue Jays may have signed Ervin Santana by now in order to give me just enough hope to get through another season, or at least they'd better have, if they know what's good for 'em.

Moving on.




Hey, did you know there was a TNA PPV last night? No? That's okay, you're probably not alone. Also, now that you can get WWE PPVs for ten bucks a month on the Network, will anyone, anywhere, who isn't reviewing the PPV for a wrestling website, spend whatever amount TNA is asking for on their four PPVs a year? Given that so many people watched NXT a couple weeks back that TNA's TV rating was unchartable, I'm going to guess...no.

Anyway, here's the results, with the show itself airing soon on WWE Network...once the company goes under and Vince buys the tape library for a song.

Larry did the live coverage because he's tired of feeling joy in his life, and of course, every match at Lockdown was inside a SOLID STEEL CAGE!

The Great Muta, Sanada, and Yasu defeated Bad Influence and Chris Sabin (Sanada pinned Daniels, moonsault)

Samuel Shaw defeated Ken Anderson by escaping the cage

Bobby Lashley vs Ethan Carter III was a No Contest when Carter refused the match

So, after advertising an Angle-Carter match that had a slim chance of happening due to Angle's surgery and general discontent with how he's been handled lately, they not only cancelled that match, but then had Carter issue an open challenge...and didn't have that match either? They do know they only have four shows that people actually pay money for, and this is (theoretically) one of them, right?

Tigre Uno defeated Manik (pinfall, Phoenix Splash)

Hey, remember back when TNA would bring in WWE castoffs and put them over all their homegrown talent because they had a massive inferiority complex about their own promotion and thought the only way to seem "big league" was to do stuff like that? I don't know why that came to mind right now.

Gunner defeated James Storm in a Last Man Standing Match

Madison Rayne defeated Gail Kim to retain the TNA Knockouts Title (pinfall, Spear)

Magnus defeated Samoa Joe to retain the TNA World Title (submission, rear naked choke)

Oh, and Abyss/Joseph Park ran in and turned on Joe for some reason. Yep.

Team MVP defeated Team Dixie in Lethal Lockdown. MVP now controls TNA

Dare we dream that this means the end of Dixie as an on-air character? Oh, and Bully Ray was the secret special guest referee, ostensibly on Team Dixie, so of course he turned to give MVP the victory. I assume that was the whole thing behind his cryptic Punk-related Tweet last week. Don't know what I'm talking about? It's probably better that way.




Last week, The Authority delivered their most emphatic message of anti-Bryan propaganda to date, as a combination of Randy Orton, Batista, Kane, and the COO himself, Triple H, left Bryan in a heap in the middle of the ring, leaving no doubt as to Triple H's opinion on the emerging Superstar, no matter what the fans might think. With the dissembling out of the way, only one question remains: will Triple H accept a match with Daniel Bryan for WrestleMania or not?

Meanwhile, fans watched in agony as The Shield, long the strongest three-man unit in professional wrestling, continued to splinter, perhaps beyond repair, as a disenfranchised Seth Rollins, tired of playing peacemaker, abandoned his compatriots to defeat against the dangerous Wyatt Family. Could this be the end of one of WWE's most dominant factions? And speaking of the Wyatts, it appears that they are now fully focused on just one man: John Cena. Will Cena be able to survive his encounter with the mysterious clan, or will the buzzards circle once more?

Plus, we have new tag team champions, and The Usos will certainly want some challengers, what with WrestleMania coming up and all. However, some potential challengers, in the form of the Real Americans, might be in no shape to take on a united team at this point, as internal strife seems to have Cesaro and Swagger very nearly at each others throats. Will the team solve their problems and become a force in the tag ranks again, or will Zeb Colter be unable to contain the coming explosion?

All this, and Hulk Hogan has a big announcement, tonight on Raw!




- Congratulations to Stacy Kiebler, who apparently got married over the weekend. And extra congratulations to her new husband, who is apparently just as good as George Clooney!

- WWE is reportedly hiring social media positions, because the level of burnout in people who have to explain to Vince exactly how social media works is extremely high.

- Speaking of which, allegedly there is concern backstage that Triple H lets the Internet get to him, which could be a problem when he takes over from Vince, who doesn't understand the Internet enough to care what it has to say. If this rumour is true, then frankly, the only thing to say now is Triple H, you're ugly and your mother dresses you funny. See, I'm in your head now.

- Word is that a long-rumoured Cody Rhodes vs Goldust match is now off the table for WrestleMania, which makes sense, since they've basically been a TV non-factor since dropping the tag titles. Also, I'm not sure we could handle yet another tag team breakup. Can't any of you guys just work through your issues with discussion and compromise?

- WWE's CFO mentioned in an interview that they may, in fact, be able to announce a new TV rights partner as soon as late April or early May. Or maybe not, who knows. Although we're pretty sure that ESPN isn't interested, which means that there's at least one thing that even The Ocho won't air. Anyway, I don't want to say he may be lying, but this company did say that WWE Network was imminent something like three years ago.

- And don't forget, thanks to WWE Network and the stock price jumping to its highest price ever, Vince McMahon is once again, officially a billionaire! That means that our opinion matters even less than it ever did, because he's got a Scrooge McDuck-type vault full of money to swim in whenever he wants, and he did it all without listening to a single one of us!



HOT: The Shield

The best part about this breakup? Everyone's got a valid position. Reigns is carrying the team when it comes to winning matches and wonders why Ambrose keeps making crazy moves and disappearing at bad times. Rollins is tired of trying to keep everything under control and taking beatings in service of guys who weren't there when he went for the tag. And Ambrose...well, he's just nuts. The reason why it's great is because it establishes separate characters for each man when they all end up in singles roles. Plus, it mean the eventual Triple Threat Match won't be a de facto handicap match like that stupid one they did when Orton ditched Legacy.



NOT: Christian

Christian vs Sheamus: It's like the Christian-Randy Orton feud, except Christian doesn't even get to win a match by cheating! This is right up there with Batista-Del Rio in terms of feuds where one guy has absolutely no shot because he never gets a real upper hand. And no, attacking Sheamus after you lose the match cleanly repeatedly is not a compelling feud. But hey, at least he might get a Mania payoff out of it.



HOT: Paul Heyman

When you have two guys in a big feud who only work limited dates, of course you turn to Paul Heyman, who is also probably the only guy who could do what needed to be done to swing the Chicago crowd mostly away from rebellion and right into stuff that's actually happening on the show. It's been said so many times before, this man is a genius. Just don't let him handle the money.



NOT: New Age Outlaws

Well, the shine was off that apple pretty quick, wasn't it? When I said they could come back and still be over, I didn't think they'd actually do it, let alone try and have them wrestle full-length matches. These two were bad wrestlers fourteen years ago, what did WWE think would happen?



HOT: Adam Rose

I feel like the phrase "only in NXT" applies to so many gimmicks, because that is the place where they're supposed to test out new guys in different personas, but I really didn't think that creating a character based on Russell Brand (or a character he played...same difference...) would get any sort of positive reaction. Go figure, it actually worked for one week at least.



NOT: Big E

It's almost unfair what they're doing to Big E, as he's the IC Champion, acting as a backdrop to the disintegration of the Real Americans, and being put in positions where he gets negative crowd reactions because he's attacking new hot sensation Cesaro. The worst part is, Cesaro and Big E could probably have at least a decent match if Swagger would stop running in.



HOT: The Usos

It's hard to believe they've been around and a tag team in WWE for so long without winning the tag belts until now, but here we are. I guess the good news is, there's very little chance WWE would think that breaking up a tag team of identical twins would be a good idea. Although they tried it several times with the Bellas...



NOT: Randy Orton

Has there been a buildup to WrestleMania before that has given this little screen time to the actual World Champion? Hell, I'm pretty sure even The Rock was on TV more often when he held the belt last year. Actually, both Orton and Batista are probably somewhere around the bottom in terms of TV time since Elimination Chamber. I'm pretty sure I've seen more of Emma than either man. Not that I'm complaining.



HOT: Chris Jericho

Hey, he won the Internet on @midnight last week! He was the funniest man in the world for 23.5 hours! As if there was any doubt...



NOT: Alberto Del Rio

Answer me honestly. If Del Rio never showed up on WWE again, would you even notice at this point?




Inactive List as of 03.03.14

WWE

- Evan Bourne, out indefinitely as of March 19th, 2012 (foot)
- Naomi, day-to-day as of February 3rd (cracked orbital socket)

TNA

- Kurt Angle, out 6-8 weeks as of February 14th (surgery)

Transactions

- Bobby Lashley, TNA, made TNA return on March 9th (Lockdown PPV)

- Willow (Jeff Hardy), TNA, made TNA return on March 9th (Lockdown PPV)



WWE World Heavyweight Champion: Randy Orton
- 85 day reign (+49 as WWE Champion), defeated John Cena in a TLC Match on December 15th (TLC PPV) to unify the WWE and World Heavyweight Championships
- Next title defense: vs Batista, WrestleMania XXX



WWE Intercontinental Champion: Big E
- 112 day reign, defeated Curtis Axel on November 18th (Raw)



WWE United States Champion: Dean Ambrose
- 288 day reign, defeated Kofi Kingston on May 19th (Extreme Rules PPV)



**NEW** WWE Tag Team Champions: The Usos
- 7 day reign, defeated The New Age Outlaws on March 3rd (Raw)



WWE Divas' Champion: AJ Lee
- 267 day reign, defeated Kaitlyn on June 16th (Payback PPV)



WWE NXT Champion: Adrian Neville
- 11 day reign, defeated Bo Dallas in a Ladder Match on February 27th (NXT ArRIVAL PPV)



WWE NXT Tag Team Champions: The Ascension
- 152 day reign, defeated Corey Graves and Adrian Neville on October 2nd NXT



WWE NXT Women's Champion: Paige
- 229 day reign, defeated Emma on July 24th NXT to become inaugural Champion

NOTE: NXT Title reigns only count what has aired on TV, not when changes occur at tapings.




TNA Heavyweight Champion: Magnus
- 81 day reign, defeated Jeff Hardy in a Dixieland Match on December 19th (Impact) to win the vacant title



TNA World Tag Team Champions: The BroMans
- 8 day reign, defeated former champions The Wolves and Kaz Hayashi & Shuji Kondo on March 2nd (TNA/Wrestle-1 show)



TNA X-Division Champion: Seiya Sanada
- 8 day reign, defeated Austin Aries on March 2nd (TNA/Wrestle-1 show)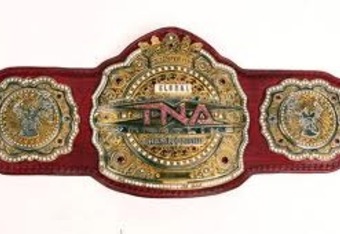 TNA Television Champion: Abyss
- 281 day reign, defeated Devon on June 2nd (Slammiversary PPV)



TNA Knockouts Champion: Madison Rayne
- 53 day reign, defeated Gail Kim on January 16th Impact




De Marco has World's Most Dangerous Column.

Acero has The Wrestling 5&1.

Justice has Ring Architect.

Dino has Smart Marks.





This week, I try and get back in the swing of things and catch up on all the opinions I missed giving, notably, why people were probably fooling themselves if they thought Punk was returning on Raw, the future for The Shield and Bray Wyatt, and how much WWE could still charge for the Network and make it worthwhile!







And this week, the guys discuss Titanfall, Jack Tretton leaving Sony, and South Park: The Stick of Truth. Plus, Robert has started playing Chrono Trigger, and we'll find out if he loved it, or really loved it. Also, for next week's episode, the prodigal host makes his return!






411 will have live coverage of Raw tonight starting at 8 pm EST.

From our promotional department, I've been informed that if you really do like 411Mania and all it provides, or even just me (and really, who doesn't like me), don't forget to bookmark the site in your browser or make 411 your homepage, and tell all your friends about how awesome 411 is.

And don't forget, you can follow all of the everyday goings on in 411 on Twitter.

Stephen's Twitter
http://www.twitter.com/411mania
http://www.twitter.com/411wrestling
http://www.twitter.com/411moviestv
http://www.twitter.com/411music
http://www.twitter.com/411games
http://www.twitter.com/411mma

That's our show, I will be back next week. Also, don't forget 4PC in the Games Zone on Wednesday, and the TWNE After Dark podcast on Wednesday, airing live at around 11 pm EST on Spreaker.com, posted on 411 shortly thereafter. Plus, don't forget about Co-op Multiplayer, the official 411 Games Zone podcast, on Saturdays at midnight EST.

Here it is, your Moment of Buddy.






So That's A Baby.
I Don't Get All The Fuss
He's Not Half As Cute As Me.




Have a good one, and always be a fan.

comments powered by