SPOTLIGHTS
Wrestling's 4Rs 3.14.14: WWE Monday Night Raw & NJPW on iPPV Reviewed
Posted by Larry Csonka on 03.14.2014

Hulk Hogan made a huge WrestleMania announcement, Daniel Bryan and Big Show faced Batista and Randy Orton and more! Wrestling's 4Rs breaks down the Right, the wRong & the Ridiculous of WWE Raw & NJPW on iPPV!


How the 4Rs of wRestling Work!
Here is a quick explanation of the 4R's. The column will run TWO times a week. We will group our feelings on the shows in various categories: The Right, the wRong and the Ridiculous. The Right is stuff that worked very well: a great promo, a great match and so on. PuRgatoRy is a section between the right and wrong. It shows equal traits from both sides that cannot be ignored and need discussed. It is not a bad place per say, as things can get remedied or go the wrong way the very next week. The wRong is what it sounds like: bad matches, bad or boring promos and so on. The Ridiculous is stuff that had no right on TV: Stupid angles and so on. And there is always a possibility of a 5th R, which is as bad as they come. This column is supposed to be analytical, and at the right time very critical of the shows, it was the whole reason it was created. This is not a "mark" column, nor a "smark" column, our goal is to analyze the show from many different fronts, reward the good and call out the bad. We will not apologize for our opinions, they are as they are, whether positive or negative.
---
Yes please.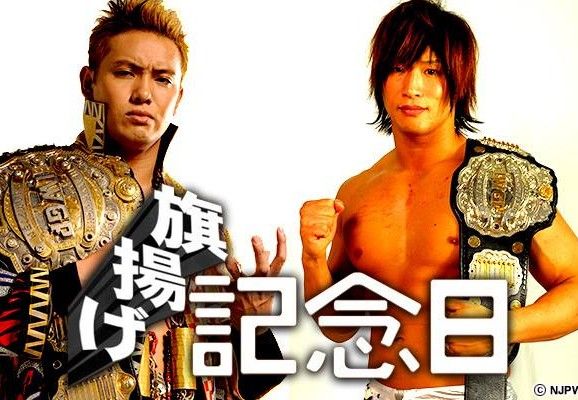 NJPW 42nd Anniversary Show (3.06.14)
Suzuki-gun (Minoru Suzuki & Taichi) defeated Sho Tanaka & Yohei Komatsu [**½]

Manabu Nakanishi & KUSHIDA defeated CHAOS (Jado & Gedo) [**]

Super Strong Machine, Jushin Thunder Liger & Tiger Mask IV defeated BUSHI, El Desperado & Captain New Japan [**]

Bullet Club (Prince Devitt, Tama Tonga & Bad Luck Fale) defeated Togi Makabe, Tomoaki Honma & Ryusuke Taguchi [***]

Yuji Nagata, Kazushi Sakuraba, Hiroyoshi Tenzan & Satoshi Kojima defeated CHAOS (Toru Yano, Takashi Iizuka, Yujiro Takahashi & YOSHI-HASHI) [**½]

Non-Title Match: Hirooki Goto & Katsuyori Shibata defeated Bullet Club (Karl Anderson & Doc Gallows) © [***]

CHAOS (Shinsuke Nakamura & Tomohiro Ishii) defeated Hiroshi Tanahashi & Tetsuya Naito [****]

Non-Title Match: Kazuchika Okada © defeated Kota Ibushi © [****¾]


The Tirade



As I discussed earlier in the year, NJPW is looking to over extend themselves with so many iPPV events in 2014. In March, there is this show, and then three others planned due to the New Japan Cup. In a way I like it because I do enjoy the product, but with so many shows, the product isn't as strong as it was last year. While I get that they are saving match ups for the NJ Cup, the show being so full of tag matches did become a bit tedious as it felt like a lot of the same. You can only watch so many ** - *** tag team matches in a row. It's not bad, but I wish they could have added at least one more singles match to break up the trend of tag matches.


Shinsuke Nakamura & Tomohiro Ishii vs. Hiroshi Tanahashi & Tetsuya Naito was a strong co-main event. You take four guys that always seem to deliver and that have worked a lot together and give them 16-minutes, and you get something good. No complaints here, as this and the main event pulled this from a completely forgettable show to something I did enjoy.


The main event of the show was the non-title champion vs. champion match; and that match saw Kazuchika Okada defeated Kota Ibushi in a match of the year candidate. There are some matches that you "need to be in the know" or follow the product to get, and those are the matches that get left out because many do not follow the company. But this match played to both audiences very well. For the non-NJPW viewer, it is simply a tremendously laid out, paced and performed match. For the followers of NJPW, this was one of those matches that played off of what these guys normally do, what they do best, but then just when you'd think you knew what would happen, they'd curveball you (in a good way) and do something completely unexpected. This was absolutely awesome, and Kazuchika Okada continues to be the man. Don't get me wrong, Ibushi more than did his part, but Okada is doing some next level shit.


The 42nd anniversary show was a good show, filled with good wrestling and one awesome match. Unfortunately, while good, it never felt like an overall special event to me. The main event was a damn fine match, the show was easy to watch, and the product is still good, but honestly, I can't go very high for the score. The show was $25, there were no title matches, almost all tag matches with the non-title singles match on top. It felt like a filler show instead of a celebration of New Japan's 42nd anniversary.


Catch Okada vs. Ibushi because it was fantastic as well as Shinsuke Nakamura & Tomohiro Ishii vs. Hiroshi Tanahashi & Tetsuya Naito; otherwise the show is good and easy to watch, but not something you HAVE to see.

Final Score: 7.2

As a reminder, I will be going by the 411 scale…

0 - 0.9: Torture
1 - 1.9: Extremely Horrendous
2 - 2.9: Very Bad
3 - 3.9: Bad
4 - 4.9: Poor
5 - 5.9: Not So Good
6 - 6.9: Average
7 - 7.9: Good
8 - 8.9:Very Good
9 - 9.9: Amazing
10: Virtually Perfect

As a reminder, this is not a basic "how good was the show" number like a TV show, as I have always felt that a PPV is very different from a regular show. I have always judged PPV on how they built to a match, the match quality, crowd reactions to matches and angles, the overall booking, how the PPV leads into the future, PPV price and so on and so forth. I have added this in here for an explanation since so many have asked, and I have previously discussed it on podcasts. I understand that this may seem different, but that is how I grade. Obviously your criteria may be different.
By: Jack Stevenson
Raw 3.10.14:
QUICK MATCH RESULTS:
John Cena d. Erick Rowan

The Usos d. Rybaxel

Big E d. Jack Swagger

The Shield d. The Brotherhood

The Bella Twins d. AJ & Tamina

Sheamus d. Christian in a Memphis Street Fight

Daniel Bryan & The Big Show d. Randy Orton & Batista


THE RIGHT:
SINISTER GONGING: It's a testament to how perfect the Undertaker character is that he's the most over guy on the whole roster based on one match a year and a smattering of promos, most of which consist of meaningless, vaguely creepy statements like "If you wanna dine with the devil, you gotta drink afternoon tea with the reapers first. REST...IN....PEACE!" We got one of those promos from him this week, that and a spooky glare, so it fell to Paul Heyman to give this segment any substance. He did that superbly of course. When was the last time Heyman actually cut a promo that wasn't excellent? Has he ever? Comparing Taker's streak to the puny unbeaten runs of Shawn Michaels, John Cena and Steve Austin was a simple but ultra-smart way to underline the magnitude of Taker's achievement and how it's more than just a winning streak he's putting on the line against Brock Lesnar. This wasn't a hugely memorable segment or anything because everything about the Undertaker right now is so formulaic; the stories. the character, the words, the mannerisms. You can't deny it's a damn good formula though.

The Brotherhood vs. The Shield: It seems a long time ago that these two teams were on each other's level and having one of the most beautiful feuds in 2013. I really hope Cody & Goldust find something productive to do soon, preferably as a team. because they're both so talented, and even with the disparity between the two teams this was still a very fun match. It had all the components a great tag match needs, with the Shield looking as great s ever on offense and Goldust taking a beating and reminding us all why he's one of the best wrestlers in the world right now, and then a genuine hot tag and a frantic finishing stretch. If they'd properly cut loose towards the end, or the two teams really felt like equals, it would have been even better, but this was still a fine outing. Seth Rollins' stompy finisher is a bit anti-climactic though.

The Bella Twins vs. AJ & Tamina: Was it just me, or was this... good? Like, not even 'good for the Divas division' good, a properly solid tag match where everything, from the moves to the Bella-in-Peril segment to the hot tag and the finishing stretch, was executed well? I mean, I know its been noted that the Bellas have improved in the ring, but always with the caveat of "they're still bad, just not as bad as they were." Here, though, they looked like a thoroughly confident and professional tag team that were capable of having a good match. AJ and Tamina have always been above diva average, and I'm so pleased their efforts weren't wasted for once. No joke or nothing, this was like the second best match on the show.


puRgatoRy:
Hogan meets the Wyatts: I don't know if it's just me, but I always like segments where today's brightest get to share a ring with yesterday's heroes. I like to think Hogan appreciated the Wyatts from behind those sunglasses, it makes me feel happy. Anyway, before the confrontation truly got underway Hogan announced a 30 man over the top Battle Royal for WrestleMania for the Andre the Giant memorial trophy. What better way to commemorate Andre's legacy than having loads of directionless midcarders battle for a hurriedly thrown together prize in wrestling's most tedious match type? If WWE really wanted to honor Andre's legacy they'd bring Big E. Langston out to the ring and get the crowd to throw beer cans at him and racially abuse him. Anyway, the bulk of the segment was Hogan and Cena being nice to each other, the Wyatts interrupting them to allow Bray to cut a badass promo, and then Cena retorting in a kind of frustrating fashion. I like John Cena very much, I really do, and so much of the criticism he gets is so ridiculous, but a couple of times a year he'll do something so silly and inconsistent with his usual smoothness that it makes you scratch your head. Calling Bray Wyatt "a homeless dude" and mocking him for his Hawaiian shirt accomplishes nothing productive, Wyatt looks like an idiot, we wonder why John Cena is even bothered about wrestling this guy, the match suffers, no one gets over. I badly want Cena-Wyatt to succeed. I think it could potentially be the best match on the card this year. It won't succeed if it becomes one of those John Cena feuds where Cena can just shrug off his opponent with a few teenage jibes and an Attitude Adjustment. It gets into purgatory because I like the concept of the feud and Bray's contribution was great and like I say, it was cool seeing Hulk Hogan and flipping Luke Harper of all people share a ring. Could do better though.

Big E vs. Swagger: This is a strange old feud. The Cesaro-Swagger break up is unfolding really nicely, I admire Swagger's willingness to make himself look like a total idiot in the name of helping Cesaro get over, and it's really working. The Real American handshake was a tremendous moment. I don't understand why Langston is being made to look totally incompetent in the process though, it was only a couple of months ago he was teaming with John Cena and seemed earmarked for superstardom, and now he's the Americans' punching bag and can only beat them if they implode. Hmmm.

Occupy Raw Street: Hmmmm. On the one hand. Daniel Bryan will now officially kick Triple H many, many times at WrestleMania, and then surely, surely, win the WWE Championship in the main event. Surely. What's more, this was set up in an ambitious and inventive segment, in which Daniel Bryan filled the ring with his supporters and refused to leave until he got what he demanded. I really appreciate it any time a wrestling company tries to do something different with its storytelling, and I'm not making an exception here. However... this was a bit lame. For one, why were all the Daniel Bryan fans such geeks? OK, I know all Daniel Bryan fans, myself included, are massive geeks, but you don't have to remind us of that. I also feel like this was a bit too radical a departure from your usual pro wrestling story where our beleaguered hero beats up some people and the authority figure is like "I WILL NOT GIVE YOU A TITLE SHOT" and then he beats up some more people, perhaps in a slightly different manner, and the authority guy is like "WELL NOW I HAVE NO CHOICE YOU'VE GOT YOUR TITLE SHOT!" Bryan hijacking the ring is a much more logical way to resolve his issue than to carry on as normal until some arbitrary point where he's deemed worthy of a match with Hunter/title match where he isn't cheated for once, but it's so different it feels weird. I keep thinking "Stone Cold Steve Austin wouldn't have done this! Nor Hulk Hogan! Or the Rock!" And maybe that's the point, that Daniel Bryan isn't receiving the respect he deserves because he's not as cool or handsome as these guys, and so he has to take things into his own hands, to utilize the fans that have been behind him since day one to get what his talent and ability deserves. Maybe that's beautiful storytelling. Maybe it's a massive cop out from a promotion that has booked Bryan to lose so many times in the big matches it's ran out of options. I don't know. What I do know is that the tag team main event was fine but forgettable and probably would have worked just as well as a dark match;

Sheamus vs. Christian: This midcard street fights which are contested between directionless midcarders and where the weapons are vaguely comedic do nothing for no one. I remember quite liking the Ziggler-Sandow ones when they were happening, but you see one wrestler get a drum crashed over his head and you've seen them all, they're nothing TO BANG A DRUM ABOUT HAHAHAHAHAHAAAAAAAAAAAAAAAAAAAAAAA. Anyway, this was decent but too long and as I've alluded to the weapons shots got tedious in the end. The feud seems to be over though which raises my hopes that we might get Sheamus-Cesaro at Mania still.


THE WRONG:
The Usos vs. Rybaxel: The interminable New Age Outlaws hung around commentary for this and were as tiresome as they have been since they turned on CM Punk. Objectively they're probably the worst tag team in the division, though I guess its whether you consider them, usually tedious but with an occasional witty moment or two, better or worse than the boringly competent Rybaxel. Regardless, if the Outlaws make it to WrestleMania ahead of The Brotherhood it will be an outrage. (Well, I'll be outraged. I don't know if that constitutes a full on outrage.)


THE RIDICULOUS:
NOTHING


THE RAW MATCH OF THE YEAR LIST:
One new entry in the lower reaches of the list as the Brotherhood and the Shield provide an enjoyable epilogue to their rivalry.



2.17.14- John Cena vs. Cesaro


3.03.14- The Shield vs. The Wyatt Family

2.03.14- Daniel Bryan vs. Randy Orton


2.10.14- Sheamus & Christian vs. The Real Americans


1.27.14- John Cena, Sheamus & Daniel Bryan vs. The Shield


1.13.14- CM Punk & The New Age Outlaws vs. The Shield


3.10.14- The Brotherhood vs. The Shield

1.20.14- Rey Mysterio vs. Alberto Del Rio


2.03.14- The Shield vs. Kofi Kingston, Rey Mysterio & Big E. Langston


2.10.14- Rey Mysterio & The Brotherhood vs. The Wyatt Family


The 411:


Another strange Raw. The centerpiece angle was weird and I don't know whether I mean that as a good thing, while the wrestling was mostly forgettable. Still. the show still had much more energy and direction than it does at all other times of the year, and the Danielification of the WrestleMania card is most welcome. This is an episode worth checking out if you approach it with relatively low expectations.

Show Rating: 7.0

As a reminder, I will be going by the 411 scale…

0 - 0.9: Torture
1 - 1.9: Extremely Horrendous
2 - 2.9: Very Bad
3 - 3.9: Bad
4 - 4.9: Poor
5 - 5.9: Not So Good
6 - 6.9: Average
7 - 7.9: Good
8 - 8.9:Very Good
9 - 9.9: Amazing
10: Virtually Perfect

The 869th edition is over…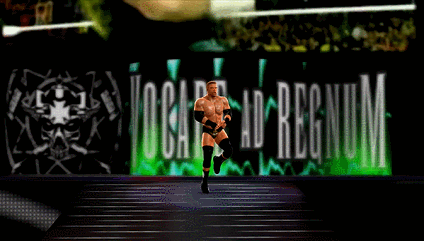 A special preview of Triple H's WrestleMania entrance…

Have you checked out the Csonka Podcasting Network? If you haven't, you should We run anywhere from 15-20 shows a month, discussing pro wrestling, the world of MMA, the NBA, general sports, popular TV series of the past, bad movies, battle rap, interviews, MMA & Wrestling conference calls and more! Around 10 different personalities take part in the various shows, which all have a different feel; so you'll likely find something you like. All of the broadcasts are free, so go ahead and give a show a try and share the link with your friends on the Twitter Machine and other social media outlets! Running since May of 2011, there are currently over 500 shows in the archive for you to listen to.



Your heart is free. Have the courage to follow it…TO CSONKA'S TWITTER!

http://www.twitter.com/411wrestling
http://www.twitter.com/411moviestv
http://www.twitter.com/411music
http://www.twitter.com/411games
http://www.twitter.com/411mma
comments powered by