SPOTLIGHTS
411's Wrestler of the Week 3.18.14: Year Nine, Week 49
Posted by Larry Csonka on 03.18.2014

Daniel Bryan got his match with Triple H at WrestleMania and a possible title shot, Bray Wyatt got a match with John Cena at the big event and more! But who won 411's Wrestler of the Week? Find out inside!




Welcome to YEAR NINE, WEEK 49 of 411's Wrestler of the Week. A quick overview of the rules to kick things off for us as a reminder…

Each writer chooses FIVE wrestlers (although ties and tag teams are allowed) from any promotion and each wrestler gets a point total attached to that ranking. It looks a little like this…

1st - 5
2nd - 4
3rd - 3
4th - 2
5th - 1

Then we tally up the votes and the official 411 Wrestler of the Week is crowned. But wait, there's more! Each week the top SIX vote getters get a points value for their ranking which looks something like this…

1st - 15
2nd – 12
3rd - 9
4th - 6
5th - 3
6th - 1

...and they go towards the 411 Wrestler of the Year award to be announced each year around WrestleMania. This will be posted every Tuesday (the voting week runs Monday through Sunday). Let's see who wins this week…

---



Larry Csonka
1) Tetsuya Naito and Tomohiro Ishii
Tetsuya Naito defeated Tomohiro Ishii in the first round of the 2014 New Japan Cup. While Naito is the one to move on, both get recognition here, as they delivered another MOTY caliber match, their second of 2014. These guys are awesome.

2) Chris Hero: Chris Hero won the annual wXw 16 Carat Gold Tournament, defeating Freddy Stahl in the opening round, Karsten Beck in the quarterfinals, ROH Champion Adam Cole in the semifinals and Axeman in the finals.
3) Tigre Uno and Sanada: Defeated the TNA Tag Team Champions, clean as a sheet, in their debuts on Impact.
4) Daniel Bryan
5) Bray Wyatt


Justin Watry
1) Daniel Bryan
Congrats! For everybody who kept their heads in check for the past few months and did not waste countless hours posting 'fake rage' online, you win. For those who did the opposite...well, go talk to Wade Barrett. I am afraid he has some bad news for you. Daniel Bryan had the night of a lifetime on Monday night Raw. Gets his WrestleMania match with Triple H that has been teased since last August. Wins a tag match over Batista and Randy Orton. Oh, and if he defeats HHH at Mania, he gets a title shot as well! Who would have thunk it, huh?

2) Bray Wyatt: It is official. Bray Wyatt will wrestle John Cena at WrestleMania XXX, and I was wrong, wrong, wrong, wrong, wrong about doubting said rumored match weeks ago. Not only is he on a collision course with the top star in the entire business from the past decade, he interacted with Hulk Hogan this past week on Raw...and defeated Kofi Kingston on Smackdown. Yay?
3) Triple H: Normally, managers and non-wrestlers do not get a vote on my ballot. This week, Triple H qualifies in my mind. Excellent job on Raw putting over the magnitude of the entire #OccupyRaw segment and followed it up with a solid Smackdown appearance.
4) Dolph Ziggler
5) Sheamus


Alex Crowder
1) Daniel Bryan
He forced Triple H and Stephanie into accepting his ultimatum with the Occupy Raw movement, and pinned the World Champion later that night. So, not only will he get to face Triple H at WrestleMania, but if he wins he is added to the World Championship match. Daniel Bryan got both his match and the match the fans wanted too. I would say Daniel Bryan had an amazing week.

2) Minoru Suzuki : Suzuki-gun won a tag team match over Chaos when Minoru Suzuki pinned Jado. Also, more importantly Minoru Suzuki defeated Toru Yano in the first round of the New Japan Cup, which means Suzuki finally got some revenge over his hated adversary. That victory over Yano had to be especially sweet for Suzuki, after all the times that Yano outsmarted him or got the better of him.
3) Atlantis: Even in his 50's, Atlantis continues to go strong in Mexico. This week his team won the finals of Block B in the Torneo Nacional de Parejas Incredibles tournament, which pairs a rudo and tecnico together. If that was not enough for Atlantis, he made his current rival Rey Escorpion submit in the third fall of a trios match. In case you were wondering, Atlantis and Escorpion hate each other so much that they focused on harming the other for the duration of the trios match.
4) Shinsuke Nakamura
5) Seth Rollins


Paul Lapointe
1) Daniel Bryan
The Yes Movement cometh!!!! And the internet explodes...or finds something else to bitch about. Seriously though this moment is Best of Raw material right here.

2) Chris Hero: Won himself the yearly WxW turney this past week. In the process he defeated ROH champ Adam Cole. Hero may have got the shaft in the WWE as opposed to his Kings of Wrestling cohort Cesaro but he is one mighty fine wrassler.
3) AJ Lee: A 16- Minute women's match on WWE programming, what?
4) Seth Rollins
5) Bray Wyatt


Mike Chin
1) Daniel Bryan
Lo and behold, WWE is delivering on what the fans wanted to see. Daniel Bryan will not only get a marquee match with Triple H, but when he by all indications wins that match, he's on to his first WrestleMania main event. I'm dubious he's actually leaving New Orleans with the strap, but win, lose, or draw, this could surpass SummerSlam as the biggest night of Bryan's career to date.

2) Bray Wyatt: Between his upcoming match with John Cena and his interactions with Hulk Hogan, Bray Wyatt shored up his spot as one of WWE's hottest properties this week. Let's also not forget that he beat Daniel Bryan clean at the Royal Rumble, thus any success enjoyed by Bryan stands to further legitimize Wyatt, too, as a likely future title contender.
3) Bully Ray: In the fall out to Lockdown, Bully Ray's face turn looks complete. He'll have to go through Bobby Roode first, but the seeds are in place for him to chase Magnus for the TNA strap in the months ahead.
4) Seth Rollins
5) Magnus


MIKE HAMMERLOCK
1) Daniel Bryan
Whether by design or by default, WWE fans got their wish last week when Daniel Bryan occupied Raw, forcing both a WrestleMania match with HHH and, if he wins that, a berth in the WWE title contest to close Mania. Then he pinned the Apex Prop Randy Orton (who ought to take a machete to WWE Creative for what they've done to him) in the Raw main event. One way or another, WrestleMania seems guaranteed to cause a worldwide freak out. Cool.

2) Seth Rollins: He had kind of a huge week. If it weren't for D-Bry's big storyline doings, Rollins would have been a runaway winner for me this week. He got the win over Cody Rhodes in tag match Raw and then got the Rhodes Scholars parlay by pinning Damien Sandow on Smackdown. He also is really standing out on the mic these days. One of the big reasons I don't want to see the Shield's inevitable split is because it looks like Rollins could have an evil take-over-the-world plan and I want him to succeed.
3) Dolph Ziggler: We got two really good matches on Smackdown this past week: Ziggler vs. Alberto Del Rio and Bray Wyatt vs. Kofi Kingston. Dolph-Del Rio was the better of the two, so I'm giving the Showoff my pick here. He let it all hang out in the ring. Kicking out after Del Rio kicked him in the head (which is how Ziggler lost his WHC title last year) was easily the biggest mark out in-ring moment of the week. The quality of the Bray-Kofi match surprised me more. It showed Bray is ready for the big push and that Kofi remains an asset if they ever figure out how to use him. This is like Kofi's 5th really good television match of 2014.
4) Bray Wyatt
5) Chris Hero


Daniel Wilcox
1) Daniel Bryan
By hook or by crook Daniel Bryan has his match with Triple H at WrestleMania 30, as well as a title shot against Orton and Batista barring a brain fart of monumental proportions on the booking front. Apart from that, his "Occupy Raw" segment from Monday night was one of the most entertaining moments on WWE television this year, probably the best thing since Bryan turned on the Wyatt family in the cage several months ago.

2) The Shield: The Shield had a big week. A few people are listing Seth Rollins ahead of the others for his individual achievements this week, but let's not forget Dean Ambrose successfully retained his United States Championship against Mark Henry on Main Event. Rollins and Reigns also beat the Rhodes brothers on Raw and for now it looks like the trio is going to be sticking together through to WrestleMania at least.
3) Bray Wyatt: Wyatt was heavily featured across WWE television again this week and cut a couple of really good promos. He got a win over Kofi Kingston on SmackDown but most importantly he was rubbing shoulders with not just John Cena, but Hulk Hogan as well Monday night.
4) AJ Lee
5) Angelina Love


Jack McGee
1) Daniel Bryan
I guess all there is to say is, YES! YES! YES! YES! YES!

2) Chris Hero: Chris Hero is making the most of his post WWE Developmental career. First he won the EVOLVE Title a few weeks back, and now he wins the big wXw 16 Carat Gold Tournament. He has made the most of his situation, and keeps delivering.
3) Tetsuya Naito : Won another MOTY contender over Tomohiro Ishii, this time in the New Japan Cup Tournament. He's having one hell of a 2014 so far.
4) Angelina Love
5) Seth Rollins

---
THE WINNERS~!
Special Mention…AJ Lee, Dolph Ziggler, Tomohiro Ishii - 5 Votes


Fifth Place…Tetsuya Naito - 8 Votes


Fourth Place…Chris Hero - 13 Votes


Third Place…Seth Rollins - 14 Votes

Was the standout of the Shield this past week.



Second Place…Bray Wyatt - 15 Votes

The Eater of the Worlds earned his shot against John Cena at WrestleMania, and continues to impress on the mic…



And 411's Wrestler of the Week is…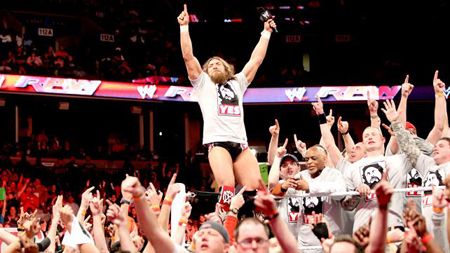 Daniel Bryan - 37 Votes

Locking it down…




Year-End Standings~!
And here are the standings after week 49…

1. Daniel Bryan - 265pts.

2. Roman Reigns - 148pts

3. Randy Orton - 145pts

4. Seth Rollins - 96pts

5. AJ Styles - 90pts.

6. Bray Wyatt - 84pts.

7. Dean Ambrose - 77pts.

8. CM Punk - 74pts.

9. John Cena - 73pts.
9. Cody Rhodes - 73pts.



Kazuchika Okada – 60pts.

Brock Lesnar - 51pts

Cesaro - 45pts.
Christian - 45pts.

Magnus - 44pts

Goldust - 43pts

Jimmy Uso - 42pts.
Jey Uso - 42pts.
Big E. Langston - 42pts.

Chris Sabin - 39pts.

Bobby Roode - 34pts

Matt Jackson – 33pts.
Nick Jackson – 33pts.
Prince Devitt - 33pts
Curtis Axel - 33pts.

Luke Harper - 32pts.

Hiroshi Tanahashi- 31pts.

Ryback - 30pts

Erick Rowan - 29pts.

Kurt Angle - 28pts.

Mark Henry - 27pts.

Austin Aries - 25pts.
Ricochet - 25pts

Bully Ray - 24pts.

Samoa Joe - 22pts.
Tamohiro Ishii - 22pts.

Manik - 21pts.
Tetsuya Naito - 21pts.

Sami Zayn - 18pts.
Gunner - 18pts.
AJ Lee - 18pts.

Alberto Del Rio - 17pts.

Kofi Kingston - 16pts.
Damien Sandow - 16pts.
Adam Cole – 16pts.
Dolph Ziggler - 16pts.

Big Show - 15pts.
Kenta Kobashi - 15pts.
KENTA - 15pts.

Yuji Nagata - 12pts.
Karl Anderson- 12pts.
Sin Cara II - 12pts.
Jake Roberts - 12pts.
Masato Yoshino - 12pts.
Jeff Hardy - 12pts.
Michael Elgin – 12pts.
Kyle O'Reilly – 12pts.
Billy Gunn - 12pts.
Adrian Neville - 12pts.

Road Dogg - 10pts.
James Raideen - 10pts
Johnny Gargano – 10pts.
Batista - 10pts.

Rob Conway – 9pts.
Rampage Jackson - 9pts.
Mr. Anderson - 9pts.
Abyss - 9pts.
Wade Barrett - 9pts.
The Undertaker - 9pts
YAMATO - 9pts.
Jun Akiyama - 9pts.
EITA- 9pts.
T-Hawk - 9pts.
Harlem Bravado – 9pts.
Lancelot Bravado – 9pts.
Shingo Takagi - 9pts.
Doc Gallows - 7pts.
Seiya Sanada - 9pts.

Ethan Carter III - 7pt
Mikey Nicholls- 7pt
Shane Haste - 7pt
Rob Van Dam - 7pts.
La Sombra – 7 pts.

Akebono - 6pts.
BxB Hulk - 6pts.
Fandango - 6pts.
Yoshihiro Takayama - 6pts.
Shelton Benjamin – 6pts.
Jigsaw – 6pts.
The Shard – 6pts.
Robbie E - 6pts
Jessie Godderz - 6pts
MVP - 6pts.
Chris Hero – 6pts.

Jack Swagger - 4pts.
Drew Gulak – 4pts.
Jushin Liger - 4pts.
Mickie James - 4pts.

Paige - 3pts.
Madison Rayne - 3pts.
Akira Tozawa - 3pts.
Suwama - 3pts.
John Morrison – 3pts.
Dusty Rhodes - 3pts.
Tito Ortiz - 3pts.
Sting - 3pts.
Hernandez - 3pts.
Chavo Guerrero - 3pts.
Tomasso Ciampa – 3pts.

Kota Ibushi - 2pts
Paul Heyman - 2pts

Sheamus - 2pt
Eddie Edwards - 1pt
Davey Richards - 1pt
ODB - 1pt
Tiger Mask IV - 1pt
CIMA - 1pt
Katsuhiko Nakajima - 1pt
Alex Shelley - 1pt
Candice LaRae - 1pt
Ethan Page - 1pt
Eddie Kingston – 1pt
Chuck Taylor– 1pt
Trent Baretta – 1pt
El Hijo del Perro Aguayo – 1 pt



Voting began 4.16.13
Year-End Rankings Key:

WWE Contracted Wrestlers are represented in BLUE.

TNA Contracted Wrestlers are represented in GREEN.

ROH Contracted Wrestlers are represented in RED.

US Independent Wrestlers are represented in MAROON.

Japanese Contracted Wrestlers are represented in BLACK.

Mexican Contracted Wrestlers are represented in MAGENTA.

Other International Wrestlers are represented in INDIGO.

---
**PREVIOUS WINNERS**
Year One Winner: Ric Flair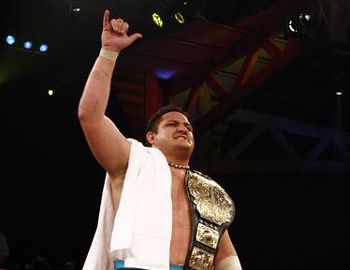 Year Two Winner: Samoa Joe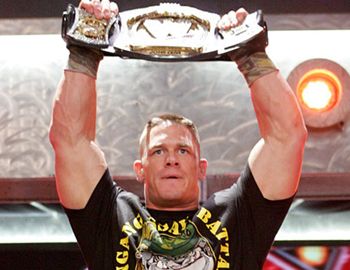 Year Three Winner: John Cena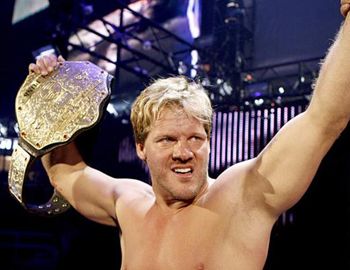 Year Four Winner: Chris Jericho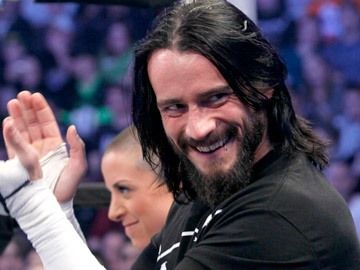 Year Five Winner: CM Punk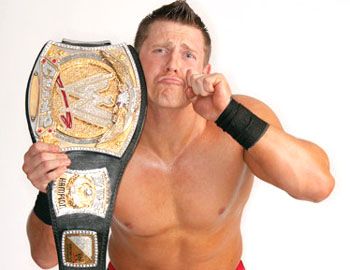 Year Six Winner: The Miz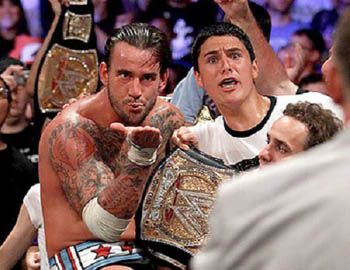 Year Seven Winner: CM Punk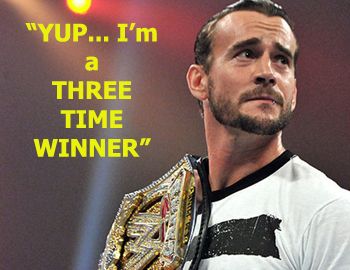 Year Eight Winner: CM Punk
comments powered by