SPOTLIGHTS
Thoughts From the Top Rope 3.22.14: Top 30 WWE Triple Threat Matches
Posted by Daniel Wilcox on 03.22.2014

As we head to WrestleMania XXX with a guaranteed Triple Threat main event, we countdown the company's Top 30 Triple Threats, from Austin/Angle/Van Dam and Bryan/Miz/Morrison to Benoit/Michaels/Triple H and Cena/Jericho/Christian and everything in between!

WrestleMania XXX is a mere two weeks away, and the card is shaping up rather nicely.

I didn't have much interest in the build to John Cena vs. Bray Wyatt until Monday's Raw. As good as Wyatt's promo work is and as good as Cena's can be, they've essentially been saying the same things to each other for the last few weeks. There's been minimal physical interaction, which is a good thing, but the feud has been lacking fire. And then on Raw, the company put their production crew to work and come up with an absolute diamond of a video package that got me excited for their match.



Eminem's "Legacy" is the perfect song choice there. As wrestling fans we tend to take for granted just how good the majority of the company's vignettes and promotional packages are, but the company really seems to step their game up around WrestleMania season.

I also really enjoyed the video package that Paul Heyman showcased Monday night. We've seen dozens of packages focusing on Undertaker's streak over the years, so it was nice to see one that really focused on how the end of the streak seems to be drawing nearer and nearer each year. The voiceover work was absolutely perfect. The video put over the streak as the ultimate achievement and then made Lesnar look like the total beast that he is. Great work all round.

The company also seems to be content to leave the Shield together as a unit, at least for the foreseeable future. It's been clear for a while that the trio still has legs and a face turn is a good move. The in-ring performances of all three has given the crowds a desire to cheer for them and that seems to be the way things are going. Kane may not be my first choice to feud with the Shield going into the biggest show of the year but if it keeps them together for longer I'll certainly take it. On a related note, WWE should be given credit for booking the Shield damn-near perfectly from day one.

And what about that closing segment? To be fair, both the opening and closing segments were excellent and Triple H deserves the vast majority of the credit. That was a much-needed segment that is going to be getting a hell of a lot of replays over the coming weeks. And for all the stick she gets, Stephanie McMahon's performance Monday night was incredible. Her facial expressions were fantastic, particularly after she witnessed her husband destroy Bryan with a steel chair. Her expression seemed to change from surprise to disgust to a new found admiration to damn near orgasmic right before our very eyes. It was brilliant.

Stemming from this week's Monday Night Raw, we now know that we are guaranteed a Triple Threat match in the main event of WrestleMania XXX. Randy Orton will be defending the WWE World Heavyweight Championship against Royal Rumble Dave Batista and the winner of the grudge match between Daniel Bryan and Triple H. This is something many fans have suggested in recent weeks and regardless of when this became the plan, it's the right move and it's something I'm personally I'm excited about. Part of that reason is because it gives Daniel Bryan the chance to have the crowning moment we've been clamouring for since Summerslam. The second reason is because traditionally Triple Threat matches in WWE are a blast.

In Thoughts from the Top Rope this week we examine the greatest Triple Threat matches in WWE history and because we're heading into the 30th edition of WrestleMania, we're going to count down the top 30 such matches in the company's history. There were many that sprang to mind immediately while others are more obscure and took some more thinking about. The criteria I looked at was a combination of match quality and overall importance. I've only included single-person Triple Threat matches, not Tag Team Triple Threat matches so don't expect to see the classic Tag Team TLC matches to be included.

So if all that's understood, let's not waste any more time and get on with it...



WWE's Greatest Triple Threat Matches





30. WWE Championship Match: JBL © vs. Kurt Angle vs. The Big Show
Royal Rumble 2005



I wasa big fan of JBL's reign as champion. Even if the match quality wasn't always there, he was pure gold on the mic and it was funny seeing him escape month after month with the WWE Championship in tact like he did here. This was a short, overbooked schmozz that featured Show spearing Layfield through the barrier back before it was done on a fairly regular basis. Angle controlled the match but got pinned by JBL in the end. Expect to see Angle feature in a lot of these selections.



29. Tables, Ladders and Chairs for the WWE Championship: CM Punk © vs. Alberto del Rio vs. The Miz
Tables, Ladders and Chairs 2011


I believe this was CM Punk's first title defence during his historic 434 days as WWE Champion. It was also the first and only TLC match to date to be contested under triple threat rules, tag teams excluded. There was plenty of plunder involved as you'd expect, as well as a number of high spots. CM Punk would of course retain and go on to hold the belt throughout 2012 while the other two wouldn't reach this high in the card again.



28. WWF Championship Match: Stone Cold Steve Austin © vs. The Undertaker vs. Kane
Breakdown 1998



This match featured the bizarre stipulation that Taker and Kane could only win win the belt by pinning Austin, not each other. It was a classic Attitude Era case of Mr. McMahon stacking the deck against Stone Cold, who would drop the title here after being pinned by both opponents. Technically, this isn't the prettiest of matches but it's still an enjoyable brawl if you're a fan of the Attitude Era style of main events. I am a fan of such things, albeit in small doses.



27. Number One Contender's Match: Big Show vs. John Cena vs. Kurt Angle
No Way Out 2004


Kurt Angle features once again. This match was all about Cena and Angle trying to take out Show, who had been on a dominant run of form for months on end. This is one of those matches that specialises in frequent finishers and finisher-reversal, building up to a dramatic ending. This match also featured John Cena nailing Big Show for the FU for what I believe was the second time. Angle would win and go on to face Eddie Guerrero for the strap, while Cena would win the United States Championship from Show at WrestleMania XX.



26. WWF Championship Match: Stone Cold Steve Austin © vs. Triple H vs. Mankind
Summerslam 1999


More Attitude Era goodness. This time Mankind and Triple H were Austin's challengers for the strap, and Jesse Ventura was your special guest referee. There's los of stories around the booking this match, how it was planned, who was meant to go over and how, but the bottom line is that it's a chaotic brawl and a satisfying main event to what was one of the company's best shows of the year at that point. Mankind would pin Austin for the strap only to lose it to Triple H the night after on Raw.



25. Number One Contender's Match: Rey Mysterio vs. Tajiri vs. Jamie Noble
SmackDown, 2003


This is a gem from SmackDown's Cruiserweight division with Rey Mysterio earning the right to go to his first WrestleMania and challenge Matt Hardy for the Cruiserweight Championship. This match didn't really get a lot of time, I think it ran at just over six minutes, but it was a really fun sprint with plenty of cool spots including one of the best 619 sells ever from Jamie Noble. All three men were in the ring pretty much from bell to bell meaning there was absolutely no down time and the action kept coming thick and fast.



24. Number One Contender's Match: Randy Orton vs. Christian vs. Rob Van Dam
SmackDown, 2013


This is the most recent inclusion on the list and it comes from the summer of 2013 as Van Dam, Orton and Christian were battling to become the number one contender to Alberto del Rio's World Heavyweight Championship. All three are veterans, so it should come as no surprise that the match was a brilliant encounter with false finishes aplenty. Any of the three could have won as well, which made it all the more intriguing. Eventually Christian would score the big win and go on to have a fantastic bout with del Rio at Summerslam, albeit in a losing effort.



23. WWE Undisputed Championship Match: The Rock © vs. Brock Lesnar vs. Triple H
Global Warning 2002


Global Warning was a one-off event as part of WWE's tour of Australia in the summer of 2002, so I don't know how many people have seen this match. With 56,000 fans on hand, The Rock defended his title against Lesnar and Triple H in a star-studded main event that is really a forgotten gem. I will say, considering the amount of talent involved here, this match isn't necessarily of the highest standard you'd expect, but it's still a great encounter and the rarity of it makes it that much more of a spectacle. Rock retains after a Rock Bottom to Triple H.



22. WWF Championship Match: Stone Cold Steve Austin © vs. Triple H vs. The Undertaker
No Mercy 1999


This is the match from the UK No Mercy show that took place in May, not to be confused with the one held in the US later that year. Triple H and Taker were both part of the Corporate Ministry at this point but inevitably fell out when it came down to who was actually going to get the strap. This was another typically 1999 Steve Austin brawl, albeit a fun one, that saw the locker-room empty in one giant clusterfuck and Steve Austin hitting Triple H with the Stunner to retain. Post-match, Austin nails Triple H and Shane McMahon with roughly fifteen thousand Stunners. Nostalgic fun.



21. WWE Championship Match: Randy Orton © vs. Triple H vs. John Cena
Night of Champions 2009



This is a rematch from WrestleMania 24, just over a year later. Orton got the surprise win in that match, and he entered this one as the champion too. This was a very good match with lots of big spots involved, and as these things often do, it came down to a case of who was going to outlast the others. After trying to team up o take out Orton, the best part of the match was when Triple H and Cena went at it, but it was Orton who snuck out with the victory following interference from his stable buddies Cody Rhodes and Ted DiBiase. Orton and Cena would trade the belt back and forth for the rest of the year.



20. Steel Cage, Number One Contender's Match: The Rock vs. Mankind vs. Ken Shamrock
Breakdown 1998


I think this match is something of a forgotten gem. It featured on the same card as the aforementioned Austin/Taker/Kane match and was contested inside of a steel cage, with the winner going on to challenge for WWF Championship. Mankind and Rock always had great chemistry and this served as a prelude to some of though more memorable brawls they would have in a few months time, and Ken Shamrock had one of his very best outings here. If there's a criticism to be had for this match it's the silly finish of Rock pinning Shamrock while Foley foolishly attempts to escape the cage, but this match was an important part of The Rock's rise to the very top of the company and is a fun match to boot.



19. Intercontinental Championship Match: Shelton Benjamin © vs. Carlito vs. Johnny Nitro
Vengeance 2006


I've always enjoyed this match and I'll go back and watch it regularly. Nitro was really starting to find a groove in his flamboyant role, Benjamin was doing good things and Carlito had one of his motivated showings here. Similar to the cruiserweight match listed earlier, this match didn't get too much time but it was balls to the wall from the opening bell. Sure, it was pretty much a spot-fest, but the execution was pretty much perfect throughout and the spots were pretty innovative. The crowd wasn't particularly invested in any of these characters at this point, but they had a damn good match here. I wouldn't mind seeing any of these three guys have another run back in the big leagues.



18. World Heavyweight Championship: Batista © vs. Edge vs. The Undertaker
Armageddon 2007


This was right in the middle of Edge's run as the "Ultimate Opportunist." He was also fresh off of a return from injury. Batista and The Undertaker had shown a surprising chemistry in their matches in 2007, and Edge interfered in a Hell in a Cell match between the two to set this up. This was another fast-pace match up with all three guys getting their spots in. I guess the fun part is Edge using unique ways to manipulate the match, like ringing the bell to get Taker to release a submission hold locked in on Batista. The finish saw the Major Brothers disguised as Edge acting as the sacrificial lambs allowing Edge to sneak the win and the title, though he would drop it back to Taker months later at WrestleMania 24.



17. WWE Championship Match: Randy Orton © vs. Triple H vs. John Cena
WrestleMania 24


Speaking of WrestleMania 24, John Cena had shockingly returned at the Royal Rumble but he blew his title shot at No Way Out. Triple H and Cena then both ended up challenging Orton for the strap. This was actually a really good match. Orton was almost treated as an afterthought going into his own title defence and that really played into the dynamic of the match, with the faces taking it in turns to beat down the champ, only for him to come back with a combination of good tactics and guts when the faces turned on each other. I believe this was the first time Orton hit the rope-assisted DDT on two opponents, so there's that. Orton won the match following a punt but would drop the strap in a four-way next month.



16. Intercontinental and European Championship Match: Kurt Angle © vs. Chris Benoit vs. Chris Jericho
WrestleMania 2000


In doing research for this list it became apparent that a lot of people tend to rank this match higher than I have. That might be down to the people involved and what you would expect from them. This was the match where Angle defended both titles in a two-fall match, losing both titles without being pinned or made to submit. Benoit picked up the Intercontinental title after a diving headbutt before Jericho hit Benoit with the Lionsault to win the European crowd. The whole thing went about fifteen minutes as was a damn good match, but not on the level others tout it. All three men made their WrestleMania debuts here and would go on to be vital elements in the company's amazing in-ring quality in the year 2000.



15. WWF Championship Match: Stone Cold Steve Austin © vs. Chris Benoit vs. Chris Jericho
King of the Ring 2001


This is another match that could have been so much more than it was. This was shortly after Triple H had tore his quad and right before the Invasion kicked off. Austin was the heel champion here while the rumour was that if either Chris won the title they would be defecting to WCW with it. It was a damn fine match in all honesty with Austin desperately trying to hold on to his title by any means necessary. But both Austin and Benoit were injured going into this match so they were limited in what they could do. Despite interference from WCW Champion Booker T, Austin pinned Benoit to retain the strap and Benoit would take a year off for much-needed neck surgery.



14. World Heavyweight Championship Match: Kurt Angle © vs. Rey Mysterio vs. Randy Orton
WrestleMania 22



I absolutely love his match. Lots of people don't. For starters it was the culmination of the awkward "Eddie's in hell" angle that left a bad taste in a lot of people's mouths. Many people were of the opinion that Rey was getting a sympathy run with the strap due to Eddie's death, and the Chicago crowd showed their displeasure throughout the match. Furthermore, it didn't even get ten-minutes on a show that featured two Divas matches and Boogeyman squashing Booker T. But the time constraints meant they had to go all-out and rush to get their spots in and that made for a frantic pace. Angle's double-German in this match is an absolute thing of beauty and there's plenty of other cool moments. Give this match 15-20 minutes and it'd be an all-time classic though, I'm sure. Mysterio got the big win and would go on to have a shoddy title reign where he lost on a near-weekly basis while Angle would debut in TNA six months later.



13. WWE Championship Match: Brock Lesnar © vs. Big Show vs. Kurt Angle
Vengeance 2003


This was a shockingly good main event on a stellar pay-per-view. Kurt Angle had rushed back from a neck injury looking to regain the title he dropped to Lesnar at WrestleMania XIX, while Big Show and Lesnar had been feuding for months on end, on and off. They actually had a surprising chemistry. This stuck to the formula of taking one guy out and letting the other two do their thing for a few minutes, and ended up with a hell of a lot of finishers with the third guy breaking up the pin. It's also very fast pace, as you expect any Kurt Angle match to be. This was something of a fell-good moment for Kurt who eventually took out both guys with an Angle Slam to win back the WWE Championship. Lesnar would soon turn heel and those two would fight for the gold throughout the summer. Big Show was an absolute beast in this match and took a lot of the bumps, including a running powerbomb from Lesnar. Excellent match.



12. WWE Championship Match: John Cena © vs. Chris Jericho vs. Christian
Vengeance 2005


Vengeance seemed to have an affinity with kick ass Triple Threat matches. This was John Cena's first title defence since being drafted to Raw, and was also the start of an issue that lead to him getting booed on a regular basis. See, Cena's first feuds on Raw were with heels that the crowd generally liked. After this three-way feud he would take on Jericho for a few months before feuding with Kurt Angle for the rest of the year and then Edge, who the company continued to fail to pull the trigger on. Cena's only other rivalry was a convoluted anti-authority beef with Eric Bischoff. Regardless, the match was exactly what you would expect from these three and featured a bunch of innovative spots. Tomko played his role as Christian's second really well to, so credit to him. Working with these guys when he first came to Raw helped Cena become a much more polished worker and that would show as the years went on.



11. Submissions Count Anywhere for the United States Championship: Daniel Bryan © vs. The Miz vs. John Morrison
Hell in a Cell 2010


This match featured breakout performances for all three guys, even though Morrison had been having a stellar couple of years. Bryan had recently won the title off of Miz at Night of Champions before defending in a near-classic against Ziggler. This was contested under the strange rules that submissions counted anywhere, though Morrison nor Miz were well-known for their submission skills. As it transpired, Morrison busted out a wide range of torturous moves, while Bryan brought the usual goodness including a rare Cattle Mutilation sighting. The style of the match also leant itself to Morrison's parkour style of work and we saw some pretty big bumps during this match. This is the kind of match that turns mid-carders into stars, and that's exactly what it helped do. Miz would build momentum as a heel all the way to the main event of WrestleMania, as champion, while Bryan was World Champion a year later. Unfortunately Morrison wasn't with the company too much longer but he clearly had a big future.



10. WWF Championship Match: The Rock © vs. Triple H vs. Kurt Angle
Summerslam 2000



This match came at the height of terrific Triple H/Stephanie McMahon/Kurt Angle love triangle that is probably the best "soap opera" storyline the company has ever booked, cerainly at a main event level. Although technically Angle and Triple H were both heels, the whole thing almost made the Game a face again, and of the three The Rock was probably the afterthought in this match. This is also the match where Angle gets taken out early after the announce table collapsed under the weight of he and Triple H. That clip would be used in WWE's "Don't Try This At Home" productions for years on end. Veterans that they are, Rock and Triple H managed to put on a great match before Kurt stumbled back to the ring and the over-booking kicked in. I say over-booking in a good way on this occasion. The Rock would retain the title after a People's Elbow on Triple H. Angle and The Game would finish their feud the next month before Angle beat Rock for his first world title.



9. Rey Mysterio vs. Kurt Angle vs. Chris Benoit
SmackDown, 2002


This is another often-forgotten little gem. Following the initial Brand Extension in 2002, SmackDown seemed to end-up with the lion's share of in-ring talent including what came to be known as the SmackDown Six – Rey Mysterio, Kurt Angle, Chris Benoit, Edge, Eddie and Chavo Guerrero. While a lot of their encounters were tag bouts, whenever they hooked up in singles or multi-man competition, the results were usually pretty spectacular. This match is no exception. Angle and Benoit ruled the early portion of the match, taking turns to take Mysterio out of action before going at it themselves. Rey would ultimately use his pace and athleticism to avoid a beating and upset the grapplers, eventually pinning Benoit with a rana. Sometimes you don't need an overly complicated story to have a strong match, you can get away with guys who just want to put on a show and be the best and that's what the SmackDown Six was. It didn't hurt that Paul Heyman was the head booker at the period of time time also.



8. WWE Championship Match: Edge © vs. Jeff Hardy vs. Triple H
Armageddon 2008


It took Jeff Hardy a long, long time to get there. His first world title would likely have come a whole hell of a lot sooner if it weren't for yet another Wellness violation that came right when he was about to get the rocket strapped to his ass. Eventually though, the company took the risk. Edge made yet another Survivor Series return the following month, taking Hardy's spot in a Triple Threat match with Triple H and Vladimir Kozlov (don't know how that one didn't make the list) and winning the title from the unsuspecting champion Triple H. This match was a microcosm of Jeff's story, overcoming a massive table bump and interference from Vladimir Kozlov to eventually pull the big win out the bag at the bottom of the ninth. As a Jeff Hardy fan I thought this was a tremendous moment that was really played up like a massive deal. The match itself was chaotic with three incredibly talented performers involved and it was great to see Hardy get his big moment and title win. Of course it would be short-lived as Matt Hardy would turn on his brother the following month at the Royal Rumble to give the title back to the Rated R Superstar.



7. WWF Championship Match: Stone Cold Steve Austin © vs. Kurt Angle vs. Rob Van Dam
No Mercy 2001


Of all the Triple Threat matches on this list I think this gem from 2001 features the most interesting mix of styles. Austin was wrestling a very rugged, brawling styling at this point. Kurt Angle was just beginning to perfect the WWE main event style while Rob Van Dam was both an unorthodox and fresh addition to the title scene. Van Dam was pretty much the only face in the Alliance, because he was just that fun to watch at the time. The intrigue here was based around Van Dam potentially winning the title and jumping to the WWF, so Austin was paranoid as per. Angle just wanted to bring the title back home and wasn't going to rely on anyone else to do it. Again, this is a brilliant match and one that may have ended up higher if it weren't for the McMahon interference, but it's still a diamond in the very rough memories of the Invasion angle.



6. WWE Championship Match: John Cena © vs. Edge vs. Triple H
Backlash 2006


This match came shortly after Edge's 3-week title reign, Triple H tapping out to Cena in Chicago and Edge putting Mick Foley through a flaming table at WrestleMania. The Kentucky crowd made Triple H their favourite once again, and in truth he was mere weeks away from bringing back DX. The match was intense throughout and features one hell of a blade job from Triple H, one of the last really memorable ones in all honesty. The spots throughout the match were pretty inventive and all three men were involved in the majority of them, avoiding the format of one guy lying on the ground while the other two slug it out. Lita got involved as per usual and didn't shy away from taking a number of sick bumps. There was an announce table spot, ref bumps, sledgehammers and a wild chair shot to Edge the type of which you just would not see nowadays. All in all this is a brutal match. John Cena countered a Pedigree to score the pin on The Game before dropping the title to Rob Van Dam six weeks later. An often-forgotten classic and the type of match we won't see again for a good while.



5. WWE Championship Mach: John Cena © vs. Shawn Michaels vs. Triple H
Survivor Series 2009



Sometimes, WWE does an excellent job of telling a story in a match. Sometimes they deliver the unexpected. I don't know how much interest there was in this match going in because the outcome was never in doubt. Michaels and Triple H were both a part of DX at this point and there were no plans to put the title on either of them any time soon. The build for this match was atrocious and mostly centred around Hornswoggle, who was an honorary member of DX or something. Michaels and Triple H had agreed that one way or another the title was coming to DX by the end of the night. Except the plan went out the windrow from the off as all three men stood in the ring, Cena staring down DX and then... WHAM! Michaels super kicks Triple H right out of the ring! And the crowd comes unglued. That completely flipped the script on how we thought the match would play out and it was brilliant. And the best bit is, we all should have seen it coming – it's Shawn Michaels for crying out loud!



4. WWE Championship Match: John Cena © vs. Shawn Michaels vs. Kurt Angle
Taboo Tuesday 2005


I love this match. It doesn't get much love, possibly because it was a meaningless match on a meaningless pay-per-view with no implications whatsoever. Cena and Angle were feuding at the time, Cena was really starting to receive the big backlash from the fans, and Shawn Michaels was voted into this match in a poll that also featured Kane and Big Show, so a total no-brainer. Baring in mind the talents involved here, it should come as no surprise that this match is an absolute belter. You'll notice that both Angle and Michaels feature heavily in this countdown, and John Cena has quite a few entries as well as a few honourable mentions that just missed the cut. The reason for this is because all three are tremendous at working the WWE main event style, and the Triple Threat match is the kind that really suits that style of multiple reversals, finishers, false finishes and the like. You work that formula with two guys, you can create drama – add a third and that drama increases considerably. This match was a good showcase for all three men. Michaels and Angle had a couple of classics with each other in this year, but John Cena proved he could hang with the pair of them. He got the win following a FU to Michaels and would hold the title until Edge cashed in Money in the Bank the following January.



3. WWE Undisputed Championship Match: Undertaker © vs. Kurt Angle vs. The Rock
Vengeance 2002



There's two schools of thought when it comes to this match. On the one hand it's a phenomenal main event packed with drama, suspense and excitement. On the other it's a spot-fest devoid of psychology and story-telling. In fairness, both schools of thought are fairly accurate. There is practically nothing in the way of trying to work psychological elements into the match but one could argue that going out there and hitting finisher after finisher in an attempt to take the title is a story in and of itself. As we've already covered in this list, Kurt Angle is one of the best at the WWE main event style, and Rock's not far behind. Taker was coming to the end of his failed heel run and a month-long reign as WWE Undisputed Champion. And yes, this match was pretty much 20-minutes of three top talents hitting all their finishers on one another, and stealing the finishing moves and signatures spots of their opponents. The match has as many false finishes as any other match I can remember and the response from the crowd suited the drama of the match. In the end the Rock hit Angle with the Rock Bottom to win what would be his last title for over a decade. It was a memorable title match, undoubtedly, that had the crowd eating out of their hands and it perfected a style that would be replicated to the present day. Sure, it was all a bit over the top and a bit silly but it was incredibly entertaining.



1.= World Heavyweight Championship Match: Chris Benoit © vs. Triple H vs. Shawn Michaels
Backlash 2004


1.= World Heavyweight Championship Match: Triple H © vs. Chris Benoit vs. Shawn Michaels
WrestleMania XX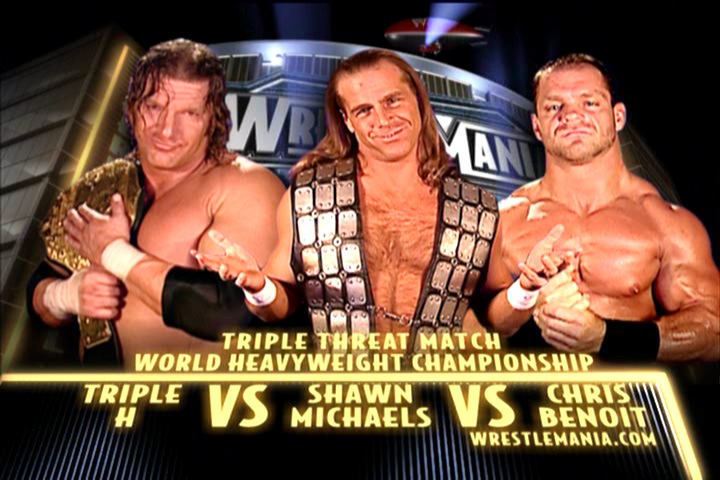 I can't separate these two. In the entire history of professional wrestling, when it comes to Triple Threat matches there's pretty much two that all others are measured against. One off of them is the main event from WrestleMania XX featuring Chris Benoit forcing Triple H to submit while Shawn Michaels is incapacitated on the outside. The second is TNA's original three-way between AJ Styles, Samoa Joe and Christopher Daniels. Both matches are perfect for different reasons. But a lot of people dismiss the rematch of Michaels/Benoit/Triple H. Some people may not believe it's as good a match, but there's also likely a few who dismiss simply because it's the rematch. It's actually every bit as good, if not better. The execution of both matches is flawless. Each matched had a phenomenal crowd. You could argue that Benoit winning the strap was the more satisfying conclusion but at the same time there was something magical about Benoit getting the submission win in Canada, using the Sharpshooter on Shawn Michaels. Earl Hebner even had to run in following a ref bump o the dismay of the Edmonton faithful. In both these matches, the story-telling, the drama, the precision and the excitement is off the charts, from start to finish. This is three total professionals doing exactly what they do best and leaving it all out in the ring. As big a fan as I am of multi-man matches and particularly the Triple Threat, I don't think anything will come close to the level of perfection that these three men achieved. And the most marvellous thing of all is that they managed not once, but twice.



This Week's Farewell




Social Media Propaganda





FOLLOW DANIEL WILCOX ON TWITTER!
BEFRIEND DANIEL WILCOX ON FACEBOOK

Follow 411 Mania on TWITTER and like it on FAECBOOK!

Next week I'll be doing another Top 30 WrestleMania countdown and I'm going to let you fine people pick the topic. I won't be doing matches because I don't want to take away from the site's big feature. So I'm thinking moments, or performers, or even entrances, something along those lines. But I'm open to suggestions so leave anything down there in the comments section.

Until then, thanks for reading and I'll see you next week.
comments powered by