SPOTLIGHTS
Wrestling's 4Rs 3.21.14: WWE Monday Night Raw & NJPW on iPPV Reviewed
Posted by Larry Csonka on 03.21.2014

Triple H destroyed Daniel Bryan to close Raw, the 2014 New Japan Cup started and more! Wrestling's 4Rs breaks down the Right, the wRong and the Ridiculous of WWE Raw & NJPW on iPPV!


How the 4Rs of wRestling Work!
Here is a quick explanation of the 4R's. The column will run TWO times a week. We will group our feelings on the shows in various categories: The Right, the wRong and the Ridiculous. The Right is stuff that worked very well: a great promo, a great match and so on. PuRgatoRy is a section between the right and wrong. It shows equal traits from both sides that cannot be ignored and need discussed. It is not a bad place per say, as things can get remedied or go the wrong way the very next week. The wRong is what it sounds like: bad matches, bad or boring promos and so on. The Ridiculous is stuff that had no right on TV: Stupid angles and so on. And there is always a possibility of a 5th R, which is as bad as they come. This column is supposed to be analytical, and at the right time very critical of the shows, it was the whole reason it was created. This is not a "mark" column, nor a "smark" column, our goal is to analyze the show from many different fronts, reward the good and call out the bad. We will not apologize for our opinions, they are as they are, whether positive or negative.
---
Yes please.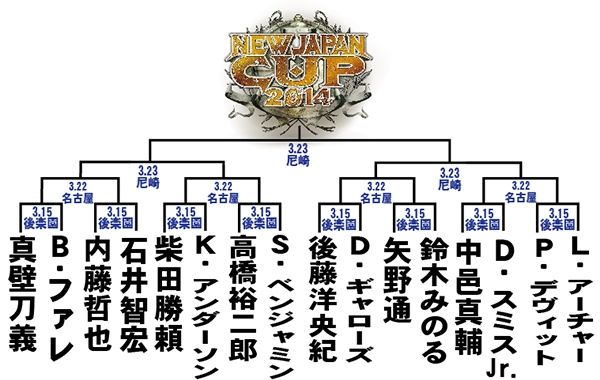 NJPW New Japan Cup Night One (3.15.14)
New Japan Cup Opening Round Match: Shelton Benjamin defeated Yujiro Takahashi [**]

New Japan Cup Opening Round Match: Minoru Suzuki defeated Toru Yano [*½]

New Japan Cup Opening Round Match: Katsuyori Shibata defeated Karl Anderson [***]

New Japan Cup Opening Round Match: Hirooki Goto defeated Doc Gallows [**¾]

Hiroshi Tanahashi, Kota Ibushi & Desperado defeated Kazuchika Okada, Gedo & Jado [***½]

New Japan Cup Opening Round Match: Prince Devitt defeated Lance Archer [***½]

New Japan Cup Opening Round Match: Bad Luck Fale defeated Togi Makabe [**½]

New Japan Cup Opening Round Match: Tetsuya Naito defeated Tomohiro Ishii [****¼]

New Japan Cup Opening Round Match: Shinsuke Nakamura defeated Davey Boy Smith Jr. [***¼]



The Tirade



On March 15th, the first night of the 2014 New Japan Cup started, and here are my thoughts. Minoru Suzuki and Shelton Benjamin won the opening matches, which were fine. Benjamin continues to walk through the later years of his career, rarely caring about his performances, which is a shame as he had a lot of talent at one time. Having him in the opening match is a mistake in my eyes. Having him move on may be even more questionable from a quality standpoint, but he is here to lose in the next round. Yano vs. Suzuki was better, but nothing special.


In the next two matches, Katsuyori Shibata defeated Karl Anderson and then Hirooki Goto defeated Doc Gallows. These were, thankfully, better matches with more than tournament ramifications. At the 42nd anniversary show on March 6th, Hirooki Goto & Katsuyori Shibata defeated IWGP Tag Team Champions Karl Anderson & Doc Gallows in a non-title match. Following that up with the singles victories here makes Shibata and Goto look like the guys that can beat the champions when they get their title shot. I like how that is working out, and they have had good outings all around, and think that they can deliver even better when they rematch for the titles. Gallows and Anderson have been a good tag team; Anderson is such a star and really needs a sustained singles push later this year.


The middle of the show featured a six-man tag to break up the tournament matches, and featured teams led by Tanahashi and Okada. I actually love when New Japan does this for a few reasons. First of all it gets the company's two biggest stars on the show. Secondly they are not only on the show, but they are in a match that reminds us of their feud, which will be revisited down the line, but doesn't give away a single match for no reason. Thirdly, having the top stars of the company on the show, but not in the featured match, strengthens the card, but also allows others to shine and take the main event spot. I liked this because it was simple and it worked.


Prince Devitt defeated Lance Archer in a strong match, the best tournament match on the show up and to that point. Devitt won the match, which he should have, but Archer continues to show his improvement, which is always a good thing. Bad Luck Fale defeated Togi Makabe in a perfectly fine match, but nothing special.


At the NJPW New Beginning in Osaka event, Tomohiro Ishii vs. Tetsuya Naito was an awesome match and was a MOTY contender. They faced off once again, and while not quite as great as that match, they delivered the best match on this show. This was simply a case of two guys that are not only really good, but that work well together. They were given time, they did their thing and they delivered a tremendous match. Guys that work this well together I will never complain about wrestling several times because I like awesome wrestling. Excellent work here from both.






Shinsuke Nakamura defeated Davey Boy Smith Jr in the main event of the show. The match, which was a rematch from last year's tournament, fell a bit flat to me, especially after Ishii vs. Naito. This wasn't bad in any way, but not what I would have selected for the main event, Nakamura is awesome and Smith is greatly improved, but not a main event caliber guy.


This all leads to the semifinals on March 22nd, which will be…

~ Katsuyori Shibata vs. Shelton Benjamin
~ Hirooki Goto vs. Minoru Suzuki
~ Tetsuya Naito vs. Bad Luck Fale
~ Shinsuke Nakamura vs. Prince Devitt


Overall: This was a good show to kick off the tournament. They played off of past feuds, we had the one great match, and it was an easy show to watch. Unfortunately the crowd (standing room only of just over 2,000) wasn't all that into things. Again, I also have fear of NJPW suffering from over saturation; they are upping the iPPv is 2014 and some of the cards have shown that. Also, running the NJ Cup on IPPV (three total shows) may hurt the G1 Climax later this year.

Final Score: 7.0

As a reminder, I will be going by the 411 scale…

0 - 0.9: Torture
1 - 1.9: Extremely Horrendous
2 - 2.9: Very Bad
3 - 3.9: Bad
4 - 4.9: Poor
5 - 5.9: Not So Good
6 - 6.9: Average
7 - 7.9: Good
8 - 8.9:Very Good
9 - 9.9: Amazing
10: Virtually Perfect

As a reminder, this is not a basic "how good was the show" number like a TV show, as I have always felt that a PPV is very different from a regular show. I have always judged PPV on how they built to a match, the match quality, crowd reactions to matches and angles, the overall booking, how the PPV leads into the future, PPV price and so on and so forth. I have added this in here for an explanation since so many have asked, and I have previously discussed it on podcasts. I understand that this may seem different, but that is how I grade. Obviously your criteria may be different.
By: Jack Stevenson
Raw 3.17.14:
QUICK MATCH RESULTS:
Sheamus d. Titus O'Neil

Daniel Bryan d. Randy Orton in a Street Fight

Goldust d. Fandango

The Funkadactyls d. AJ & Tamina

The Big Show, Mark Henry, Big E. Langston & Ryback d. Alberto Del Rio, Damian Sandow & Rybaxel

Bray Wyatt d. Kofi Kingston


THE RIGHT:
A good day for fans of Triple things: Raw opened with Triple H getting a bit ticked off with Batista and Randy Orton and announcing that if he beats Daniel Bryan at WrestleMania, he'll be inserting himself into the WWE Championship match. I am all in favor of this, it adds an extra bit of tension into the Bryan-HHH match, and Hunter's delivery in this opening segment was great, he leaned over the top rope and hurled insults at his two hand picked A+ players and you just believed that this was a dangerous guy who'd just had enough with everything and was on the brink of doing something very very nasty. It didn't drag either like a lot of segments featuring these guys are prone to doing. A fine start to the show.

Live Water Torture: Sooooo at the conclusion of the show Triple H came out for a chat with Daniel Bryan and was actually relatively nice to him, emphasizing that he had no personal vendetta against him and even offering a handshake. Then some police officers came down to arrest Bryan and Stephanie and Triple H were arguing, and I would describe myself as mildly entertained, but I didn't see one of the most disturbing, brilliant finishes to a show in years on the horizon. But hey! HHH dropped his friendly persona and absolutely beat Bryan into a pulp while the fan favorite was helpless and handcuffed. He threw him all around ringside, ripped his shirt to shreds. let Stephanie slap him around, dumped him with a Pedigree, and, most violently and compellingly, held his face in a water cooler. I don't know if this is a feeling everyone else is sharing, but I thought that was one of the most violent and deeply unpleasant things I've seen on a WWE show. Not in the "wow he went through a flaming table how terrible but also exciting!" way, but in a squirmy, watch in silence, hate the perpetrator way. It didn't cross any kind of line or anything, it was just a very powerful, different act of brutality in a business that sometimes seems to have exhausted them all. Everyone performed their role in this beautifully; Bryan was a magnet for sympathy, Triple H seemed the most merciless man on the planet, and Stephanie's mixture of sarcastic concern and gleeful cheering was just so, so evil. It was a magnificent, old fashioned angle that's made me so much more ready for their WrestleMania match. You look at things like this and remember that brief post Summerslam period where for like two weeks this Authority vs. Bryan angle was wonderfully coherent and cohesive and getting everyone involved over as fuck, and you realize that everyone involved in this, from Bryan to Hunter to Stephanie, really, really knows what they're doing in a wrestling ring, and you wonder how this went so spectacularly off the boil in the first place. For now, it's back on it, and hopefully it can stay there at least until WrestleMania.

Cena Fears Homeless Dudes in Hawaiian Shirts: After a poorly conceived, self-defeating promo last week, John Cena redeemed himself this time out in a very good segment. Just admitting that he fears the Wyatts was enough for me, as it brought out a rarely seen vulnerable side of Cena and gives the match at WrestleMania an extra uncertainty and edge. Bray cut in and was a bit more personal than usual with a dig at Cena's girlfriend, which is also a smart move as the one issue with Bray is that his promos are so ambiguous it's hard to build a properly heated feud on them. Nothing but positives from this segment.

More Video Packages about Deadmen and Streaks: Paul Heyman came out to introduce a video package, the thrust of which was that Undertaker's barely survived the last few Manias, and now he's facing a guy that's annihilated all the people who Taker scraped past, so logically Taker's getting annihilated. Heyman did a solid job of getting the point across as well, and this is a good thing for the feud to revolve around, it makes sense as a theory and it's got as good a chance as anything of convincing people the Deadman could actually lose this year.



puRgatoRy:
The Usos vs. The Real Americans: This was totally fine but also mostly forgettable from two of WWE's best teams. The Real Americans victory gives me hope that they might stay together for a tag team championship match at WrestleMania, which would presumably be much better than this and have the added benefit of keeping the fucking New Age fucking Outlaws off the card, which is where they belong.

Daniel Bryan vs. Randy Orton: There was nothing wrong with this match per se, it was a fun little brawl, but I've really had enough of Bryan-Orton singles match now. As good as both guys are they just aren't distinct enough to justify so many. There were some good intense moments and the finish kept all three guys looking credible, but I'm really not sure what to say about these matches. It's Bryan-Orton, it's been done, the stakes need to be higher to justify more outings.

The Shield are not your asset: So, hey, the Shield look united again, they came to the rescue of Jerry Lawler and beat down Kane and might even be turning into good guys. On the one hand this is great because I really didn't want the Shield to break up, they've got so much life still in them, they're a walking guarantee of a fantastic match, everyone benefits from being around them. The problem is that having seemed on the brink of a spectacular meltdown, feuding with Kane seems a bit of a step down for them. They've had one of the most phenomenal years a stable has ever had and their reward looks like it could be a match about as prestigious as the one they had on last year's WrestleMania. Also, a group who count 3 on 1 muggins as among the most effective tools in their arsenal might not flourish as fan favorites as they did rule breakers, though all three have the talent to make it work. I believe in the Shield, as it were, and you should too, so let's see where this goes.

Goldust vs. Fandango: A nothing match, but at least it was a different pairing, and some of the Rhodeseses dancing was pretty funny. I would have no objection to a Cody Rhodes/Fandango/Summer Rae love triangle storyline if it got them all on the WrestleMania card.

The Funkadactyls vs. AJ & Tamina: While not quite as good as last week's match with the Bella Twins (I know, wrap your heads around that one) this was still an OK outing from the Divas. A little sloppy in places, but things seem to be happening with Tamina and AJ falling out and Naomi earning a deserved title shot. Naomi-AJ could be legit good. I'm feeling more optimistic about the division now than I have in a long time.

8 Man Tag: Another middling match on a Raw that had a lot of them. There were enough different styles for this to be fun with a little longer time, but as it is it means nothing and is building to a Battle Royal that will probably mean nothing unless the winner does something fun with the idea of carrying the trophy around for a year.

Kofi Kingston vs. Bray Wyatt: Again, not much too this outside of some moments where Kofi's speed and Bray's power meshed nicely. Wyatt looked dominant though so it accomplished its purpose.


THE WRONG:
Sheamus vs. Titus O'Neil: Ah, St. Patrick's Day, where horrible Dude Bros go out and exist in a nightmarish fantasy Ireland where everything's been painted green and developed alcohol poisoning. And if that wasn't bad enough, there was this segment, in which Sheamus and Titus O'Neil had a bland match with some tedious Hornswoggle spots thrown in. Christian was on commentary and afterwards dropped Sheamus with a Killswitch on the floor, so this feud continues even though there's no reason to care anymore. Booooo to all of this.


THE RIDICULOUS:
NOTHING


THE RAW MATCH OF THE YEAR LIST:
No change this week. On in ring merit Bryan-Orton probably deserves a spot but I enjoyed the two six mans in 9th and 10th much more than I did their outing this week. None of them will be on the list by next month anyway probably.



2.17.14- John Cena vs. Cesaro


3.03.14- The Shield vs. The Wyatt Family


2.03.14- Daniel Bryan vs. Randy Orton


2.10.14- Sheamus & Christian vs. The Real Americans


1.27.14- John Cena, Sheamus & Daniel Bryan vs. The Shield


1.13.14- CM Punk & The New Age Outlaws vs. The Shield


1.20.14- Rey Mysterio vs. Alberto Del Rio


2.03.14- The Shield vs. Kofi Kingston, Rey Mysterio & Big E. Langston


2.10.14- Rey Mysterio & The Brotherhood vs. The Wyatt Family


The 411:


The vast majority of this show was pretty average, but a tremendous closing angle can alter your perceptions quite a bit. It really was a superb bit of pro wrestling. And everything else was inoffensive at least.

Show Rating: 7.0

As a reminder, I will be going by the 411 scale…

0 - 0.9: Torture
1 - 1.9: Extremely Horrendous
2 - 2.9: Very Bad
3 - 3.9: Bad
4 - 4.9: Poor
5 - 5.9: Not So Good
6 - 6.9: Average
7 - 7.9: Good
8 - 8.9:Very Good
9 - 9.9: Amazing
10: Virtually Perfect

The 871st edition is over…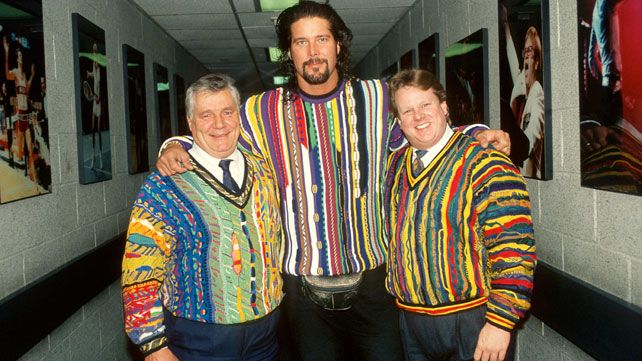 The 90s…

Have you checked out the Csonka Podcasting Network? If you haven't, you should We run anywhere from 15-20 shows a month, discussing pro wrestling, the world of MMA, the NBA, general sports, popular TV series of the past, bad movies, battle rap, interviews, MMA & Wrestling conference calls and more! Around 10 different personalities take part in the various shows, which all have a different feel; so you'll likely find something you like. All of the broadcasts are free, so go ahead and give a show a try and share the link with your friends on the Twitter Machine and other social media outlets! Running since May of 2011, there are currently over 500 shows in the archive for you to listen to.



Your heart is free. Have the courage to follow it…TO CSONKA'S TWITTER!

http://www.twitter.com/411wrestling
http://www.twitter.com/411moviestv
http://www.twitter.com/411music
http://www.twitter.com/411games
http://www.twitter.com/411mma
comments powered by