SPOTLIGHTS
Smart Marks 3.23.14: Raw Impact
Posted by Dino Zee on 03.23.2014

This week we'll discuss the fun with "different", long after a lost Lei"D, and talk about favorite WrestleManias! Come on in!

Welcome back one and all to another edition of Smart Marks! It's your end of the week stop to get all sorts of ridiculous as we talk about the good, the horrible, and the stupid as it pertains to our favorite escape, pro wrestling! I'm Dino, and I'm your host. I like to foster debate, and even get a little active in the comments section in the name of keeping the talk going. If it gets a little out of hand, I'll demand that we hug it out, because that's what we do!

Have you been reading 411's Top 30 WrestleMania matches? I'd recommend it! I've covered Brock/Angle, Hogan/Rock, Hogan/Andre, Hogan/Warrior, and Hogan/Savage so far, and it's been really fun getting to relive the classic moments!

I've also liked seeing how nearly every match is "easily top 5/10" according to the comment section. There's like 14 matches posted by this point, surely not every single one of them can fit into 5 spots? Yes, we're all gonna disagree, but maybe it'd be better to argue actual points instead of just griping. Hell, I didn't even vote at the start because I knew I'd be pissed if my list wasn't mirrored by the final list. So, I instead chose to wait and see the results, and then pick the matches I loved the most. Makes it a much more enjoyable feature, I feel.

Ah well, it's been a busy week, so let's get to the marks! Cena and Wyatt are on a collision course, Hunter and Steph used their super big brains to manipulate stupid Daniel Bryan, Lei"D Tapa and Gail Kim went at it, and Samoa Joe got another shot at Magnus! All that, while Shocker and Rush continued to heat up their rivalry in CMLL! Caramba!!





The Fun with Different



I enjoyed this week's episode of Impact quite a bit, and I think I know the reason for it. First off, I rather enjoyed the EC3/Bobby Lashley encounter. Not because it was the finest exhibition of American Professional Wrestling, but rather, because TNA kept it simple, and did the right thing. Lashley didn't completely destroy EC3. He didn't beat him in 3 minutes. It didn't look like Carter was out of his league. In fact, EC3 held strong with Lashley, and gave him a pretty competitive outing in the short time the match took place. Finally, Willow ran out and assaulted EC3 as he continues on his road of revenge. Both are kept looking good, and Carter maintains his spot as a viable, up and coming heel.

I also enjoyed the Gunner and James Storm confrontation, the match between Gail Kim and Lei'D Tapa, and even the triple threat tag match featuring the BroMans, Wolves, and Tigre Uno/Sanada. You know what else I enjoyed? No Sam Shaw. Samuel, if you're into pretending they're not the same name.

I've made no secret that I don't enjoy Samuel Shaw. However, perhaps I haven't been clear enough on why that is. I don't mind the man himself- I don't think he sucks. I don't think he's some person with no business in the ring, or that his acting sucks. Sure, it's campy, but I also understand that's the point. My problem with Shaw is, was, and will remain to be the presentation of his character. The way some cameramen are seen, but others are not. The way everyone just watches what he does to Hemme, and no one but Ken Anderson cares. This goes to Hemme, too- why wouldn't she have contacted law enforcement of some kind after seeing what this man is doing? Why would she continue to show up to work? Why would TNA continue to put her in a position where she's nearly guaranteed to be hassled?

On top of that, Shaw's character makes it so he wrestles a slow, methodical style. That, in and of itself is no crime, either. However, it makes it impossible for him to show off what he can do. I've joked about it before, but his move is a sloppy head and arm choke. One that looks like both guys are just standing there. Instead of listing other moves in wrestling history that have sucked, let's just admit it's not working out in that facet, either. Simply tweaking the move to look more dangerous is one way to go about it, but perhaps giving him an impact move of some sort would help, too. The point here is, none of it's working for me.

I'm not deaf, nor am I blind. And I read, and I hear my friends talk about how Shaw is good! He's cool, he's... different. And, as I should know by now, anything that's different is good! I want to say I even saw frequent reader/commenter A.G. Awesome (I'm assuming it stands for Anton Gustav, but I could be wrong) give this line of defense as well. It's good because it's different. It's new. It's gutsy. While true that it's different, new, and gutsy, I haven't seen anything "good" yet, nor do I agree with this odd ruling. Was Max Moon "good"? Not "so bad it's good" or "I enjoy bad things ironically so yeah, it's good" but rather, was it well done? Because Max Moon was pretty new. What about the Hog Pen match? Was that good? Remember when Konan and Bob Armstrong had an arm wrestling match in a cage? Was that also good? All of those were new, but they were not so hot.

Again, I'm not slamming Sam Shaw, the man who works as professional wrestler for TNA. He's clearly doing all he can to make it work. The problem is, he has a character that could be amazing, and it's weighed down by all sorts of presentation problems. And since it's "new" no one really cares about it. Hey, maybe I'm the only guy who gets worked up about TNA's lower heels not being treated right (just like I did for Jay Bradley), but damn it, I want to see them given vehicles to get over with the audience, and not to simply be remembered as some Whatever happened to... conversation starter. It's possible to turn this around, but it's also possible we just keep him going as some goofy creep that no one really pays any attention to.

Hopefully the writers were doing some tweaking while giving him the week off.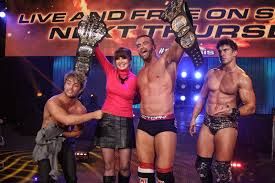 Farewell, My Lei'D



As I mentioned earlier, I enjoyed the match between Gail Kim and Lei'D Tapa. However, I was pretty bummed about the ending, as Lei'D Tapa is now apparently done with TNA wrestling.

Remember how I said I like to gripe about TNA's lower heels not getting treated so good? I'll crusade for them forever! Now, Tapa was actively bad in the ring, so I had no real illusions of her wearing gold in the next few months. Still, I enjoyed her as a character. A brute in the Knockouts division has been missing since Awesome Kong left, and while ODB is a serviceable enough replacement, she's too popular to really stay as a heel for very long. Tapa, on the other hand, had the size and believable look to have her go out there and manhandle the Knockouts. The association with Kim made it easy to turn either face at the drop of a dime and do a feud. I always assumed that once Tapa was ready, they'd cut her loose and give her a singles run.

Yes, she was rigid as all hell. Yes, it appeared that she could only do one or two moves with any sort of real confidence. Still, for whatever reason, I dug her, and I'm going to miss her. And while I'm not saying that she would have turned out the same way, I remember when Trish Stratus was atrocious in the ring, too. You get better with time. Hopefully, Tapa can use this time to work indies, maybe even travel a bit and get some more seasoning, and come back a better wrestler overall.

Still, I can't help but wonder why more wasn't done with her. She was basically given the same treatment we've seen Tamina receive in WWE: the announcers pay lip service to how big, bad, and scary she is, but she loses to basically everyone that matters, and once she splits from her boss, will lose again. I would have liked to see Tapa given a real chance to be someone important, but it wasn't meant to be. Maybe next time, I guess.

We here at Smart Marks, Inc. wish the Lei'D the best in her future endeavours.

What'd you guys think of Lei'D Tapa? Good riddance to bad rubbish? Should TNA have tried more with her?





Manic for Mania



As we're all more than aware of, WrestleMania is coming up in a couple of weeks. As I usually do when the big events are on the way, I was hoping to take a little trip down Memory Lane, and discuss my favorite WrestleMania of all time.

See, this isn't an easy decision. WrestleMania 3 is of course a classic, with the biggest match of all time, as well as the WWF's best example of a pure wrestling match between Savage and Steamboat (at least for that period). The fan in me also loved WrestleMania 10, while 17 is a fantastic show as well. I was in attendance for Manias 19 and 21, so both hold beloved spots as well. On top of that, I feel both show was rather stacked, with Mania 19 really having an amazing card.

Still, when I get down to it, I can really only go one way for my all time favorite WrestleMania, and that's WrestleMania 8. Owning all the Manias, 8 is the one I've owned the longest, having a recording of the live pay per view broadcast. I know that show inside and out. I know that it gets off to a hilarious start when, after Reba McIntyre sings the National Anthem, Bobby Heenan says that she's the sister of El Matador, Tito Santana. When Gorilla asks what he's talking about, Heenan exclaims "She's Arriba McIntyre!" And with that, we're off to the races.

The show opens with a fun clash of generations as El Matador locks up with Shawn Michaels, only a couple months into his post-Rockers run. Still, the plans for Michaels are more than clear, as Heenan gushes over his ability, labeling him a future Intercontinental Champion. Even Monsoon has to admit that while he may not like the attitude, the man is a good wrestler. Santana and Michaels have a decent little outing that Michaels wins with a little chicanery.

Other fun but ultimately unimportant matches include a really entertaining 8 man tag with the Mountie, Repo Man, and the Nasty Boys taking on the Big Boss Man, Sgt. Slaughter, Hacksaw Duggan and MY boy, Virgil! Virgil makes a great point in the pre-match interview when he asks the heels "WHO is going to protect YOUR nose?!" while pointing to the protective mask he had to wear after a beating at the hands of Sid. Yeah, jerks, who IS going to protect your nose?! The match itself is just a nice, energetic sprint with everyone wearing their working boots and a finish that leaves the fans happy.

Jake Roberts saw his last WWF hurrah for a few years at this show, as he takes an unreal Tombstone on the floor at the hands of the Undertaker. This is a fun match, as Jake shockingly uses psychology to show that Taker can be beaten with speed and cunning. I know, I know- psychology in a Jake match? No way!

Even outings for Rick Martel and Tatanka, as well as Skinner and Owen Hart, while short, are inoffensive fun. The only match I didn't enjoy is the tag title encounter between Money Inc, and the Natural Disasters. However, I hated the Natural Disasters with a passion at this time, and the double countout only makes it a giant waste of time.

However, the Intercontinental Title match between Bret Hart and Roddy Piper, the WWF Title match between Randy Savage and Ric Flair? These are two of my all time favorite matches. I'd have to assume we've all seen these matches by now, but if you haven't, PLEASE stop reading and go watch those instead. Seriously. Hart and Piper was built on the story of Hart losing the IC title to the Mountie while sick with the flu. Piper than swooped in at the 92 Rumble and won the title from Mountie. Thus, he gave Bret a shot at his belt. I love this match. It's violent, it's physical, and there's a ton of emotion. I won't give you the play by play, but when Bret pushes off the turnbuckle and reverses the sleeper into a pin, I always get a huge smile on my face.

As for Savage/Flair? I've said it before and I'll say it forever: this is the greatest WWF Title match that's totally overbooked. However, the overbooking is flawless. Mr. Perfect interferes roughly 652 times, with the ref never once actively giving a crap. Miss Elizabeth runs down. Bobby Heenan goes insane at the commentary booth. And in the end, after both guys have hit each other with everything they (and their associates) have, Savage blocks a punch, decks Flair and schoolboys him with a handful of tights. The Dirtiest Player in the Game gets outcheated by the WWF's resident Savage. I don't do the asterisk thing for matches, but Savage/Flair at Mania 8 is an easy 5 asterisk affair, from where I sit.

Lastly, the main event of Hulk Hogan vs. Sid. Both of these guys were my top favorites at the time. I, however, was LIVID at Hogan for the bitchfest he threw at the Rumble, pulling Sid out of the match after Sid had eliminated him. I couldn't believe Hogan would help Ric Flair win the title! And so, I rooted for Sid in this match. It's my dark secret as a Hulkamaniac- I wanted Sid to beat Hogan and give him his proper pay back.

Now, the match itself isn't that great. It's not a disaster, but it's certainly not the match that should have ended the show. However, when the match was over, and Papa Shango and Sid attacked Hogan, we would then learn why it went on last: the return of the Ultimate Warrior. The music hit, and for probably the only time in wrestling history, the announcers knew EXACTLY what it meant. Heenan and Monsoon went nuts, the fans exploded, the Warrior sprinted down and saved Hogan. Posedown, and end the show.

It's my all time favorite WrestleMania, even after all these years.

What's yours? Hit me up in the comments and tell me about your favorite WrestleMania, or even just your favorite matches!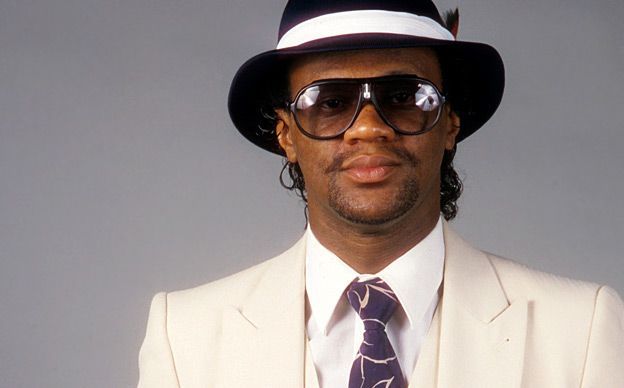 PUT SLICK IN THE HALL OF FAME!!



And that should do it the week! Hope everyone stays safe and sound, and that you all enjoy your WWE, your TNA, your Lucha, your Puro, and your Indies.






It's All Wrestling. It's All Stupid. We All Love It.
comments powered by