SPOTLIGHTS
The 8-Ball 3.24.14: Top 8 Post-Wrestlemania Directions for Daniel Bryan
Posted by Mike Hammerlock on 03.24.2014

From becoming a Heyman guy and slaying giants to a feud with Bray Wyatt, fighting The Authority and more, 411's Mike Hammerlock looks at the top 8 post-WrestleMania directions for Daniel Bryan!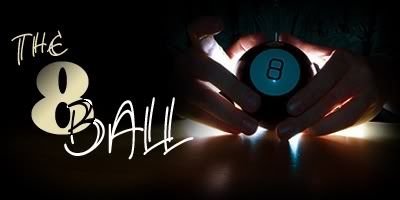 Let's pretend Daniel Bryan has just had his YES! moment at Wrestlemania. He's beaten HHH and then taken out Orton and Batista to win the title. For the record, I'm still hoping they turn it into a four-way elimination match because it would allow for better storytelling and stack the odds squarely against Bryan. Technically the first order of business for his three opponents would be to eliminate him and the storytelling would be watching the former Evolution guys slowly turn on each other, giving Bryan the opening he needs to win the belts.

Anyway, back to the post-Wrestlemania landscape. Daniel Bryan is all over the talk shows. The WWE is churning out press releases proclaiming WM30 was the most-watched Wrestlemania in history and that the WWE Network has some absurdly high number of subscribers (they're setting that up on a tee). Basically Bryan and the WWE find themselves at an apex where he's a cultural phenomenon and it's raining money in Stamford. Then what? Where do you take his story once the ultimate underdog tale has paid off? What happens after the princess kisses the frog?

WWE Creative needs to come up with something new. Mr. Bryan needs to keep the title for a while. Might be time to boil it down to a single belt. I suppose they could have the Authority conspire to screw him out of the World Heavyweight Championship while he still retains the WWE Title, but every time I shake the Magic 8-Ball on that it answers "Hate that." So no belt splits make the top eight new angles for Daniel Bryan.




8. Paul Heyman Guy



What do you do when you find yourself in a den of snakes? Get a mongoose. Daniel Bryan will need to fend off the assembled evil powers of the McMahon family. Who has a mind devious enough to outwit them? Whose lack of a moral compass can point the way when you find your way in an impossible situation? Why that would be Paul Heyman. Would Heyman ultimately betray Bryan in favor of BAROCK LESNAR? Of course he would, but for a few months it would be all kinds of fun watching Bryan-Heyman outwit the Authority at every turn.




7. All in the Family (Wyatts Edition)



D-Bry's most unfinished business (after he beats HHH and wins the belts) is with Bray Wyatt. The 8-Ball also assumes Wyatt will be John Cena at Wrestlemania. Surely Cena will get that win back, either at Payback or at some future point in time, because he always does. Yet Daniel Bryan deserves a signature feud during this title run. After taking down Cena, the Shield and, oh yeah, Daniel Bryan in recent months, Wyatt might be the man on which the Authority pins it hopes of taking the title. It would keep the odds-stacked-against-him storyline for Bryan, but with an Authority-backed Wyatt Family bearing down on him. Plus, that loss at the Royal Rumble can't be sitting well with Bryan.




6. Giant Slayer



You may have noticed Daniel Bryan is a bit wee in stature. Nothing wrong with that. In fact, it creates fodder for endless David vs. Goliath fights. Randy Orton, Batista, HHH, Brock Lesnar, Roman Reigns - all big men, but they look so much bigger standing next to the goat-faced boy. It's a bit simplistic to boil down Bryan's reign to small guy defeats big guys, but it's an easy way to turn a man into a myth. It goes beyond that though. By taking down the biggest names on the roster (and by extension in the industry), Bryan would establish a new world order, brother. That really should be part of what gets accomplished during his reign. We should get the WWE that's going to lead us forward into the Network Era.




5. Stepping Stone



Remember how great it was 10 years ago when Eddie Guerrero and Chris Benoit won the belts? Now fast forward to a few months after that. The belts were lost and they spent their remaining years putting over other guys. Maybe that isn't the most satisfying direction for Bryan fans, but the WWE has new champs to mint. I mentioned Bray Wyatt above. There's the Shield guys too and possibly Cesaro. You need ex-champs to ratify your up-and-comers. The industry thrives on new blood. Bryan can put on great matches for the next half-decade, making guys look like the best thing since sliced bread. Much as some folks don't want it to work out that way, it probably wouldn't be bad for business.





4. The Madness of Daniel Bryan



Triple H warned Daniel Bryan. He even warned us. Power corrupts. If you need further proof of that, look no farther than Bryan's first title run two years ago. He asserted vegan superiority. He cheated to win. He drove poor AJ crazy. If you hadn't noticed, the WWE heel scene is flagging. HHH broke out some old school wickedness last week. Randy Orton's chance to be king of the bad guys got squandered with some of the worst plotting in modern WWE Creative history. Someone has to raise the bar on bad behavior. Batshit loco Daniel Bryan could be that guy. Have him bristle whenever someone else gets some spotlight. Have him rattle off his list of accomplishments like we're supposed to genuflect when he does it. Have him imagine plots all around him and then look to out-scheme his imagined enemies.




3. All in the Family (Bellas Edition)



Daniel Bryan is engaged to Brie Bella. John Cena is hot and heavy with Nikki Bella. They're nominally the two biggest stars in the company and they're possibly on the road to being brothers-in-law. They've pretty much got to fight. The question is how do you book it? Bryan is over enough that he could be the guy capable of pushing Cena into a heel turn. Officially I expect the Cena heel turn never to materialize, but not taking well to being yesterday's news is the perfect vehicle to send him to the darkside. Or D-Bry could pull on the crazy sweater. Or perhaps he could form a power couple with Brie (if she wins the Divas title), lording it over Cena and Nikki. Hey, they could chuck face-heel out the window and just do it as man vs. man. Well, more than that really. It would be Brand Bryan vs. Brand Cena. Whoever sells the most t-shirts wins.




2. Calling CM Punk



Before Daniel Bryan became the darling of the WWE, he was Bryan Danielson, the American Dragon. His back story and the road he took to where he is means something. What he represents means something. If he's going to get a run with the WWE title, he should strive to be a different kind of champion. Real simple way to do it. Come out to the ring and say, "As proud as I am of what I did at Wrestlemania and as proud as I am of beating the opponents the Authority keeps throwing in front of me, this title is supposed to mean you're the best in this business, that you're ready to defend it against all-comers. I've beaten some great wrestlers, but there's one guy I haven't beaten yet. I don't want to beat the next guy in line, I want to beat the best in the world. That's the fight I want and I'll guarantee you that's the fight these people want. CM Punk, wherever you are, come back and let's put on the match that sets the bar for every match that comes after it. Let's give the people the match that only you and I can have." Then, be careful what you ask for … because maybe CM Punk is feeling a bit sinister.




1. I Fight Authority



This is the one we're getting. It's actually Coyote vs. Roadrunner booking. After his perfect Wrestlemania plan fails, HHH can go back to the Acme catalog for ever more elaborate plans that blow up in his face. Bryan can, through the force of the people (clap your hand if you believe in Tinkerbell!), continually pull out wins when all hope seems lost. If you're looking for a wrestling industry precedent, HHH would be like Bobby (the Brain) Heenan continually failing to take down Hulk Hogan. Bryan has the entire crowd behind him like no one in a long time. Vince McMahon knows how to milk that for all it's worth. Get ready for the Invincible Goat.

I take requests.. The purpose of this column is to look forward. What could be? What should be? What is and what should never be? What would make more sense? If there's someone or something you think should be given the 8-Ball treatment, mention it in the comments section. I might pick it up for future weeks.
comments powered by