SPOTLIGHTS
411's Wrestler of the Week 3.25.14: Year Nine, Week 50
Posted by Larry Csonka on 03.25.2014

Triple H destroyed Daniel Bryan, Shinsuke Nakamura won the 201 New Japan Cup, Magnus defended the TNA Title and more! But who won 411's Wrestler of the Week? Find out inside!




Welcome to YEAR NINE, WEEK 50 of 411's Wrestler of the Week. A quick overview of the rules to kick things off for us as a reminder…

Each writer chooses FIVE wrestlers (although ties and tag teams are allowed) from any promotion and each wrestler gets a point total attached to that ranking. It looks a little like this…

1st - 5
2nd - 4
3rd - 3
4th - 2
5th - 1

Then we tally up the votes and the official 411 Wrestler of the Week is crowned. But wait, there's more! Each week the top SIX vote getters get a points value for their ranking which looks something like this…

1st - 15
2nd – 12
3rd - 9
4th - 6
5th - 3
6th - 1

...and they go towards the 411 Wrestler of the Year award to be announced each year around WrestleMania. This will be posted every Tuesday (the voting week runs Monday through Sunday). Let's see who wins this week…

---



Larry Csonka
1) Shinsuke Nakamura
Defeated Prince Devitt and then Minoru Suzuki to make the finals of the New Japan Cup. He hen won the whole thing by defeating surprise finalist Bad Luck Fale. Nakamura selected to challenge IWGP Intercontinental Champion Hiroshi Tanahashi, which is a continuation of a great feud, and adds more importance to that title.

2) Triple H: A great beat down by Triple H, truly reminding us how ruthless an asshole he can be on screen. The beat down was tremendous maybe going a bit too long, but se the tone perfectly now. If you didn't want to see Bryan battle him or a title shot and revenge, should sure as hell should now.
3) Bad Luck Fale: Defeated Tetsuya Naito and then Shelton Benjamin to make the finals of the New Japan Cup. The run to the finals was a big step for Fale, as it was not expected at all.
4) Shelton Benjamin
5) Magnus


JUSTIN WATRY
1) Triple H
One of the best segments of his entire career. Upon a second (and third!) viewing, it was even better then originally thought last Monday night. Kurt Angle and Eddie Guerrero would be proud of this entire thing. From start to finish, HHH was excellent just pummeling a helpless Daniel Bryan and the kiss from Stephanie McMahon afterwards. Top notch work from Triple H and like I said - ranks right up there with his best work. Ever.

2) Daniel Bryan: Yeah, might as well. Truth be told, the final segment of Raw was so great with Daniel Bryan and Triple H...but only one star did the heavy lifting. That man was NOT Daniel Bryan, but since he WAS there and WILL benefit the most, he gets a vote.
3) Big Show: Not much going on this week. Big Show looked pretty dominant heading into the 30 man Andre The Giant Memorial battle royal at Mania. I hope it is just a set up for a young face/heel to eliminate him last for the trophy. Show can be the 'favorite' now but then end up losing on April 6th.
4) Kane
5) John Cena


Ryan Byers
1) Triple H
Bow down to the King. People harp on the guy all year long, but, every time Wrestlemania season rolls around, Triple H delivers some of the most compelling performances that you'll see in WWE. His promo this week on Daniel Bryan was a very good one, and the beatdown he delivered was intense and rather memorable. Like him or not, like his creative or not, like his developmental or not, when it comes time for Triple H the perform in an angle where Triple H looks like a badass, he delivers every time out.

2) Shinsuke Nakamura: Though Nakamura is a well established main eventer in NJPW, it was still somewhat surprising this weekend to see him win the annual New Japan Cup tournament, in which he earned another shot at regaining his IWGP Intercontinental Title from Hiroshi Tanahashi.
3) Bad Luck Fale & Shelton Benjamin (tie): Speaking of the New Japan Cup, both of these men pulled off big upsets in the tournament. Benjamin upended Katsuyorhi Shibata in the second round, and Shibata was the odds on favorite to win the whole thing. Fale, meanwhile, defeated Tetsuya Naito & then Benjamin to make it all the way to the finals, a featured role the likes of which he has not really had previously.
4) KUDO
5) Akebono


Paul LaPointe
1) HHH
To be fair I did call the swerve, the fake cops, and all that jazz but the ole HHH did pull it off in the end. It was a very effective segment and made me care for the upcoming WrestleMania clash.

2) Shinsuke Nakamara: A well to do weekend for the new no. 1 contender of the IWGP IC Champ. I am also a sucker for tourney's.
3) Magnus: Though some gripe about Magnus's booking as champion he still manages to defend the belt he holds so dear. Plus even though it was still filled with chickanary but he pinned Samoa Joe again.
4) Rybaxel and The Real Americans
5) Big Show


Mike Chin
1) Triple H
I have to admit that I was nervous this Monday that Triple H was actually turning face--and that's a sign of brilliant heel segment, as Trips flipped the script and gave Daniel Bryan a memorable beatdown.

2) Big Show: Show has a coherent storyline heading into the 'Mania battle royal. While I'd rather that a younger star benefit from the big battle royal win (and it could still happen), there is a certain poetry to Show full-on assuming the Andre the Giant role at this point in his career.
3) Kane: The Big Red Machine is apparently the de facto GM for the tag team division, setting up The Shield for a beating on Smackdown and rewarding his partners in crime with tag title shots at Wrestlemania, and, by most indications, aligning himself with The New Age Outlaws to go to war with The Shield in New Orleans.
4) Magnus
5) John Cena


Derrick Cannon
1) Triple H
Triple H once again played the role of the lead heel to absolute perfection. So many of us felt that he was about to turn face and than like a shot of lightning he reasserted his position of well...authority. Triple H's beatdown of Daniel Bryan set up the grudge match and the triple threat match up brilliantly.

2) Magnus: Magnus successfully defended the TNA championship and despite the interference and chaos Abyss created Magnus looked like a credible while doing it. TNA delivered a solid main event with a memorable finish and it looks like Magnus will be much more than a place holder champion during the era of the Dixieland angle.
3) Big Show: Big Show cemented himself as the clear threat in the Andre the Giant Memorial battle royal. Mixed with names such as Sheamus, Christian, and Dolph Ziggler, Big Show provides the much needed threat of the monster obstacle that needs to be overcome in order to achieve the coveted prize at the end of the match.
4) Bray Wyatt
5) John Cena


MIKE HAMMERLOCK
1) Triple H
Holy crap was that an awesome beatdown he gave Daniel Bryan. If anyone had forgotten how good Trips is at being bad, the served as a stiff reminder. It was like the gorilla finally bust out of his monkey suit. In one fell swoop, he sold Wrestlemania to every casual fan. At the time of this writing, I'm still hoping the WM main event turns into a four-way elimination match, because HHH is the wild card heel who could take that thing from *** territory to **** territory.

2) Randy Orton: On last Monday's Raw he served a reminder that, had he not been consistently kneecapped during the past seven months, he could have been the heel champ the good fans of the WWE deserve. When he was in the ring with Batista, he made Big Dave look like a rank amateur on the stick. Then he had yet another superb match with Daniel Bryan. Yes, Orton lost, but his work in that match was top shelf. Evil Randy Orton living up to his potential, that guy is worth his weight in gold. Too bad last week was the exception rather than the rule.
3) Real Americans: They beat the champs and then they helped lay out the Shield, which earned them a tag title shot (hopefully at Wrestlemania). Busy week for Cesaro and Swagger. Nice to see it.
4) Big Show
5) Shinsuke Nakamura


Daniel Wilcox
1) Triple H
I'm not sure why anyone is surprised about Triple H's performance on Raw last Monday. The guy has consistently been one of the best guys on the mic since he turned heel at Summerslam, and there's few in the history of the industry that can deliver a brutal beatdown like The Game did Monday night on Raw. If people weren't already chomping at the bit to see Triple H get his comeuppance at WrestleMania, they sure as hell are now.

2) Randy Orton/Daniel Bryan: These guys are consistently having good matches. I think we're at the point where we take it for granted when these two square off because they always deliver. Monday's Raw was no exception.
3) Real Americans: The pairing of Swagger and Cesaro seem to be working cohesively for the time being, beating the Usos on Raw and earning a title shot on SmackDown.
4) Big Show
5) Kane


Alex Crowder
1) Triple H
Triple H made me care about his match at Wrestlemania. That was a brutal beat down, that makes me want him to get his comeuppance. I generally would not put a part-time wrestler as #1, but this was amazing story telling. People will never forget this brutal attack. Triple H suddenly brought me back to the year 2000, when he truly was The Cerebral Assassin. I almost felt a little uncomfortable watching this attack.

2) Shinsuke Nakamura: He may not have been the expected winner, but for me winning any tournament is a big deal. This is the same tournament that Hiroshi Tanahashi, Kazuchika Okada, and more have won. That's good company. On top of that, he is now number 1 contenders for the Intercontinental Championship. Plus, I never mind seeing Nakamura and Tanahashi wrestle again.
3) Akebono: Akebono may not be my favorite All Japan performer, but even at age 44 he has successfully defended the Triple Crown 4 times. I always include defending a prestigious World Championship as quite the accomplishment, so for that reason alone Akebono will make my top 3.
4) Shelton Benjamin
5) Magnus

---
THE WINNERS~!
Special Mention…Shelton Benjamin - 7 Votes


Fifth Place…Randy Orton, Daniel Bryan, Jack Swagger and Cesaro - 8 Votes


Fourth Place…Magnus - 12 Votes


Third Place…The Big Show - 15 Votes

Looking dominant heading into the 30 man Andre The Giant Memorial battle royal…



Second Place…Shinsuke Nakamura - 18 Votes

Won the 2014 New Japan Cup, and chose a shot at the IWGP IC Title..



And 411's Wrestler of the Week is…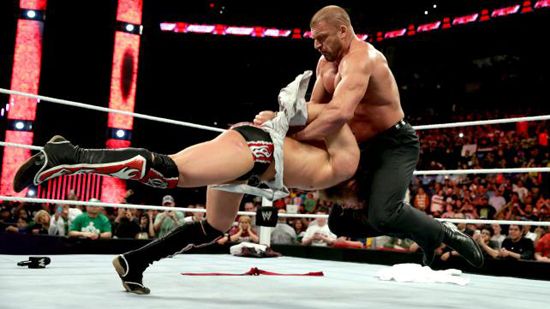 Triple H - 44 Votes

It's WrestleMania season, and it's time to play the Game…




Year-End Standings~!
And here are the standings after week 50…

1. Daniel Bryan - 268pts.

2. Roman Reigns - 151pts

3. Randy Orton - 145pts

4. Seth Rollins - 96pts

5. AJ Styles - 90pts.

6. Bray Wyatt - 84pts.

7. Dean Ambrose - 77pts.

8. CM Punk - 74pts.

9. John Cena - 73pts.
9. Cody Rhodes - 73pts.



Kazuchika Okada – 60pts.

Brock Lesnar - 51pts

Magnus - 50pts

Cesaro - 48pts.

Christian - 45pts.

Goldust - 43pts

Jimmy Uso - 42pts.
Jey Uso - 42pts.
Big E. Langston - 42pts.

Chris Sabin - 39pts.

Bobby Roode - 34pts

Matt Jackson – 33pts.
Nick Jackson – 33pts.
Prince Devitt - 33pts
Curtis Axel - 33pts.

Luke Harper - 32pts.

Hiroshi Tanahashi- 31pts.

Ryback - 30pts

Erick Rowan - 29pts.

Kurt Angle - 28pts.

Mark Henry - 27pts.

Austin Aries - 25pts.
Ricochet - 25pts

Bully Ray - 24pts.
Big Show - 24pts.

Samoa Joe - 22pts.
Tamohiro Ishii - 22pts.

Manik - 21pts.
Tetsuya Naito - 21pts.

Sami Zayn - 18pts.
Gunner - 18pts.
AJ Lee - 18pts.

Alberto Del Rio - 17pts.

Kofi Kingston - 16pts.
Damien Sandow - 16pts.
Adam Cole – 16pts.
Dolph Ziggler - 16pts.
Triple H - 15pts.
Kenta Kobashi - 15pts.
KENTA - 15pts.

Shinsuke Nakamura - 12pts.
Yuji Nagata - 12pts.
Karl Anderson- 12pts.
Sin Cara II - 12pts.
Jake Roberts - 12pts.
Masato Yoshino - 12pts.
Jeff Hardy - 12pts.
Michael Elgin – 12pts.
Kyle O'Reilly – 12pts.
Billy Gunn - 12pts.
Adrian Neville - 12pts.

Road Dogg - 10pts.
James Raideen - 10pts
Johnny Gargano – 10pts.
Batista - 10pts.

Rob Conway – 9pts.
Rampage Jackson - 9pts.
Mr. Anderson - 9pts.
Abyss - 9pts.
Wade Barrett - 9pts.
The Undertaker - 9pts
YAMATO - 9pts.
Jun Akiyama - 9pts.
EITA- 9pts.
T-Hawk - 9pts.
Harlem Bravado – 9pts.
Lancelot Bravado – 9pts.
Shingo Takagi - 9pts.
Doc Gallows - 7pts.
Seiya Sanada - 9pts.

Ethan Carter III - 7pt
Mikey Nicholls- 7pt
Shane Haste - 7pt
Rob Van Dam - 7pts.
La Sombra – 7 pts.
Shelton Benjamin – 7pts.
Jack Swagger - 7pts.

Akebono - 6pts.
BxB Hulk - 6pts.
Fandango - 6pts.
Yoshihiro Takayama - 6pts.
Jigsaw – 6pts.
The Shard – 6pts.
Robbie E - 6pts
Jessie Godderz - 6pts
MVP - 6pts.
Chris Hero – 6pts.

Drew Gulak – 4pts.
Jushin Liger - 4pts.
Mickie James - 4pts.

Paige - 3pts.
Madison Rayne - 3pts.
Akira Tozawa - 3pts.
Suwama - 3pts.
John Morrison – 3pts.
Dusty Rhodes - 3pts.
Tito Ortiz - 3pts.
Sting - 3pts.
Hernandez - 3pts.
Chavo Guerrero - 3pts.
Tomasso Ciampa – 3pts.

Kota Ibushi - 2pts
Paul Heyman - 2pts

Sheamus - 2pt
Eddie Edwards - 1pt
Davey Richards - 1pt
ODB - 1pt
Tiger Mask IV - 1pt
CIMA - 1pt
Katsuhiko Nakajima - 1pt
Alex Shelley - 1pt
Candice LaRae - 1pt
Ethan Page - 1pt
Eddie Kingston – 1pt
Chuck Taylor– 1pt
Trent Baretta – 1pt
El Hijo del Perro Aguayo – 1 pt



Voting began 4.16.13
Year-End Rankings Key:

WWE Contracted Wrestlers are represented in BLUE.

TNA Contracted Wrestlers are represented in GREEN.

ROH Contracted Wrestlers are represented in RED.

US Independent Wrestlers are represented in MAROON.

Japanese Contracted Wrestlers are represented in BLACK.

Mexican Contracted Wrestlers are represented in MAGENTA.

Other International Wrestlers are represented in INDIGO.

---
**PREVIOUS WINNERS**

Year One Winner: Ric Flair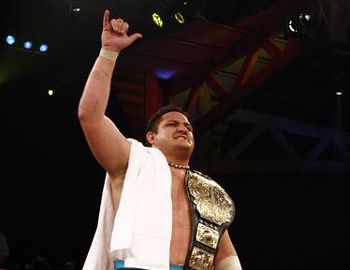 Year Two Winner: Samoa Joe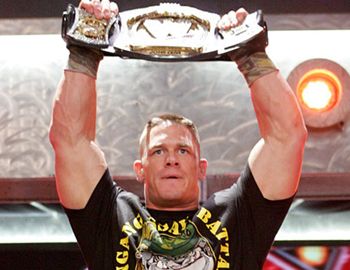 Year Three Winner: John Cena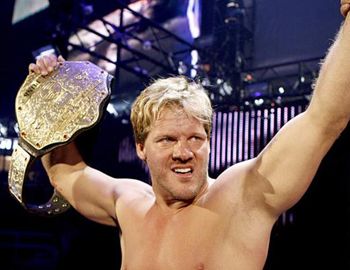 Year Four Winner: Chris Jericho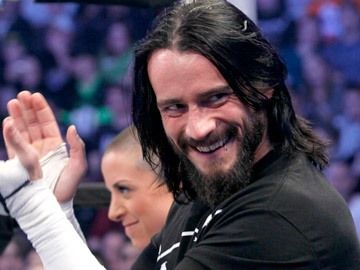 Year Five Winner: CM Punk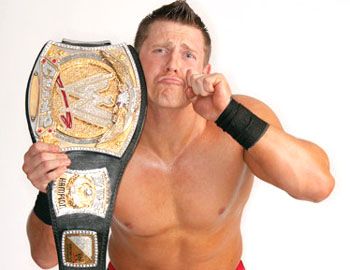 Year Six Winner: The Miz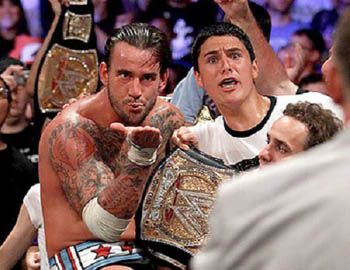 Year Seven Winner: CM Punk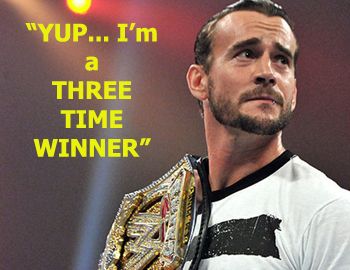 Year Eight Winner: CM Punk
comments powered by