SPOTLIGHTS
Wrestling's 4Rs 3.28.14: WWE Raw, TNA Impact & NJPW on iPPV Reviewed
Posted by Larry Csonka on 03.28.2014

Triple H explained his actions against Daniel Bryan, The Undertaker and Brock Lesnar went face-to-face and more! Wrestling's 4Rs breaks down the Right, the wRong and the Ridiculous of WWE Raw, TNA Impact and NJPW on iPPV!


How the 4Rs of wRestling Work!
Here is a quick explanation of the 4R's. The column will run TWO times a week. We will group our feelings on the shows in various categories: The Right, the wRong and the Ridiculous. The Right is stuff that worked very well: a great promo, a great match and so on. PuRgatoRy is a section between the right and wrong. It shows equal traits from both sides that cannot be ignored and need discussed. It is not a bad place per say, as things can get remedied or go the wrong way the very next week. The wRong is what it sounds like: bad matches, bad or boring promos and so on. The Ridiculous is stuff that had no right on TV: Stupid angles and so on. And there is always a possibility of a 5th R, which is as bad as they come. This column is supposed to be analytical, and at the right time very critical of the shows, it was the whole reason it was created. This is not a "mark" column, nor a "smark" column, our goal is to analyze the show from many different fronts, reward the good and call out the bad. We will not apologize for our opinions, they are as they are, whether positive or negative.
---
Yes please.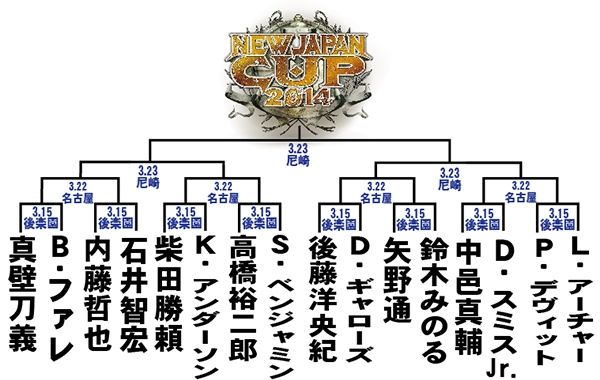 NJPW New Japan Cup Night Three (3.23.14)
KUSHIDA & BUSHI defeated Captain New Japan & Sho Tanaka via pin [**¾]

Lance Archer, Davey Boy Smith Jr., TAKA Michinoku & Taichi defeated Hiroyoshi Tenzan, Satoshi Kojima, Jushin Thunder Liger & Tiger Mask IV via pin [***]

Yuji Nagata, Manabu Nakanishi & Kazushi Sakuraba defeated Toru Yano, Takashi Iizuka & Jado via pin [*]

New Japan Cup Semi-Final Match: Bad Luck Fale defeated Shelton "X" Benjamin via pin [*]

New Japan Cup Semi-Final Match: Shinsuke Nakamura defeated Minoru Suzuki via pin [***]

Hirooki Goto & Katsuyori Shibata defeated Yujiro Takahashi & YOSHI-HASHI via pin [***]

Hiroshi Tanahashi, Togi Makabe, Tomoaki Honma & Ryusuke Taguchi defeated Prince Devitt, Karl Anderson, Doc Gallows & Tama Tonga via pin [***]

Tetsuya Naito, Kota Ibushi & El Desperado defeated Kazuchika Okada, Tomohiro Ishii & Gedo via pin [****]

New Japan Cup Final Match: Shinsuke Nakamura defeated Bad Luck Fale via pin [****]



The Tirade



There is no review of Night Two, because I just don't have the time right now. This is due to WWE and UFC sending me shit to review all at the same time. I am also not sure when and If I will get to the early April shows due to the review stuff as well as the WrestleMania week shows I have committed to covering (Wrestling Odyssey, EVOLVE, DGUS x2, SHIMMER). I will likely just focus on the Invasion Attack 2014 event. My apologies.


The series of shows (nights two and three) have received a lot of shit from wrestling fans. While I will certainly agree that NJPW is not hitting on all cylinders like they did last year, I found this equal to a lot of the shows this year; a good show. This show felt like almost every NJPW card this year; a throw away match, a solid undercard helping to build to the next show, and then the main two or three matches that deliver the quality.


I think that the real hate for the show comes from the booking of the semifinals. Having Fale and Benjamin make the semifinals elicited emotions ranging from puzzled to pissed off. Most couldn't understand why they made it that far, and others were livid that the tournament was ruined because of this. Don't get me wrong, I get what you're talking about and in some ways agree, but I also feel that it ended up well.


The semifinal matches were nothing special, but I felt that they were designed well for the story that they were telling. Bad Luck Fale destroyed Shelton Benjamin in what was essentially a squash match. They did their best to sell Fale as a monster, and if you're going to sacrifice someone in that short amount of time, Benjamin was the guy to do that with. Shinsuke Nakamura defeated Minoru Suzuki in about 14-minutes, and this one worked very well as Suzuki worked over Nakamura's arm relentlessly until Nakamura was able to come back for the win.


So you hit the finals, where under the usual circumstances, Nakamura is the easy pick. And he still was to me here, as this was an example of old school tournament booking. The bad (in this case monster) heel either gets a bye or has an extremely easy route to the finales, while the valiant and hard fighting baby face had a harder time and is going into the match injured. This also included the Bullet Club attacking Nakamura early to make him even more sympathetic. The other thing is that most people felt that the match would suck, but Nakamura worked some magic here, worked to the strengths of Fale, and they had a damn fine main event. I liked the match, I liked the booking, and I liked how they got there. Fale means more now than he did; and while it isn't how I would have booked the tournament, as I would have maximized the in ring, this ended up working. While I understand that it isn't what the majority wanted, also be careful what you ask for. I heard a lot complaining that the tournament would be too predictable and that they weren't going to make a new star. They tried, and it came off well.


I want to go back to the semi-main event, where Tetsuya Naito, Kota Ibushi & El Desperado defeated Kazuchika Okada, Tomohiro Ishii & Gedo. This was really all about Naito vs. Ishii, who are money together right now. This was simply a great tag match, with Naito & Ishii making it memorable with their tremendous work.


While I do have my issues with the booking of NJPW so far this year, and the way that they are over saturating the market with their iPPVs and split roster style shows, I felt over all that the show was good, but a bit flat. Again, while not the hot show up and down like many from last year, it is a good show and easy to watch with the last two matches being what you need to see. But I will also say that this is NOT a $15 you need to spend. Save the cash for some of the WrestleMania week iPPV events or the ROH/NJPW shows in May..

Score:7.0

As a reminder, I will be going by the 411 scale…

0 - 0.9: Torture
1 - 1.9: Extremely Horrendous
2 - 2.9: Very Bad
3 - 3.9: Bad
4 - 4.9: Poor
5 - 5.9: Not So Good
6 - 6.9: Average
7 - 7.9: Good
8 - 8.9:Very Good
9 - 9.9: Amazing
10: Virtually Perfect

As a reminder, this is not a basic "how good was the show" number like a TV show, as I have always felt that a PPV is very different from a regular show. I have always judged PPV on how they built to a match, the match quality, crowd reactions to matches and angles, the overall booking, how the PPV leads into the future, PPV price and so on and so forth. I have added this in here for an explanation since so many have asked, and I have previously discussed it on podcasts. I understand that this may seem different, but that is how I grade. Obviously your criteria may be different.
Impact 3.20.14 (THIS IS FROM LAST WEEK'S IMPACT):
By: Irfan Alam
QUICK MATCH RESULTS:
EC3 defeated Bobby Lashley at 5:00 by DQ

Gail Kim def. Lei'D Tapa at 4:00 by pinfall

The BroMans def. Tigre Uno/Sanada and The Wolves at 6:00 by pinfall to retain the Tag Team Championships

Magnus def. Samoa Joe at 8:00 by pinfall to retain the World Heavyweight Championship.


THE RIGHT:
EY/Abyss brawl: The show-opening brawl between EY and Abyss was solid. The presence of ODB in a few shots was a nice touch too. Other than that, I am very disappointed with this new direction of Abyss, especially after that Abyss/EY promo from 4 weeks ago had given me very high hopes for the future. They never really explained the Abyss turn at Lockdown(he wanted to find someone who understands him, and given the disturbed state of his character at that time, Magnus and money shouldn't have been the things that would calm the monster down), and his character has again become a bit pointless. But I have to give credit where credit is due, and this brawl earned its place in The Right. Exciting way to open a wrestling show.

Willow's run-in was the right decision in Lashley's return match against EC3: This match had just the perfect booking in my opinion. Bobby Lashley dominated enough to gain him decent momentum as a returning wrestler, while EC3 still looked good as he managed to land some offense of his own. As Willow is supposedly beating up the people who screwed him in that Dixieland match, him interfering not only progressed that story arc, but protected EC3's undefeated streak while still making everyone look strong. Apart from the booking, the wrestling quality itself was solid here. The post-match attack was as brutal as last week, with the only difference being that EC3 was able to roll away before the splash on his chaired leg, which again protected EC3, which I am fine with. With that said, why Lashley wants to fight EC3 and would supposedly continue the feud (what else would he do) is beyond me as they have never explained this. And Lashley being generally shy on the mic doesn't help. He will eventually get a longer match against EC3 and must prepare better for that, as he did seem a little tired after this 5-minute match. I hope they develop some real storyline with Lashley before that longer match happens though.

James Storm heeled up perfectly: I'll start off by saying that this segment should have been on last week's show. Gunner just had the biggest win of his career at Lockdown, and he delivers the typical face "thank you everybody" promo 11 days later while being completely absent last week. This is more of a time-management issue, but it is about time they worked on streamlining content of Impact better. With that out of the way, Gunner's part in the beginning was okay, and his father's presence seemed unnecessary at first but that is excusable due to the way Storm upped his heel persona to beat up the old man. Storm is looking very badass in his new look, and his short promo towards Gunner's father was top-level heelwork. I also enjoyed shades of his AMW days in his handcuffing Gunner to the ring. Gunner's father was decent in his acting here, and the beer bottle shot was picture perfect. It really worked this time. Gunner also portrayed his part of looking shocked really well. Solid segment to continue the feud. Really looking forward to their rematch.

Tag team title match was decent: I was not amused by any of the antics of The BroMans before the match, and was actually rather annoyed by them. The match however delivered what was expected out of it. Sanada/Uno continued to highlight their high-flying skills. The Wolves came close to winning the titles only to have their chance stolen by The BroMans, which is the logical booking decision before the real title change eventually happens. Uno/Sanada have been defeated clean here, so I don't think they should get any more tag title shots. Considering how The BroMans capitalized on The Wolves' work in the last 2 title matches(the previous one was taped for the ONO PPV Outbreak), this should finally lead to a proper feud for The Wolves' title chase. Note however that this is just wishful thinking, and they still don't have a proper tag title feud. This is in The Right simply for the match-quality, and I would like to see a better effort in trying to build a tag team feud going forward.

The Beautiful People: I felt that the in-ring promo for the reunion dragged for a bit, and could have easily been done in lesser time. But as I said last week, I'm glad that they are treating this like a major storyline, and the knockouts division has suddenly freshened up again due to this. Velvet accepting the offer wasn't very predictable as there could have been many ways this story could have progressed if Velvet refused. And so the refusal tease felt worthwhile here unlike many times in wrestling when we know that they are just teasing and will do the opposite anyway. But after Velvet did accept the offer, the refusal of Madison was the only logical next step, and so a bit predictable. But it's not necessarily a bad thing. Madison's promo work was great tonight, and that should help put her over as the new mega-face of the knockouts division, feuding against the reunited TBP. I also enjoyed Angelina's backstage attack on Madison. Though I'm not sure whether including that in this week's show was the right decision as they could have used more time for a better progression, I'll not complain about it that much as I've enjoyed whatever I have seen so far from these three.


puRgatoRy:
NOTHING


THE wRong:
Lei'D Tapa vs. Gail Kim: I wrote last week that this feud popped up without much real build. And that rush booking continued this week, with a match between Gail Kim and Tapa, where if Tapa lost, she would lose her job under Gail(essentially rendering her gone from TNA). This stipulation was a little weird since if Gail and Tapa were really having problems, why would Gail continue paying her if she just happened to defeat her in a wrestling match? Doesn't make much sense to me. Anyway, the writers went forward with this, and this was the end of Lei'D Tapa in TNA. This was the definition of rushed booking. I wouldn't notice her absence anyway.

Bully's meeting in Nashville: For those keeping touch with TNA Wrestling on the internet(yes all of us with nothing better to do in our lives), they announced on their website/twitter before Impact that Dixie and Bully will be having a meeting in TNA's headquarters in Nashville. They then teased us throughout the show that something had gone down in the meeting. When they finally revealed what happened, we were treated to a supposedly very intelligent Bully Ray talking with a visibly empty chair(yes, the fact that it was empty was clearly noticeable even from behind). Then, Bobby Roode attacked him there, and assaulted him throughout the office, street-fight style. It was revealed that it was Roode who set up a fake meeting to attack Bully. He could have as easily attacked Bully in the Impact Zone, like he did last week(with his cronies) and so the meeting set-up really seemed like an unnecessary addition in retrospect. This and the visibly empty chair make this segment a bit hard to suspend disbelief for. The only saving grace is the fact that Bully's promo to the chair was actually well done, unlike the background music which has again surfaced. But that is the least you would expect from a Bully Ray promo. So, overall the meeting angle didn't do it for me this week.


THE Ridiculous:
The World Title match and its chain stipulation: Their Lockdown match was better(until Abyss' hands showed up). While a PPV title match should be expected to be better than the title rematch on TV, the nonsensical chain stipulation really killed it for me. I could never focus much on the in-ring action, as the presence of MVP and Abyss with chain always distracted me. And speaking of MVP, we saw him trying to find a replacement of Eric Young for the chain spot after EY's brawl with Abyss, before finally putting himself in that position. While that stipulation itself is silly, the fact that MVP is even encouraging it without doing something like simply banning Abyss from ringside is another suspension of disbelief that should have never existed. A suspension of disbelief unless we are supposed to believe that MVP really doesn't want the show to be focused on wrestling, which is certainly not what they are portraying him to be. At least his initial run as the authority figure should have him try to organize clean matches without such silly stips, in order to make him a believable character, otherwise there is not much difference between him and the others. Between this and the random Abyss direction, they have done a poor job to maintain interest in the world title picture in my opinion. Really need massive improvements now in bringing back the title picture to its former glory days.



The 411:


I enjoyed the opening brawl, The Beautiful People portions, the tag team title match, and the Storm/Gunner segment. The latter in particular impressed me a lot, and I am looking forward to their rematch next week. EC3/Lashley was also decent with what I felt like the right booking decision for the finish. The things I didn't like so much was the Bully segment from Nashville, and The Gail/Tapa match. The latter seemed too rushed, while the former was just asking for way too many suspension of disbeliefs despite being a somewhat enjoyable segment. However, the main event really left a bad taste in my mouth. The World Title picture hasn't looked much bright after the departure of the big players, but they have done even more harm to it by continuing with silly stipulations like the one on display this week. In summary, it seems I liked more segments than not. However, they have not done a good job of making me care for fallouts from those segments, if any. For example, I liked the EY/Abyss segment simply because of the quality of their brawl-work, but am rather disinterested in where the story goes. Similar analysis holds for the tag title match. While I liked the match, the fact that The Wolves still aren't in a proper feud(and aren't even used weekly) must be rectified soon. However, the fact that the show was in fact enjoyable for the most part overshadows these booking blemishes a bit to give this show a decent enough rating.

Show Rating: 6.9

As a reminder, I will be going by the 411 scale…

0 - 0.9: Torture
1 - 1.9: Extremely Horrendous
2 - 2.9: Very Bad
3 - 3.9: Bad
4 - 4.9: Poor
5 - 5.9: Not So Good
6 - 6.9: Average
7 - 7.9: Good
8 - 8.9:Very Good
9 - 9.9: Amazing
10: Virtually Perfect

By: Jack Stevenson
Raw 3.24.14:
QUICK MATCH RESULTS:
Christian d. Sheamus, Dolph Ziggler & Alberto Del Rio in a Fatal Four Way
Sin Cara d. Damian Sandow

Los Matadores d. Curtis Axel & Ryback

Cody Rhodes d. Fandango

The Big Show d. Titus O'Neil

John Cena vs. Luke Harper goes to a no contest. What a SHEEP finish hahahahaha

Naomi d. AJ

The Shield d. The Real Americans


THE RIGHT:
Sheamus vs. Dolph Ziggler vs. Christian vs. Alberto Del Rio: Raw's in ring content kicked off with a fun little four way match to determine who would suffer a mild concussion and not be able to challenge for the Intercontinental Championship on Main Event. It was the usual TV four way match with a rotating cast of wrestlers hitting some moves on each other and kicking out at two, but at this level the formula works. It was a nice surprise to see Christian pick up a much-needed victory as well. An enjoyable sprint.

The Shield Will Destroy You: There are some large flaws with the current Shield storyline. Beating up Curtis Axel is a huge and undeserved step down from beating up John Cena, and Kane and the New Age Outlaws have done nothing of late to deserve a WrestleMania match with the best, most bad-ass stable in WWE. There is something very right about the Shield at the moment though, and that something is the Shield. They've adjusted to their new de-facto good guys role brilliantly, they looked as dominant as ever ripping Ryback and Curtis Axel to pieces, and they capped it off with a super fun tag match with the Real Americans and an emphatic powerbomb through the announce table for Antonio Cesaro. It's worth giving the tag match some more column inches as well, because it was really good and the Americans contributed a lot to it as well with some cool power moves and confident bad guy-ing. There was an effective fan favorite in peril segment and a properly hot tag and really what more can you ask for from a TV tag match? The Shield will rise above this middling angle and be the stars they deserve to be, so this can go in the right.

Triple H and Michael Cole have a nice chat: Michael Cole sat down with Triple H in the middle of the ring and asked some questions about his assault on Daniel Bryan. Hunter responded with a typically solid promo, nothing hugely memorable but he justified the assault convincingly enough and seemed appropriately annoyed with the world. I wouldn't have kept D-Bry off TV, I get you need to sell the brutality of last week's angle but having him limp right up to Hunter and show he just cannot be kept away would have been a nice moment. As it was though, this segment kept the feud ticking over well enough.


puRgatoRy:
Cody Rhodes vs. Fandango: It would be nice if these guys had something to actually do, but they're both talented enough to make it a small notch above your usual Raw midcard filler. They should do a love square between Rhodes/Goldust/Fandango/Summer Rae, that would be fun.

The Miz Gets TERMINATED because Arnold Schwarzenegger was in the Terminator, I think, I've never seen it, I don't really like action movies: Hulk Hogan came to Brooklyn to dick around with some action movie guys and chew bubblegum- and he ran out of bubblegum just outside of Brooklyn and famously there aren't any shops that sell bubblegum in Brooklyn. It's a huge gap in the market that no one seems willing to fill. Anyway, ARNIE tagged along with him and that's great because he's a total legend isn't he, oh yes he is, don't stop and think about what precisely makes him a legend, just accept it. Also, Joe Manganiello. They all beat up the Miz and it was entertaining enough, Arnie and Joe looked more comfortable in the ring than most other celebrities that turn up on Raw. It wasn't anything particularly substantial, but it killed time.

Cena Feels Sheepish: This Cena-Wyatt feud is so close and yet so far from being a tremendous, tremendous feud. This week's shenanigans started with John Cena washing his face, seeing a sheep mask in the mirror, and then turning around to discover nothing was there at all. The implication of course is that the Wyatts are in Cena's head, but two weeks ago, he seemed totally unfazed and was brushing Bray aside as a homeless guy in a Hawaiian shirt. Cena being so rattled by the Wyatts is cool and interested, but it's happened suddenly, across only two or three segments of television, and that's made it feel rushed and stopped it from having the power it should. The other obvious issue is that we could all see the sheep mask, which raises the question as to whether we can read John Cena's mind. This wouldn't be an issue if WWE would consistently imply that these guys all exist in their own self contained, televised universe separate to the real world, and they can no more watch themselves on Raw than Don Draper can watch himself on Mad Men, but they don't do that, and so these attempts at being a bit more entertainment than sports with their storytelling always run the risk of falling victim to logic holes and taking you out of the story. Having said all this, there was a lot to like this week. John Cena and Luke Harper had a scrappy little brawl that overdid the near falls somewhat but was still around the level you'd expect from two talented guys, and the image of Cena bound to the ropes with a sheep mask on his face was brilliant, powerful and creepy and weird. It's the sort of moment that would turn a very good feud into a superb one, but it's not going to be enough to lift this to the level it should be, and that's a shame.


The Undertaker makes Lesnar squeal: This feud is so formulaic but the formula is so good but it's so formulaic but the formula is so good but it's so formulaic. Heyman comes out, cuts a great promo, Taker comes out, is creepy, maybe add a brawl on the end, repeat, repeat, repeat. It's the same thing we've seen for years and years and it's starting to get a bit tired, it's certainly not getting me excited for Taker-Lesnar in the way it's done other Taker feuds, but it'll get them through to Mania. It's there and it's fine.



THE WRONG:
Devolution is a Mystery: Raw kicked off with Batista and Randy Orton being annoyed with the Authority and each other and then Stephanie McMahon slapped Batista because he was being rude and Batista speared Randy Orton because he was being Randy Orton. It's repetitive and boring as fuck and I'm not sure why we're meant to care about this story of three bland people who sort of like each other but mostly don't but also can't really be bothered to do anything about it. Also, Batista just seems totally disinterested, he can barely muster the enthusiasm to string two sentences together, sometimes it seems like his promos are spliced awkwardly together from decent pieces of footage. At least Orton cares and is visibly trying to drag something interesting out of being the sixth wheel in the Daniel Bryan-Triple H feud. Can you imagine how diabolical this would be as a main event if Daniel Bryan wasn't getting added to it?

Sin Cara w/ Scooby Doo vs. Damian Sandow: Here's a sentence I didn't think I'd type in relation to a Raw episode; what a total waste of Scooby Doo. They could have done a ton of fun stuff with having him and the Mystery Machine on the show and instead he just watched as Sin Cara beat Damian Sandow in a boringly straight match. This was a show with a lot of filler on it anyway, it could have at least been memorable filler if Scoob had got to interact with a few people. I'm still sold on his WrestleMania movie though. As a childless man, can I justify watching it?

The Big Show vs. Titus O'Neil: The Big Show won and it was dull. Scooby Doo should have interfered.


DIVAS A-PLENTY: I was hopeful we'd get Naomi and AJ Lee at WrestleMania because they both deserve the spot and would probably put in a creditable performance. Instead though we're getting a Divas invitational because ten women have the value of two men in WWE. I wish someone with ideas and passion would book the Divas, rather than someone who's getting bored of their EWR game.



THE RIDICULOUS:
NOTHING


THE RAW MATCH OF THE YEAR LIST:
The Shield's match with the Real Americans slots into the middle of the pack. It makes sense that their match with each other would make it since put together they now feature in seven of the top ten.



2.17.14- John Cena vs. Cesaro


3.03.14- The Shield vs. The Wyatt Family


2.03.14- Daniel Bryan vs. Randy Orton


2.10.14- Sheamus & Christian vs. The Real Americans


1.27.14- John Cena, Sheamus & Daniel Bryan vs. The Shield


1.13.14- CM Punk & The New Age Outlaws vs. The Shield


3.24.14- The Shield vs. The Real Americans


1.20.14- Rey Mysterio vs. Alberto Del Rio


2.03.14- The Shield vs. Kofi Kingston, Rey Mysterio & Big E. Langston


2.10.14- Rey Mysterio & The Brotherhood vs. The Wyatt Family


The 411:


WWE have no story left to tell in all but the Cena-Wyatt feud, and it showed with a decent but stagnant episode. Thankfully there's only one more Raw to go and the pre WrestleMania energy should tide that one through, but they've got some work to do to make the WrestleMania 30 card seem as appealing as it should. Too many great wrestlers are being matched with not so great wrestlers, and it's making the card seem really middling.

Show Rating: 6.0

As a reminder, I will be going by the 411 scale…

0 - 0.9: Torture
1 - 1.9: Extremely Horrendous
2 - 2.9: Very Bad
3 - 3.9: Bad
4 - 4.9: Poor
5 - 5.9: Not So Good
6 - 6.9: Average
7 - 7.9: Good
8 - 8.9:Very Good
9 - 9.9: Amazing
10: Virtually Perfect

The 873rd edition is over…



Have you checked out the Csonka Podcasting Network? If you haven't, you should We run anywhere from 15-20 shows a month, discussing pro wrestling, the world of MMA, the NBA, general sports, popular TV series of the past, bad movies, battle rap, interviews, MMA & Wrestling conference calls and more! Around 10 different personalities take part in the various shows, which all have a different feel; so you'll likely find something you like. All of the broadcasts are free, so go ahead and give a show a try and share the link with your friends on the Twitter Machine and other social media outlets! Running since May of 2011, there are currently over 500 shows in the archive for you to listen to.



Your heart is free. Have the courage to follow it…TO CSONKA'S TWITTER!

http://www.twitter.com/411wrestling
http://www.twitter.com/411moviestv
http://www.twitter.com/411music
http://www.twitter.com/411games
http://www.twitter.com/411mma
comments powered by