SPOTLIGHTS
The 411 Wrestling Top 5 4.23.14: Week 260 – The Top 5 Backstabs
Posted by Larry Csonka on 04.23.2014

From Hulk Hogan joining the nWo and the Montreal Screwjob to Shawn Michaels superkicking Marty Jannetty, Barry Windham turning on Lex Luger and more, the 411 staff breaks down their top 5 wrestling backstabs!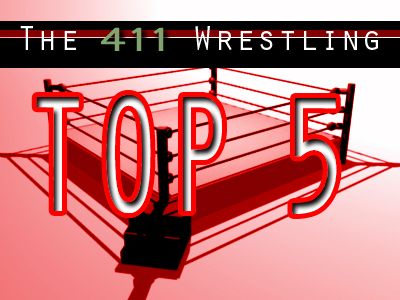 Hello everyone and welcome to 411 Wrestling's Top 5 List. We take a topic each week and all the writers here on 411 wrestling will have the ability to give us their Top 5 on said topic, plus up to three honorable mentions.

So, onto this week's topic…



The Top Five Backstabs




Based off of the WWE Countdown show that aired on the network, what are your top five backstabs/heel turns…




Gavin Napier
5. Sorry, Sting. - It seemed too good to be true. Sting and Ric Flair were teaming together, squashing the Awesome Kongs like a couple of hairy, morbidly obese grapes. As a genuine thoroughbred, Sting had been accepted into the Horsemen after earning the respect of Ric Flair and the gang through numerous battles. Then Sting broke the first rule of Horsemen Club. Sting had a title shot against Flair scheduled for WrestleWar, and he wouldn't give it up. For his trouble, he got kicked out of the Horsemen just like Ole Anderson and Lex Luger in years past. You don't take on Flair. Period. It's significant because Sting would blow his knee out later in the show and be sidelined for months, setting up an iconic moment that saw Sting capture his first NWA World Heavyweight Championship against Ric Flair in July of 1990.

4. The Dynamic Dudes were stupid. - The Midnight Express are my favorite tag team ever. I hated the Dynamic Dudes. Naturally, when it was teased that Jim Cornette was at the very least going to split his time between the teams and could possibly jump ship to manage Shane Douglas and Johnny Ace, I was mortified. 10 year old me wasn't sure what to think other than I sincerely hoped it didn't happen. As the match unfolded, Corny remained neutral to the frustration of myself (and I guess Bobby and Stan but who's counting) and many fans in the live audience. Then came the moment where Cornette blasted Shane Douglas with his tennis racket. In an era long before the jaded internet fan was commonplace, the crowd popped for Cornette joining the Midnights once again. Looking back, nobody should have ever believed Cornette was going to manage the Dudes. Why? Because they were stupid.

3. Dewey Foley is a 3 year old boy... - ...you sick son of a bitch! Mick "Cactus Jack" Foley turned his back on legions of hardcore wrestling fans...or fans of hardcore wrestling..or both...in one magnificent promo that saw him react to the ECW faithful decidedly crossing a line. He also turned his back on friends and mentors alike, targeting Tommy Dreamer and Terry Funk. It was an early indication of just how smart Foley could be in terms of his character and led to some of the more creative matches in ECW history. Once ECW Arena called for the blood of his toddler son, Cactus Jack was no longer going to indulge their bloodthirsty wishes. Beloved though he may be now, Foley certainly incited fans with this turn of character.

2. Sweet Chin Music, brother. - I know, I know. Everybody expected something different from both guys involved with this. Shawn threw Marty through a window. Hulk leg dropped Macho Man in WCW. My favorite turn for both men though, involved Shawn and Hulk's egos colliding. Hulk had bailed Shawn out of some nasty situations involving Muhammad Hassan and Daivari. Hogan and Michaels would become a tag team briefly, ending when Shawn delivered a Sweet Chin Music to Hogan during a post-match celebration on a July 4th edition of Monday Night Raw. Their Summerslam match is a bit absurd, but the turn was incredibly satisfying and the match had a "big time" feel to it.

1. Trophy Envy. - What's more impressive, being world champion for three consecutive years or being undefeated for 15 years? Well, judging by the trophies that Hulk Hogan and Andre the Giant received, being champion for three years. Andre didn't take kindly to the perceived slight and with some encouragement from Bobby Heenan, turned on his longtime friend Hulk Hogan. The result would be the biggest match in American wrestling history, and arguably in wrestling history period. Hogan vs. Andre at WrestleMania III generated an unbelievable amount of buzz and was the main factor in putting anywhere between 75,000 and 93,000 people in the Pontiac Silverdome (depending on which attendance figure you believe). Andre had been a beloved figure for as long as he had been in the sport. Hulkamania was as big as it had ever been. The two men had teamed under masks as The Giant and Hulk Machines. For Andre to turn heel in 1987 and challenge Hogan was every bit as big of a deal as Hogan turning heel a decade later.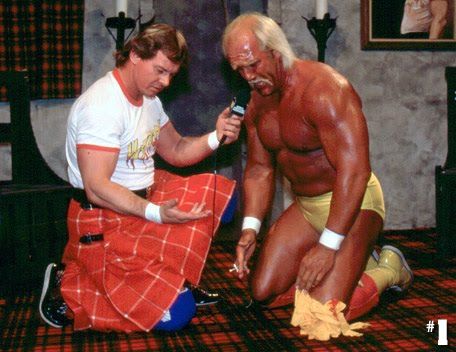 ---



MICHAEL WEYER
5. The Bitch is Born It's hard for fans today to accept that at one point in time, Stephanie McMahon was seen as an innocent figure. She was sold as a plain gal type who didn't get majorly involved in the business, often the object of attacks like a bizarre "sacrifice" by the Undertaker. She and Test were set to be married only for HHH to interrupt to reveal he'd drugged Stephanie to marry him in a drive-by ceremony (only wrestling, folks). Vince was naturally upset and fought for his daughter's honor against HHH in a no-holds barred battle at Armageddon 1999. Vince had Hunter down and holding a sledgehammer when Stephanie raced in, insisting on doing it herself. She was talking to her dad when HHH got the sledgehammer, nailed Vince and won the match. HHH and Stephanie stared at each other...and then Stephanie smiled. Watch that moment and it's stunning how, in a single instant, she goes from innocent to conniving vixen to embrace HHH, revealing they were together all along. It was the start of one of the most infamous couples (on and off camera) in wrestling history and a great shocker to how Stephanie stabbed her own father in the back to join HHH in a move so few saw coming.

4. The Big Turn of 1980 Ole Anderson may get a lot of grief over his later booking of WCW. But in his heyday with Georgia Championship Wrestling, he was capable of coming up with some damn cool stuff. One of his best was how, after long-time feuding, Ole turned face and joined with old rival Dusty Rhodes. They worked together, Dusty counting Ole as a friend as they took on various heels and about a year later, challenged the Assassins for the tag team titles in a cage. In the midst of the match, Ole turned on Dusty, beating him down and the heels joining in. In interviews later, Ole boasted of how he had planned this all from the start to lure Dusty into false confidence before taking him down hard. It was a brilliant piece of work that rocked fans and a great showcase of how such things can work great when you take the time to set it up.





3. Barry Windham As 1988 began, the Four Horsemen were only Three as Lex Luger had left the group to turn face. At the first Clash of the Champions, he and good friend Barry Windham teamed up to face Arn Anderson and Tully Blanchard for the tag team titles, a great match ending with James J. Dillon's interference allowing the faces to win the belts to a monster pop. But just two weeks later, Windham, with no warning, hit Luger with a lariat and flashed the four-fingered salute to a stunned Anderson and Blanchard as Dillon grinned outside. The duo would regain the titles as Windham joined the Horsemen fully. It was stunning as Windham had been a major face taking on Flair so many times but he took to a heel lifestyle wonderfully, fitting in great with the Horsemen and elevating them to arguably the best version of the group ever, a terrific shock that worked.

2. Rockers split Probably the best tag team never to hold the WWF titles, the Rockers were hot with fans and impressive with workers, pulling off moves no one else could, always turning in great matches and a seamless unit. There had been tension hinted at in late 1991 with Shawn Michaels acting up in bouts and showing a harsher attitude but a split seemed so impossible as these guys were such a great unit. But on a Barber Shop interview, Shawn and Marty Jannetty had it out about their issues, Marty turning his back to offer Shawn a free shot. Instead, Shawn hugged him and it looked like they were back on the same page...then Shawn hits Marty with a superkick and tosses him through a glass window (a pretty wild thing back in 1992) before tearing up a magazine photo of them. Instantly shot HBK to the heel success he'd use to become a superstar and still memorable as one of the biggest turns ever.

1. Hulk Hogan is the Third Man The turn that changed all of wrestling history. Yes, Hogan's popularity had been slacking off, more boos as WCW fans were turning on his old '80's act. But this was still Hulk Hogan, the patron saint of fan favorite wrestlers, the superhero, the idea they would turn him seemed so ballsy, no one thought the company would have the guts to pull the trigger. But instead, at Bash at the Beach, Hogan comes down as the Outsiders are pounding on Randy Savage, the cheers loud for him...and then he drops the leg on Savage and does a killer promo on how the fans can stick it. It instantly turned Hogan into the most hated heel around and shot the entire New World Order to a powerhouse that turned the tide to WCW for nearly two years. Still stunning to watch it happen and how well Hogan adapts and how it helped shape the entire wrestling landscape to a bold new degree.





---



Alex Crowder
5. Sycho Sid snaps. - Shawn Michaels already had one bodyguard overshadow him in Diesel who went on to win The World Championship. Michaels then hired Sycho Sid to replace Diesel, as he tried to capture the World Championship from his former bodyguard. However, Sid seemed to inadvertently cost Michaels the championship at WrestleMania. With that, Shawn gave him the night off. Sid decided to annihilate Michaels with three powerbombs legitimately injuring him in the process. I feel this betrayal aided both characters. It showed that Michaels would stand up to anyone, and that Sid was a loose cannon who could snap at anytime. Also, made for one of the most memorable raw moments.

4. Vince McMahon screws Mankind. - I really did not want to go into shoot situations like Montreal, so I decided to focus on McMahon's betrayal of Mankind. I remember this happening when I first started to discover pro wrestling. Mankind was bringing light hearted fun to Raw every week and winning over the fans in the process, whether it was with Mr. Socko or offering McMahon a drink after The Brothers of Destruction destroyed his ankle. Mankind became the handpicked corporate champion at The Deadly Game Tournament to determine a new world champion defeating mystery opponent Duane Gill in the opening round. Mankind even beat the biggest star in pro wrestling Stone Cold, once Shane McMahon screwed Steve Austin. However, that all changed by the end of the night when Vince screwed Mankind. The Rock put Mankind in the Sharpshooter, as Vince told the referee to ring the bell awarding the vacant championship to The Rock. This betrayal suddenly got me to cheer for Mankind becoming a fan of his.

3. The Invasion goes extreme. - Unlike the formation of the NWO which I did not experience at the time, this resonated with me more. The depleted WCW was facing off against the WWF. Chris Jericho and Kane faced off against Mike Awesome and Lance Storm. Suddenly, RVD and Tommy Dreamer came out of nowhere and begun to attack them. JR acknowledged that they were ECW guys, but of course more WWF guys came into the ring to backup Kane and Jericho. That is when they turned on the WWF and all 8 men including Awesome and Storm begun to beat down Kane and Jericho. At the time, I was shocked not knowing much about ECW. Van Dam even hit the Van Damniator on Kane. Paul Heyman came from the announce table and stepped into the ring. I was hooked the moment Heyman got on the mic. JR to his credit sold this wonderfully with a look of disgust, when the camera panned to him. The crowd chanting ECW and the ECW theme hitting was incredible. For one moment, the Invasion got everything right.

2. The New World Order of Wrestling - Hulk Hogan was a wrestler I knew of before I got into wrestling in 1998. Even as a kid I had heard of Hulk Hogan. Hogan had been a baby face for years without change. The only person that openly disliked Hogan was Bobby Hennan. My dad hates wrestling, yet knew and liked Hulk Hogan. His act was stale at the time and the fans begun to show their displeasure, but no one ever expected the ultimate baby face Hogan to go heel(except Hennan obviously). The crowd went into boos and started throwing trash into the ring. I have never seen the ring littered with trash like that. This was possibly the most important betrayal in wrestling history.

1. Owen Hart steps out of Bret's shadow. - The reason this ranks so high for me is because the justification behind it. Owen Hart was completely justified in his heel turn. Owen did not just lose a match because of Bret even if it was unintentional. Instead, Owen lost a chance to become a world tag team champion, due to Bret not tagging him in. Owen wanted to go out on his own and receive the glory he deserved for his own accolades. Still, his family wanted him to continue to team with Bret who had already held numerous championships. Finally, Owen got a chance to receive his own championship only for Bret to throw the opportunity away unintentionally. This is a story that anyone with life experience can probably relate to. So many people have been stuck in someone else's shadow. Also, several younger brothers have been constantly trying to live up to the image of their successful older brother. At the same time, anyone could justifiably side with Bret. This story line felt real to people. Owen proved that he belonged in the same class as Bret Hart by defeating him at WrestleMania. Yes, Bret won the rematch but they had become equals. Few story lines paralleled reality like this one. That is why to me, this is the best betrayal in wrestling history.





---



JUSTIN WATRY
5. Shawn Michaels turns on Hulk Hogan - The best back stabs? Well, there was the time Carlito hit his Backstabber on Ric Flair. There was the Backstabber from the top of the ladder to Chris Jericho. There was...wait. Backstabs, Backstabbers, or Backcrackers? Oh, I get it! Back stab. Well, right off the bat, I remember Shawn Michaels turning on Hulk Hogan back on July 4th, 2005. For some reason, that was the first thing that popped into my head, so it gets a spot on the list. Really, it was a great feud built up for well over a month and was a major selling point on pay-per-view. Seriously, Google it. One of the best NON-WrestleMania PPV buy rates of all-time. Very impressive. That all was thanks to one magical Sweet Chin Music.

4. Stephanie McMahon turns on Vince McMahon - Speaking of the best PPV buy rates of all-time for NON-WrestleManias! The Invasion event from 2001 ranks right at the top. While people are whining and crying about their own 'fantasy booking' of the story line that was impossible to happen, WWE made money...just as they continue to do so. Why does this get a spot? Because of the July 9th, 2001 ending to Raw. While Paul Heyman and Shane McMahon were high fiving over the ECW/WCW merger to take out Vince, there was one last shocking moment to be revealed. The new owner of ECW came out, and it was...Stephanie McMahon! The look on Vince's face. The joy from Heyman and Shane (and the wrestlers) in the ring was excellent. To top it off, Jim Ross had the call of a life time as he screamed his lungs out. Just like that, the story line had me hooked.

3. Sting - Everything Sting. That is all.

2. nWo begins - I am not sure if this qualifies as a back stab, but it does in my book. Thus, it counts. Hulk Hogan joining the nWo was huge. Beyond huge. Instead of explaining the whole scenario for the 673,285,108th time online, the garbage being thrown in the ring speaks for itself.

1. Montreal Screwjob - Poor Bret Hart...poor guy. He had to know this was coming. I do not want to put myself in his shoes on this infamous night back in 1997, but I truly do wonder what was going through his mind. Not to mention, what was Triple H thinking? Or the man who had to go out there, Shawn Michaels? Regardless of who was right, wrong, came up with the plan, was against the plan or left in the dark completely, it all boiled down to Vince McMahon. What the boss says goes. THe buck stops with him. He did what he thought was 'best for business' and reaped the benefits that are still seen to this day as he sits on top of the wrestling mountain.





---



Derrick Cannon
5. A Son's betrayal - Wrestling is built upon sheer emotions. The ultimate underdog winning on the biggest stage, tearful retirement matches, tributes to lives that have meant everything to those that have watched and been guided by the careers of the special individual. One other aspect that has been built upon time and time again is the relationship between a father and a son. One such instance resulted in the life of a well known hardcore individual's life being torn a part. I am referring to the rivalry between the Sandman and Raven. Raven cemented his torturous legacy by prying on the minds of the weak, such was the case with the Sandman's son. The former Hak's son stated how Raven was beloved more than his own father. We thought we were about to witness a reconciliation only for the Sandman's son to set up the Sandman for an attack by Raven and than posing in Raven's usual manner. It was an incredibly emotional betrayal that shook everything we knew about the Sandman's in ring character, and that which we knew of his life beyond the ring.

4. The Perfect Betrayal - Another incredibly emotional moment in wrestling revolved around the retirement of Arn Anderson. It was an incredibly emotional speech that would be utilized in a mock parody fashion and as a setup for the actions that would take place at Fall Brawl 97. Curt Hennig who was given the spot in the Horsemen that Arn Anderson placed at the center of his career had alternative motivations for the fate of the legendary Horseman. The War Games match would culminate with the NWO dominating the Horsemen only for Curt Hennig to enter the match. Many at the time felt that the tide would switch in favor of the Horsemen. Wrong! Curt Hennig smashed Ric Flair's head with the cage door and nearly crippled the Horsemen cementing the NWO's status as the sole super group of the WCW.

3. Owen Hart vs. Bret Hart - Survivor Series 93 was supposed to be a place for the Hart Family to celebrate their sense of unity. Instead it resulted in complete chaos. Owen felt that he had suffered being in the shadow of his brother Bret for far too long. Owen wanted the fame and legacy that his brother and would go to any length to achieve it. Owen betraying Bret at Survivor Series and later at the 1994 Royal Rumble would lead to WrestleMania X. Owen should have cemented his legacy by defeating his brother in a wrestling clinic, instead Bret would go on to win the WWE Championship. The problems between the two would only intensify with the two only uniting during the last stretch of Bret's run in the WWE before his shocking defection.

2. Shawn Michaels makes a lasting impression - The Rockers were starting to show signs of dysfunction towards the end of 1991. The two seemed to reconcile their differences during an episode of Brutus Beefcake's talk segment, the Barbershop. Unfortunately for Marty during the same segment Shawn threw Marty straight out of the Barber Shop window, cementing his heel status and launching the rise of his career.





1. The NWO is here - The NWO was born during the Bash at the Beach 1996. The Outsiders put the seed of doubt in the minds of many wrestling fans and left them questioning the loyalties of Sting, Savage, and Luger. Luger would be taken out of the picture quickly the Outsiders than proceeded to beat down Sting and Savage, until the legendary Hulk Hogan emerged at WCW's darkest hour. Instead of saving WCW's main event players Hogan joined forces with the Outsiders and proceeded to continue the beatdown with a legendary leg drop to Randy Savage. After the match Hogan stated that he had become bored with the WCW and that the fans can stick it for not supporting him since his debut with the WCW. On turning his back on the fans and the WCW organization Hogan what was previously unthinkable, the ultimate hero had become one of the greatest heels in wrestling history.

---
YOUR TURN KNOW IT ALLS

List your Top Five for this week's topic in the comment section using the following format:

5. CHOICE: Explanation
4. CHOICE: Explanation
3. CHOICE: Explanation
2. CHOICE: Explanation
1. CHOICE: Explanation
Your heart is free. Have the courage to follow it…TO CSONKA'S TWITTER!

http://www.twitter.com/411wrestling
http://www.twitter.com/411moviestv
http://www.twitter.com/411music
http://www.twitter.com/411games
http://www.twitter.com/411mma

Have you checked out the Csonka Podcasting Network? If you haven't, you should We run anywhere from 15-20 shows a month, discussing pro wrestling, the world of MMA, the NBA, general sports, popular TV series of the past, bad movies, battle rap, interviews, MMA & Wrestling conference calls and more! Around 10 different personalities take part in the various shows, which all have a different feel; so you'll likely find something you like. All of the broadcasts are free, so go ahead and give a show a try and share the link with your friends on the Twitter Machine and other social media outlets! Running since May of 2011, there are currently over 500 shows in the archive for you to listen to.



Larry Csonka is a Pisces and enjoys rolling at jiu jitsu class with Hotty McBrownbelt, cooking, long walks on the beach, Slingo and the occasional trip to Jack in the Box. He is married to a soulless ginger and has two beautiful daughters who are thankfully not soulless gingers; and is legally allowed to marry people in 35 states. He has been a wrestling fan since 1982 and has been writing for 411 since May 24th, 2004; contributing over 3,000 columns, TV reports and video reviews to the site.
comments powered by