SPOTLIGHTS
Smart Marks 4.05.14: The Calm Before the Storm
Posted by Dino Zee on 04.05.2014

We're so close to WrestleMania, so come on in as Dino Zucconi takes it easy this week, and breaks down some of the lighter topics in wrestling including the Hall of Fame, Lucha refs, and more!

Welcome back to Smart Marks! I'm Dino, and we're so close to WrestleMania that I can't even stand it! So much to think about as we head to Sunday- will the matches deliver? Who wins? How long until the Network stream takes a crap?- that I figured we'd just take it nice and easy this week, if that's okay with everyone.

Last week's column got some great feedback as I addressed the questions of why one watches, what the best wrestling is, and then covered my favorites and why. A few people gave out the answer of not liking to tell why they watch, because non fans still won't understand it. Reminds me of that Jeff Jarrett quote that's totally true that I'll say I'm paraphrasing because I'm going off the top of my head- For those who believe, no explanation is needed. For those who don't, none will do. Thanks again to everyone who shared their answers, and with that, let's hit the Marks for the week!

I figured I'd briefly touch on a few topics that, while hardly super important, still amuse me and make being a part of the greater wrestling community so entertaining.





The Sands of Time



Lucha Libre. I love it. Having spent the last six or so months getting to know CMLL, I've written in this space many times about the matches I like, or the special attraction tournaments I dig, and even the wrestlers themselves. I appreciate CMLL's old school approach of just giving me matches, with very little interview time and practically zero backstage shenanigans. It's a nice return to what I grew up with, and keeps things streamlined.

However, one thing I've not really talked about are the referees. If you've watched CMLL, you know what I'm talking about. These referees are, how to put this nicely... ancient. They move so slowly at all times. Dropping to the mat to count a fall, you can probably count to fifteen before they've slapped the mat twice. It's quite the jarring juxtaposition to have six guys flying around the ring at a breakneck pace, only to have it all come to a screeching halt so that we can wait for referee Baby Richard to take his gingerly time in counting. They appear to be no younger than 75 years old. And yet, for some reason, I can't help but think that they add some weird sense of legitimacy to the whole thing.

You watch a basketball game, you see some old ass refs running up and down the court. Same in football, and the umps in baseball. You usually have to work a long time in lower leagues before earning your spot in the biggest league possible. In wrestling, however, the reverse usually happens because you want a guy who can keep up and relay the messages to the wrestlers in a timely manner. That's fine, but it also seems silly when some 20 something kid is screaming at the world champion.

At least with CMLL, you have a built in reason why they get respect- they've earned it. Only the biggest rudo would attack an 80 year old man. Yes, it may slow everything down, and yes, the three counts may take 15 seconds, but at least we know that the officials in CMLL aren't jerks that you just throw to the mat whenever you feel like it without any repercussions.

Sometimes it's the little things in wrestling. CMLL providing us with some old, seasoned referees allows for some entertaining officiating throughout the show.

Come on, lucha fans! Tell me what you love/hate about the refs!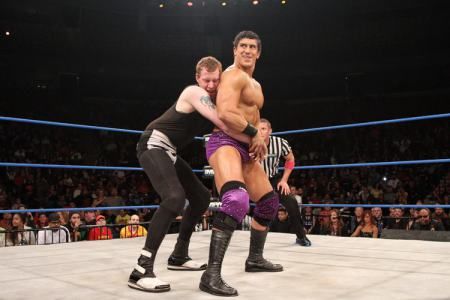 The Hall



So, Razor Ramon is going into the Hall of Fame. Immediately, those intellectual types figured that this was because "Scott Hall" would be saved for when the nWo is inevitably inducted as well. And like that, it was time to complain. I enjoyed it all, really.

First off- inducting Razor Ramon and then Scott Hall is, quite frankly, nothing at all like Ric Flair being inducted once solo, and then once with the Horsemen. Only in real life is Scott Hall the same guy as Razor Ramon. In wrestling, however, they're two totally different characters. Hell, Ramon never broke character, never pulled a Beaver Cleavage and gave us his real name- he was Razor Ramon throughout his WWF run from 1992-1996. Unless we're saying that Rikishi and the Sultan were the same. Not the same person playing the character, but the same in-story person. They aren't. And so, those making the Ric Flair comparisons for Scott Hall are, I feel, wasting their time.

However, even if you feel it is valid, then I'd ask why you care so much? Normally we're reminded how the WWE Hall is a farce that's only got people who kiss Vince's ass, or how it's fake because there's no physical building for it, or because of the people that aren't in. So, since the Hall is a farce, why would we get so worked up about multiple inductions? Whose world is crumbling because Scott Hall might get himself two rings? It's all for fun! Why do we have to stop using kayfabe when it comes to the inductions? Why can't Cactus Jack be separate from Mankind in the Hall of Fame?

We're the same people who spent 18 months waiting for Joe Park to be revealed as Abyss, but we have a problem with multiple characters (played by the same guy) being honored instead of just honoring the guy? I don't buy it- I think we just want to complain on this front.

What say you? Multiple inductions for one person- yay or nay?





Family Names



The Wyatt Family. The three man group that has really taken WWE by storm these last 6 months. Bray Wyatt. Erick Rowan. Luke Harper. Or, as Michael Cole calls them repeatedly, "The Wyatts". I can't be the only person this annoys, right? Like, I get that they're the Wyatt family, but creative also took the time to give Erick and Luke different surnames entirely. They're still going to allow themselves to be called "Wyatts"? Maybe that plays into the whole "they've been brainwashed" thing, but why not, then, rechristen yourself as Erick Wyatt? Luke Wyatt? I know, I know- I'm freaking out because WWE Creative may- may- not have thought something out completely.

It reminds me of when the New Age Outlaws were "The James Gang" in TNA. Like, I thought that was pretty stupid, especially since we knew that they weren't related at all. In a shocking move, however, they actually had Billy Gunn take on the name "Kip James" so that it made a modicum of sense. Smart move, TNA.

It's not the worst thing in the world, but whenever I hear that "the Wyatts" are up to no good, my skin crawls a bit.

Really though, it's time for WrestleMania! Be sure to check out the Roundtable for my picks, and enjoy Sunday. It's the biggest day of the year!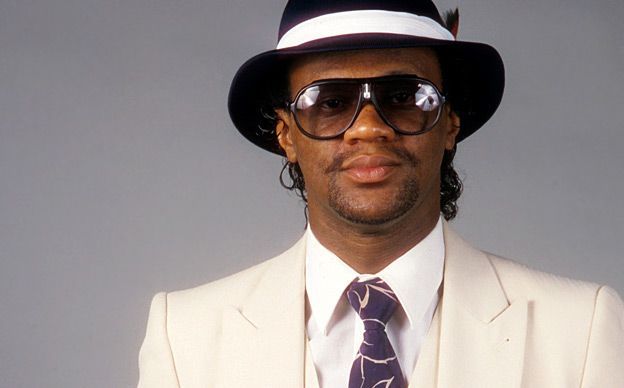 PUT SLICK IN THE HALL OF FAME!!!



That should do it for this week. Definitely a bit of fluff, but I really didn't want to head into Mania being a gigantic crybaby. We'll save that for next week, ha. Until then, be safe, and enjoy your WWE, your TNA, your Lucha, your Puro, and your Indies.






It's All Wrestling. It's All Stupid. We All Love It.
comments powered by