SPOTLIGHTS
The 8-Ball 4.06.14: Top 8 Next WWE Wrestlers Who Should Win Titles
Posted by Mike Hammerlock on 04.07.2014

From Dolph Ziggler and Bray Wyatt to Cesaro, Kofi Kingston and more, 411's Mike Hammerlock counts down the top 8 next WWE stars who should win titles!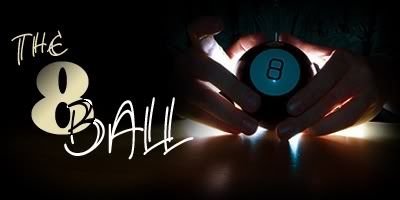 Right about now you should be heavily into a post-WrestleMania stupor. You've just been through the most climactic event and biggest show of the year. Yet we're in a 24/7/365 wrestling cycle. What happened last night is ancient history. So allow me to pose the question: what's next?

The road to the next WrestleMania starts now. For the record, I'm about ¾ through WM30 as I finish this column, so there's a few pertinent plot details I don't have. Also for the record, the talent is overcoming some of the dog slop they were given in the build to the event. The four-team tag match was as good as we possibly could have hoped as was the battle royal (at *** it was the best battle royal in WrestleMania history). HHH broke out a pile of good wrestling against Daniel Bryan, apparently the Game still has some technician in him. The Shield squished Kane and Degeneration Ex-Lax without the split that I had been dreading (never happier to see a short, one-sided match). The big takeaway should be that the WWE is loaded in terms of talent. There's a lot of guys in this company who deserve more spotlight.

That's where the Magic 8-Ball steps into the picture. This week it's sorting out who are the next eight currently beltless wrestlers who should win a singles title. A few words about some guys who didn't make the list. Sheamus would be my next pick if this was called the 9-Ball. Miz needs to get himself to the tag scene, pronto. Brock Lesnar can show up for a few PPVs each year without ever having to win a belt, especially now that he ended the Streak (though I assume he'll get a WWE title shot at some point in the next 12 months). A belt of any kind would do wonders for Damien Sandow or Ryback, but they're below the guys on this list and the tag scene might be the place for them. Now let's get to it.




8. Bray Wyatt



Guess I should start by explaining why Wyatt is at this end of the list and not at the top. First off, he's already playing at a level above the Intercontinental and U.S. belts. Those literally would be a step down for Bray. He just gave one hell of a match to John Cena and he beat Daniel Bryan (who may or may not be the WWE's top dog at this moment) at the Royal Rumble in a stellar outing. The Man of a Thousand Truths has gotten himself to the top end of the card without ever spending so much as a moment in pursuit of a title. I can see where Bray's character wouldn't care about a title belt, not wanting to be possessed by possessions or seduced by false status in a rapidly decaying world. What does a man who wear drawstring pants need with a belt? Actually that might make for a nice way to get rid of the World Heavyweight title. Bray could beat the titleholder and then cut promos about how he doesn't care that he's the champ. Have him hit the ring without either belt. Have him demand a title match with Jinder Mahal and then lay down to give the belts away until someone from the Authority stops the match. Then have him tip a diner waitress with the WHC belt. Even make it real, tip an actual diner waitress with WHC replica belt. It would make for great PR and it would mark the storyline finish of that title. Anyway, Bray will be fine with or without a belt, but a Mankindish WWE title run might make sense just to cement the notion that Bray is indeed a top guy.




7. Kofi Kingston



To be fair, Kofi's been a bit of a belt collector since his WWE debut in December 2007. He's got four IC reigns, three U.S. titles and three tag championships, but it's been more than a year since Kofi wore a belt. Oddly, if you were hoping for Wade Barrett to win a title, then you ought to root for Kofi, because beating Kofi is how Wade Barrett seems to win his belts. Aside from the time gap, Kofi also is a fairly rare commodity - a durable high flyer. He gives you something different on the card from all the mat-based dudes. Kofi also shines in specialty matches - Royal Rumble, Money in the Bank, Elimination Chamber. Somebody has to do the crazy spots. He's a useful guy to have on your roster. Yet he needs a legitimacy booster. Kofi would be a good choice to take the U.S. title off Dean Ambrose. He'd make Ambrose look awesome in the process, giving the win an upset feel. Then he could transition the belt to another heel in need of a rub. I would give Kofi roughly six months of something to do and keep him viable whenever he's needed to job to the stars in semi-big Raw or Smackdown match.




6. Jack Swagger



Well, if Kofi's midriff has been feeling bare lately, then Jack Swagger's waist is positively suffering from neglect. It's been more than two years since he held a belt. Even worse, the last time he found himself sporting championship gold, he lost it to Santino Marella. That's got to leave a bad taste in your mouth. In fact, I'd argue that Swagger is still suffering a hangover from that ignominy. It seems to have stuck to him in a way that his WHC and ECW reigns haven't. Too bad, dude has size and talent. Very few guys his size (6'7", 260 lbs.) can go like him in the ring. It's time to rehabilitate Jack Swagger. Give him a title, any title.




5. Roman Reigns



Supposedly Roman is the new "It" boy. He's got the size. He's got the look. He's got the bloodlines. He had a Royal Rumble for the ages and he's been in an almost countless number of excellent Shield matches. He's totally better than his brother Luther. What? Luther Reigns isn't related to Roman Reigns? I'm flabbergasted. Anyway, Roman is winning some singles gold this year. Given the concerns about his ability to deliver in singles matches, it might make sense to start him smaller with the IC or U.S. titles. As Dean Ambrose has proven, you don't need to get into a lot of singles matches when you're holding a secondary title. Reigns could flash a little gold while he continues to crunch people in Shield matches. Personally, I won't complain if they give Reigns the big title either. Screw the hand wringing, it's time for the next generation to take over.




4. Cesaro



You know, it wouldn't be a bad idea to put a title on your best wrestler. With the Real Americans split now upon us and last night's Battle Royal win, Cesaro is free to chase some glory. Like with Reigns, I won't complain if they hot shot him straight into the WWE title picture. Yet Cesaro vs. Swagger with a secondary belt on the line would be a ton of fun. Let them steal a bunch of shows and elevate both their profiles plus the prestige of the belt in the process. Hell, have it spill over across multiple titles with all kinds of collateral damage along the way. You might be able to get a Feud of the Year contender out of those two. Even if the Swagger feud turns out to be brief, Cesaro needs to be put over as one of the gold standards in the WWE. Some gold around his waist would be a good way to emphasize the point.




3. Seth Rollins



The questions about Roman Reigns' readiness for singles excellence do not apply to Seth Rollins. He's capable of putting on matches of the night from here to the 2020s. I believe in every bit of the Shield, but it's time for the WWE to start banking on Seth Rollins. Put him in an iron man match against Daniel Bryan and wrestling fans would be scooping up their brains from the floor from having their minds blown. Really, put him in a match with anyone, for anything, and fans win. Rollins would be perfectly cast as a surprise challenger, the guy you didn't see coming, but who instantly makes sense once he's in the match. The good news is it looks like the Shield will be with us for a while longer, so Mr. Rollins is going to be booked with purpose and direction.




2. Dolph Ziggler



Other wrestlers would have disappeared after what Ziggler went through in 2013. He really did get buried. Yet he plugged through it and crowds still go wild for him. If the WWE ever was going to push a guy to new heights after sending him tumbling down the card, it's ought to be with Dolph Ziggler. Sometime in 2014 he deserves a world title push. It can be as a face or a heel, fans will love him regardless and some arena will explode if he wins the WWE title. Isn't that reaction the WWE covets above all else: mass jubilation? Ziggler can deliver it. Put some smiles on some fans' faces. Almost no one in the WWE, outside of Daniel Bryan and maybe a returning CM Punk, can generate the in-building excitement that Ziggler does. You've got to capitalize on that and give that man a title run.




1. Cody Rhodes



While it may seem like Cody has been around forever (seven years is a fairly long time), he's only 28 years-old. During his time with the WWE he's had arguably the best Intercontinental title run of the past decade. He and his brother also just had a tag title run that ranks among the best of this century. There's a theme there. Give Cody a title and he takes it to Fantastic City. Um, so give him a title. Cody's WWE to the bone too. If you want to send a message to the locker room that if you stick with it even when Creative seems to be feeding you crap, if you want to reinforce that the way to get ahead is by seizing every chance you get no matter how small, then putting the big belt around Cody's waist would be a perfect way to do it. Maybe he needs to play around with a secondary title one more time on his way to the top of the card, but the kid has grown up. Let him be the man.

I take requests.. The purpose of this column is to look forward. What could be? What should be? What is and what should never be? What would make more sense? If there's someone or something you think should be given the 8-Ball treatment, mention it in the comments section. I might pick it up for future weeks.
comments powered by