SPOTLIGHTS
411's Wrestler of the Week 4.08.14: The Year Nine Winner
Posted by Larry Csonka on 04.08.2014

Brock Lesnar ended the streak, Daniel Bryan won the WWE World Title, Ricochet won the Open The Freedom Gate Title and more! But who won 411's Wrestler of the Week and the 411 Wrestler of the Year? Find out inside!




Welcome to YEAR NINE, WEEK 52 of 411's Wrestler of the Week. A quick overview of the rules to kick things off for us as a reminder…

Each writer chooses FIVE wrestlers (although ties and tag teams are allowed) from any promotion and each wrestler gets a point total attached to that ranking. It looks a little like this…

1st - 5
2nd - 4
3rd - 3
4th - 2
5th - 1

Then we tally up the votes and the official 411 Wrestler of the Week is crowned. But wait, there's more! Each week the top SIX vote getters get a points value for their ranking which looks something like this…

1st - 15
2nd – 12
3rd - 9
4th - 6
5th - 3
6th - 1

...and they go towards the 411 Wrestler of the Year award to be announced each year around WrestleMania. This will be posted every Tuesday (the voting week runs Monday through Sunday). Let's see who wins this week…

---



Larry Csonka
1) Brock Lesnar
Fair play to anyone that votes for Daniel Bryan in the top spot this week; I get it, but the fact is that Lesnar did something most thought would never ever be done. The Streak and the Undertaker has become an institution at WrestleMania, maybe bigger that the event at times (it seemed) and they ended it. It is over. Most still can't believe it, but the streak was considered "sacred" and most thought it would never end. It did, and Brock Lesnar was the man to do it. You would think that they have some big plans for Lesnar after that victory. On another week Bryan winning two matches, GREAT matches, would without doubt get the nod, but I think most agree that we on some level expected Bryan to win and to do so with great performances. Lesnar ending the streak wasn't on my radar until it happened.

2) Daniel Bryan: The other story of WrestleMania 30 was Daniel Bryan scoring the win in the opener over Triple H in a tremendous match and then going on to win the Title in the main event in another very good match. His performances were awesome, he win the title and got the big WrestleMania moment. Awesome.
3) Ricochet: Ricochet defeated Johnny Gargano at the DGUSA – Open the Ultimate Gate 2014 event to win the Open The Freedom Gate Championship. This was one of the best matches of the WrestleMania weekend, but even more importantly is what the victory means. Ricochet was already the Open The Dream Gate Champion; the main title in Dragon Gate proper in Japan. The victory also makes Ricochet the only man to win every major title in Dragon Gate and Dragon Gate USA.
4) Cesaro
5) Shinsuke Nakamura


Alex Crowder
1) Daniel Bryan
Could anyone possibly argue otherwise? Daniel Bryan single-handily saved Wrestlemania. The crowd was demoralized and dead until Daniel Bryan came back out. Even then, it took some work to get the crowd back in the palm of their hand. That match was incredible and everyone played their part. The crowd came unglued, when Bryan beat both Triple H and Evolution in the same night to win the World Championship. What else can I say? I thought the RKO would end it, I felt the same for the Batista Bomb. Finally, after that Daniel Bryan won!!! Daniel Bryan made Wrestlemania XXX his. Wrestlemania XXX the advent of Daniel Bryan.

2) Brock Lesnar: Wow, I have never been left anymore speechless. I was just like the crowd and everyone I knew lost it. No one expected this. Heyman seemed surprised too. The crowd almost died completely when Brock Lesnar beat The Undertaker at Wrestlemania. I cannot believe I'm tying that. Brock Lesnar might be the biggest heel on Raw this week. Daniel Bryan's next opponent is obvious to me, Brock Lesnar.
3) Triple H: Let's give Triple H some credit. Triple H put Bryan over clean in the middle of the ring. Not only that, the crowd got more into the Main Event when he came out for the screwjob. Only this time Triple H was foiled. The crowd bought the nearfall with the crooked referee. Triple H did the right thing tonight and helped Daniel Bryan succeed almost like no other. That's what is best for business.
4) Shinsuke Nakamura
5) Ricochet


Justin Watry
1) Daniel Bryan
There were quite a few lessons learned coming out of WWE WrestleMania XXX. First off has to be about Daniel Bryan. The next time somebody says WWE would never sign "insert ROH name," point to this. The next time somebody says WWE would never push "insert new wrestler," point to this. The next time somebody says WWE would never blah, blah, blah...you get the point. Daniel Bryan just beat Triple H clean, and won the WWE World Title in the main event of WrestleMania XXX. Congrats to Batista for tapping out. Congrats to Randy Orton on holding down the fort for the past eight months. Congrats to WWE on presenting the very best moment possible. Congrats to Daniel Bryan! You did it.

2) Brock Lesnar: The next lesson learned is obvious. Never say never. Never say never folks. I plead guilty as charged on this one. "Oh, Brock Lesnar will just lose at WM. No question." "Taker will win, DUH!" "The Streak will never end." "So predictable. Wah! Wah! Wah!" You know what happens when you assume. I sure do now. Brock Lesnar beat The Undertaker at WrestleMania XXX and ended The Streak. Unreal. Lots of theories floating around on this outcome. By the time Raw ends tonight, we should get the clear picture.
3) Cesaro: Major night for Cesaro. Forget the pre-show tag team title match. That was for The Usos. WWE made Big Show seem like a million bucks the past few weeks. He looked dominant and was repeatedly called the odds on favorite to win the Andre the Giant Memorial Battle Royal at WMXXX. Like many thought, that was just a red herring for somebody else to win - not Big Show. Well, WWE went with Cesaro. Great choice and a true WM moment.
4) John Cena
5) Bray Wyatt


Robert S. Leighty Jr
1) Daniel Bryan
Open and closed Mania with 2 of the best matches of the year, and walks away with the WWE World Heavyweight Championship.

2) Brock Lesnar: I can't believe I saw it, and I can't believe I am typing this, but Brock Lesnar will go down as the man who ended the streak.
3) Cesaro: Let the push begin as Cesaro is on his way to being a made man after the separation from Swagger and the Andre Memorial Battle Royal win.
4) The Usos
5) AJ Lee


Ryan Byers
1) Brock Lesnar
I expect that Bryan Danielson will be a near-unanimous number one this week, but I'm not just making this pick in order to be different or controversial. I'm making it because, quite frankly, I feel that for the past several years, the Undertaker's streak is and has been a bigger part of WWE and the build to Wrestlemania than even the WWE Championship, and I do not think that this year is any different. Yes, everything involving D-Bry on last night's show was enjoyable and well done, but Brock Lesnar defeating the Undertaker undid something that took over twenty years to build, and, though wrestling crowds get elated all the time, this result lead to a reaction of pure shock, the likes of which honestly may not have been seen since Ivan Koloff unexpectedly defeated Bruno Sammartino back in the 1970s. When they write the history books about Wrestlemania XXX, Daniel Bryan will be mentioned, but the headline will be about Brock Lensar.

2) Daniel Bryan: Despite my blurb above, don't get me wrong - what Bryan did was damned impressive and I loved watching it. Assuming he doesn't have an Ultimate Warrior-level falling out with the company, it will be replayed and talked about time and time again over the course of the next ten years, and he beat three of the biggest names of the last decade in order to have his moment. Congratulations to the new champion.
3) Shinsuke Nakamura: I'm sure that some people in the comments section will feel everybody should be voting a straight Wrestlemania ballot this week, but I have to give some love to Nakamura, who really surprised me by regaining the IWGP Intercontinental Title from Hiroshi Tanahashi this week. I had assumed Tanahashi's reign was setting up a unification match of sorts between himself and IWGP Champ Kazuchika Okada down the road, but now Nakamura has taken the strap back, and it looks like he might have a shot to dethrone Okada before Tanahashi does.
4) Antonio Cesaro
5) The Usos


MIKE HAMMERLOCK
1) Daniel Bryan
The Year of the American Dragon is now complete. We can debate from here to the end of time whether the WWE planned this out with military precision or stumbled into it, but Daniel Bryan just had, arguably, the finest WrestleMania ever. Ever. He bookended a thoroughly enjoyable card where the talent repeatedly stepped up. Cesaro effortlessly tossed Big Show in the battle royal and looked like the baddest man on the planet when he was in the ring. Randy Orton took one of the sickest unintentional bumps you'll ever see when he landed his back right on top of a stray monitor during the table spot of the finale (also, props to the French announce table for surviving the night). Kayfabe medics came out to attend to Daniel Bryan, but Orton had to be suffering. That he picked himself up and snapped back into main event mode is a testament to just how much of a warrior that guy is. Brock Lesnar obviously beat the Streak, which is a monster achievement, though it was in a mediocre match. The Usos retained the tag title in a quality match (thrilled that they finally booked the pre-show like it was part of the show and not a teaser). AJ actually making Naomi's hand tap was a brilliant hidden highlight. Yet Daniel Bryan dominated the night. Even if you hadn't been following his trials and tribulations during the past year, even if you hadn't been following his career since his days in the indies, it felt like he earned it in spades last night. Great job.

2) Triple H: Two weeks ago Mike Chin and I were doing the 411 Fact or Fiction column and we got asked about HHH's in-ring ability. WrestleMania XXX should put that debate to rest. He wrestled a stellar technical match against Daniel Bryan. I think it's fair to call that the best 1v1 WrestleMania match of his career. On top of that, reports are that last night was his baby. For all the problems I had with the build to the event, the WWE did a fantastic job of letting the talent take over. The company delivered big moments and one genuine shocker. It was a WrestleMania where you never found yourself checking your watch and wishing they'd get on with the next thing already. They get an A for execution. Paul Hunter Hearst Helmsley Levesque deserves a ton of credit for that.
3) Ricochet: Once upon a time, long before his WWE odyssey, Bryan Danielson ruled as King of the Independents. This weekend Ricochet ascended to that throne. Yeah, he's all kinds of skinny, but damned if he didn't work his tail off this weekend, ending the more than two year reign of DGUSA champ Johnny Gargano in the process.
4) Brock Lesnar
5) Cesaro and Randy Orton


Paul Lapointe
1) Daniel Bryan
The LOOOOONNNNNNNGGGGGGGGG build and payoff for the IWC and 411 golden boy D-Bry finally( Gasp!) came to fruition. After months and months and months of getting screwed, left out, beaten down the WWE finally went Vanilla Midget on us in the biggest way possible. I mean Bryan got put over HUGE! To laundry list it, he beat the de-facto Vince CLEAN in the opener, was injured, kicked out of a Batista Bomb and Pedigree, survived the mega RKO, was stretchered, beat an Armstrong, a sledgehammer and the odds all in one night. At Wrestlemania! Yes!

2) Brock Lesnar: There are no words....just. EAT. SLEEP. CONQUER. THE STREAK.
3) Cesaro: Good showing on the pre-show and though it sucks for Christian to have been pulled due to concussion concerns the last minute booking to get Cesaro up and running was awesome. No mystery guys or real surprises in the BW but the visual of Cesaro Andre' slamming show over the top was Marktastic. Now we just need him to Neutralize and Big Swing Show and we will have the whole set.
4) Bray Wyatt
5) Ricochet


Mike Chin
1) Daniel Bryan
I was really torn between numbers 1 and 2, but in the end I have to go with they guy who closed out Wrestlemania 30 with the greatest victory celebration in a decade. Though his present character may be too humble for it, he can now make a Chris Jericho-esque claim to having beaten Triple H, Randy Orton, and Batista in the same night. Great night for Bryan.

2) Brock Lesnar: As great as Daniel Bryan's victory was, Brock Lesnar ending The Streak is, for better or worse, the talk of the wrestling world. To be honest, were the match better, I may well have given him the top spot. For now, he's a close second and I'm sort of fascinated to see where WWE goes with him next--probably challenging for the strap at SummerSlam if not sooner.
3) Cesaro: If Daniel Bryan was Wrestlemania's hero and Brock Lesnar stole the show, Cesaro still stands tall as the surprise breakout star of Wrestlemania 30. Between the face turn and creating a legit Wrestlemania moment when he bodyslammed Big Show out of the ring, I don't think the night really could have gone any better for him.
4) John Cena
5) Triple H


Greg DeMarco
1) Daniel Bryan
In this day and age of weekly episodic sports entertainment three-hour extravaganzas and monthly pay-per-views, it's nearly impossible to put forth a long-term build, yet it's exactly what the IWC was asking for. We're given it, and people bitched every step of the way! Fact is, Daniel Bryan's climb from SummerSlam to WrestleMania was the best long-term storyline in years. By the time 'Mania rolled around, everyone assumed what would happen, but it still worked. That's because Daniel Bryan, long considered the best in-ring wrestler in the world, finished his transition to sports entertainer. And he did so flawlessly. Really this should go to both men, but Daniel Bryan was the star here.

2) Brock Lesnar: The Undertaker's WrestleMania record of 21 victories with no losses, obviously dubbed "The Streak," is the Holy Grail of the WWE. It's sometimes considered above the WWE (World Heavyweight) Championship, and deservedly so. The world title can be won and lost multiple times—The Streak can only end once. And at WrestleMania XXX, Brock Lesnar ended the stream. Outside of John Cena, Lesnar is the most believable "streak ender" on the roster. Had it not been for the 8-month build to Daniel Bryan's WMXXX win, Lesnar would be #1. And how awesome was the fan reaction to the finish? EAT. SLEEP. CONQUER. THE STREAK.
3) Cesaro: As the battle royal progressed, it seemed more and more likely that Cesaro could be "the guy." Because he was billed as the odds-on-favorite, I didn't expect Big Show to win. But he was the perfect guy to lose (if you can "lose" a battle royal) to Cesaro. The man basically has superhuman strength, and the visual of him slamming Big Show over the top rope is far more impressive than Hulk Hogan slamming Andre The Giant. May this be the beginning of a big push for Cesaro.
4) John Cena & Bray Wyatt
5) The Shield


Koeddy Laemmle
1) Brock Lesnar
When people talked about the Streak, it was in terms of how it was becoming as big of a spectacle in itself as WrestleMania. It had become bigger than The Undertaker himself and had become this unbreakable entity that nobody (including the live audience) ever thought was even close to being in jeopardy... until it happened. The match itself stunk and I was commenting during the match that it was a shame Taker was wasting one of his final performances in a match that was even worse than Lesnar/HHH from last year but the moment he won will live on in wrestling history forever. The day the unthinkable happened.

2) Daniel Bryan: Daniel Bryan finally had his moment to shine at WrestleMania and while other headlines may have overshadowed his crowning achievement, Bryan is unofficially now the face of the WWE. The video package they showed at WrestleMania really captured the spirit and evolution of Daniel Bryan's career and now he has reached the pinnacle of his profession.
3) Cesaro: Some day Daniel Bryan and Cesaro will have a classic rivalry and when people look back on it, they will look at WrestleMania XXX as a crossing point of both men's careers when the WWE had finally put their faith in these guys and realized they needed to create some new characters now or forever tread in water. The WWE has tried to recapture Hogan's slam on Andre the Giant from WrestleMania III but none of those attempts were as memorable as Cesaro slamming Big Show out of the ring to win the Andre the Giant Memorial trophy.
4) Randy Orton
5) Triple H


Derrick Cannon
1) Brock Lesnar
It can definitely said that WrestleMania XXX was a defining moment in the careers of several men. Daniel Bryan's moment shouldn't be diminished and I highly suspect that he will get the number one spot from many 411mania writers. That said what Brock Lesnar accomplished goes far beyond the realm of ordinary and even spectacular title bouts. Brock Lesnar breaking the streak is like Roger Maris and Hank Aaron breaking the records that were set by Babe Ruth. He did something that up until that point was unimaginable. The Undertaker's streak defined the event and in many cases became bigger than the said event of WrestleMania itself. Brock Lesnar shattered the streak. Despite the incredible win by Daniel Bryan it is the moment that will define WrestleMania XXX. Brock Lesnar has reestablished his aura of dominance and became the one in 21-1.

2) Daniel Bryan: While a previous unfathomable wrestling event took place, another wrestlers quest to realize a dream came to a true conclusion. WrestleMania XXX became the night that Daniel Bryan conquered three members of evolution in two consecutive matches, both of which will deserve mention when match of the year discussion begins to ensue. Daniel Bryan winning the WWE World Heavyweight championship made WrestleMania XXX an event that truly deserves to be remembered.
3) Triple H: Triple H played a huge role in Daniel Bryan's successful night. He tried to deny Daniel Bryan at every turn, in the opening of WrestleMania and in the main event. Without the efforts of Triple H and Stephanie McMahon the high emotions of Daniel Bryan's victory wouldn't have been up at the level it has been. Fans wanted to see Triple H conquered and Triple H played the classic villain the entire evening. His wrestling ability also deserves to be mentioned as so often we forget what he is capable of when he is in the ring. His matches usually possess great storytelling and in ring psychology, and Triple H more than lived up to both ends of his moniker the Game unfortunately for Triple H at WrestleMania XXX his game was over.
4) Antonio Cesaro
5) AJ Lee


Steve "The Living Legend" Cook
1) Daniel Bryan
You beat Triple H & make Batista tap out in the same night you get the top slot. Pretty easy logic. Everybody wants to make the WrestleMania XX comparison, but Bryan's obstacles to glory were much more daunting. Not only did he have to win a triple threat match, he had to beat the boss earlier in the evening & overcome the boss's interference in the main event. These were odds that Hulk Hogan in his prime, Steve Austin in his prime & John Cena would have a difficult time overcoming, but Daniel Bryan got it done. Nobody has to wonder whether or not he's an A+ player ever again.

2) Brock Lesnar: In any other week of the year, and in any other week of most years, Brock ending Undertaker's WrestleMania streak would ensure him the top slot. He just gained a tremendous amount of bargaining power.
3) Triple H: The boss played his role to perfection on WrestleMania Sunday & put over Daniel Bryan like a million bucks. I don't think that's as surprising as some would have you believe.
4) Cesaro
5) The Shield

---
THE WINNERS~!
Special Mention…Shinsuke Nakamura & John Cena - 6 Votes


Fifth Place…Ricochet - 8 Votes


Fourth Place…Triple H - 15 Votes


Third Place…Cesaro - 27 Votes

The real strong, super athletic man in the WWE…



Second Place…Brock Lesnar - 50 Votes

Eat, sleep, conquer the streak…



And 411's Wrestler of the Week is…




















Daniel Bryan - 56 Votes

YES! YES! YES! YES!




Year-End Standings~!
And here are the FINAL STANDINGS for year nine…

~WINNER~ Daniel Bryan - 283pts. ~WINNER~

2. Roman Reigns - 158pts

3. Randy Orton - 145pts

4. Bray Wyatt - 109pts.

5. Seth Rollins - 108pts

6. AJ Styles - 90pts.

7. Dean Ambrose - 83pts.

8. CM Punk - 74pts.

9. John Cena - 74pts.

10. Cody Rhodes - 73pts.


Brock Lesnar - 63pts

Kazuchika Okada – 60pts.

Cesaro - 57pts.

Magnus - 50pts

Christian - 45pts.

Goldust - 43pts

Jimmy Uso - 42pts.
Jey Uso - 42pts.
Big E. Langston - 42pts.

Chris Sabin - 39pts.

Bobby Roode - 34pts

Matt Jackson – 33pts.
Nick Jackson – 33pts.
Prince Devitt - 33pts
Curtis Axel - 33pts.

Luke Harper - 32pts.

Hiroshi Tanahashi- 31pts.

Ryback - 30pts

Erick Rowan - 29pts.

Ricochet - 28pts
Kurt Angle - 28pts.

Gunner - 27pts.
Mark Henry - 27pts.

Austin Aries - 25pts.

Bully Ray - 24pts.
Big Show - 24pts.

Samoa Joe - 22pts.
Tamohiro Ishii - 22pts.

Triple H - 21pts.
Manik - 21pts.
Tetsuya Naito - 21pts.

Sami Zayn - 18pts.
AJ Lee - 18pts.

Alberto Del Rio - 17pts.

Kofi Kingston - 16pts.
Damien Sandow - 16pts.
Adam Cole – 16pts.
Dolph Ziggler - 16pts.

Kenta Kobashi - 15pts.
KENTA - 15pts.

Shinsuke Nakamura - 13pts.

Yuji Nagata - 12pts.
Karl Anderson- 12pts.
Sin Cara II - 12pts.
Jake Roberts - 12pts.
Masato Yoshino - 12pts.
Jeff Hardy - 12pts.
Michael Elgin – 12pts.
Kyle O'Reilly – 12pts.
Billy Gunn - 12pts.
Adrian Neville - 12pts.

Road Dogg - 10pts.
James Raideen - 10pts
Johnny Gargano – 10pts.

Rob Conway – 9pts.
Rampage Jackson - 9pts.
Mr. Anderson - 9pts.
Abyss - 9pts.
Wade Barrett - 9pts.
The Undertaker - 9pts
YAMATO - 9pts.
Jun Akiyama - 9pts.
EITA- 9pts.
T-Hawk - 9pts.
Harlem Bravado – 9pts.
Lancelot Bravado – 9pts.
Shingo Takagi - 9pts.
Doc Gallows - 9pts.
Seiya Sanada - 9pts.

Ethan Carter III - 7pt
Mikey Nicholls- 7pt
Shane Haste - 7pt
Rob Van Dam - 7pts.
La Sombra – 7 pts.
Shelton Benjamin – 7pts.
Jack Swagger - 7pts.

Akebono - 6pts.
BxB Hulk - 6pts.
Fandango - 6pts.
Yoshihiro Takayama - 6pts.
Jigsaw – 6pts.
The Shard – 6pts.
Robbie E - 6pts
Jessie Godderz - 6pts
MVP - 6pts.
Chris Hero – 6pts.

Drew Gulak – 4pts.
Jushin Liger - 4pts.
Mickie James - 4pts.

Paige - 3pts.
Madison Rayne - 3pts.
Akira Tozawa - 3pts.
Suwama - 3pts.
John Morrison – 3pts.
Dusty Rhodes - 3pts.
Tito Ortiz - 3pts.
Sting - 3pts.
Hernandez - 3pts.
Chavo Guerrero - 3pts.
Tomasso Ciampa – 3pts.

Kota Ibushi - 2pts
Paul Heyman - 2pts
Sheamus - 2pt
Eddie Edwards - 2pt
Davey Richards - 2pt

ODB - 1pt
Tiger Mask IV - 1pt
CIMA - 1pt
Katsuhiko Nakajima - 1pt
Alex Shelley - 1pt
Candice LaRae - 1pt
Ethan Page - 1pt
Eddie Kingston – 1pt
Chuck Taylor– 1pt
Trent Baretta – 1pt
El Hijo del Perro Aguayo – 1 pt



Voting began 4.16.13
Year-End Rankings Key:

WWE Contracted Wrestlers are represented in BLUE.

TNA Contracted Wrestlers are represented in GREEN.

ROH Contracted Wrestlers are represented in RED.

US Independent Wrestlers are represented in MAROON.

Japanese Contracted Wrestlers are represented in BLACK.

Mexican Contracted Wrestlers are represented in MAGENTA.

Other International Wrestlers are represented in INDIGO.

---
**PREVIOUS WINNERS**
Year One Winner: Ric Flair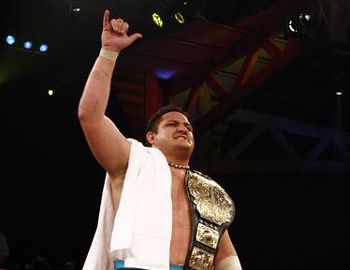 Year Two Winner: Samoa Joe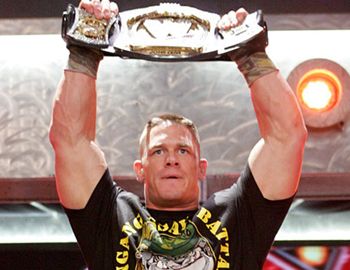 Year Three Winner: John Cena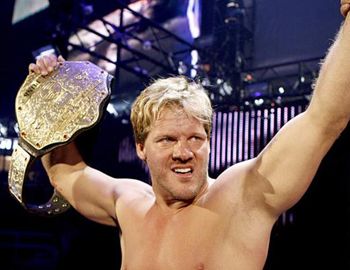 Year Four Winner: Chris Jericho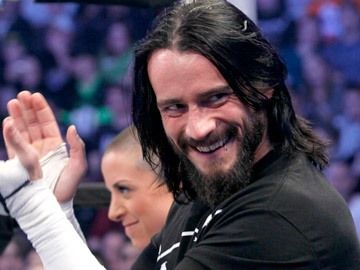 Year Five Winner: CM Punk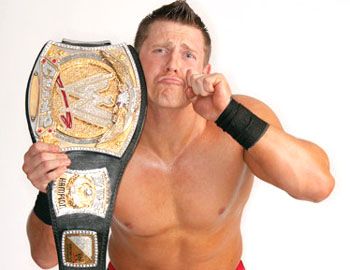 Year Six Winner: The Miz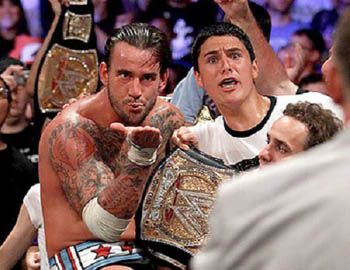 Year Seven Winner: CM Punk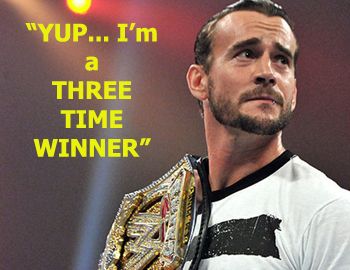 Year Eight Winner: CM Punk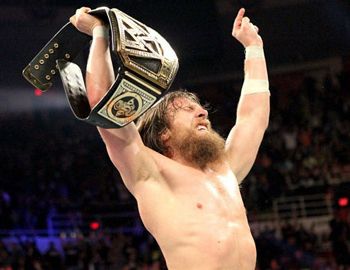 Year Nine Winner: Daniel Bryan
Come back next week as we start YEAR TEN of 411's Wrestler of the Week!
comments powered by