SPOTLIGHTS
The Ten Count 4.10.14: Remembering The Ultimate Warrior
Posted by Evan Daniels on 04.10.2014

411's Evan Daniels shares his memories of the Ultimate Warrior following his sudden passing on Tuesday night...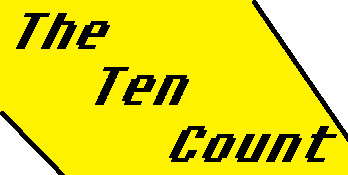 This column was supposed to be a Top 10 List of WrestleMania 30 Moments.

Then it was going to be the Top 10 Undertaker WrestleMania Matches after seeing The Streak broken in what I believe is The Undertaker's last match.

Now, it is not even a Top 10 list anymore due to what I saw on my phone this morning.

In normal fashion, my 3 year old son woke me up at 6:40am on Wednesday morning. 6:40 is actually late for him to come in. My wife jumped in the shower and my son wanted to watch Thomas and Friends on YouTube. I got out of bed to put that on and came back to bed. As I normally do, I unlock my phone and pull down the Google Cards to see what the weather is outside. I then see it….

The Ultimate Warrior dead at 54.

Wait, what?

I read it again, The Ultimate Warrior dead at 54.

I am absolutely shocked and deeply saddened.

This is the guy that I just saw on Saturday night inducted into the WWE Hall of Fame. This is the guy I saw at WrestleMania 30 on Sunday. This is the guy that I saw in a WWE ring for the 1st time in 18 years on Monday.

On Tuesday, he is gone. Just like that, gone.





In 1988, I was a 9 year old boy and was a huge WWF fan. I used to watch all the shows on television back in Cleveland. I was fascinated with all the superstars but there were a select few that captured my imagination. The Ultimate Warrior was one of those superstars. I wasn't the kid with the memorabilia since we didn't have a lot of money but I was a huge fan of his nonetheless. I watched him every Saturday morning and just thought he was so cool.





In 1990, I was a 12 year old boy when I watched live my 1st WWF Pay-Per-View at my friend Brett's house. It was SummerSlam 1990 and The Ultimate Warrior was in the main event with Rick Rude. I hated Rick Rude and I loved the Warrior. I was so happy that he retained his title that day. I was even happier that Brett had a copy of WrestleMania 6 so I could watch Warrior win the title from Hogan.





In 1991, I was still a 12 year old boy when Warrior and Savage faced off in a retirement match. Even back then I knew that was one of the greatest matches I would ever see. I know now, it is one of the very best WrestleMania matches. Later that year at SummerSlam, the Warrior teamed with Hulk Hogan and defeated the evil Iraqi sympathizers. What I didn't know then was that it would be the last time I would see Warrior for a long time. More on that later….





In 1992, I was a 13 year old boy when Warrior came back to the WWF. It just wasn't the same. It was cool, but I think I had just started to grow up and it didn't resonate with me the same way.





In 1996, I was a 17 year old young man and Warrior was back again. Nothing great happened during that run and he was gone before it even started.





In 1998, I was a 20 year old man and once again Warrior was back but this time in WCW. It was painful to watch and seemed like he was just there for Hogan to pin to make up for WrestleMania 6. What I didn't know throughout that timeline was all the problems The Ultimate Warrior caused back in the dressing room. There weren't sites like ours (well, maybe during that 1998 run) to tell us about all the backstage dirt and gossip. I didn't know that he was a no good son of a bitch and that basically no one liked him. I didn't know he held up Vince McMahon for a payoff. I didn't know that he was dangerous in the ring. I didn't know anything except he was so awesome on television and that was good enough for me.





All of this really came to light in the 2005 DVD called "The Self Destruction of The Ultimate Warrior". It seemed like the entire company just buried him. It was uncomfortable to watch. It just didn't seem fair.

Like many things in life, the truth is usually somewhere in the middle. If he was so hard to work with, no one would have wanted him there and he would have been gone. If he was so hard to get along with, everyone would have gone to Vince and he would have been gone. If his promos were so bad, he would have gotten no TV time. And if he truly was a no good SOB, he would have never become the face of the company.

I don't know about the respect for the business piece. I don't think people like me who weren't in the locker room back in the 80s and 90s will ever know. I believe that if he had no respect Andre the Giant never would have worked with him. I know Andre didn't like him (according to many) but to lose to him all over the country never would have happened. Warrior probably respected the business in a different way than the norm.

The only thing that I don't think is forgivable is holding up Vince McMahon for more money the day of SummerSlam 1991. You should never "put a gun" to your boss' head. It is just disrespectful and should have been handled differently. If it was someone who was well liked and never did anything bad it wouldn't have been as much of a monstrous deal.

In 2014, I was a 35 year old man watching The Ultimate Warrior inducted into the WWE Hall of Fame on the WWE Network. I saw a man with his family happy and at peace. He knew that this was a day no one thought they would ever see. He knew this was a day he thought he would never be a part of. I thought his speech was interesting while still somewhat controversial. He went a couple of places I didn't think he would go, the DVD, the check from Vince, people being upset with him.

He used that speech to let people know that he lived and believed his gimmick so much that it defined his life. The positive things that The Ultimate Warrior was doing on TV he tried his best to do in real life. I don't think that's necessarily a bad thing. John Cena the character is basically John Cena the man dialed up to 11. I did take away from that speech that Warrior was once an angry, hurt, devastated man who was now healed and ready to embrace the business and company that gave so much to him. It had all come full circle and I was thrilled to see it.

On WrestleMania Sunday, he got the prime spot during the Hall of Fame portion of the show.

On the following night at Monday Night Raw it was the return of The Ultimate Warrior to the ring. I hate to say it but it saddened me to see him limp up the stairs and attempt to shake the ropes. Let's be honest, he is a 54 year old man with probably bad knees, bad hips, and a bad back. I remember saying out loud this is a little sad. It made me hope that Warrior never actually wrestles a match or do anything physical for the company. He just didn't look quite right.

The promo itself was fun and nostalgic and all the things you would want a Warrior promo to be. The sadness I was feeling for what his body had turned into was replaced with joy that he was back to doing what he loved. He had signed a multi-year deal with WWE to be an ambassador. He was supposed to do an autograph signing this week. I am sure he would have been a part of DVDs, the WWE Network, more appearances, and many other things.

All of that never got the chance to happen because The Ultimate Warrior collapsed on Tuesday evening in Scottsdale and was pronounced dead on arrival to the hospital. People are saying that he didn't look good this weekend. Bret Hart even said he looked frail.

The greatest thing about this past week was all the smiles that he put on the current crop of superstars faces. These men and women were kids when he was popular. Their memories are the same as mine. They are not clouded with the backstage BS that was going on. All of them seemed genuinely excited to meet him and shake his hand. They were getting the opportunity to meet their childhood hero…something they never thought they'd get to do.

There was a lot of peace made as well with the old timers. Hulk Hogan, Jake Roberts, Vince McMahon, Roddy Piper, the list goes on and on. They all realized their time is short on this planet and grudges are not healthy for anyone. I am happy for all of them that they got their opportunity this weekend.

Let's get something out of the way…..I don't know why he died. We will all find that out in due time. I have a feeling what the reason is but it's not fair to type that since it is a negative. That time will come and we'll have to face the facts but to write it now would be irresponsible.

Warrior leaves behind a wife and 2 daughters who happened to walk with him at the Hall of Fame. I can't imagine the pain they are going through today. Both of my parents are gone, but I was much, much older than those 2 girls are. They got to listen to their dad on the biggest day of his professional career basically say that being their father is more important than any honor he would ever get.

The memory of this weekend will live with them forever.

It will live with all of us fans forever.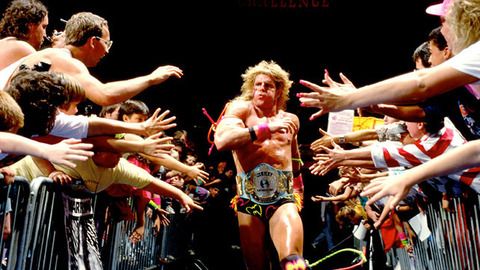 R.I.P. Warrior, you will be missed.
comments powered by