SPOTLIGHTS
Smart Marks 4.12.14: Fly So High, Fall So Far
Posted by Dino Zee on 04.12.2014

Join me this week as we talk about Streaks ending, World Titles changing hands, the Ultimate Warrior, and more! I don't even mention that Sting appears to be in WWE, but that happened, too!

It feels like it's been six years since my last column. It really does.

I'm Dino, this is Smart Marks, and well, it's just been one of those weeks, right? WrestleMania weekend is always a huge event, and the follow up Raw is usually something worth watching, too. Just those events enough are usually good enough. But we also saw the crowning of Daniel Bryan, the End of the Streak, the inductions of wayward souls Jake Roberts, Ultimate Warrior, and Scott Hall, and even the crowning of a new TNA World Champion. In CMLL, broadcasts showed the results of the Shocker vs. Rush hair vs hair match, as well as a title match between Volador Jr. and Máscara Sagrada!

As you may have seen, 411 writers got together for a special Warrior Roundtable edition, so make sure to check that out. Already, I've seen the false line of thought that anyone who says anything good about someone who wasn't always perfect is just "placing them on a pedestal" or something equally ridiculous. No, Warrior wasn't a saint. I don't recall reading anyone talk about how perfect he was. Yes, he said some horrible things. I don't recall anyone excusing that, either. But some of us are able to at least show respect for another human life, and to offer some nice words for a fallen soul. On top of that, to see these types of comments come from the same people who usually spout that Level 1 Adult line of "I'm entitled to my opinion!" in the comment section is very amusing to me, as his opinions have them wanting the Warrior to be remembered as the biggest piece of garbage. He didn't kill anyone. He didn't assault anyone. He had some opinions most of us disagree with, and he voiced them. Maybe if he had done it here with some witty handle, it'd have been okay.

That's my rant, as they call it whenever you speak personally to the audience. Saying nice things about someone doesn't mean you forget the bad they were associated with. It's just called being respectful, and it makes you an even better person if you can do it for someone who maybe didn't show respect to everyone all the time.

Let's get to it, and hit the Marks for the week!





A Brockbuster of an Occasion



It's probably been discussed to death already, but screw it. BROCK LESNAR ENDED THE STREAK!!! No, I didn't call it. In fact, I pouted rather openly about how stupid it was to serve Brock up to be victim #22 for Taker when he could have been doing something a bit more productive at Mania. I was pissed that Cena wasn't getting Taker, as *that* was the only match, I felt, that could make us think Taker was gonna lose.

When Brock lifted Taker for that third F5, I remember feeling that same butthurt sensation rise in me. They're gonna KILL the F5 like this?! Taker's gonna kick out of THREE of these things?! I started having flashbacks to last year's Mania, where Triple H showed such an incredible ground game in countering Brock's kimura repeatedly. Now they're gonna kill the F5? I couldn't believe that they... and then the ref counted three.

I wish I could live in that moment forever. I honestly cannot remember the last time I was completely speechless at the end of the match. I've been surprised, even mildly shocked by results in the last 15 years, for sure. But this was something totally different. I started thinking that this was a mistake. I waited for someone to come from backstage and restart the match. Anything. The reaction from the crowd only compounded this, as the usual din that 75,000 people produce died completely into one incredulous shriek. And then we got the shots of the fans reacting. Grown men, guys my age, looking like someone kicked their puppy. Wow. Wow. WOW! one could be seen saying. We all saw the dude with the bug eyes. There was another guy with his face in his hands. Honestly, when was the last time a wrestling result garnered THAT type of response? That moment, with time, may eventually earn its spot as an all-time favorite. I'm glad I was dead wrong on that match. That pinfall is burned into my brain forever.

Brock Lesnar, the former UFC Heavyweight Champion, absolutely was the right choice for this. My brain immediately rushed to the infamous UFC 121 staredown Taker and Brock had, and I started laughing. Did this jerk really have his loss planned out 3 1/2 years ago??? Amazing. Taker always knew, above everyone else, that Brock was the one to give this honor to. And while everyone complains that a part timer got the win (over a part timer, but let's ignore that part, I guess), I'll just enjoy the 100% pure surprise that WrestleMania delivered to us in this match.

Quick note to those who don't like Brock because he "doesn't love the business": I'd argue, in the most literal sense, that Brock Lesnar absolutely LOVES the business of wrestling. He loves making money. He loves being able to leave for ten years, return, and still make a ton of money. He loves being a featured player on any card he's a part of. He loves headlining. And he loves being the 1 in the 21-1. Maybe he doesn't have a love for all the ridiculous backstage rules and traditions, and maybe he doesn't clap three times and spin in a circle after shaking Kane's hand, but I'd say it's pretty clear that if Brock loves ANYTHING about wrestling, it is, without a doubt, the business of it all.

Finally, thank you, Undertaker. I have the feeling he may be done (though I clearly don't know anything), and if so, what a hell of a career. And if we get that match with Sting next year that some people have always wanted, well, even better.

Thoughts on the ending of the Streak? Hit me up in the comments!



<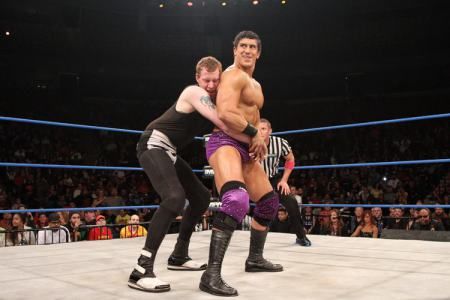 EY is The Guy



So... how about that Impact?

When the gauntlet battle royal started, I picked MY BOY EC3 to walk out with the win. I also had a weird feeling that whoever won the battle royal, would end up winning the gold at Sacrifice, which made me root even more for Carter. However, it was Eric Young who prevailed, eliminating Abyss to get the big win. My brain started running at a million miles an hour. Is Eric Young really gonna be TNA champ soon?! As I'm thinking about this, EY grabs the mic, asks for MVP to appear, and says that he ain't waiting any longer, he wants his title shot tonight!

As someone who has watched TNA for ten years, I will admit to immediately getting down in the dumps. TNA has always had a really, REALLY hard time giving us World Title matches that are satisfying and don't have a lot of shenanigans. Especially when they're on TV. I had images of Dixie and Magnus and Abyss standing over a fallen EY, buried under a pile of chairs and tacks and guitars. I was pissed.

MVP made it worse by leveling the playing field and banning Abyss from ringside, and saying Magnus would lose his title if he were counted out or disqualified. Most times, these types of stipulations lead to the face winning. In TNA, it has historically led to the ONE guy that wasn't specifically named as being banned to run out and screw the face over. I got angrier.

Since I was watching on DVR, I was a little bit delayed. As the tag title match between the Wolves and Mr.Pectacular/DJZ was going on, I received a simple text message from a buddy of mine: "Fuckin TNA." My brain again raced at the upcoming screwy finish that was heading my way, and I responded with "Just let me think EY is winning while knowing stupid crap is on the way." He didn't respond after that. Heading to the TNA Title match, I was making jokes that maybe Young would win so that both companies could have a small bearded guy hold the belt. Even still, I was just waiting for the ridiculous interference that was gonna ruin this.

Then, Eric Young hit the piledriver, and covered Magnus for the 1, the 2, and of course, the 3. HOLY. CRAP. Suffice to say, my buddy does not share my love for this move, and that's okay. We disagree quite a bit when it comes to what we think should be done. For me, I'm loving this. Eric Young has been, for years now, the most consistently over person in TNA. Some would argue Joe, but I would point out that while Joe has always been positioned as a higher level act, Eric Young has maintained his popularity while being yo-yoed up and down the card. They even had him get serious for a bit with his jobbersquad, the World Elite. And still, every week, the fans would clap for him. We'd chant for him. Eric Young is the scrappy guy on the roster we always wanted to see treated with respect. Even when he filled in for Scott Hall in 2007, nothing really came from it. People talk more about the Joe promo before that, than the fact that EY main evented a pay per view. He always worked hard. He stayed over. He's done anything that's been asked of him.

Bravo, Eric Young, for your hard work paying off. And bravo, TNA, for proving me dead wrong as well. It was absolutely a week of being proven wrong, and I didn't mind it one bit. Now, will EY reign for a week, a month, or a year? That, I do not know. I'll just happily take the fact that TNA got it right last night. Maybe you don't like the result, but a clean title match is something worth celebrating.

What'd you think of Eric Young's big win? How about the match? Let me know down in the comments!





I is for I Told You So



One thing I did get right, however, was Daniel Bryan beating Triple H, and winning the title at WrestleMania.

Before I go further, let me say: No, I'm not the coolest kid in the world for calling it. In fact, from where I sat, this was the obvious conclusion all the way back before the Hell in a Cell event, where I called that Bryan would lose, sit tight for a couple months, win the Rumble, and take the belt at WrestleMania. Literally, the only misfire from my October prediction was the Rumble. That was just from seeing what was happening on TV, and making a guess.

Since Mania, though, I've seen the following points addressed:
1- You're not cooler than others for calling something.
2- Even if you got it right, you can't honestly say that you believed that was WWE's plan the whole time.

First off, like I said above, I don't think I'm cool for calling it. I think it's cool that I got it right, as I always like to make my Mania predictions around Survivor Series, and see what happens. I called Rey Misterio's ascension to the top the night Eddy Guerrero died. Does that make me cool? No, it means I can see where they'd want to go from time to time. You watch a program for over 30 years, you learn some things.

However, for those of us that did call it, I feel like some gloating was absolutely fair. We had to listen for months about how stupid we were, how it was "obvious" that Batista was only back to win the belt, how WWE "clearly" didn't care what we wanted, and how stupid we were for falling for their trap. Because, you know, WWE never pays any angle off the right way. Ever. We were basically called idiots for rooting for our guy to win, and then when he won, the people that called us idiots didn't want to hear it. Well, that's how trash talk works- you give some, you get some. Like Batista says, just deal with it.

The best part, however, was the second argument I listed. Now, it's not that we called it that's important. What's important is whether we actually believed that WWE had this grand plan in the works all along, and it was executed flawlessly. There's no way we believe that, right?

The answer is, WHO CARES if I believed that WWE's plans aligned with my prediction? Who cares if they decided at the end of February to get back on the Daniel Bryan bandwagon and give him the win? Who cares if Batista/Orton was ALWAYS the plan, and they changed it at the last second? What does my knowledge of WWE's booking plans have to do with the fact that I (and many others like me) were totally correct in predicting the outcome of Mania? Way to confuse the issue, guys. No one is claiming they knew what WWE's plans were- they're claiming they got it right that Bryan would end Mania as Champ.

It's okay to be wrong. Just own it. I was dead wrong on Brock/Taker. I was dead wrong on Young/Magnus. I'm not gonna yell at those who weren't to prove that they honestly believed WWE's plans all along were for Brock to win, because the bottom line is, if they called Brock winning, they were right. The end.

Yeah, it can suck a bit to hear the I told you so crew, but you usually only have to listen to that stuff when you've run your mouth in the leadup about how idiotic those who don't agree with you are. Suck it up and move on.

Where do you stand on the I called it! crew? Were you in the non-DB group pre-Mania and are now mad to hear about it? Did you call it and feel you earned the right to crow a bit? Feel free to do so down in the comments!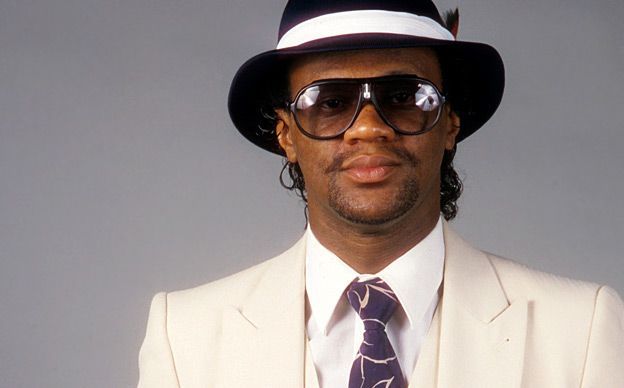 PUT SLICK IN THE HALL OF FAME!!



Well, that should do it for me this week. What a week. Highs and lows, peaks and valleys. Whatever you thought of the Warrior, at least show respect for the husband and father his wife and daughters knew him to be. Whatever you think of the Streak ending, show respect for the Undertaker, and his choice to end it. And, as always, just love the program you're watching. These guys do it all for us, you know.

Until next time, enjoy your WWE, your TNA, your Lucha, your Puro, and your Indies.






It's All Wrestling. It's All Stupid. We All Love It.
comments powered by