SPOTLIGHTS
My Take On 4.14.14: The Top 10 Matches From The WrestleMania 30 Weekend
Posted by Larry Csonka on 04.14.2014

From Daniel Bryan vs. Triple H at WrestleMania 30 and Johnny Gargano vs. Ricochet from Open the Ultimate Gate 2014 to Cheerleader Melissa vs. LuFisto at SHIMMER 62 and more, 411's Larry Csonka counts down the top 10 matches from WrestleMania weekend!




WELCOME!
Welcome back to another edition of My Take On! With all of the big WrestleMania week shows over and life getting back to normal, I thought that one last look back on the big weekend was in order. The weekend was of course about WrestleMania, but thanks to WrestleMania we once again got a ton of other iPPV events in New Orleans as well as Japan all in the same weekend. WrestleMania weekend is truly a holiday for wrestling fans. With so much good wrestling happening that weekend, I feel that the matches that stood out should be rewarded. And there was a lot of good wrestling again this year.

HOW IT WILL WORK?: It's quite simple really, since I watched a lot of PPV and iPPV during WrestleMania weekend. That includes WrestleMania, EVOLVE, Dragon Gate USA, Wrestling Odyssey, SHIMMER and New Japan. What I thought I would do is look through my reviews and ratings for those shows, pick out the very best matches and highlight them here. I will be going by my personal star ratings, so of course, your list may be very different. It's not new, it's not groundbreaking; just something I thought would be fun to showcase what happened in the wrestling world last weekend. It's completely ordinary and there is no special formula, but hopefully it will be a fun look back. I hope that you enjoy, and please share your favorite matches from the weekend.


If interested, the matches from EVOLVE, DGUSA, SHIMMER and Wrestling Odyssey are available at this link.


New Japan iPPV is available at this link.


WWE WrestleMania is available via the WWE Network.

WRESTLEMANIA WEEK REVIEWS

EVOLVE 28 review.

2014 - A Wrestling Odyssey review.

SHIMMER 62 review.

DGUSA: Mercury Rising 2014 review.

NJPW Invasion Attack 2014 review.

WrestleMania 30 review.




AND NOW….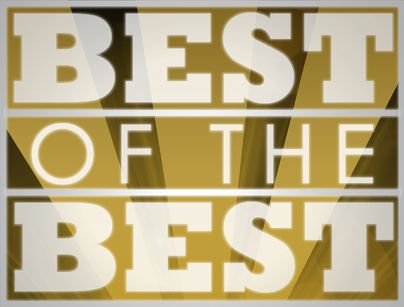 My Top 10 Matches From The WrestleMania 30 Weekend
Honorable Mention: From SHIMMER 62: Hikaru Shida vs. Evie [***¾]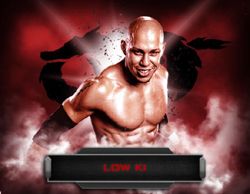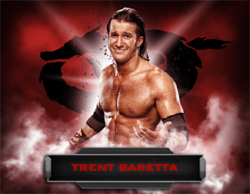 #10. From DGUSA – Open the Ultimate Gate 2014: Low Ki vs. Trent Baretta [***¾]


Overall Open the Ultimate Gate 2014 was one of the best shows of the WrestleMania weekend, and will have a few matches on this list. The first one on the list is Low Ki vs. Trent Baretta. Low Ki was brought in as a make good, due to the Dragon Gate performers from Japan not being on the shows. Low Ki is a polarizing character, he has burned bridges with pretty much every major wrestling company, and many were not thrilled with him coming in. I ended up really enjoying this match. In many ways it was a Low Ki match, which some hate, but his super serial attitude, mixed with the asshole heel vibe of Baretta made it all work. I liked the pace, and the fact that this had that "we're going to beat the shit out of each other" portion that felt different than the rest of the matches. Trent got the CLEAN WIN with the charging knee (ala Daniel Bryan) and that was that. It went about the right length, it was entertaining and Ki showed that when he wants to that he can. Trent Baretta has been awesome since his WWE release, and I firmly believe that in this case, WWE's loss has been the gain of the independent scene.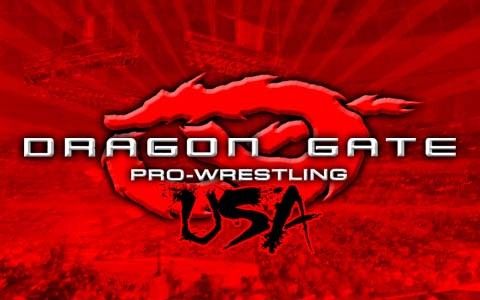 #9. From DGUSA – Mercury Rising 2014: Ricochet, Rich Swann & AR Fox vs. Chris Hero, Roderick Strong & Masato Tanaka [****]


The six-man tradition continued at DGUSA – Mercury Rising 2014. Unfortunately the show overall was a bust; it peaked too early, but the good news was that we got this match. But I have to be honest with you; I was worried about this match going into the show. The fear was that it would feel like it was going through the motions because we knew the winner. What do I mean? Hero and Tanaka had to be on early because they are working the WrestleCon event. In the past when matches like this happen, the guys often mail it in because they are saving their energy and the match simply suffers. That was not the case here, as this was 30-minutes of balls to the wall action with everyone busting their ass and working hard. This would have felt right at home as the co-main event or main event of ay show this weekend. This was tremendous fun; you couldn't have asked for a better start to the show. Well, it was the only thing worthwhile on the show; stop at this match, do not watch the rest of the show or Teddy Hart's cat will haunt you till the end of days.






#8. From SHIMMER 62: Cheerleader Melissa vs. LuFisto [****]


SHIMMER returned to WrestleMania weekend, and in all honestly put on a hell of a show (as long as you turn off the commentary). The big draw for the weekend was the SHIMMER Title match, two out of three falls, champion Cheerleader Melissa vs. LuFisto. Back at SHIMMER 20 in 2008 they had the "SHIMMER match of the year". They also faced at SHIMMER 60, Melissa retained but got busted open by LuFisto and needed stitches. Melissa is the only two-time SHIMMER champion, has held the title since last WrestleMania weekend (April 6th, 2013) and she has defended the title six times. The early part was about what you'd expect when planning to work or to tease working a long match. Deliberate, slower paced and mat based. Melissa is so good as a heel, she does all the small things to make you hate her and to get heat. They also did some tremendous counter wrestling, playing off of their past matches, and showing that they know each other. LuFisto scored the first fall with the Mangle-izer (think Sister Abigail). Melissa immediately hit the air raid crash to even things up. That happened at about the 20-minute mark. I hate that booking in two of three falls matches. At the 30-minute mark they went wild with a striking exchange and suplexes (German and Tiger) leading to LuFisto working a guillotine. And FUCK. Just as I was about to continues to say such nice things, they did a ref bump. Martinez ran in and hit LuFisto with the title and that allowed Melissa to retain the title. I guess that the good news is that unlike other shows this weekend that was the ONLY shenanigan filled finish on the show. But, I have seen so much of that recently that it is becoming infuriating. This was seriously heading towards a MOTY candidate, but the cheap, cliché, over done and lazy ending hurt the match. There has to be a way to keep Melissa as champion without using the belt shot crutch. The finish was one that just made you bang your head off the desk, because it felt like a betrayal of the in ring work. Remember, the booking should enhance, not take away from the match. This was an outstanding performance by both ladies, they should be commended. The booking? Not so much.





#7. From WWE WrestleMania 30 – Daniel Bryan vs. Randy Orton vs. Batista [****]


This was the second part of the Daniel Bryan story at WrestleMania 30. Bryan did come out at the beginning, shoulder wrapped up again to continue the sell of the injury. After a start that saw Orton and Batista try to keep Bryan down, Triple H and Stephanie came out during the match to pull the ref to the floor while Bryan looked to have Orton ready to tap out. Triple H brought referee Scott Armstrong with him, but he didn't fast count Bryan like they wanted, and Triple H and Stephanie weren't happy. Bryan took out the ref (remember no DQ) and then hit the dive onto him, Triple H and Stephanie. He also countered the sledgehammer shot and laid out Triple H with it. Batista and Orton worked together to destroy Bryan as Triple H and Stephanie got helped to the back by refs. They the hit a combo Batista bomb/RKO onto Bryan through the Spanish announce table to holy shit chants. This brought out EMTs to attend to Bryan as things continued. The crowd chanted for Bryan, who fought his way off of the stretcher. After a series of near falls, Bryan hit the knee on Batista, got the YES lock and became the NEW World Champion. He got the full celebration, fireworks, confetti and a lot of time to himself in the ring. During the evaluation of Lesnar vs. Taker I said, "In wrestling there are times when things feel right," this felt right. It ended up being a very good match; they told the right story and brought the whole thing together. I will say that it did get slow after the table spot, but that was mainly due to the fact that Orton landed badly on the monitor and needed a moment. They had some great near falls, again told the right story and it ended the right way. Sometimes the right thing to do is the easiest thing to do. Good work from all involved here (Orton and Batista got downplayed because it was Bryan's story, but they certainly did their part), and this was a very good match and a great moment to close out the big show.





#6. From DGUSA – Open the Ultimate Gate 2014: Chris Hero vs. Masato Tanaka [****¼]


Masato Tanaka was brought in as a make good, due to the Dragon Gate performers from Japan not being on the shows. Unlike Low Ki, everyone was excited that Tanaka was coming in. It's just the difference in how the fans view the performers. While in his 40s, Tanaka had some standout matches last year (2013) for New Japan and has really gotten better with age due to becoming a smart worker and is in great shape. This one started out as a technical grappling bout; slow, methodical and it was fun while it lasted. They it got into "we're going to beat the shit out of each other" territory, but at a higher level than Ki vs. Trent. I love when Tanaka fires up and demands that someone hit him. This was so great, it may not be for everyone, it had a New Japan feel to it, which I personally love. Simply put this was a hard fought match between two great competitors that went balls to the wall and left it all in there. Hero losing doesn't both me, he already wrestled today and won that match and last night. It was non-title and Tanaka did the company a solid by working for them, due to the Dragon Gate situation. Plus the fans loved every minute of it. This shit makes me love wrestling.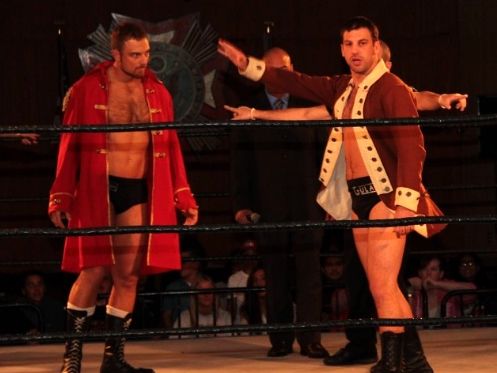 #5. From 2014 - A Wrestling Odyssey: Drew Gulak vs. Timothy Thatcher [****¼]


This was one of the most unique matches of the weekend, as it was contested under British round rules. Scheduled for six, five-minute rounds. Two pins, two submissions (or a combo of one of each) or one KO decides the winner. No closed fists, you may not advance on a downed opponent once contact has been broken; and if you break a rule, you get a public warning. If you get three warnings, you get disqualified. This was different from anything on the Wrestling Odyssey show and different from anything else I saw over the weekend. I actually dig the round format, and it is one thing I loved about the short-lived AWF from the early 90s. Tito Santana vs. Bob Orton from that one is something to track down. Round one was even, back and forth stuff. Round two saw Thatcher get a submission on Gulak. Gulak got a pin in round three. Thatcher was a beast in round four, looking for the KO with European Uppercuts and then working submissions. The dude is really good. Thatcher working body shots, and then looking like a caged animal as the ref counted on Gulak (because he had to follow the rules) was a great touch. They did so many little things to make the rules mean something, which is what had to be done. You know the work the guys is doing is very good when the crowd starts chanting "PUBLIC WARNING" when Thatcher broke a rule. He also got a second for not breaking a submission at the bell. They have done the rules so well, and Thatcher has been so subtle in the heel things he is doing that it comes off so well. Gulak battled back and made Thatcher submit in the final round. This will not be for everyone, but if you are a fan of hard hitting, basic wrestling where everything seemingly means something for once, then you will love this. In my opinion these guys are awesome, this was a beautiful match and a technical clinic. I was already a big Gulak fan, but Thatcher had a star making performance here.





#4. From NJPW Invasion Attack 2014: Shinsuke Nakamura vs. Hiroshi Tanhashi [****½]


Look at those spectacular outfits these two are wearing, these men are great men. At the NJPW Invasion Attack 2014, Shinsuke Nakamura defeated Hiroshi Tanhashi in the main event to regain the IWGP IC Title. These guys are also money and have been for a long time, and on top of that are two of the most consistent in ting performers in the world right now. I have enjoyed the feud, and feel that the booking of it, with the top stars involved, has made the title feel way more important, which is a great accomplishment. Seriously, just imagine John Cena and Randy Orton having a serious feud, over multiple matches on multiple shows, for the WWE IC Title. Image how much prestige that would bring to the title. That is what they did here. This was a MOTY contender, Tanahashi's work on the knee was awesome, and his subtle heel tendencies also worked so well here. This was a great way to end the show. If falls to fourth place (even though it shares the same star rating as the next two matches) for a few reasons. Yes it was great, yes it continued the elevation of the IWGP IC Title; but the next two matches had longer builds and much bigger payoffs in my opinion. You'll see what I'm talking about as we move on.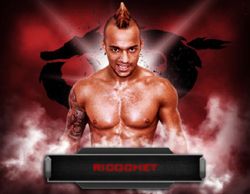 #3. From DGUSA – Open the Ultimate Gate 2014: Johnny Gargano vs. Ricochet [****½]


Johnny Gargano vs. Ricochet from the Open the Ultimate Gate 2014 was one of the crowning jewels of the weekend in my eyes, and comes in #2 on the list. Ricochet, as the winner of the fall in the big six-man during last year's WrestleMania weekend events, was entitled to a future title shot of his choice. This match was essentially started being set up at this point last year. Going into the match Ricochet held the Open The Dream Gate Title, which is the main title in Dragon Gate proper in Japan, and he is the first gaijin to ever win that title. Gargano has been doing everything to avoid the match, and retaining the title through shenanigans, but now has to face Ricochet. From the slick counters, the kick exchanges, Ricochet catching a Gargano suicide dive into a DVD on the floor; it all worked and came off effortlessly. They did some insane near falls, including the Gargano escape, and then the 630 by Ricochet. The crowd bit big time on that. But then, THEN THEY DID A REF BUMP for the second night in a row. Gargano went to old reliable, the tape and choked out Ricochet, and then locked in the Gargano escape. Ricochet escaped, hit the Benadryller and won the match and the title. Gargano's 870+ day reign of terror has ended. I hated the ref bump. I fully recognize that it played into Gargano getting to use more of the tricks that allowed him to keep the title, but I am just sick and tired of that tired booking crutch. Can we not just have a kick ass 30-minute match where the good guy wins with out the bullshit? That honestly took away from the match rating and enjoyment for me, and while other rated it a big higher, I just can't. The match had a year long build, they played off of their history and first meeting at EVOLVE 10, Gargano's old tricks finally failed and the crowd got exactly what they wanted, an awesome match with Ricochet finally winning the title. With his win, Ricochet becomes the first man to hold every major title in Dragon Gate and Dragon Gate USA. This was just a tremendous match, and again, the right thing to do.





#2. From WWE WrestleMania 30 – Triple H vs. Daniel Bryan [****½]


If you didn't hear, Triple H vs. Daniel Bryan was awesome. Seriously, it was just great. Triple H's over the top King of the Universe Shao Kahn looking entrance was great, as was Stephanie (wearing something from the Zatanna Zatara fashion line) introducing him. Bryan's shoulder was still taped up, selling his shoulder injury, and I appreciated that. It made the attack done a couple weeks ago mean something, and gave something for the heel to work over. Triple H constantly working that arm is easy, draw heat and makes sense. This match was fantastic. They obviously had the crowd, but the work was tremendous. Both guys worked hard, and Triple H felt as if he went out of his comfort zone (in a good way) to make everything Bryan did work. Triple H was also awesome, as the match just worked on every level. The other thing I loved about this is that the match didn't have the overly choreographed feeling. It felt like a fight at times, making it even better. Bryan got to kick out of the pedigree, and that shit has been reserved for the very top guys, and with the way they have done things I feel he needed to have that here. I also loved the reactions of both Triple H and Stephanie changing through out the match, from confidence to concern to then desperation. And then Bryan won clean with the knee, and the crowd just fucking loved it. As expected, they did the Tripe H post match attack. Everything was done according to plan. This is easily in the top tier of matches for the year thus far, and also proves that doing the simple and predictable thing is not always a bad thing. So much love to both guys, Bryan for proving himself on the big stage, and Triple H proving he can still go at this level after people doubted he could after the lackluster Brock matches. Great wrestling + hot crowd + proper storytelling = awesome.





#1. From NJPW Invasion Attack 2014: Tomohiro Ishii vs. Tetsuya Naito [****¾]


While I will agree that the previous two matches may have more importance to them due to their storytelling, nothing rocked my face during the WrestleMania weekend from a pure wrestling standpoint than the latest effort from Tomohiro Ishii and Tetsuya Naito. Remember how last year I was all about Tanahashi vs. Okada, and all of these great matches over the IWGP title they had and the fact that they simply delivered each time out? Well in 2014 replace the IWPG Title with the NEVER Title and replace the performers with Tomohiro Ishii and Tetsuya Naito and that's what is happening. These are great men and once again delivered a MOTY contender; three top tier matches, two of them in my top three for the year so far. This was just a spectacular example of in ring action captivating a crowd through their work, and the feud over the NEVER Title as well as their battle for respect. These gentleman have an insane chemistry; the deliver, they have tremendous in ring work, they are putting together different and compelling in ring stories and their crowd psychology right now is second to none. They can feud all year for all I care; I am totally fine with it and will pay for it. It is easily the top feud in wrestling (in my opinion) for 2014. If you love the in ring product or if you just love good wrestling, then you should really check this out.




Your heart is free. Have the courage to follow it…TO CSONKA'S TWITTER!

http://www.twitter.com/411wrestling
http://www.twitter.com/411moviestv
http://www.twitter.com/411music
http://www.twitter.com/411games
http://www.twitter.com/411mma

Have you checked out the Csonka Podcasting Network? If you haven't, you should We run anywhere from 15-20 shows a month, discussing pro wrestling, the world of MMA, the NBA, general sports, popular TV series of the past, bad movies, battle rap, interviews, MMA & Wrestling conference calls and more! Around 10 different personalities take part in the various shows, which all have a different feel; so you'll likely find something you like. All of the broadcasts are free, so go ahead and give a show a try and share the link with your friends on the Twitter Machine and other social media outlets! Running since May of 2011, there are currently over 500 shows in the archive for you to listen to.



Larry Csonka is a Pisces and enjoys rolling at jiu jitsu class with Hotty McBrownbelt, cooking, long walks on the beach, Slingo and the occasional trip to Jack in the Box. He is married to a soulless ginger and has two beautiful daughters who are thankfully not soulless gingers; and is legally allowed to marry people in 35 states. He has been a wrestling fan since 1982 and has been writing for 411 since May 24th, 2004; contributing over 3,000 columns, TV reports and video reviews to the site.
comments powered by