SPOTLIGHTS
The 411 Wrestling Top 5 4.30.14: Week 261 – The Top 5 WCW Nitro Moments
Posted by Larry Csonka on 04.30.2014

From Goldberg defeating Hulk Hogan for the WCW World Title and Scott Hall's surprising debut to Ric Flair's emotional 1998 return, Lex Luger showing up on the first episode and more, the 411 staff breaks down their top 5 WCW Nitro moments!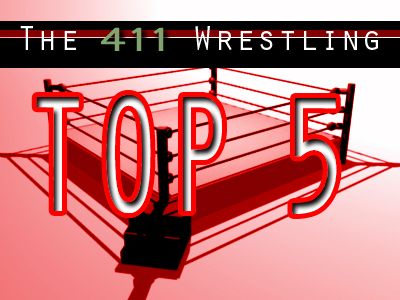 Hello everyone and welcome to 411 Wrestling's Top 5 List. We take a topic each week and all the writers here on 411 wrestling will have the ability to give us their Top 5 on said topic, plus up to three honorable mentions.

So, onto this week's topic…



The Top 5 WCW Nitro Moments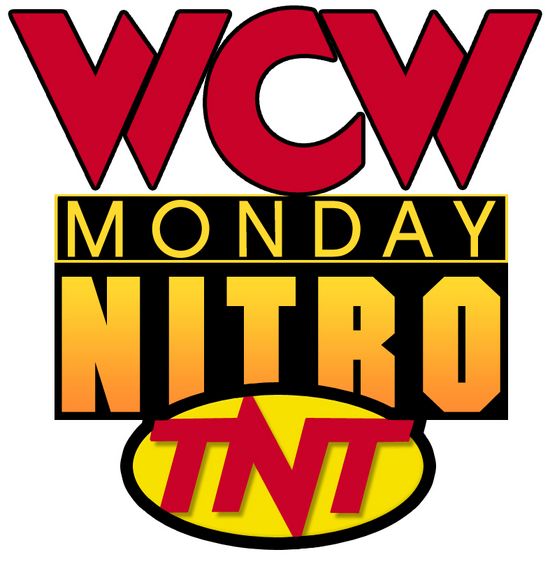 What were your top moments from the WCW Monday Nitro show?




MICHAEL WEYER
5. Ric Flair returns By September 14th, 1998, the tide was turning on WCW. WWF was boosting high with the Attitude era while WCW was still stuck pushing the NWO so much. They were throwing out so much while Bischoff remained obsessed over ratings above all, proven by the fact this night's card was Goldberg vs. Sting, another great PPV payday given away for free. But what most remember was the promo in the middle of the show as, in tuxedos, Arn Anderson gathered the Four Horsemen with Benoit, McMichael and Malenko than suddenly remembered "Ric Flair, get on down here!" To one of the biggest pops you'll hear, Flair walked down weeks after Bischoff tried to run him out of the company on the idea that Flair wasn't needed anymore. The crowd reaction proved what a stupid idea that was and Flair was rocked by the emotion of it all. Bischoff of course had to come down so Flair ran him down wonderfully in a killer promo of every name he could get away with, a rant most fans wished they could give Bischoff themselves. A wonderful moment, so damn real and showing why, despite all the talk of the NWO and such, Flair was always the soul of WCW and proved it here.

4. Hall Debuts The May 2nd, 1996 Nitro was already a big deal as being the first two-hour show, expanding the program nicely. But what all remember is the moment when, during a jobber match, Scott Hall leaps over the barricade to enter the ring. Using his Razor Ramon accent, he cut a promo on how he and a buddy were coming down to start a war and warning Bischoff it was just starting. Most fans had no idea Hall had left WWF but what was brilliant was that the way he was presented, in character, made it look to most that this was WWF invading WCW and proved you couldn't take anything for granted anymore. It would set up the storyline that would dominate wrestling for years, push WCW to its greatest success and begin an era that would transform the business forever. Ironic that arguably the most incompetently run promotion ever managed to do an invasion with just two guys better than WWF would with an entire company years later.

3. Goldberg beats Hogan A lot can be argued about this, about WCW's decision to take a match that could have been a PPV payday and give it away for free just for a one-week ratings win. But watch the show and it's still a huge moment for the company, the Atlanta crowd hot as hell as Goldberg first defeats Scott Hall to set up the main event. The match is great, Hogan doing what he should have done with Sting and put Goldberg over by getting wailed on hard before Goldberg really takes it to him. Some interference with Hennig taken out by DDP and Karl Malone before Goldberg hit a spear and a jackhammer to win the title. A huge moment with fans going wild and really sold Goldberg as the company's new star. While his reign wouldn't be as good as it should have been, that sight of Goldberg with both titles was one of the best in WCW history.

2. The Fingerpoke of Doom January 4th, 1999. The night WCW fans can cite as the beginning of the end. After breaking Goldberg's unbeaten streak to win the World title at Starrcade, Kevin Nash was to defend the belt in the main event. Goldberg was taken in by cops over supposedly stalking Elizabeth and Hulk Hogan (who'd been making noise over running for President) arrived at the arena to challenge Nash. As the cops broke Elizabeth's story to prove Goldberg innocent, he left to try and race back to the arena (which was actually across the street from the police station). Meanwhile, on orders from Bischoff, Tony Schivone announced that on a pre-taped RAW, Mick Foley was going to win the WWF title, causing half a million viewers to instantly change the channel. Nash and Hogan got to the match, stared each other down, got ready to fight....and Hogan poked Nash in the chest, Nash went down, Hogan covered him for the three count and the two celebrated together. Goldberg returned only to be beaten down by a reunited NWO, showing fans that it was the same old-same old, Hogan and his cronies on top and new blood shoved down. In one night, WCW sent a message that they didn't really care what fans wanted to keep the tired NWO going and began the downward spiral they would never recover from.

1. Lex Luger shows up On the underrated Monday Night War DVD, a point is made at how when it was announced in 1995 that WCW was going head-to-head against RAW, most people thought it was insane and would never work. That the first show aired from the Mall of America, not a real arena just added to that and not like WCW was all that great shakes creatively at the time. They needed something to spark that show, something to grab attention...and they did. Just as Sting and Ric Flair were about to face off, Lex Luger walked down the aisle to stare at them both. Luger had been wrestling for WWF just days earlier and had given the idea he would be resigning with that company so no one expected him to show up here. It instantly sold Nitro as a show where anything could happen, a must-watch and an attitude of surprises that Bischoff would take to WCW to spark a new era in wrestling, making it the top choice for any list like this.





---



Alex Crowder
5. La Parka shocks Randy Savage 7/7/97 - La Parka was a simple cruiserweight and slowly getting over due to his antics with a chair. Still, his opponent was one of the greatest of all-time Randy Savage. This seemed to be another Nitro squash match in favor of the NWO. La Parka stayed competitive with Randy Savage to the shock of the Macho Man. Scott Hall who accompanied Randy Savage got distracted dealing with the announce team. Randy Savage set La Parka up for the Diving Elbow Drop only for La Parka to counter. Suddenly, La Parka recovered hitting Randy Savage with the Diamond Cutter. He unmasked revealing himself to be DDP under the La Parka mask. The crowd lost it! DDP left through the crowd who continued to go insane. This was big because DDP was feuding with the NWO and WCW rarely got one over on the NWO. Plus, twists like this are so rare and WWE would soon have twists of their own in the coming year.

4. Goldberg wins the WCW World Heavyweight Championship 7/6/98 - The match itself is nothing special but Hogan does put over Goldberg big allowing him to kick out of 2 or 3 leg drops(which the announcers sadly undersell). The atmosphere makes this moment. You have sixty thousand people in the Georgia Dome with former Georgia football player Bill Goldberg winning the world championship. This felt like the end of the NWO for good at the time I'm sure. Goldberg even got a much longer reign than Sting. The pop when Goldberg wins is unreal and the crowd starts throwing toilet paper into the ring during the Jackhammer. Love Goldberg or hate him, this was a huge moment.

3. Scott Hall interrupts Nitro 5/27/96 - This moment was beyond perfect in execution. The announcers especially Larry did a great job of selling it by ignoring it. Then, Scott actually hops the barrier and even Larry has to acknowledge it. Scott Hall acting like Razor Ramon and cutting an awesome promo is just icing on the cake. Additionally, this moment shows how good Scott Hall or Razor Ramon can be when he is on. Everything else that can be said about this moment probably has already been said. Everyone knows the significance of this moment. WCW may not have lasted as long as it did without this moment.

2. Ric Flair returns to WCW 9/14/98 - I'll preface this by explaining that I'm actually not a Ric Flair fan at all. He never appealed to me for some reason. Nevertheless; Ric Flair is WCW making this very important. This moment was incredible and touched even me. Arn Anderson brings the horsemen back, and almost forgets to include Ric Flair. The crowd explodes when Arn tells Flair to come down. Ric Flair is nearly crying while making his way down the ring. You can hear the emotion in his voice as he gives one of the best promos ever. He thanks the fans and cuts an impassioned promo on Eric Bischoff. Ric Flair says this moment is real not bought and paid for. You can hear the change in his voice when he reiterates Bischoff saying the horsemen were dead. The hatred and anger towards Bischoff is unmatched. You can tell this moment is real as Flair said. You can just feel this promo and his passion for the business. Bischoff comes out during the promo causing Flair to lose it. Flair tells Bischoff to cut him off, that he hates his guts. I can just feel how real it is watching this promo. This promo is necessary viewing even for Flair haters.

1. Sting takes out the entire NWO 9/29/97 - The NWO ran roughshod over WCW week after week. The main event of Nitro was Curt Hennig and The Giant. The NWO ruins it as usual beating The Giant down. The NWO was overpowering and nearly buried the entire WCW roster in some people's minds. Usually no one would succeed in repelling the invincible NWO. This time someone had to save The Giant and the franchise of WCW, Sting was up to the task. Sting became the savior of WCW during this time. The pop when Sting drops his bat taking on the whole NWO, is only matched by Steve Austin interfering in Mankind's world title match. He basically took out eight to ten guys single-handedly. Nitro ended with one man dominating the overpowered NWO. I'll never forget this pop since the first time I saw it. Incredible, all these men circling the ring in a manner similar to The Shield only to get all their asses kicked by one man, Sting. If you ever wondered why Starrcade 1997 shocked people so much, just relive this moment and listen to the pops for Sting. This moment embodies how popular Sting really was and why he was the franchise of WCW (along with Ric Flair of course).





---



Justin Watry
5. Lex Luger Appears! - Imagine TNA Impact Wrestling running a live special next Monday night and Daniel Bryan shows up! Or Bray Wyatt. Or Kane. Amazing. Incredible. Mind boggling. It would make no sense and send shock waves throughout the entire industry. How did this happen? WHY did this happen? Who could have pulled off such a surprise? Back in the days on funky contracts, it was possible with WWE and WCW (and ECW). Now, deals make it impossible. When Nitro first launched, Lex Luger jumped ship without any ounce of spoiler or leaked report. The feeling of "anything can and will happen on Monday nights" was born.

4. Fingerpoke of Doom - Yeah, they continued getting good ratings weeks/months after this. Yeah, business kept going. Yeah, it probably really did not matter. In my mind though, this was the final straw of *really* truly caring about a WCW match. It is one thing to bait and switch. It is another to pull such a stunt that is just makes you groan, shake your head and question your entire fandom. The Bound for Glory 2011 TNA Title main event fits that description as the date I finally threw my hands up and stopped caring about that company's junk. WCW had their fair share of junk, most notably the finger poke of doom.

3. Scott Hall walks through the crowd - You see my #5 response? That is this added in with expectation and anticipation behind a star jumping ship from WWE to WCW. Also, it meant much more because of the nWo forming.

2. Bill Goldberg vs. Hulk Hogan - I can not remember if it was the Monday Night Wars DVD or the Rise and Fall of WCW DVD. Maybe the quote came from a different DVD entirely. I am trying to remember. Regardless, somebody (Chris Jericho?) said that Bill Goldberg vs. Hulk Hogan was the peak of WCW. Looking at how WWE Raw was surging ahead and the tide had clearly turned, this was one of those desperate moves. Goldberg taking on Hogan was about as big as you can get and to that on free television just to win a week of ratings was typical of WCW. Even so, the atmosphere and finish was indeed a classic Nitro moment.

1. Final Episode - Title matches. Ric Flair promo. Sting in the main event. All of these things were historic enough, but the icing on the cake was Shane McMahon showing up. In my opinion, the simulcast is the greatest Monday Night Wars moment of all-time, which in turn makes it the greatest Raw AND Nitro moment of all-time. Just beyond words to imagine such an image with Shane on Nitro and Vince McMahon on Raw.





---



Shawn S. Lealos
I refuse to include the WWE purchase of the company because it still pisses me off as a WCW fan.

5. Goldberg beats Hulk Hogan (1998) - People hated how WCW gave away Goldberg winning the WCW World title from Hulk Hogan for free on Nitro with no build. Yes, it was a dumb move when it came to making money ($$$), but unlike a lot of smarks, I could give a rats ass about how much money a match or wrestler brings in. I care about the match and the moment, and this proved that ANYTHING could happen on Monday Nitro and made it a must watch. Goldberg winning in Atlanta was HUGE and I was extremely jacked when I watched the show that night.

4. Lex Luger shows up on first Nitro (1995) - Not too much to say about this one. It was the first ever WCW Monday Nitro, there had already been some great matches (Brian Pillman vs. Jushin Liger), but when Lex Luger walked out for WCW Monday Nitro the DAY AFTER wrestling for Vince McMahon in the WWE, it was clear that WCW was not pulling their punches. The war was on, although it would take a year for them to really get their footing. I also loved how Hulk Hogan acted like a petulant child when he saw someone coming in to steal his glory.

3. Bret Hart vs. Chris Benoit (1999) - Bret Hart had VERY few big moments in his WCW career, which was a shame. However, his biggest came in this match with Chris Benoit, a match that was wrestled in honor of Bret's brother Owen Hart after Owen tragically died. Bret poured out his heart in this match and turned in one of the best performances of his life all in the name of his brother.

2. Ric Flair returns to WCW (1998) - What made this great? Well, first of all, I have been a Four Horsemen fan since it was Arn, Ole, Tully and Ric. I watched Crockett's NWA every Saturday night and the Four Horsemen were some of the first bad guys I felt ok with liking. I loved when they brought in Lex from Florida and loved it when Barry turned bad later on. Well, when Chris Benoit and Dean Malenko were trying to convince Arn Anderson to reform the Horsemen, I was all onboard. Then, when they all came out in suits and then introduced Then Nature Boy Ric Flair, who made his return to WCW, it was probably my favorite moment ever as a WCW fan. Flair's promo here was 90% shoot comments.





1. Scott Hall invades Monday Nitro (1996) - While the Four Horsemen reuniting was my favorite moment, Scott Hall jumping the gate and interrupting a match between Mike Enos and Steve Doll is the most important Monday Nitro moment of all time. When he came in and said everyone knew who he was but no one knew why he was there. It was awesome, it started the Monday Night Wars and was the moment that really got me back into professional wrestling for good.

---



Dino Zucconi
Honorable Mention: That time Juventud Guerrera did the 450 to Damien, but he under-rotated and landed with his knees directly into Damien's junk.

5. Bret Hart beats Goldberg, WCW Title Tournament - This has less to do with the match (which was just fine, thank you), and much more about the moment for me personally. Being a Bret Hart fan was a little difficult after Survivor Series 1997. He went to WCW, and was immediately made to look like a moron at Starrcade. After two mini-feuds with Ric Flair and Curt Hennig, he was turned heel and joined the nWo for reasons that still aren't quite clear. 1998 was spent wrestling for and defending the US title, and randomly switching from heel to face at the oddest moments. We did get the Sting match at Halloween Havoc that year, and it was also garbage. 1999 wasn't much better, as Hart was injured, and then the Owen Tragedy happened. Bret took a lot of time off, but when he finally returned, he had a great match with Chris Benoit on Nitro. Then Russo and Ferrara came over, and we built to Mayhem, and Bret Hart got a first round win over Goldberg. This is purely personal, but with WCW never giving us any sort of follow up on this feud at the time, and Goldberg still rarely losing, it was amazing to see Hart get this win. I went nuts!

4. Rey the Lawn Dart - Classic, classic, classic. Early nWo assaults were so amazing. With Sting, Lex Luger, and Randy Savage taking on Ric Flair, Chris Benoit and Steve McMichael, Jimmy Hart ran out, begging for help. The match came to a halt, and we saw that backstage, Hall and Nash had laid out Arn Anderson and Bagwell, and they had bats! As the Outsiders walk around while the hurt are tended to, Rey Misterio decides that he's going to save the day! He exits the trailer, hops up onto the guardrail, and leaps at Kevin Nash, who just, well...





... yeah. I nearly died laughing the first time, and it hasn't lost even 1% of that comedy in the near 18 years since. Great idea, Rey!

3. Goldberg destroys the Flock - It was a precursor of things to come, but on this night, Goldberg officially arrived, and Raven did all he could to help him get there. Goldberg had to fight off the entire Flock before he finally hit a vicious spear to Raven and finished him off to win the United States title. It was only a matter of time before he got to Hogan after this.

2. The Enforcer Retires - The August, 1997 Nitro where Arn retired was a sad night for wrestling fans, indeed. Arn was always the stiff upper lip, the foot soldier who trudged on in good times and bad, and seeing him have to give it up because his body couldn't go anymore resounded in us. Ric Flair, the most arrogant son of a gun around, bawling like a child as his best friend closed the door still stands out in my mind. Wrestling lost a true gladiator that day, and the moment was so big that the nWo even leeched off of it with their infamous skit to get some more cheap heat on themselves.

1. Sting and Flair, One Last Time - So I'm a sucker for sappy crap, sue me. It was the Final Nitro, we had been fed McMahonamania for most of the show while everyone asked what was gonna happen. So while everything was sad and chaotic, WCW did it right when it came to going out with style, and we got one more Sting and Flair match. It was a condensed version of their classics, and seemed much more like two friends doing a routine than two old enemies going at it again, but it didn't matter. Sting won, the two hugged, and WCW faded into history. I can't think of a better moment for WCW.





---
YOUR TURN KNOW IT ALLS

List your Top Five for this week's topic in the comment section using the following format:

5. CHOICE: Explanation
4. CHOICE: Explanation
3. CHOICE: Explanation
2. CHOICE: Explanation
1. CHOICE: Explanation
Your heart is free. Have the courage to follow it…TO CSONKA'S TWITTER!

http://www.twitter.com/411wrestling
http://www.twitter.com/411moviestv
http://www.twitter.com/411music
http://www.twitter.com/411games
http://www.twitter.com/411mma

Have you checked out the Csonka Podcasting Network? If you haven't, you should We run anywhere from 15-20 shows a month, discussing pro wrestling, the world of MMA, the NBA, general sports, popular TV series of the past, bad movies, battle rap, interviews, MMA & Wrestling conference calls and more! Around 10 different personalities take part in the various shows, which all have a different feel; so you'll likely find something you like. All of the broadcasts are free, so go ahead and give a show a try and share the link with your friends on the Twitter Machine and other social media outlets! Running since May of 2011, there are currently over 500 shows in the archive for you to listen to.



Larry Csonka is a Pisces and enjoys rolling at jiu jitsu class with Hotty McBrownbelt, cooking, long walks on the beach, Slingo and the occasional trip to Jack in the Box. He is married to a soulless ginger and has two beautiful daughters who are thankfully not soulless gingers; and is legally allowed to marry people in 35 states. He has been a wrestling fan since 1982 and has been writing for 411 since May 24th, 2004; contributing over 3,000 columns, TV reports and video reviews to the site.
comments powered by