SPOTLIGHTS
The 8-Ball 4.16.14: Top 8 Directions for the Miz
Posted by Mike Hammerlock on 04.16.2014

From stalking John Cena and forming a tag team to pretending to be a future Hall of Famer and more, 411's Mike Hammerlock breaks down the top 8 potential new directions for the Miz!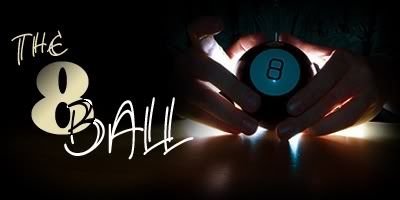 How do you solve a problem like the Miz? He's a former WWE champion. He headlined and won WrestleMania 27. He makes movies - bad ones, but he gets leading roles. He does a pile of talk shows and public appearances. Yet he's a B- wrestler on his best days and fans do not like him. Essentially he's a high profile lower mid-carder. You can't push him into the main event scene again because fans want no part of that, but you can't completely bury him because he does a fabulous job of promoting the company to the general public. Plus it's bad business to make your former champs look like absolute jokes (yes, even Khali). If Miz is going to stick around, and we should assume he will, then the WWE needs to find a use for him.

Quick double segue before we get to the meat of the column. When I was a kid, my grandmother had a cat named Miz, short for miserable. It was a squirrely, declawed ankle-biter. Horrible animal. Worst pet ever. Yet the Miz-miserable connection gives me an excuse to post the song that should have made the band Honcho Overload extremely rich.



Back on track, Miz is a tricky fit at the moment. The Magic 8-Ball insists he'd work best in a tag team. The tag division is where he really took off while he was teaming with John Morrison. Miz handled the bulk of the promos and Morrison delivered the big spots in the ring. Basically, Miz operates at maximum efficiency when someone else can handle the heavy lifting on the wrestling side of this. Yet the Magic 8-Ball also refused to spit out eight different tag team combinations for Miz. No arguing with a liquid-filled piece of hard plastic. That means this column is going to look at a whole range of possible uses for the Miz.





8. Return of the Cleveland Screamer



Miz is kind of doing this one at the moment, but it needs to be sharpened. At his best, which is admittedly not that great, Miz is obnoxious and filled with irrational confidence. Yet he's always lacked one of the things that make for a great heel: a core constituency. For instance, even when Edge was the best heel on the planet, they adored him in Canada. No matter how dastardly he got, Ric Flair walked on water as far as the folks in the Carolinas were concerned. When CM Punk goes heel he never loses Chicago or punk rock fans. If they're trying to sell Miz as a narcissist who can't tolerate being overlooked, then tie it to the land of his birth - the Mistake by the Lake, Cleveland. Have him insist that as a Browns, Indians and Cavaliers fan he knows all about being forgotten by the rest of the nation, about being the butt of jokes coming from either coast. "You think you can overlook me. You think I'm some flyover wrestler. Really? Really? Really. I've got news for you. I'm not going anywhere and with my every waking breath I'll make sure all of you remember that I'm the Miz and I'm … AWEsome." Miz did his best solo work as an underdog heel. Use the Cleveland tie-in to explain why he's so motivated and ticked off.





7. Los Champions



If the dominant theme with Miz is he's feeling like a forgotten man, that he's become underappreciated, then it would make sense for him to team with a guy in a similar situation. The most common suggestion is to pair Miz with Dolph Ziggler. Both are Cleveland guys and they're roughly the same size. At first glance, they would make a good cocky heel team. However, the 8-Ball hates that idea. If I were to do an 8-Ball of the worst potential things the WWE could do, MizZigg would rank near the top of the list, right near breaking up the Shield and giving Batista a long title run. Miz brings nothing to the table that Ziggler doesn't already have. All Miz would be in that team is a heat sponge. Dolph also remains one of the most over performers in the WWE with the live audience, which argues for keeping him a face singles wrestler. Meanwhile Alberto Del Rio likely won't find himself anywhere near the WWE title scene for the foreseeable future and his Mexican aristocrat act has gotten tired. Teaming with Miz would allow Del Rio to play up the opportunist side of his heel persona. Two former champs united to take over the tag division would feel like a big deal, giving both guys purpose and direction. Miz could play the instigator in the team while Del Rio could be the closer.





6. Future Hall of Famer



Preposterous as it sounds when you first hear it, Miz has a Hall-of-Fame resume. He's been so useless of late that we forget about his accomplishments (and, yes, they're all scripted accomplishments, but that's how it works in the wrestling business). Without changing much of anything, Miz could start dropping shoutouts to his eventual immortality. It would be a way to reinforce that, "Hey, I'm a big deal. You're going to tell your grandchildren you saw me." Maybe you won't go that far, but we could be stuck with this guy for a long time. Have him single out all the Hall of Famers he thinks he's better than. Explain why we're so lucky to see him now instead of those has-beens. It's his job to make his matches seem like a big deal, especially if he's going to be a stepping stone. He has to mean something if beating him is supposed to mean something.





5. Lose the Figure Four



On January 14, 2013 Ric Flair bequeathed the Figure Four Leglock to Miz. Since then Miz has done jack squat with it. He'd have gotten more mileage out of the Doink the Clown gimmick. It's an abomination that Miz is carrying the torch for the Figure Four. Austin Idol should emerge from the crowd some night and bitchslap him for wasting one of the business' most iconic moves. There's only one solution: someone else needs to bust out a Figure Four and then beat Miz in a fight to claim sole ownership of the move. I don't care who does it. It could be a kid like Tyler Breeze up from NXT. It could be a jobber the E wants to refresh and push (e.g. Fandango or Heath Slater). Almost anyone would be an improvement on Miz, who somehow manages to make the Figure Four look like a lazy, low torque move. It may only be a short-term plan, but it's a solid one with a happy ending.





4. Cena Stalker



All right, you're a wrestler who needs to leech off of a bigger star in order to build yourself up again. Why not make John Cena your target? Even better, turn that into a storyline. Miz is getting desperate and he decides he should hitch his wagon to Cena. Of course Cena isn't interested, but Miz keeps showing up, sometimes helping Cena's cause, sometimes hurting it. Despite the fact that everyone sees through Miz's motives, Cena starts to realize that questionable help is better than no help at all. On top of that, maybe Cena recognizes he not much better loved than Miz, that they've taken opposite roads to essentially the same destination. Whether it leads to Miz's salvation or Cena's perdition, it gives Miz a prominent role in a major WWE storyline.





3. The Imperium



I don't understand what Damien Sandow did to cause his current burial, but he's become a veritable Brooklyn Brawler of late. All the flavor and fun has been drained from his character. Gone are the snooty promos and the in-ring touches that made him stand out. No more pink tights. Now he wears black like any other anonymous heel. It almost feels like he won the Money in the Bank match last year just so that the WWE could erase John Cena being the only MITB winner not to successfully cash in his briefcase. Sandow is nearly done as a viable entity. His last hope would seem to be finding himself in a tag team that makes some waves. Miz and Sandow have a shared desperation. If the next thing either guy does falls flat, it's a long way down. Miz's championship pedigree technically should be enough to make Sandow look past his reality television roots. Sandow could be used as a fulcrum to create a haughtier Miz. They could toss around some Latin and carry themselves like the biggest thing ever to hit the tag division.





2. Mike (the Mind) Mizanin



What's Miz really good at? Or at least what's he best at? Talking. He's well short of brilliant on the stick, but he can sell a match, work a crowd and he's got a sharply defined character. It should be mentioned again that no one much likes his character. He engaged in one of the most disastrous face turns in history in 2012. He was supposed to be a face, but he was still a dick, which I guess made him a dickface. He's back to working mostly the heel side of the spectrum though he lacks the in-ring credibility to get much of a push. For instance, if Big E dropped the IC belt to Miz, it would feel more like a burial for Big E than Miz's quality shining through.

So maybe more talking and less wrestling. If Miz was devious enough to get his modest talents a WWE title, then imagine what he could do with a truckload of ability. Miz would bring believable physicality to the manager's role, separating him from other managers (Heyman, Colter) who pose no real threat when they're at ringside. Instead of being a heat succubus in a tag team, Miz would lend important verbal skills to mic-challenged wrestlers if he were in a manager's role. As for why he'd want to manage, maybe he's become too Hollywood to want to mix it up in the ring. Or he could claim his real goal is to run the WWE. They could give him a stable of guys desperate to break free of the mid-card. Jack Swagger, who should be coming to the conclusion of his run with Zeb Colter soon, would be a great fit. If the E ever wanted to pull a heel turn with Kofi Kingston, Miz could instantly turn the crowd against him. The upside of being the man behind the man is that Miz could run with that ball for decades. Seriously, he could still be working that angle at WrestleMania LX.





1. The F-List



At the Academy Awards the world gets to watch A-List celebrities have a big party. Kathy Griffin made a living off of being three levels below that on the D-List. Well, Miz falls south of even that low bar. He's in with the direct-to-Netflix, guest appearance on cable shows and former reality show star crowd. Let's call it the F-List, because F makes it funny. This is the gimmick Miz really ought to work. Have him hanging around backstage with Don Swayze and Jodie Sweetin. When Sharknado 2 comes out, have him claim to be in a quasi-Rat Pack with Ian Ziering. Brag about how Fred Olen Ray is writing a screenplay just for Miz to star in and that he's got backstage passes to an Ugly Kid Joe reunion show. Hell, he could call himself "The King of the F-List." Own it and act like it's the coolest thing ever. Claim "Hollywood director Leigh Scott" is sending a car for him and then show him jumping into a Mazda driven by Benji Gregory (and shame on you if you immediately get that reference). Somebody has to provide us miserable cretins with disposable entertainments. Miz has got that covered. And for anyone who wants to say he's not a real star, well what movies/shows have you been in?

I take requests.. The purpose of this column is to look forward. What could be? What should be? What is and what should never be? What would make more sense? If there's someone or something you think should be given the 8-Ball treatment, mention it in the comments section. I might pick it up for future weeks.
comments powered by