SPOTLIGHTS
411's Wrestler of the Week 4.15.14: Year 10, Week 1
Posted by Larry Csonka on 04.15.2014

Cesaro is now a Paul Heyman guy, Eric Young won the TNA World Title, Paige won the Divas Title and more! But who won 411's Wrestler of the Week? Find out inside!




Welcome to YEAR TEN, WEEK 1 of 411's Wrestler of the Week. A quick overview of the rules to kick things off for us as a reminder…

Each writer chooses FIVE wrestlers (although ties and tag teams are allowed) from any promotion and each wrestler gets a point total attached to that ranking. It looks a little like this…

1st - 5
2nd - 4
3rd - 3
4th - 2
5th - 1

Then we tally up the votes and the official 411 Wrestler of the Week is crowned. But wait, there's more! Each week the top SIX vote getters get a points value for their ranking which looks something like this…

1st - 15
2nd – 12
3rd - 9
4th - 6
5th - 3
6th - 1

...and they go towards the 411 Wrestler of the Year award to be announced each year around WrestleMania. This will be posted every Tuesday (the voting week runs Monday through Sunday). Let's see who wins this week…

---



Larry Csonka
1) Eric Young
There's not a lot of holy shit left in wrestling. We see a lot coming, we read spoilers; it is what it is, wrestling in 2014. With Samoa Joe out for what are reportedly personal issues, and the status of several talents in flux due to their contracts, TNA made the call to give Eric Young the title on Impact last week. He won a gauntlet, and then pinned champion Magnus clean with a piledriver to do so. It caused controversy, but the simple fact is that this is the biggest win of Young's career.

2) The Shield (Ambrose, Rollins and Reigns): If it wasn't clear prior to Raw, the Shield are even bigger stars now that they have turned face. The anticipation for the full turn was there, and the interaction with Triple H and the 2014 version of Evolution was awesome as expected. The crowd loves these guys, and as I have previously said, there is NO reason to break them up yet!
3) Paige: Made her official WWE main roster debut, confronted AJ Lee and then defeated her for the Divas Title. Not too shabby for her debut!
4) Cesaro
5) Kota Ibushi


Justin Watry
1) Paige
Do not quote me on this, but I believe I have never given the top vote to a female before. Could be wrong though. That changes now. Paige made her long awaited debut on the main roster and defeated AJ Lee for the Divas. A record-breaking title reign was ended, and the girl who bested everybody in the division for the past year was bested. History will be kind to this one moment, but now the goal is to keep the momentum going every week and not just be a flashy, one hit wonder.

2) Daniel Bryan: Great reception to open Raw. While not officially a "title match" on Raw, he was in the main event once again to close the Red Brand and stood tall with The Shield. Fun moment on Smackdown with Hulk Hogan. Then he closes the Blue Brand (once again) with a six-person tag tea match. He has been the featured star on television for close to a year now. That is not altered one bit since becoming WWE World Champion.
3) Eric Young: People wonder why I do not consider the TNA Title to be an official "World" Title in wrestling. This past Thursday night was just another example why I feel that way. Even so, Eric Young did get the biggest win of his career, which means he gets a vote. Now with that positive out of the way, we dive into all the reasons why this a downright embarrassing decision by TNA:

A) Loyalty - Oh, but Eric Young has been loyal! He is hard working and well liked! He is a company guy and been with them company through thick and thin! You know who else was loyal, hard working, and well liked? Funaki. You know who else was loyal, hard working, and well liked? Brooklyn Brawler. All that babble is no reason to give somebody your top prize. Want to know why some people are so loyal? They have no other options. It is quite easy to stay with the same company your entire career when nobody else is calling you up offering a better deal. Keep him on the payroll and give him a nice spot - THAT is how you reward the goodwill, not giving him your top belt. That is just ludicrous.

B) Magnus - I felt bad for Magnus. I truly feel bad for a lot of guys on the TNA roster, but what a disaster. The past few months? Forget it. Flushed down the toilet on a weekly basis. He never won a single match on his own and when he finally has nowhere to run and nowhere to hide, he loses clean...to Eric FREAKIN' Young! I assume this is temporary, but even if Magnus gets the strap back in a few weeks, why bother? As usual, a blown opportunity. Ask James Storm how that worked out for him a few years ago.

C) Business - Are YOU going to buy a new Eric Young t-shirt? Are YOU going to attend a live event with him in the main event? Are YOU going to drop down $20 for the meet and greet with him? Are YOU going to plunk down $40 for his next pay-per-view main event match, if he lasts that long as champion? Are YOU going to financially support this move? If not, it goes nowhere. Quite easy to jump up and down behind a computer screen without contributing a dime. If Eric Young is sooooooo great and deserving, prove it. With your wallet. Put your money where your mouth is. Speaking of which...

D) Sacrifice - By my count, there have been THREE TNA Title matches on free television since Lockdown last month. Could be more coming too! On top of that, add a bunch of tired gimmick matches as well. Why does TNA even produce PPV events? Seriously. Why not do all this and try to convince viewers to PAY money for the Eric Young victory? You know, making money? Getting fans to spend on the product? Remember that novel concept? Nope, just do it all on Thursday nights on Spike TV every week! Somebody please tell me you are going to purchase Sacrifice in a few weeks (legally). Please somebody say that with a straight face.

E) Daniel Bryan - On the note of keeping a straight face, I beg somebody to tell me with a straight face this title change was planned BEFORE WrestleMania XXX. I am sorry, but the comparisons are far too many to just blindly ignore with Daniel Bryan. Again, I beg somebody to tell me Eric Young winning the title by winning two matches in the same evening was planned a week in advance, two weeks in advance, a month in advance or longer. Two weeks ago on Impact, Young did not even care about the belt (just wanted Samoa Joe to get a fair shot)...now it is the big shining moment of his career and something he worked his life for? Not buying it. Somebody within TNA watched Mania, Raw the next night, and thought "Uh oh! We have nothing going on. Better hot shot something to grab headlines and get a one-week ratings pop. Well, Samoa Joe is out for now; throw the belt on Eric Young!" Yep, pretty much. Felt totally transparent, while WMXXX was a genuine 'moment' in wrestling history.

F) Comedy Figure - Even on the Daniel Bryan comparison, a better one would be Santino Marella. For the better part of two/three years, Eric Young was locking up with referees, doing comedy bits with ODB, dropping his pants during matches, being off screen for on/off periods of time, held the Knockouts Tag Title, and acting like a goof trying to figure out the ridiculous Abyss/Joseph Park drama. Then he is serious in a matter of weeks and is the TNA Champion? Nope, cannot just erase all that so quickly. Instead of you know...BUILDING to something properly and tell a story over months/years, it was just here - Young is credible now. Accept this. Forget the past few years of nonsense. Beyond a joke and NOT In a good way.

G) Swerve - To a previous point, WWE hit a home run with WMXXX. The Raw on Monday was great. Even the new Jeff Jarrett promotion received some buzz (not that I really care). No doubt TNA was forgotten about, like they always are anyways. Thus, they dipped into the "WCW Playbook" by hot shotting something for a pointless one-week ratings bump and just throwing away any sense of a direction moving forward. Great, you got a 1.02 TV rating. Great. Viewers went up, congrats. What about the number next week? What will it be in three weeks? Or two months? So short sighted to do this in such a manner, when Sacrifice is right around the corner, but as noted a million times - TNA hates PPV buys. Just hates them. Is Bill Goldberg vs. Hulk Hogan happening next week on FREE TV too?

H) Chris Sabin - Ultimately, this is Chris Sabin Version 2.0! For those who do not recall, TNA did this exact same thing last year. Bully Ray was in the middle of his title run. For some oddball reason, TNA thought the little Option C gimmick with Chris Sabin meant he had to win the belt on TV. He did, the viewership went up by TNA standards (1.5 million I think). Everybody went wild, loved it, got buzz, blah, blah blah. Then reality sunk in, and folks realized just how short sighted it was. Viewership dropped for three straight weeks after his win. Bully got the belt right back but was no longer the same after that. It was ruined and could not be saved. Then Chris Sabin went down to his usual X-Division spot (where he always should have been), and he is now rumored to be leaving the company. Yep, good hot shot move. TNA Champ to leaving the company and forgotten about months later. Good luck Mr. Eric Young! Enjoy it now.
4) Cesaro
5) Bray Wyatt


Ryan Byers
1) Antonio Cesaro
Granted, guys like Curtis Axel and Ryback flopped even when there was an attempt made to give them a rub off of Paul E. Dangerously, but the fact that WWE has now placed the best manager going today with the supremely talented Cesaro shows a huge investment in the guy on behalf of the promotion, particularly when you consider the fact that the pairing with Heyman happened literally only moments after Cesaro and his battle royale win were being put over by Hulk Hogan, the man on whose back World Wrestling Entertainment was built.

2) The Shield: If they weren't major babyfaces before, laying out Triple H and saving the beloved Daniel Bryan will certainly get the job done.
3) Kota Ibushi: Ibushi now simultaneously holds three championships in Japan, the IWPG Jr. Heavyweight Title, the KO-D Tag Team Titles, and finally his new acquisition, the KO-D Six Man Tag Team Titles.
4) Paige
5) Daniel Bryan


James Wright
1) Eric Young
A big surprise this week on Impact as EY managed to become the new TNA world heavyweight champion. Now sure this seems like a bit of a cheap cash in on the Daniel Bryan movement, and sure it might not last for all that long and not really do anything to help Eric Young in the long run. But we can never be sure on that and what's more if nothing else, in my opinion at least, Eric Young deserves at least one run with the TNA title. Now if only Christopher Daniels could resign and get a hold of the belt.

2) Paige: Debuts on Raw, beats AJ, the longest reigning divas champion, to become the first ever dual woman's champion and divas champ at the same time. All in all that is a pretty big deal, even if the end of the match and her overall character were portrayed pretty sloppily.
3) Daniel Bryan: Bryan deserves this spot simply for being able to hang on to the titles beyond Monday night. Plus he kind of successfully defended his titles on the main event of Raw and stood tall at the end of both main shows this week, so that's not too shabby for the new WWE world heavyweight champion.
4) Cesaro
5) Angelina Love


MIKE HAMMERLOCK
1) Eric Young
Holy fucking wow. EY winning the title is officially the coolest, craziest thing TNA has done in forever. He's probably just a transition champ, but so what. Young has made approximately everything he's ever done work. This title run, however long it last, should be no different. Then we come to the two biggest things about this win. The second biggest is that Magnus lost the belt, ending the most pathetic title run we've seen in ages. The biggest is that TNA did something notable on Thursday, it put over a mid-card player in spectacular fashion. I suppose some will call EY's big moment a Daniel Bryan knockoff. Again, so what. I loved it.

2) The Shield: We got the official face turn of the world's coolest wrestling faction and the fans went wild. The Shield is getting a blow-the-roof-off reaction. The revenge win over the Wyatts on Main Event also was the top WWE match of the week. The possibility of the Shield vs. Evolution is mouthwatering.
3) Paul Heyman: Fine, he's not a wrestler. Doesn't matter. He cut the promo of the year on Monday night. No one's going to beat his "I told you so" on Brock Lesnar beating the Undertaker. It was pure brilliance. Then he converted Cesaro into a Paul Heyman Guy, which hopefully leads to Cesaro in the main event picture in 2014. Paige winning the Divas title was a nice touch, but the match showed off none of her in-ring skills.
4) Paige
5) Bray Wyatt


Paul Lapointe
1) Eric Young
Talk all about the copycat likeness of the situation all you like but the results remain the same: Eric Young is World Champion! I seriously never thought this would likely ever happen much less last week on free TV but here we are. I have always been an advocate that EY can go in the ring if given something more substantial then his slapstick role over the years. I fondly remember before they reverted back to his fool shtick that he ran a pretty sick Int'l stable that he was the mouthpiece for that at least to me showed his potential. But apples to apples we are here now and though the booking seems like a spurred decision to get people talking I am genuinely happy for the guy. The icing on the cake of course is he has now won EVERY title ever in TNA, World, X, Tag, TV and even the KO tag titles! Way to go EY!

2) Paige: Internet darling who is not the bad to look at makes her long awaited TV debut and wins a title against a internet darling who is not that bad to look at, nuff said. Last lady to win in her premiere was Gail Kim and she has proven to be quite the wrestler herself.
3) The Shield: The New Era begins for the Face Shield to bring Justice against the Authority. Also a pretty fantastic 6 man against the Wyatts helped too.
4) Drake Younger
5) Cesaro and Paul Heyman


Andrew Shillinglaw
1) Eric Young
It doesn't matter what you think about TNA in terms of company clout. This is a big week for this guy. Eric Young has been with the company for as long as I can remember, starting with the days of Team Canada. He was a comedy guy treated as nothing more than a joke. He was the leader of World Elite. He's done it all and now he's at the top of the company after winning two matches on Impact. I don't necessarily agree with the decision, but I think it's great for Eric Young and he needs to be recognized this week.

2) Paige: She debuted on Raw and beat AJ Lee in like a minute for the Divas Championship. The crowd was hot and it was a great moment for her. She is now both the NXT Women's Champion and WWE Divas Champion and you have to figure that this feud with AJ is going to be phenomenal. Great debut for her.
3) Antonio Cesaro: He was in the ring with Hulk Hogan, he cemented himself as a Heyman guy, and he had two singles matches on TV this week. He's the future and the WWE showed it.
4) Kota Ibushi
5) The Shield


Mike Chin
1) Daniel Bryan
Daniel Bryan is currently the man in professional wrestling. He followed up a WrestleMania show that was all about him by standing tall alongside The Shield on the closing segment of Raw, and looked dominant to close out Smackdown as well. There's every reason to think he has a lengthy title reign ahead of him.

2) Eric Young: I have mixed feelings about this development and its booking, but I give Eric Young all the props he deserves as a talented hand and loyal company man who is getting a well deserved, if not altogether logically timed moment atop TNA.
3) Cesaro: The face turn may or may not be on as Cesaro seems to have settled into the odd tweener space of having both the crowd and a new heel manager behind him. Regardless, Cesaro is the up and coming star of the moment, and if this momentum continues, he looks bound for the main event by fall (if not much, much sooner).
4) Paige
5) Alexander Rusev


Steve "The Living Legend" Cook
1) Eric Young
The question of whether or not EY deserves the top slot this week largely depends on how much you value TNA's heavyweight championship. In that regard, he doesn't fare too well. However, we are also instructed to vote on who had the best week, which includes upward momentum in one's career. The TNA Championship may not mean much to many people these days, but it is something for Young to add to his resume & it gives him a higher profile for when he'll be looking for work with other companies. Also, he can be referred to as a Former World Champion on his Animal Planet shows. The move screams of desperation & a lack of originality on the part of TNA Creative (popular bearded underdog wins 2 matches in 1 night to win the title...when have I seen that one before?), but Young just plays his role & can't be faulted for their stupidity.

2) The Shield: The Hounds of Justice had themselves quite a busy week. On Monday night they officially got on the wrong side of the Authority by rescuing Daniel Bryan from a beatdown from Triple H, Batista & Randy Orton. On Main Event they finally achieved a goal they weren't able to before due to their differences, a victory over the maniacal Wyatt Family. They also made an appearance at the end of SmackDown to attack Kane & scare off Orton & Batista. You get the feeling that the Shield will be just as big a thorn in the Authority's side as they were in the sides of WWE's fan favorites for over a year.
3) Paige: Debuted on WWE's main roster by defeating Divas Champion AJ Lee to win the strap. That's a lot better than debuting as Santino Marella's dance partner.
4) Cesaro
5) Drake Younger


Alex Crowder
1) Eric Young
Unlike some I actually love this move. I did not really feel like Magnus' reign set the world on fire. Nevertheless, Eric Young has dealt with all the bad and good that TNA has thrown his way, managing to stay over despite it. Eric Young is one of the remaining pieces of the heart and soul of TNA. I think that alone makes him deserving. Maybe my opinion is biased being a fan, but I think Eric Young deserves the nod this week.

2) Paige: AJ Lee was the most prominent diva we've seen in ages holding onto the Divas Championship for 295 days or whatever. She nearly held it for an entire year. Suddenly, Paige came out and ended up beating AJ in one move! This was similar to Ultimate Warrior beating Honky Tonk Man. The crowd even exploded for Paige making the moment that much better. I almost considered putting Paige number 1 but decided against it. That's how great this moment was.
3) The Shield: Go watch Main Event from last week now if you haven't. That alone is enough to get them consideration because their match with the Wyatts was awesome and nearly as good as their encounter at Elimination Chamber. If that is not enough, they sent the authority packing twice. The Shield have become some of the biggest babyfaces in the WWE. That is an accomplishment. Honestly, this whole week had so many good wrestling shows I could barely mention everything else that happened in Mexico, Japan, or TNA.
4) Mistico II
5) Cesaro


Daniel Wilcox
1) Paige
Paige debuted on Raw Monday night and dethroned the greatest Divas Champion of all time in a huge upset that garnered a big response from the post-Mania Raw crowd and as such she gets the top vote from me this week. I most certainly look forward to a rivalry between these two tremendous female competitors.

2) The Shield: First things first, the Shield earned a mammoth victory of rivals the Wyatts on Main Event in what was arguably the best match of the series between the two dominant factions. They also cemented their anti-Authority status by fighting alongside Daniel Bryan on Raw Monday.
3) Cesaro: Regardless of where he sits on the face/heel fence, Cesaro got ring time with Hulk Hogan, aligned himself with the greatest manager of all time in Paul Heyman, got the better of Jack Swagger and Neutralized the Big Show all in the space of a week. That's impressive, and big things clearly lie ahead.
4) Daniel Bryan
5) Eric Young


Koeddy Laemmle
1) Cesaro
Cesaro took what could have been a meaningless win with the "Andre the Giant Memorial Battle Royal" victory and cashed it in the next day for a guaranteed main event future with Paul Heyman. While it remains unclear whether Cesaro is a face or heel, aligning him with Paul Heyman was a move that will pay off big time both on and off camera. The segment with him ditching Zeb Colter was great and very well done with Swagger destroying the Andre the Giant trophy bring back memories of Bad News Brown. I pick Cesaro as the Wrestler of the Week because I see the move he made this week having the biggest overall effect in the world of wrestling.

2) Paige: It couldn't be more painfully obvious the WWE needed some rejuvenation to their diva's division while watching the clusterfuck of a match they got at WrestleMania XXX. One day later we get the long and very much-needed debut for Paige and in short fashion we have another diva who is interesting for the first time in what seems like forever. It will be interesting to see where Paige goes from here but I would be lying if I didn't think there's potential of backlash against Paige much like there has been from some fans towards Emma.
3) Daniel Bryan: The opening of Raw was very powerful this week with it feeling like everything has finally worked it's way out and Daniel Bryan is at the top of the world where he belongs: as the top act in the wrestling world today.
4) Kota Ibushi
5) Eric Young

---
THE WINNERS~!
Special Mention…Kota Ibushi - 8 Votes


Fifth Place…Daniel Bryan - 18 Votes


Fourth Place…The Shield (Rollins, Reigns and Ambrose) - 27 Votes


Third Place…Cesaro - 29 Votes

Cesaro is now officially a Paul Heyman Guy.



Second Place…Paige - 41 Votes

Made her main roster debut and won the Divas Title in the same night.



And 411's Wrestler of the Week is…




















Eric Young - 44 Votes

Your NEW TNA World Champion!






Year-End Standings~!
And here are the standings after week one…

Eric Young - 15pts.

Paige 12pts.

Cesaro 9pts.

Roman Reigns 6pts.
Seth Rollins 6pts.
Dean Ambrose 6pts.

Daniel Bryan 3pts.

Kota Ibushi 1pt

---
Voting began 4.15.14
Year-End Rankings Key:

WWE Contracted Wrestlers are represented in BLUE.

TNA Contracted Wrestlers are represented in GREEN.

ROH Contracted Wrestlers are represented in RED.

US Independent Wrestlers are represented in MAROON.

Japanese Contracted Wrestlers are represented in BLACK.

Mexican Contracted Wrestlers are represented in MAGENTA.

Other International Wrestlers are represented in INDIGO.

---
**PREVIOUS WINNERS**
Year One Winner: Ric Flair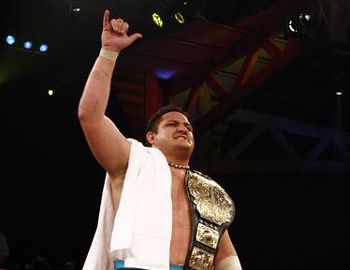 Year Two Winner: Samoa Joe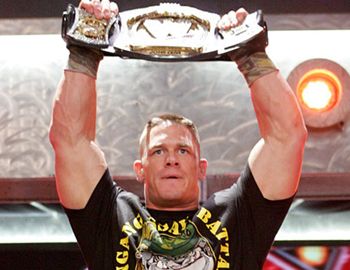 Year Three Winner: John Cena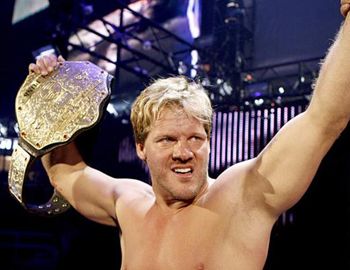 Year Four Winner: Chris Jericho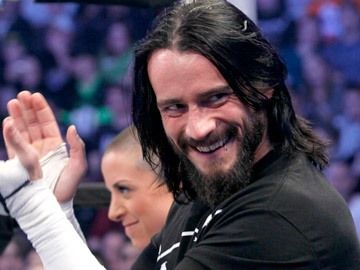 Year Five Winner: CM Punk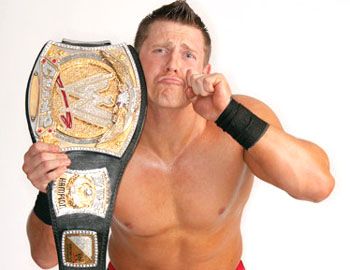 Year Six Winner: The Miz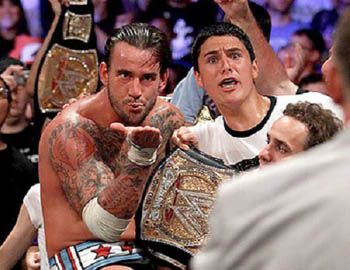 Year Seven Winner: CM Punk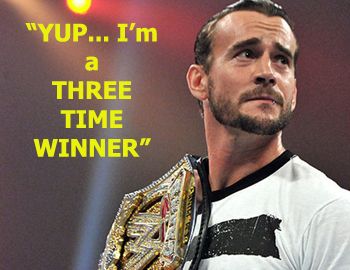 Year Eight Winner: CM Punk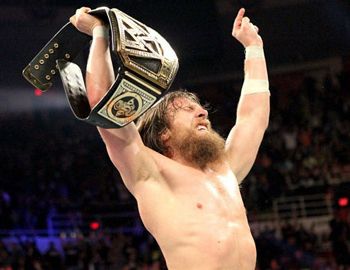 Year Nine Winner: Daniel Bryan
comments powered by