SPOTLIGHTS
Wrestling's 4Rs 4.18.14: WWE Monday Night Raw Reviewed
Posted by Jack Stevenson on 04.18.2014

Evolution officially reformed and laid out the Shield, Sheamus and Bad News Barrett advanced in the IC Title contender's tournament and more! Wrestling's 4Rs breaks down the Right, the wRong & the Ridiculous of WWE Raw!


How the 4Rs of wRestling Work!
Here is a quick explanation of the 4R's. The column will run TWO times a week. We will group our feelings on the shows in various categories: The Right, the wRong and the Ridiculous. The Right is stuff that worked very well: a great promo, a great match and so on. PuRgatoRy is a section between the right and wrong. It shows equal traits from both sides that cannot be ignored and need discussed. It is not a bad place per say, as things can get remedied or go the wrong way the very next week. The wRong is what it sounds like: bad matches, bad or boring promos and so on. The Ridiculous is stuff that had no right on TV: Stupid angles and so on. And there is always a possibility of a 5th R, which is as bad as they come. This column is supposed to be analytical, and at the right time very critical of the shows, it was the whole reason it was created. This is not a "mark" column, nor a "smark" column, our goal is to analyze the show from many different fronts, reward the good and call out the bad. We will not apologize for our opinions, they are as they are, whether positive or negative.
---
Yes please.
By: Jack Stevenson
Raw 4.14.14:
QUICK MATCH RESULTS:
Rob Van Dam d. Alberto Del Rio

Rybaxel d. The Rhodes Brothers

Paige d. Alicia Fox

Batista & Randy Orton d. The Usos by DQ

Cesaro d. Mark Henry

Alexander Rusev d. Xavier Woods

Sheamus d. Jack Swagger

Fandango & Layla d. Santino Marella & Emma

Bad News Barrett d. Dolph Ziggler

The Shield go to a no contest with a fuckton of nobodies


THE RIGHT:
Paige vs. Alicia Fox: I was watching this match and thinking "hmmm, it seems like the Divas matches have really improved recently, I wonder why that is." Later on I was looking at the leaked script for this episode and saw the producer for the Paige-Fox match was Dave Finlay. This has reminded me of two very important lessons. The first is that, if something good happens in life, it's probably the work of Finlay. The second is that we should all be grateful we aren't at this moment having the urine beaten out of us by Finlay. Anyway, yeah, this match was good fun, and a much better advert for Paige than her debut last week. Alicia Fox, who I had did not remember as being this good, tilt a whirl backbreakered the fuck out of her but she rallied back to win with a super cool and nasty looking submission that seemed to genuinely impress the Alabama crowd, who presumably up to this point were wondering why either of this women were being allowed to wear shoes. For me, this was the match of the night, and I'm not awarding that begrudgingly at all, this was legitimately good wrestling.

Paul Heyman would like us all to be aware that Brock Lesnar ended the streak at WrestleMania: The genius of Paul Heyman knows no bounds. There is no one else in wrestling at the moment who could cut a promo that largely consisted of the same sentence being repeated over and over and over and over again, and turn it into an infuriatingly brilliant promo. He is entertaining us wildly and making us hate him in equal measure, while simultaneously drilling into our subconscious that Brock Lesnar is a phenomenon, Brock Lesnar is unstoppable, Brock Lesnar is a conqueror. Brock Lesnar wouldn't be able to do that all on his own. Heyman is the first proper manager since the heyday of the eighties that I think is making a truly vital contribution to a mainstream wrestling product, and he deserves every bit of the repetitive, tedious praise I give him each week in this column. If only he were writing it and not me, it'd be much more entertaining.

EVOLUTION IS A MYSTERRRRYYYYYY: You know, I used to believe in evolution, but then I saw Roman Reigns, and I thought "a being as effortlessly cool as that simply cannot have evolved by chance. There must be an intelligent designer at play here." Anyway, I thought the show long Shield-Evolution storyline was superb, brilliantly paced and plotted and with a dramatic, powerful conclusion, far far too good for this interminable Raw with its tedious crowd. Early in the night, Triple H warns Batista and Randy Orton that they need to band together if they're going to be able to compete with the Shield, but Batista and Orton dismiss him. They pay for that when the Shield interrupt their match with the Usos and leave them scattering from the ring in embarrassment. This causes Batista and Orton to realize the error of their ways, and they link with HHH to reform one of wrestling's most famed stables and launch into an uncomfortable and memorable beat down of the Shield, after the fan favorites have already had to battle eleven men. It's like a neat, three act play, which is the way wrestling should attempt to tell the majority of its stories. This wasn't just great wrestling, it was great drama, full stop.



puRgatoRy:
The Intercontinental Title Tournament Matches: I thought I'd group all these together because they were pretty similar. Van Dam-Del Rio was entertaining while it lasted but I don't remember it very well now I'm come to write about it. Cesaro-Mark Henry had a couple of nice moments but was more notable for the Heyman promo that proceeded it. Sheamus-Swagger had some exciting moments sprinkled among all the blandness. Dolph Ziggler and Bad News Barrett were able to confuse the crowd into thinking they were seeing a good match by just doing some finisher kick outs. Four passable matches leading to what will probably be a passable match against Big E. Langston, though Cesaro-Van Dam could be fantastic if RVD is feeling up for it.

The Rhodes Brothers vs. Rybaxel: I thought this was a fairly enjoyable tag match, though I'm dispirited to see the Rhodes Brothers losing again. Can we all promise not to forget that both are very talented and Goldust is one of the five best wrestlers in WWE right now and they're just too interesting and filled with potential to be the tag division's weak link, especially since a matter of months ago they were leading its renaissance off the back of a magnificent rivalry with The Shield?

Xavier Woods vs. Alexander Rusev: Still too early to tell with Rusev; I thought he displayed some interesting, entertaining offence in this squash and his Calmness Clutch is terrific, but whether he or his gimmick can be productive outside of a squash match environment remains to be seen.


John Cena is loving life: In theory, this was a terrific segment, in execution it wasn't particularly, so I'm splitting the difference and putting it in purgatory. Bray Wyatt came out to say some more cryptic things about John Cena, and while I of course think Wyatt's great, he'll be better when he figures out that saying nothing of substance and making it sound really clever and interesting isn't an acceptable substitute for saying something that's actually really clever and interesting. Still, his promo was of the finest Funk and Foley compared to John Cena's. It's a good idea to have Cena demonstrate that he's snapped free of Bray's mind games and is willing to play some of his own, it keeps things fresh and will make things much more dramatic should Wyatt win the Steel Cage match at Extreme Rules. But when those mind games are his typical puerile shit, photo shopping the Wyatts' faces onto pictures of women and soaking in the hysterical laughter of particularly fuckwitted six year olds, it undermines Cena, undermines the Wyatts, and undermines the whole feud. This was a necessary addition to the feud, it's just a pity Cena's occasional stab at comedy had to tag along with it.



THE WRONG:
Damian Sandow is unhappy: Damian Sandow is mad as hell and he's not going to take it any more! He has been left with no choice but to stand in the ring and ramble on until the Big Show casually knocks him out. This isn't going to make for very good viewing if it's turns into a full storyline. If it was just a one off segment, it's quite the waste of time.

Fandango has a new dance partner and her name is Layla: I'm glad Fandango's not going to have to go it alone but this feels like change for the sake of change to me, Layla's not going to add anything to the act that Fandango didn't and Summer Rae, while talented, isn't good enough to pull herself out of the Diva shuffle. If Summer finds a new partner and they feud with Fandango and Layla for a bit, there might be a fun little feud for a while, but once it ends I don't think anyone will benefit particularly.


THE RIDICULOUS:
NOTHING


THE RAW MATCH OF THE YEAR LIST:
No change this week.



2.17.14- John Cena vs. Cesaro


3.03.14- The Shield vs. The Wyatt Family


2.03.14- Daniel Bryan vs. Randy Orton


2.10.14- Sheamus & Christian vs. The Real Americans


1.27.14- John Cena, Sheamus & Daniel Bryan vs. The Shield


1.13.14- CM Punk & The New Age Outlaws vs. The Shield


4.7.14- John Cena, Sheamus & Big E. Langston vs. The Wyatt Family


3.24.14- The Shield vs. The Real Americans


1.20.14- Rey Mysterio vs. Alberto Del Rio


2.03.14- The Shield vs. Kofi Kingston, Rey Mysterio & Big E. Langston


The 411:


There was far too much mediocrity on this show, and the lifeless crowd didn't exactly help matters. The re-formation of Evolution was a superb piece of show long storytelling and nearly saves the show single-handedly, but it was stifled by all the midcarders having middling match while Alabama watched on in a lazy silence. A disappointing follow up to last week's very good episode.

Show Rating: 5.5

As a reminder, I will be going by the 411 scale…

0 - 0.9: Torture
1 - 1.9: Extremely Horrendous
2 - 2.9: Very Bad
3 - 3.9: Bad
4 - 4.9: Poor
5 - 5.9: Not So Good
6 - 6.9: Average
7 - 7.9: Good
8 - 8.9:Very Good
9 - 9.9: Amazing
10: Virtually Perfect

The 879th edition is over…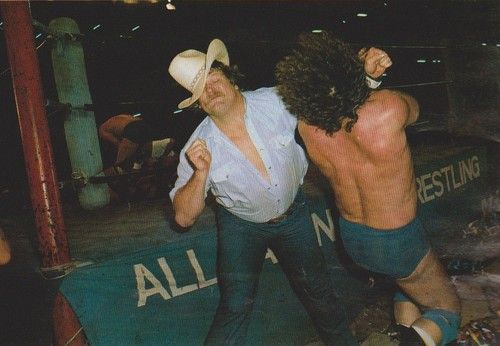 RASSLIN


Have you checked out the Csonka Podcasting Network? If you haven't, you should We run anywhere from 15-20 shows a month, discussing pro wrestling, the world of MMA, the NBA, general sports, popular TV series of the past, bad movies, battle rap, interviews, MMA & Wrestling conference calls and more! Around 10 different personalities take part in the various shows, which all have a different feel; so you'll likely find something you like. All of the broadcasts are free, so go ahead and give a show a try and share the link with your friends on the Twitter Machine and other social media outlets! Running since May of 2011, there are currently over 500 shows in the archive for you to listen to.



Your heart is free. Have the courage to follow it…TO CSONKA'S TWITTER!

http://www.twitter.com/411wrestling
http://www.twitter.com/411moviestv
http://www.twitter.com/411music
http://www.twitter.com/411games
http://www.twitter.com/411mma
comments powered by