SPOTLIGHTS
The Magnificent Seven 4.20.14: The Top 7 Stars WWE Should Bring Back
Posted by Mike Chin on 04.20.2014

From Jeff Hardy and Mickie James to John Morrison and more, 411's Mike Chin counts down the top seven stars WWE should welcome back…

Over the years, WWE has seen its share of talents come and go. Some have gone on to success on other stages, others have flamed out to a greater degree than one would expect from their WWE tenures. Nonetheless, with the passage of time there have been wrestlers who have realized their potential in other promotions or for whom absence has made the heart grow fonder for we wrestling fans. I'd like to preface this countdown by recognizing that these potential returns aren't all "on" WWE—whether or not a talent comes back has to do with WWE's choice, the wrestler's own decisions, contracts, and plenty of other factors I can only begin to fathom. All that said, this week, I'm looking at seven stars I'd like to see back in WWE.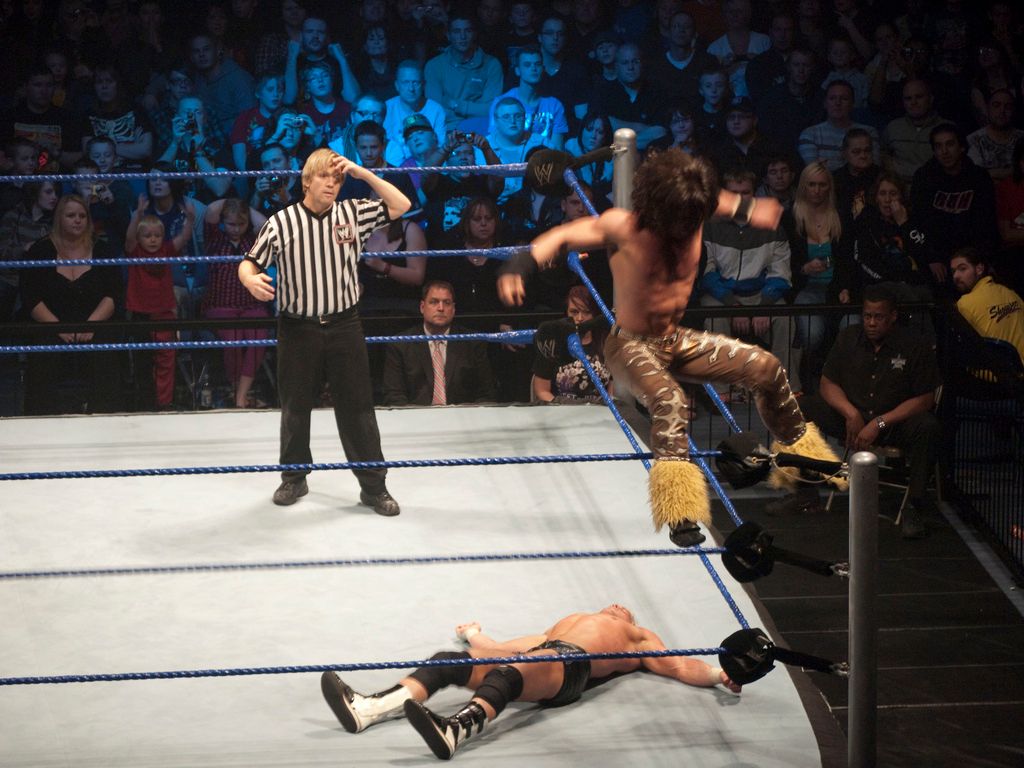 #7. John Morrison



I was, perhaps, in the minority of folks who felt John Morrison should have gotten a WWE Championship run in 2011. Whether as partners or opponents, the guy brought out the best in The Miz, and I thought if WWE had held off on their TV feud in favor of a WrestleMania feud, it could have done a ton to elevate both men and to have freshened up the card for WrestleMania 27 (and there were plenty of other, perhaps more obvious, ways of still setting up the Rock-Cena dream match WWE was hell bent on for the following year).

Morrison has worked the indies since his WWE tenure. To be fair, I haven't seen him in action, but there is, thus, reason to believe he's maintained his ring conditioning. At this point in his career, it's doubtful WWE could still salvage a main event run for Morrison, but he could still share the Kofi Kingston-Evan Bourne (if he ever comes back to TV) spot of highlight reel performer who's a constant threat for mid-card championships and a more than capable "filler" guy for the occasional Elimination Chamber or Money in the Bank ladder match.




#6. Shelton Benjamin



Shelton Benjamin has many of the same appeal factors to John Morrison, as an uber-athletic spot junkie—plus he boasts a more credible look and legit amateur background such that he always has the potential to achieve at a higher level. I do feel WWE, similarly, missed the boat on testing him out at the main event level around 2009, but I also feel that there's the benefit of the guy having been out of the spotlight long enough now that WWE really could bring him back and have feel like a fresh face, and thus allow him a shot at or closer to the top of the card than ever before.

Worst case scenario, Benjamin could be a very serviceable role player in contemporary WWE—the kind of guy who could tag with and help mentor an up and coming talent , or who could mark a solid mid-card hurdle for guys on their way to the main event to overcome. Perhaps best of all, I think Benjamin functions pretty much equally as well as a heel or face, and thus could fill about whatever spot WWE needs for him to.




#5. Mickie James



The arrival of Paige and Emma on the WWE roster has done a lot to freshen and elevate the level of in-ring performance in the women's division, and Summer Rae continues to pleasantly surprise. Add in Natalya as veteran ring general, and the marginally improved Bella Twins, and the female roster is about as good as it has been since Trish Stratus and Lita retired. I'd argue that there is room for one more skilled, veteran hand, capable of great character work and even better in-ring work.

The time has probably passed for James to be the face of the division, but one more Natalya-like talent who can make others look good and step in as champ in the event of injuries or unexpected departures , should always have a place on the WWE roster.




#4. Bully Ray



What a difference nine years can make. After coming of age in ECW and having a very good run alongside Edge and Christian and the Hardys in WWE, the Dudley act grew pretty stale, and arguably overstayed its welcome by about three or four years. From there, the Dudley Boyz added legitimacy and depth to the TNA tag roster—before growing a bit stale there, too. The writing seemed to be on the wall for Team 3D to recede to the indies or quietly retire. Little did we know that Bubba Ray would find new life under the Bully Ray moniker—a mid-card heel who found his way to a monster main event push and realized all of the top-of-the-card potential people had been claiming he had since ECW as the head of the otherwise mishandled Aces and Eights faction.

Since, then, Bully Ray has started a face run that the jury's still out on. He may be running on borrowed time as a major name for TNA, but I think WWE would have plenty to gain by putting the mic in the hands and letting him roll for a brief Dudley Boyz reunion, as a mid-to-upper mid-card act all his own, or even as a manager or color man.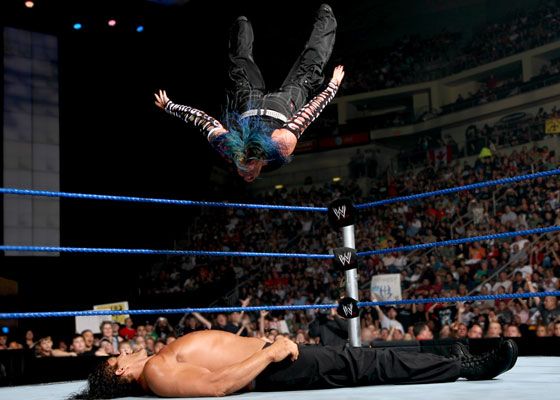 #3. Jeff Hardy



I'll be the first to admit that I don't get the Willow persona, but the fact remains that when he's kept on a reasonably mainstream leash and on his best behavior, Jeff Hardy is one of the most charismatic and exciting professional wrestlers alive today. Hardy is one of the few on this list to have parted ways with WWE purely of his own volition, rather than being future endeavored or offered a drastically different role within the company, and while the pressures of the WWE life may be too much for Hardy to make another many-year WWE run, I don't know that WWE has access to a hotter prospect for a one-shot deal shock appearance at the Royal Rumble, or to work an RVD-style limited schedule and still function at or around the top of the card.

Hardy has always connected with WWE audiences in a way that defies logic or traditional booking, and I can't help thinking that it would be a boon if WWE could ever acquire his services again.




#2. Mr. Kennedy



Mr. Kennedy/Anderson was a star all but made for the Attitude Era—brash, heated, skilled on the mic, and less a mechanic than a fun-to-watch reckless brawler. Throughout his WWE run, the guy seemed to be made of glass and thus never realized his potential under the WWE banner. He hit much greater heights in TNA, and I could see him functioning as a high caliber wild card to help shake up the WWE mid-card or even main event scene upon his return.

Kennedy would be especially valuable if WWE ever departed from PG again—he's always come across as something akin to Steve Austin-lite, and given free reign to curse and be vulgar on a WWE stage, I expect he'd break out on a whole new level.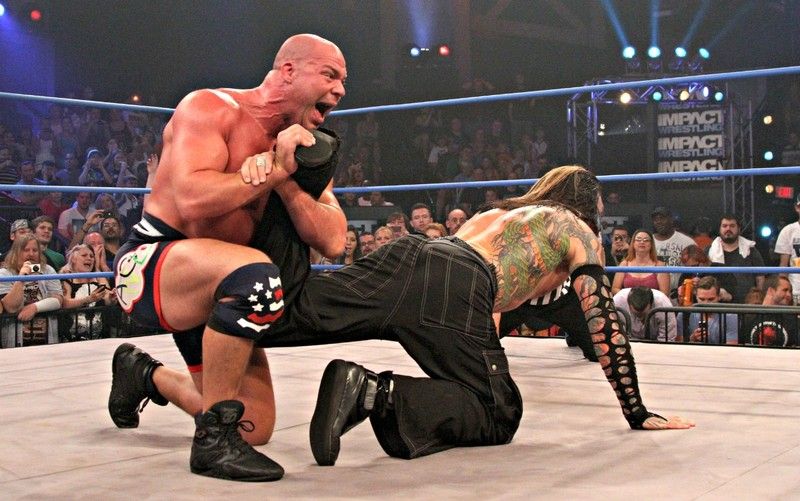 #1. Kurt Angle



The sad news is that Kurt Angle may not be in any condition to pass a WWE physical—my understanding is that it was his rubber band and duct tape physique caused him to part ways with WWE in the first place. That said, Angle is quite arguably the best in-ring performer not under contract to WWE regularly competing on US soil, not to mention a very good mic man, and the prospect of dream matches between Angle and Daniel Bryan, Cesaro, Dolph Ziggler, or Seth Rollins are enough to get a fan salivating, not to mention the idea of him rekindling a feud with Brock Lesnar or a program between the returning Olympic Hero and a returned-from-self-exile CM Punk, producing a war of words over Angle's many transgressions and Punk's heel self-righteousness.

I like to think Angle is a surefire Hall of Famer, but hopefully he'll have one last in-ring run in the big-time to let this generation of young fans know what at he was all about and deliver on the fantasy booking contemporary fans have longed for.

Who do you want to see back in a WWE ring? Let us know in the comment section. See you in seven.

Read stories and miscellaneous criticism from Mike Chin at his website and his thoughts on a cappella music at The A Cappella Blog. Follow him on Twitter @miketchin.
comments powered by