SPOTLIGHTS
The 411 Wrestling Top 5 5.07.14: Week 262 – The Top 5 WCW Matches
Posted by Larry Csonka on 05.07.2014

From Ric Flair vs. Ricky Steamboat at Clash of the Champions VI and the 1992 War Games match to Rey Mysterio vs. Eddie Guerrero at Halloween Havoc 1997 and more, the 411 staff breaks down their top 5 WCW matches!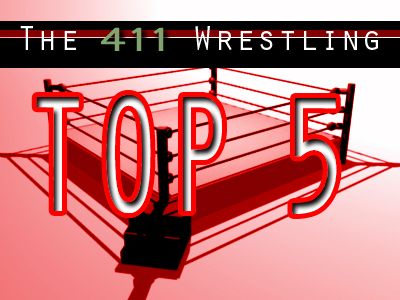 Hello everyone and welcome to 411 Wrestling's Top 5 List. We take a topic each week and all the writers here on 411 wrestling will have the ability to give us their Top 5 on said topic, plus up to three honorable mentions.

So, onto this week's topic…



THE TOP 5 WCW MATCHES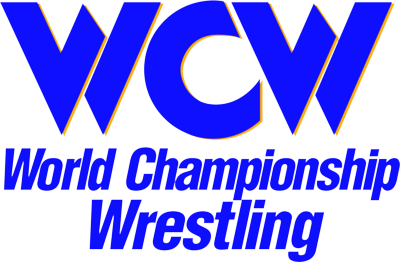 For clarification, we're going with the "November, 1988" start date for WCW, as that is when Turner Broadcasting bought Crockett Promotions.




MICHAEL WEYER
5. Ricky Steamboat vs. Rick Rude, Beach Blast, 1992 The heat on this was great. Rude was U.S. champion at the time, the arrogant heel crowds just loved to loathe while Steamboat was of course, a stunning worker in every way imaginable. The Dangerous Alliance had taken it to Steamboat with such things as breaking his nose and paying women to claim to have slept with him. Steamboat stayed strong however and he and Rude went at it at Beach Blast in one of the first major Iron Man bouts on PPV. The result was a fantastic battle as they went at it tooth and nail, taking wild shots at ribs and Steamboat hitting hard and fast with his usual flying assaults. Rude matched him right up with his own shots. It was great back and forth as they traded falls and Steamboat even hitting his own Rude Awakening as they clashed and the clock counting down the minutes gave it an extra thrill for fans. In the end, Steamboat got the final fall in to get some revenge and close out one damn good battle.

4. Bret Hart vs. Chris Benoit, Nitro October 4th, 1999 - It was emotional in its time and takes on a much different edge today of course. But cut aside the personalities of both men and what happened later and enjoy this battle as it is and it's amazing. Just six months after the death of his brother Owen, Bret performed in the same arena and chose Benoit as his opponent. For many, a dream encounter of two Canadian stars and turned into a technical tour de force as they traded moves, counters, going from pure technical to brawling and back and the crowd was loving every minute of it. In the end, Benoit tapped out to the Sharpshooter and he and Bret embraced. Sad in some ways to watch today but still a fitting tribute to Owen by two other masters and probably Bret's best outing ever in WCW.

3. Brian Pillman vs. Jushin Liger, SuperBrawl II Quite possibly the greatest opening bout in PPV history. Thanks to Kip Frey offering bonuses at various shows, the workrate of early 1992 WCW was terrific and this was a key showcase for that. Liger was defending the Light Heavyweight title, already famous as a fantastic worker from Japan. Pillman was clicking as a face well and they went at it fast and furious for a bit before slowing down a little, trading high-flying moves that you didn't see too much of in mainstream American wrestling in 1992. Both guys had the crowd going wildly, moves like a surfboard getting big pops and people enthralled by the display. In the end, Liger missed a splash and Pillman hooked his feet into the arms for a roll-up and the title. Absolutely amazing and still holds up well and makes you grouse more of how a few months later, Bill Watts would basically crush this entire style with his idiotic "no moves off the top" rule when this was clearly something WCW fans wanted to see.

2. Rey Mysterio vs. Eddie Guerrero, Halloween Havoc 1997 - That Eric Bischoff and later Vince Russo claimed that guys with masks aren't "marketable" remains one of the most idiotic statements ever. The fact WWE moves tons of merchandise off of Rey's masks shows that and it also shows the failure to realize the tradition that has in Mexico. That's what helped make this Cruiserweight title match so special as Rey put his mask on against Eddie's title. The result is arguably the best match in Halloween Havoc history as the two went at it in an incredible display, trading high-flying maneuvers, reversals, Rey leaping off the top rope for a DDT and doing a fantastic jump over the ropes to rana Eddie on the floor. Guerrero was just as great as the hated heel, getting a surfboard and trying Rey in the corner while trying to rip off the mask mid-match. The ending had Rey going up top, Eddie trying a powerbomb but Rey reversing it into a pin. Twenty minutes of pure energy that showed how the Cruiserweights were the real reason to tune in to WCW in 1997 and the star power both Rey and Eddie would use in their later careers.

1. Ric Flair vs. Ricky Steamboat, Clash of the Champions VI As one of the biggest Dragon marks alive, there was no other choice. I'm partial to Chi-Town Heat where Steamboat beat Flair for the NWA World title and WrestleWar paid off on what they had already done. But as with so many trilogies, the middle part is the best as on live cable TV, these two went Broadway for a 60 minute two-out-of-three falls war that was pure magic. Between Flair's skills and Steamboat's stunning ability to sell like no one else, the match was brilliant, both men going back and forth, Flair getting the first fall with a pin and Steamboat becoming the first man in memory to make Flair submit with a double-arm chicken wing for the second. The final fall was frantic as they went at it while selling the exhaustion of the long battle, Steamboat unable to slam Flair off the top due to a weakened leg. The ending may have been a bit cheap (the classic both men's shoulders down before Steamboat lifted his up) but the match itself remains a must-watch for lovers of pure pro wrestling as two masters at the top of their game put on an act for the ages that still reminds you why WCW had good stuff despite all its infamous crap.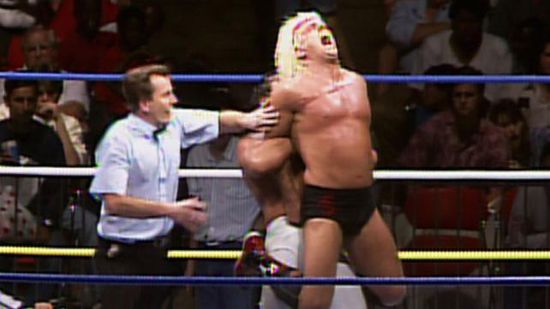 ---



Andrew Shillinglaw
5. WCW Light Heavyweight Championship- Jushin "Thunder" Liger © vs. Brian Pillman, Superbrawl, 2/29/92 - Fun fact, this is my first of two opening matches on this list. I feel like Pillman is remembered sort of oddly. He gets praised to no end for the Loose Cannon gimmick. And I totally understand that sentiment as the character was a masterpiece. However, people kind of sleep on how influential he was for the Light Heavyweight division and what it would become going forward. This match would become the standard for light heavyweights in the US going forward. It would be outdone in WCW and ECW going forward, but this is where it starts. Liger is obviously a legend, and Pillman puts his best foot forward here and the two put on an absolute clinic. This match could stand on influence alone but it's also just a fantastic example of professional wrestling. Their match on Nitro at the Mall of America is also great, so you all should consider looking that one up too.

4. Ladder Match- 3 Count vs. Jung Dragons, New Blood Rising, 8/13/00 - I'm new to this site, so you all don't know me yet. But soon enough you will all learn that I am a huge spot fest fan. I won't watch just anything with a few flips, but a well-structured spot fest will often shoot to the top of my favorite matches list. These six guys were all young and all hungry. They're trying to set the tone of a pay-per-view, and you can say what you want about 2000 WCW but these guys wanted to put on an absolute show. It's innovative. It's fast paced. And, like I already mentioned, I have an unbelievable soft spot for spot fests. Everyone talks about the Edge and Christian/Hardy Boyz/Dudleys when it comes to innovating this big multi-man ladder match style, but I think this one should get talked about as well.

3. Mask vs. Title, WCW Cruiserweight Championship- Eddie Guerrero © vs. Rey Misterio Jr., Halloween Havoc, 10/26/97 - THIS. MATCH. Any time you put the term "Lucha de Apuestas" in front of something, I'm absolutely in. When a luchadore puts his mask on the line, it's so much more important. That mask is a symbol. That mask is a livelihood. And even though WCW would go on to ruin that by unmasking everyone and their mother, that hadn't happened just yet. So Eddie is trying to take out Rey's legacy. That's heavy stuff! Add that to the fact that these two cannot have a bad match with each other, and this is their best. It's just so good. There are so many things in this match that still, on my umpteenth viewing, cause me to jump out of my chair in excitement. The only knock on this match that I have is Rey's ridiculous purple body suit, and I let it slide because it's that good of a bout.

2. I Quit Match- Ric Flair vs. Terry Funk, Clash of the Champions IX: New York Knockout, 11/15/89 - I've recently been watching my way through 70s and 80s Japanese wrestling. In doing so, I've rediscovered my love for Terry Funk. He's jumped to third on my all-time favorite wrestlers list (behind Benoit and Piper). I remember when I bought the first WWE produced Flair DVD set, my eyes were opened to a whole new world. I was young so Flair's old stuff was all new to me. I was blown away by the Steamboat matches, obviously, but this match was the one that really stood out to me. I am quite honestly not a huge fan of I Quit matches in general. They can be pretty contrived and they don't seem natural. If you want a violent feud ender, I stand firmly within the "use a street fight" camp. This match, however, is awesome every time I watch. The violence feels organic and brutal. Terry Funk and Flair are on top of their games. Great selling. Great spots. Great crowd. I just love every part of this.

1. WCW Heavyweight Championship- DDP vs. Goldberg ©, Halloween Havoc, 10/25/98 - I know this is a weird first choice. Honestly, this probably isn't even the "best" match on this list. But this is professional wrestling, and being technically proficient doesn't necessarily equate to a phenomenal match. Pro wrestling is all about getting some sort of emotion. I can watch Chris Benoit and William Regal beat each other up for hours on end and be entertained by it, but I don't necessarily buy into it. I bought into DDP beating Goldberg. I wanted it to happen. He's the every man. He's the "people's champion." He's us. And Goldberg is on another plane. He's this untouchable force. He's got sort of a mysticism about him. But at Halloween Havoc, I thought DDP could win. And the spear is brutal. And the jackhammer caps it off. And DDP ends up losing. Goldberg's streak was a phenomenal angle, padded as it may have been, and DDP ending it felt like a possibility. And that is why I absolutely love this match.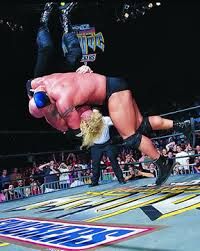 ---



JUSTIN WATRY
5. Bill Goldberg's Debut - As usual, I am going to go in my own direction and focus on IMPORTANT matches in WCW history in a positive way. No negativity. For that sake, I will leave out the final episode of Nitro as well as the nWo forming which was not really a match per say - more of a moment. Maybe not the best from bell to bell. Maybe not your technical masterpiece but the historic bouts that shaped the company. To start us off, how about Bill Goldberg and his first match? It may not mean much on the grand scale of things, but that set the tone for everything he would become. WCW created one mainstream cross over star in their entire existence (something TNA Impact Wrestling has yet to do), and that man was Goldberg. Credit to Hugh Morrus here for taking the loss.

4. Hulk Hogan vs. Ric Flair - Yes, it happened in WWE. Yes, it was a few years past major relevancy. Yes, it was happening in WCW of all places. No, none of that mattered. When you sign a name like Hulk Hogan, you promote it as such. When you have an asset like The Nature Boy, you use it as such. There was no other way around this match taking place on pay-per-view. The Hulkster had to win (and he did). Regardless of what Flair wants to thin,, he was never going to win that match nor much of any kind of rematch(es) either. Why is this on the list? Simple. Box office baby, box office!

3. Eddie vs. Rey: Halloween Havoc - Not for the work rate. Not for all flippity flopping flops. Not for the high spots. Not for any of that junk that ultimate means nothing to the bottom line. This match ranks above all else what WCW was able to capture with their cruiserweights/filler segments that are still unable to be relived today. When WWE presents a filler match or segment, you can predict the outcome, match length, and every single aspect in between without fail most of the time. With WCW, they ere able to take 10 or 15 minutes and deliver worth while action and intrigue to keep a show/PPV moving. Eddie and Rey at Halloween Havoc summed it up best. You can add in Dean Malenko as well for all of this great stuff.

2. Nitro Delivers - The night Bill Goldberg defeated Hulk Hogan for the WCW Championship, it was a victory for everyone. The old guard had moved out of the way. Their top star with the best upside (Goldberg) was being handed the ball. It seemed like the company was actually responding to WWE kicking them in the face week after week after week. As short lived as that moment was, for that one, brief moment, Goldberg vs. Hogan in front of 40,000 personified how cool wrestling can be....

1. Sting vs. Hulk Hogan: Starrcade 1997 - The peak of WCW.


---



Alex Crowder
5. Falls Count Anywhere Non-Title Match: Cactus Jack vs. Sting, Beach Blast 92' - I'll preface this by saying that I have not really caught much WCW pre-91. I do not want to list matches and not do them justice, so I'll stick with what I know. WCW really had several great matches; it was difficult to choose just 5. Nevertheless, I decided one man's opinion helped validate my number 5 choice. Mick Foley cited this as his greatest match ever for years (until the Michaels match). When that comes from Mick Foley that is some praise, because this match is just a crazy brawl similar to the Steve Austin vs. Dude Love brawls without the overbooking. The crowd is extremely hot and this match is just brutal. The diving sunset flip on concrete makes me cringe. The craziest part is that this is non-title showing just how badly Sting wanted to win. This match even holds up today. You can expect a crazy brawl with less weapons and that makes this match an intense brawl worth re-watching. This was the match that really solidified Sting as a tough guy after Vader destroyed him and broke his ribs. On top of that, Cactus Jack was finally seen as star material after this match.

4. WCW World Light Heavyweight Championship: Brian Pillman vs. Jushin Liger(c), Superbrawl II - These two had quite the rivalry that people often forget when mentioning Liger's greatest opponents. Eric Bischoff was intelligent enough to see the greatness in the light heavyweights and this match probably motivated his future decisions regarding cruiserweights and Nitro. Both men were over and got the crowd hot. When it comes to openers only Bret Hart vs. Owen Hart can compare to this. This match is state-of-the art and still holds up with today's cruiserweights all the way from 1992. I can only imagine how people felt in 1992 seeing matches like this in America for the first time. These two bust their asses and get over despite low expectations from management. Jushin Liger is his usual self, while Brian Pillman matches him move for move. These two showed that high-flyers could also have a very technical match. You could probably compare this to the New Japan junior heavyweight style, which makes it very different from the lucha libre based cruiserweights of the future. If you watch this match you can see the crowd explode for all of this action. This match has it all what else can I say. Another note, the commentary team of Jim Ross and Jesse Ventura make these last two matches (and other matches on my list) even better.

3. WCW World Tag Team Championship: Tatsumi Fujinami and Takayuki Iizuka vs. The Steiner Brothers(c) Wrestlewar 92' - One can presume that I'm a big fan of WCW 1992. I never even realized it (plus there are plenty matches from that year I have not even mentioned). Nonetheless, this match is better than the Luger and Sting vs. Steiner Brothers match in my opinion. This to me is the greatest team ever The Steiner Brothers at their peak. After this, their matches started to lose some steam. This match is the typical Steiner affair with technical moves, creative pins, submissions, tandem moves, high-impact maneuvers, and destruction of their opponents. Fujinami and Iizuka play their part allowing the Steiners to go full tilt. They also pull off many impressive moves of their own. The Steiners beat poor Iizuka down so bad one of his eyes is swollen shut. Luger and Sting vs. The Steiners is more of a sprint, but to me this match is far more satisfying and represents The Steiner Brothers at their best. I would also say this is tag team wrestling at its best with it all; whether it is the hot crowd, pin break ups, hot tags, or extended heat segments. Anyone that enjoys tag team wrestling should check this one out.

2. War Games Match: Sting's Squadron (Sting, Barry Windham, Ricky Steamboat, Dustin Rhodes, and Nikita Koloff) vs. The Dangerous Alliance (Rick Rude, Arn Anderson, Larry Zbyszko, Steve Austin, and Bobby Eaton) with Paul E. Dangerously and Medusa Wrestlewar 92' - Honestly I probably could have just filled my list with War Games matches; however, I wanted a variety of matches, so I choose the War Games that I felt best personified the match. This to me is the definite feud ender, because not only can you blow off one feud in a War Games match. Instead, you can blow off multiple feuds at once. This match up to me represents the best ending to a feud in wrestling history. The fact they start off with Steve Austin and Barry Windham is a testament to how great this match is. This match just has it all and the crowd explodes for it. The heat segments are perfectly executed with the comebacks being equally flawless. Everyone is bleeding all over the place and beating the hell out of each other. Medusa even finds a way to aid the Dangerous Alliance despite the cages surrounding the rings. Dangerously also plays his part well directing traffic from the outside. Sting and one of his partners Koloff who were once rivals acknowledge their tumultuous past before working together. Story-telling at its finest makes this War Games one of the greatest matches of all-time.

1. Cruiserweight Championship Mask vs. Championship: Eddy Guerrero vs. Rey Mysterio Jr. Halloween Havoc 97' - If you want to see Rey Mysterio and Eddy Guerrero at their best, this is the match. Rey Mysterio is putting everything on the line to gain the Cruiserweight Title from Eddy Guerrero. Also, Eddy Guerrero was so over that the match starts with an Eddy sucks chant. Eddy Guerrero was such a perfect heel at this time. Unlike the Jushin Liger and Brian Pillman match, this one has more of a lucha libre flavor. In my opinion, that is what sets apart. Eddy Guerrero is the ultimate jerk in his domination of Rey Mysterio. Rey Mysterio like the underdog he is keeps fighting back with all that he has. Rey Mysterio is probably at his peak during this point, wowing with moves you don't even see 17 years later. Eddy Guerrero just keeps trying to rip off his mask the entire match while methodically working him over. The mask means everything in lucha libre and this match signifies the importance of it. This match is insanity and the ultimate story of pro wrestling. You have a guy without the larger than life figure being bullied by a bigger man who is a complete jerk. This match in a sense is similar to Steve Austin vs. Bret Hart, because Eddy Guerrero just continually puts Rey into the ground relentlessly. Rey never stays down and always breathes another breath eventually pulling out the victory. I'm not even sure what else there is to say. I would probably place this as a top 5 or top 3 greatest matches ever. Anyone that has not seen this once needs to check it out immediately.





---



Dino Zucconi
Note: My problem with lists of this nature is that there's going to be, I feel, a ton of repeated entries, and rightfully so.
5. Lex Luger and Sting vs. Rick and Scott Steiner, SuperBrawl - When this match was announced for SuperBrawl, I remember going nuts as a kid. It was a rare thing for faces to wrestle each other (even post Hogan/Warrior), and this was a tag team dream match! The Steiners were easily the best team WCW had, but Lex Luger and Sting basically represented their future in the singles ranks! The match itself is a clinic, with a pretty famous finish involving Nikita Koloff. This is a match I can watch any time, any place, and without any complaints.

4. Bret Hart vs. Chris Benoit, Nitro, Fall '99 - Definitely a personal favorite of mine, this was Bret Hart's return to wrestling after a disaster of a year in 1999 that saw him battling injuries, inept WCW booking, and then the death of his brother Owen. When he finally came back, Bret handpicked Chris Benoit to go out and just have a nice, technical wrestling match. Some find it too slow, others feel it's a bit sugarcoated and saccharine. I find no gripe in two guys going out and paying tribute to a fallen brother. That they went ahead and produced a fantastic matchup along the way made it even better.

3. The Four Horsemen (Ric Flair, Barry Windham, Sid Vicious, and Larry Zbyszko) vs. Sting, Brian Pillman and the Steiner Brothers (Rick and Scott Steiner) - I mean, there's GOT to be a War Games match listed, right? There are plenty of viable choices from the War Games, but this is the one I've always loved the most, even more than the one with Sting's Squadron. This match starts off violently, continues violently, and ends violently. Nearly everyone bleeds. Sid Vicious almost kills Brian Pillman.



14. 91-02-24 WarGames (WrestleWar) by puropwgwwestuff



2. Ric Flair vs. Ricky Steamboat, Chi Town Rumble '89 - Again, there are a few matches you can choose from in this series, and I've always preferred the match where Steamboat won the title from Flair. I feel like talking about how great this match is, is actually kind of silly, since basically everyone knows how great things are when you add Flair, Steamboat, and 1989. Steamboat winning the belt made me mark out like a no one's business back when I was 7 years old, so it gets the spot.

1. Eddy Guerrero vs. Rey Misterio, Halloween Havoc '97 - I feel this is WCW's perfect match, and it was where Americans realized just how good lucha libre matches could be. I watched it live that night, and have watched it countless times since, and there's still nothing wrong with this match, in my opinion. Rey had already produced some amazing matches with Dean Malenko and Ultimo Dragon, but this one far surpasses anything else.

---
YOUR TURN KNOW IT ALLS

List your Top Five for this week's topic in the comment section using the following format:

5. CHOICE: Explanation
4. CHOICE: Explanation
3. CHOICE: Explanation
2. CHOICE: Explanation
1. CHOICE: Explanation
Your heart is free. Have the courage to follow it…TO CSONKA'S TWITTER!

http://www.twitter.com/411wrestling
http://www.twitter.com/411moviestv
http://www.twitter.com/411music
http://www.twitter.com/411games
http://www.twitter.com/411mma

Have you checked out the Csonka Podcasting Network? If you haven't, you should We run anywhere from 15-20 shows a month, discussing pro wrestling, the world of MMA, the NBA, general sports, popular TV series of the past, bad movies, battle rap, interviews, MMA & Wrestling conference calls and more! Around 10 different personalities take part in the various shows, which all have a different feel; so you'll likely find something you like. All of the broadcasts are free, so go ahead and give a show a try and share the link with your friends on the Twitter Machine and other social media outlets! Running since May of 2011, there are currently over 500 shows in the archive for you to listen to.



Larry Csonka is a Pisces and enjoys rolling at jiu jitsu class with Hotty McBrownbelt, cooking, long walks on the beach, Slingo and the occasional trip to Jack in the Box. He is married to a soulless ginger and has two beautiful daughters who are thankfully not soulless gingers; and is legally allowed to marry people in 35 states. He has been a wrestling fan since 1982 and has been writing for 411 since May 24th, 2004; contributing over 3,000 columns, TV reports and video reviews to the site.
comments powered by