SPOTLIGHTS
The 8-Ball 4.21.14: Top 8 Things for Eric Young to Do While He's Champ
Posted by Mike Hammerlock on 04.21.2014

From giving Samoa Joe a title shot and dropping the beard to becoming "Mr. Thursday Night," bringing back some TNA classics and more, 411's Mike Hammerlock counts down the top 8 things Eric Young should do as TNA champion!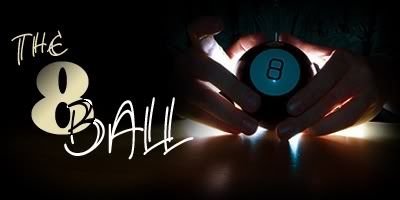 Eric Young's unlikely rise to become TNA champion has received a fair amount of criticism for perhaps being too reminiscent of Daniel Bryan's WWE title win earlier in the same. Both are small guys with bushy beards and both had to win two hard fought matches in the same night to take the strap. Fine, maybe Young's win cribbed a few notes from Bryan's. Yet Young's win was WAY more of a shocker. Pretty much everyone and their dog expected D-Bry to come out of WrestleMania with the title. It was climactic, but it was an obvious, and frankly necessary, bit of storytelling. Young's victory sent the message that just about anything can happen when you tune in to watch TNA. All bets are off.

Young also represents a more interesting story moving forward. We know what Daniel Bryan's going to do. He's going to fight the power and overcome impossible odds. It will be dramatic. I'm sure we're going to get a slew of great matches out of it, and everyone involved (especially Daniel Bryan) will act oh-so-serious the whole time. What can you do with Eric Young? Friggin' anything. Most of all you can have a lot more fun. Young can and should look to defeat his opponents with a hefty dose of crazy. When he's fighting, he can be serious, but in between matches he can bounce off the walls. He has the luxury of being an unexpected champ. Any crazy idea that pops into his head, he should do it (at least in terms of story). He just won the wrestling lottery. Live it up. If this is going to be a once in a lifetime ride, then he ought to make it memorable.

The Magic 8-Ball remains unsure Young's title reign will last long enough to get to any of these ideas. It could be snuffed out this Sunday at Sacrifice, left as nothing more than a footnote in the chronicles of TNA, a "what the hell were they doing?" entry in the Death of TNA video. That would be a shame, because Magnus gets my vote as worst TNA champ ever. Young represents a chance to do some fresh, innovative stuff. Magnus represents a chapter of TNA history best forgotten and never reopened. I'm hoping fresh wins out over dreadful. If so, here's the top 8 things Eric Young should do while he's champion.





8. Mr. Thursday Night



Pay-per-view is dead. TNA cut back to four PPVs because the revenues of a dozen major events no longer justified the expense. The big show for TNA happens every Thursday night on the Spike Network. That's the showcase. That's the cash cow. Magnus' abject failure as a champion wasn't just the unwatchable, overbooked matches he engaged in, or that he got buried beneath a pyroclastic flow of Dixie Carter promos. He also rarely fought. They were still working inside a PPV paradigm where you tease out the big match and then make people pay a wad of cash to see it. Wrong. TNA needs its champ to be seen. It needs its champ to work. When Thursday night rolls around fans need to feel like they're going to see the champ do more than pose. The TNA champ should function like a TV champ because it's TV or death for TNA. Young started in this direction last week and he needs to keep it going. Every week EY should be delivering must-watch television.




7. Noche de Lucha



Probably no way for them to get this together in time for Cinco de Mayo, but American wrestling suffers from a severe lack of masked competitors (and you have permission to get a bit giddy over Chikara returning to the scene next month). EY should rectify that for at least one night. When he overcomes one of Dixie Carter's nefarious plans to unseat him (and why exactly is she back?), he should put in a stipulation that he gets complete control of the company for one Impact. And then it's lucha time, baby. Everyone has to wear a mask and the night ends with a massive tecnicos vs. rudos battle. Put Spud in a mini match, give James Storm a beer theme and call him Guzzle, bring back Super-Mex for a night. Jeff Hardy would appreciate the company. On top of everything else, it would be a ton of new merch to sell.




6. TNA Classics



Not for nothing, TNA has been around long enough to have a history. Eric Young has been there for almost all of it. Have him call upon some of TNAs former talents when he needs a helping hand - Jerry Lynn, Low Ki, Sonny Siaki, Chase Stevens, Chris Harris, Jay Lethal, A-1 and a crap ton of Petey Williams. Maybe even bring in that Jeff Jarrett guy for a one-off. Yeah, I know he's putting together a rival federation, but everyone who isn't the WWE needs to be able to coexist if they want to survive. Say EY's got a King of the Mountain match. Jarrett coming back to guide through it would be all kinds of cool. Main thing is Young presents an opportunity to highlight TNA's history.





5. Extreme Catch Match



Let's not lose sight of the fact that Mr. Young hosted his own television show on Animal Planet. I know Off the Hook: Extreme Catches has been on hiatus, but his title win could change that. If so, time to book a match where seafood is a weapon. Do a callback to his time as the Not So Great Muta and spray an opponent with a squid ink mist. Use barnacles like thumb tacks. Wallop a guy with a carp for the victory. This is EY's comfort zone. It would be doubly fun if he could drag Magnus, whose character is more than a bit prissy, into a match like this.





4. Champ vs. Champ Evening Gown Match



TNA does its heavyweight champ vs. its X Division champ every year. I assume it will happen again this summer. While that's fun, Eric Young should go for the only title in TNA he hasn't won: the Knockouts belt. Have him put his title on the line and, to make it relatively fair, book it as a no DQ evening gown match. EY would totally rock a gown and some heels. After multiple dress-in-distress spots and numerous run-ins, he could disrobe the Knockouts champ for the win. The name of the company is TNA after all. Then he could do a victory striptease. A week or two later he could drop the Knockouts belt when ODB (or some other knockout if they don't want to revisit the EY-ODB story) seduces him into a three-count. Might work better with someone else so that ODB gets jealous and goes after the new champ.




3. Give Samoa Joe a Title Shot



Earlier this calendar year, Mr. Young was fighting to make sure Samoa Joe got his deserved title shot. Joe is currently out of action, either dealing with a personal situation or injury (there have been conflicting reports). Regardless of what the reason is, it doesn't sound like Joe will be gone for long. It would make sense for Young to give a returning Joe a title shot. They've pretty much set this up, so it almost has to go down. First off, it probably would be a dynamite match. Second, if Joe loses you've got everything you need for a Joe heel turn. I could do an entire 8-Ball on possibly Young-Joe storylines if that match ever happens.




2. Lose the Beard



Eric Young had a woodsman beard years before Daniel Bryan. In fact, you could accuse D-Bry of stealing his look. Plus, Young's beard is way more majestic. Bryan has a bit of a trash beard. That said, one of the easiest ways to deflect the Daniel Bryan knockoff criticism would be for EY to lose his beard. TNA can't market it, because the WWE has claimed that territory. If Young is going to hold the title for any amount of time, it would make sense for him to shear off that sucker. His beard actually would be something he could lose without dropping the belt. Imagine his emotional devastation at having to face the world with a naked chin? The mind reels.





1. Fight Bobby Roode in Canada



Eric Young came into TNA as part of Team Canada. He spent two years proudly sporting the maple leaf. He's copiously Canadian. Also, Young and Bobby Roode won the NWA World Tag Team Championship as part of Team Canada. Now these two guys find themselves at the top of the heap in TNA. They've got to take that up to Canada. Make it a lumberjack match or an ax handle on a pole match. Bring back Scott D'Amore to manage Roode. Beg Neil Young to let EY do his his entrance to "Hey Hey, My My (Into the Black)". It's begging to be done. The Great White North is calling.

I take requests.. The purpose of this column is to look forward. What could be? What should be? What is and what should never be? What would make more sense? If there's someone or something you think should be given the 8-Ball treatment, mention it in the comments section. I might pick it up for future weeks.
comments powered by