SPOTLIGHTS
The Magnificent Seven 4.25.14: The Top 7 Gimmick Matches in WWE Today
Posted by Mike Chin on 04.25.2014

From Money in the Bank and Hell in a Cell to street fights, the Royal Rumble and more, 411's Mike Chin counts down the top 7 current WWE gimmick matches!

We live in an era of gimmick matches. Whole pay per views are anchored on them , and when it comes to blowing off a major feud, a simple one-fall-to-a-finish bout rarely cuts it these days. Not all gimmicks are created equally. Some allow for more creativity. Some have a more impressive aura. Some have greater historical impact. Some have simply tended to result in better matches. This week, I'm counting down the top seven gimmick matches in WWE today.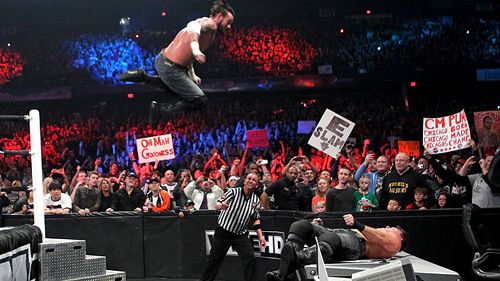 #7. Street Fight



I'm using the term street fight pretty broadly to encompass falls count anywhere matches, no DQ matches, extreme rules, Belfast Brawls, etc.

Street fights aren't always great or quite as satisfying as some of the matches to follow on this list, but they carry an implicit level of excitement with them, whether we look back as far as Ahmed Johnson and the Legion of Doom taking on the Nation of Domination at Wrestlemania 13, or at more recent examples like Finlay-JBL at Wrestlemania 24, the Hardy brothers war at Wrestlemania 25, or CM Punk-Chris Jericho at Extreme Rules 2013. The introduction of plunder allows for all manner of creative and impressive-looking spots, and though the backstage brawls popularized during the Attitude Era wore a little thin, there's still something compelling about the idea that a match might spill into any given part of the arena. When anything goes, we see two warriors in a fight to finish that we can assume will not end in a schmozz, and expect to include at least a handful of decent spots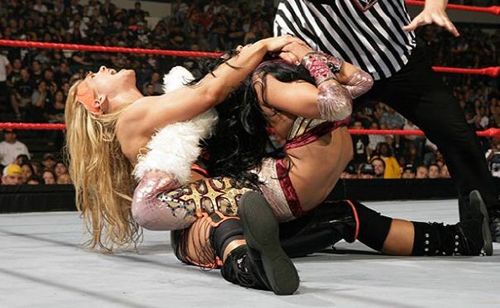 #6. Submission Match



I'm using the term submission match to include any bouts that can only end via submission, including ones in which competitors can tap out as well as those that compel the loser to say, "I quit." There's a rich history of such matches, reaching back to iconic wars like Magnum TA vs. Tully Blanchard and Ric Flair vs. Terry Funk. The gimmick has held up nicely over time, creating a unique spectacle when Steve Austin couldn't win but refused to lose to Bret Hart at WrestleMania 13, or when Beth Phoenix bent Melina in unreal ways to get her to surrender at One Night Stand in 2008, and a match that probably should have been career making for Cody Rhodes and Ted Dibiase when they made Shawn Michaels tap to beat DX at Breaking Point 2009.

Submission matches often incorporate no DQ rules like street fights, but carry with them the implicit understanding that someone won't only be beaten but humiliated to have to give up the match to hated rival. That's a recipe for an intense encounter.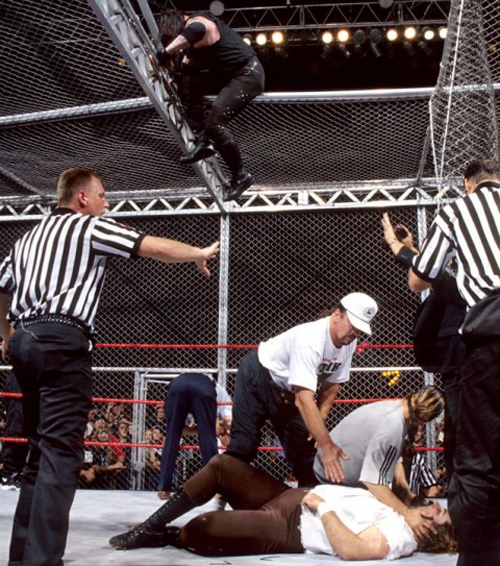 #5. Hell in a Cell Match



Objectively, this gimmick should probably fall lower on the countdown because it's track record has fallen off significantly since WWE grew more safety conscious post-Attitude Era. No, it's not in the long-term interest of the business to keep having guys get thrown off the top of a steel cage the size of Hell in a Cell, but knowing that that was once a staple of this match, and knowing that the spectacle just isn't going to happen nowadays has robbed the match of a lot of its luster.

Just the same, the sheer spectacle of the Cell looming over the ring is still impressive and ominous and adds a sense of gravitas to any given encounter. Moreover, the match type has still delivered quite a few very good outings even post-Attitude Era, including the blow off to Undertaker-Edge at SummerSlam 2008, the war between 'Taker and Triple H at Wrestlemania 28, and battle between Daniel Bryan and Randy Orton at the eponymous pay per view—the outcome of which was disappointing, but the match itself was solid. Despite the gimmick's contemporary limitations and over-exposure on account of the annual pay per view, the Cell remains a spectacle and tends to carry with it the potential for very good matches.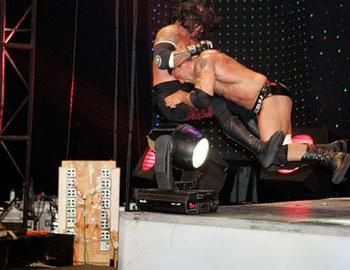 #4. Last Man Standing Match



Take everything I said about street fights and add in the component that the victor doesn't just need to win but needs to annihilate his opponent to the point that he can't answer a ten count. The first time I saw a match with these sorts of rules it was billed as a Texas Death Match (I know, I know—the rules are slightly different), contested between Cactus Jack and Big Van Vader at Halloween Havoc 1993—a match with a screwy finish that I nonetheless hold onto as one of my all-time favorites for its wild brawling and sense of an epic fight. WWE first experimented with this style of match at WrestleMania 10 with modified rules for the Randy Savage-Crush showdown. There was a period when the concept arguably got over-used, when champions, particularly Triple H and John Cena, seemed to perform in a lot of these matches, and the should-be decisive gimmick started resulting in unsatisfying double countouts. That said, as a concept, Last Man Standing is built to blow off major feuds and the match-type tends to ensure at least a good fight.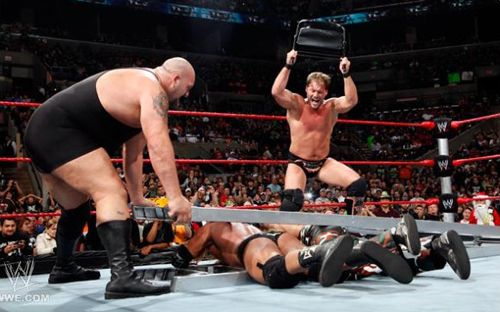 #3. TLC



Like Hell in a Cell, the TLC gimmick has grown a little forced and over-exposed on account of the annual pay per view in its name. That said, TLC has resulted in a disproportionately high number of very good to great matches from the initial tag team wars between the Hardys, Dudleys and Edge and Christian, to more modern classics like 'Taker-Edge at One Night Stand 2008, DX-Jerishow at TLC 2009, or an underrated (if, admittedly, not entirely epic) title unification match between John Cena and Randy Orton last winter.

It's always amused me a bit that TLC matches are essentially contrived glorifications of regular ol' ladder matches (excluding the Shield match from TLC 2012), in which the guys just happen to use tables and chairs, too and, indeed, it's for that reason that I opted to rank TLC and leave straight up ladder matches off the list. Jus the same, with so much plunder afoot, TLC matches tend to be unique spectacles, more than worth the time to watch.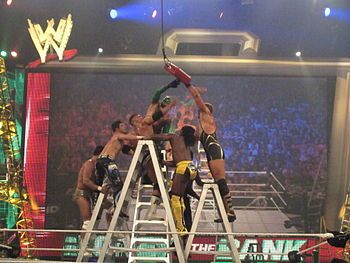 #2. Money in the Bank Ladder Match



Again, I opted to leave regular ladder matches off the list because I felt TLC matches sort of encompassed them, and all the more so, I had a hard time justifying their inclusion in a list that also included this gimmick. Money in the Bank ladder matches are special from the by-and-large exceptional additions that occurred at Wrestlemanias 21-26, to the interestingly structured matchups at the eponymous pay per view (all-heel and all-face editions in 2013, all-star and up-and-comer versions in 2012) the match rarely falls short of being an excellent spotfest. Moreover, as much as some folks want to malign the Money in the Bank concept at this point, it remains one of the most important booking innovations of the last decade, and for every MITB failure story like Dolph Ziggler and Damien Sandow, you have some pretty great elevations of talent, with beneficiaries like Edge, CM Punk, and The Miz (even if it didn't really stick in that last case) and compelling bits of storytelling like Kane's surprise title run in 2010 or Randy Orton's heel turn in 2013. I can only assume that the world title unification is also going to result in WWE consolidating back down to just one MITB match per year. Used creatively, and particularly with the revelation over the last couple years that the briefcase doesn't necessarily result in a championship run, I think the gimmick has plenty of legs left.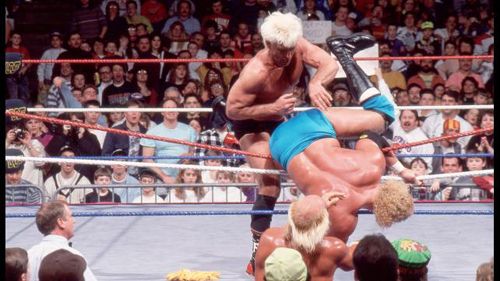 #1. Royal Rumble Match



You need look no further than Wrestlemania 30 to see how intrinsically fun (if not objectively great) battle royals can be, and why they've remained a fixture in pro wrestling across several decades. But then there's the Royal Rumble. Not just a battle royal, but a battle royal that complicates beautifully with wrestlers not just getting eliminated but also entering the match incrementally, producing myriad storytelling opportunities and chances for multiple talents to get over in the same match between the iron man, the dominant force to accumulate the most eliminations, the spot monkey (see John Morrison and Kofi Kingston), oftentimes the runner up, and, of course, the winner. The WWF took this killer concept to a whole new stratosphere in 1993 with the added stipulation that the Rumble winner got a title shot at Wrestlemania. That choice has paid massive dividends, from catapulting Yokozuna into solid main event status, to giving stars like Shawn Michaels and Steve Austin epic roads to their first title reigns, to shoring up the already stellar legacies of guys like John Cena and The Undertaker. Wrestlemania may remain WWE's biggest show of the year, but I don't know that there's any more consistently enjoyable gimmick match than The Royal Rumble.

Which matches do you feel should have made this countdown? Iron Man Matches? Table matches? Elimination tag matches? The Elimination Chamber? (Trust me, they were all close calls for me, too.) Share your picks in the comments section. See you in seven.

Read stories and miscellaneous criticism from Mike Chin at his website and his thoughts on a cappella music at The A Cappella Blog. Follow him on Twitter @miketchin.
comments powered by